If you're a homeowner, you know there are always chores to be done around the property. A project homeowners deal with frequently is repairing their deck.
Repairing a deck can sometimes be a relaxing task, but most of the time is just challenging. You can fix minor issues independently, but more severe problems need professional expertise. Experts know the ins and outs of repairing a deck and ensure your deck is structurally safe.
This guide is everything you'll need to repair your outdoor living space. We'll cover everything – from assessing the damage and fixing it yourself to hiring a professional contractor.
Keep reading and learn how to tackle the issues you've been avoiding on your deck!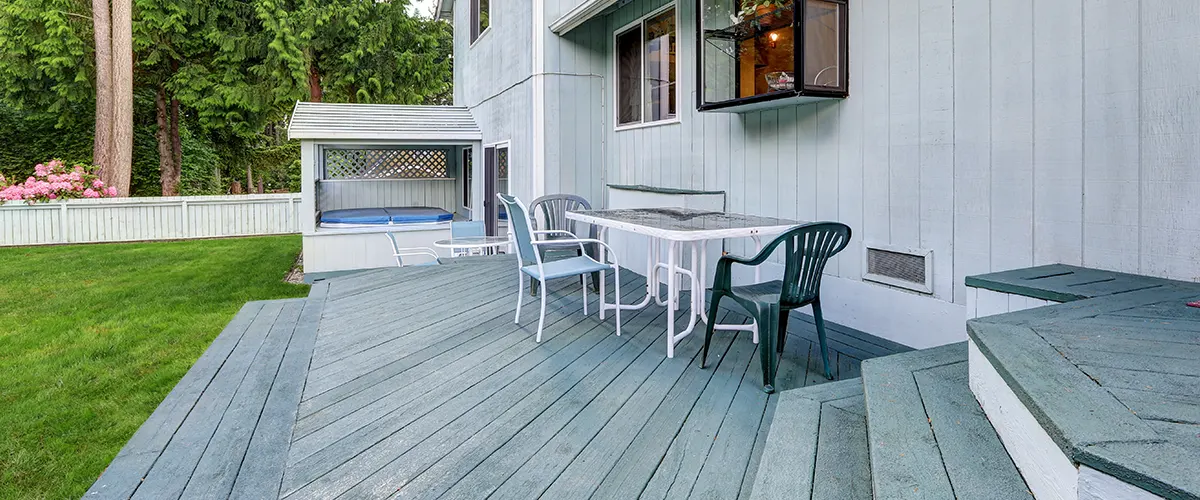 If Your Deck Needs Refinishing
Every deck needs a refinish after several years of wear and tear.
Wood decks need protection from the elements, and a coat of stain or paint is sure to revitalize your outdoor space.
To refinish your deck, apply a cleaning solution to the boards and railings. Old stains might be particularly stubborn in certain areas, so you may need a stain stripper to remove them.
Next, pressure wash the deck to remove the cleaner and the accumulated debris.
Before refinishing, address minor deck repairs, such as loose boards and missing nails. Once the surfaces have dried, make the necessary repairs, such as driving in protruding nails, replacing damaged boards, or sanding rough surfaces.
Apply deck stain and the sealer of your choice, and enjoy a healthy and good-looking deck.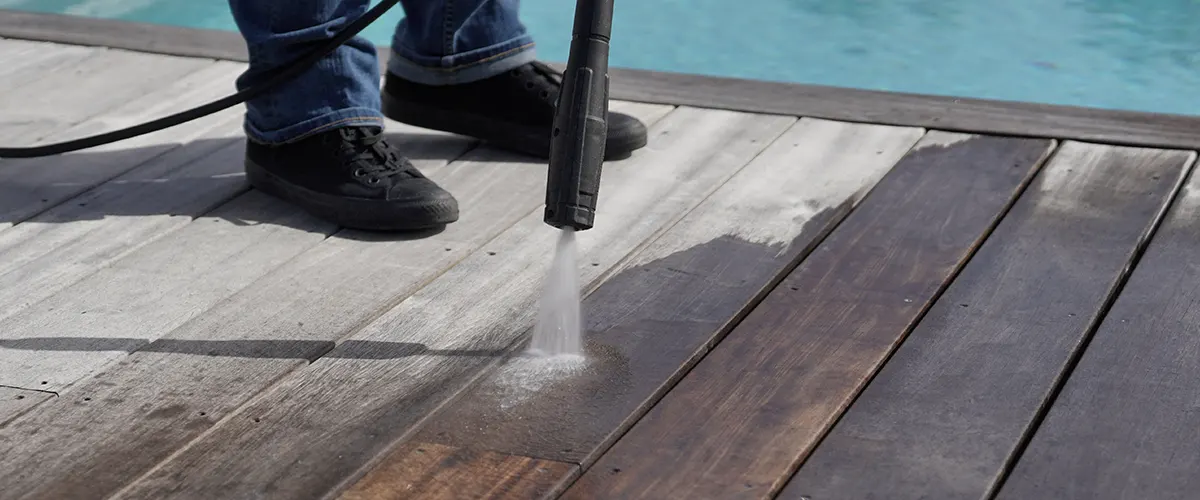 If Deck Boards Are Cracked or Damaged
If most of your deck is in good shape, but some deck boards have suffered damage, replacing them is the best option.
Tackling this problem board-by-board is less intrusive and less costly in the long run. You can find boards that match your existing deck and renew the surface to create the perfect place for a family gathering.
Decks become wobbly and unsafe for various reasons, and deck collapses are a real danger to you and your loved ones.
Hire a professional if:
While replacing a board or two can easily be tackled by anyone with minimum skill, securing your deck requires vast expertise and professional tools.
A contractor will install your deck posts and frame in concrete deck footings for increased firmness. The joists need to be adequately secured to ensure your deck's structural integrity is sound.
Regardless, if your entire deck seems to have structural issues, consult an expert—an architect, deck builder, structural engineer, or contractor—for a complete analysis and professional repair.
Here at DeckBros, we value our customers and their time. Working with us ensures you get the most cost-efficient solution and a high-quality end product that will last for many years to come.
If Deck Railings Need Repair
Similar to wobbly decks, loose railings are a danger that you shouldn't tackle by yourself.
A professional deck builder can fix unstable railings quickly and efficiently. They'll need to predrill holes and resecure the railings with carriage bolts. Ensure the bolt comes with a nut and washer to install a sturdy railing.
If Nails Protrude From The Deck Surface
Nothing's worse than walking along your deck and coming across a loose nail.
Luckily, this annoying (and dangerous) situation has an easy fix that anyone can tackle. Loose screws and nails that pop up on a deck surface can be repaired simply by using a hammer to pound them back in again.
You may also consider replacing the nails with specialized deck screws, as they will provide a better, more robust structural safety.
The Cost Of Repairing A Deck
The cost of deck repairs depends on various factors, including the materials, repair type, and required labor. Some specialized deck contractors have set prices for each job, while others may adjust their prices based on the problem.
The national average for deck repairs in 2021 was between $250 and $1,500. Most homeowners pay around $850 for replacing broken boards and repairing damaged railings.
The highest cost for a deck repair is $10,000. However, this extensive repair was necessary due to termite damage on a large hardwood deck. Such repair can be considered a deck replacement.
The costs to repair a deck will depend primarily on size, and deck builders charge by the square foot. Generally, homeowners can expect to pay between $10 and $50 per square foot for deck repair.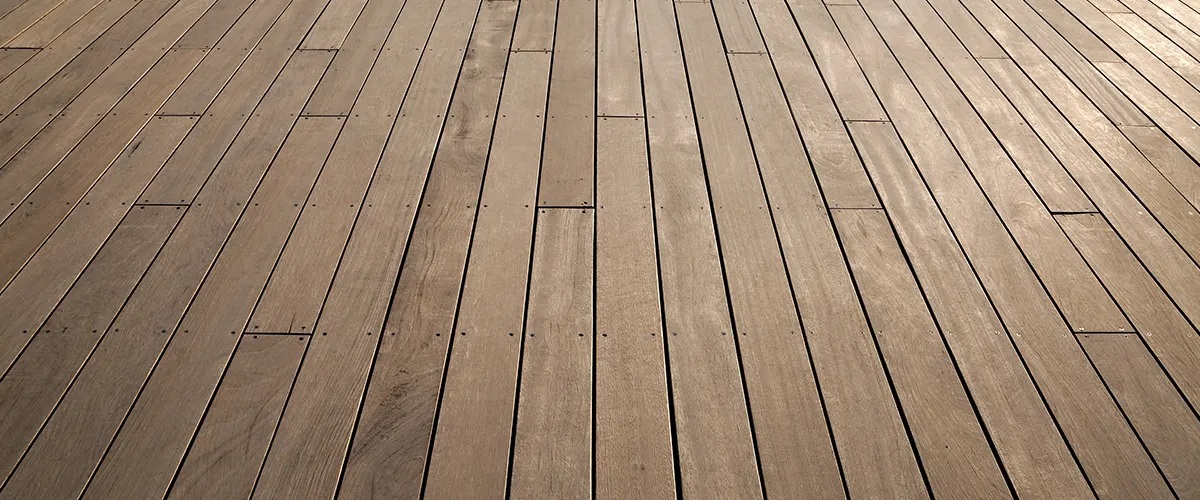 Average Cost Of A Decking Repair By Material
One of the most important factors in deck repair is the material, and the cost to replace or repair certain materials will be higher than others.
Vinyl Decking Repair Cost
Homeowners pay between $7 and $30 per square foot for a vinyl deck.
Vinyl is one of the most affordable materials for decks, but it comes at the cost of being the least durable.
Vinyl can develop patches, can be easily scratched, and starts peeling after a rather short time. These imperfections may need to be fixed, coated, or painted, leading to costly repairs down the road.
Metal Decking Repair Cost
It costs between $10 and $60 per square foot to repair metal decks.
Steel and aluminum are some of the strongest and most resistant materials used for decks.
They are immune to termite and insect damage and invulnerable to rot, mold, or mildew issues.
However, metal decks can get scratched or dented, leading to ugly areas that will need fixing or replacement, which can get hefty.
The average cost to repair wood decks ranges from $10 to $75 per square foot. This wide gap is caused by the variety of wood materials used in constructing a deck.
Although wood is a beautiful choice for decks, it can rot, twist, warp, or shrink. Damaged planks are easy to unscrew and replace, but they need to be stained and sealed to match the rest of the deck.
Fiberglass Decking Repair Cost
Homeowners pay between $15 to $50 per square foot to repair a fiberglass deck.
Fiberglass is a type of composite deck made with a mixture of materials. Although this is a low-maintenance material, the fiberglass's topcoat can crack or flake from exposure, and replacing or repairing it can get hefty.
Composite Decking Repair Cost
Composite deck repairs cost between $15 and $50 per square foot. Composite decks are a mixture of wood, plastic, and vinyl materials. A composite deck is low maintenance and doesn't have the same water issues as wood decks.
However, the boards can get stained, discolored, scratched, and damaged, and refinishing composite deck boards is not an option.
Consider More Decking Repair Customizations
After a deck repair, you might be tempted into sprucing up your deck in even more ways to make it look at its best.
Many homeowners use deck repairs as a chance to refresh their outdoor furniture and decorations. There are easy ways to add new flair to your deck, and customizations will surely improve your outdoor space.
Pergolas are semi-covered structures great for providing shade and protecting you from the sun's rays. 
They offer a great place to hang your beautiful flowers and provide an ideal place for growing vines or ivy.
Adding multiple levels to your backyard deck creates a larger space for entertaining and enjoying the outdoor space. 
A second level for a deck gives the impression of a bigger decking area and adds a little luxury and complexity to your existing structure.
A fireplace provides an elegant touch to the deck and makes your deck more relaxing, especially when the weather begins to get cooler. In some areas, homeowners opt to have fireplaces on their decks because they keep insects away, so you can relax undisturbed by anything.
Many people also like to have open fire pits built into their decks to relax or roast smores with their families.
Spending a warm night outside in your hot tub can't be compared to anything else that a deck has to offer.
A hot tub on your deck is the perfect opportunity to impress all of your guests in an instant. It adds elegance and complexity to your space and increases your property's value on the market.
Frequently Asked Questions
Repairing a deck requires skill and knowledge, and some issues can't be fixed as easily as others.
A deck contractor has the required experience to fix a deck properly and make your entire project go much more smoothly. In addition, professionals can add extra features to your space to create your dream deck.
Here at DeckBros, we love giving our customers the best end product in Omaha and nearby areas. You'll get a memorable experience with a passionate crew that strives for perfection.
Get in touch with us today, and let's bring your deck back to its former glory!