If you're tired of seeing the same decking surface over and over again, know that there are several different decking patterns that might spark your interest.
Diagonal decking is one of them. As a matter of fact, it's actually one of the most popular alternatives if you don't want a boring deck.
In this blog post, we'll talk about diagonal decking and other decking patterns that you can get for your outdoor space. You can also check out these free deck plans from decks.com.
Let's begin!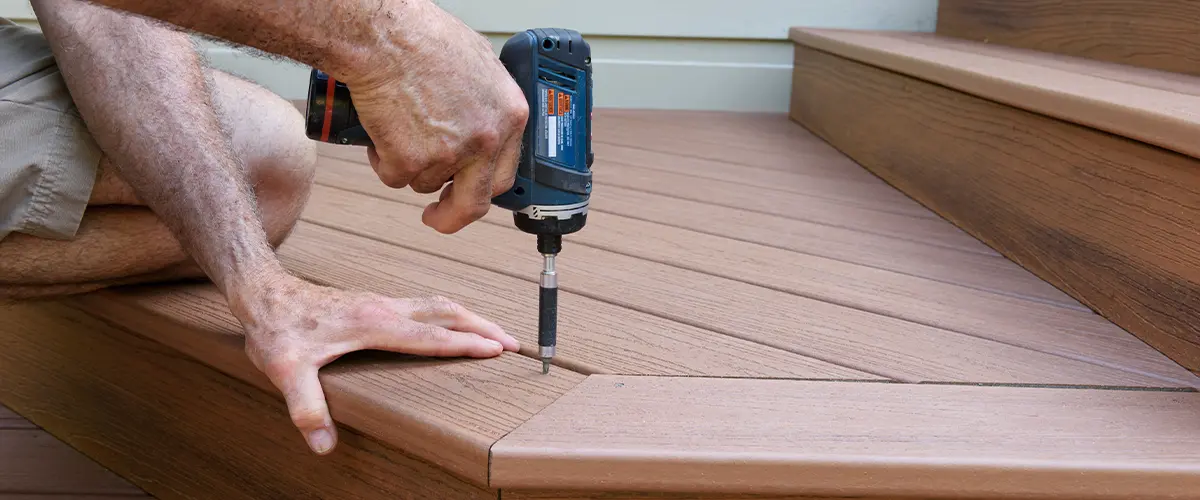 Installing decking at an angle of 45 degrees across the deck joists is a sure-fire method to fortify your deck frame. This will stop racking while simultaneously rendering sway bracing unnecessary.
In other words, diagonal decking offers unparalleled strength and stability for all your outdoor projects!
When constructing your deck, you might need to decrease the distances between joists down to 12" for optimal support when installing it diagonally. Many contractors would tell you that this adds a waste factor of 15% – but with some strategic thinking and effort, we can drop that to a minimum.
More cuts are necessary while implementing this technique, so more labor is involved in order to ensure the best outcome.
Note: It is usually best to start with the longest board length from a corner and work off of both sides. It is important to square the decking to maintain a consistent angle across the surface.
Diagonal decking adds a unique charm to your outdoor area, helping you emphasize or draw attention to views and even influencing the way people travel through it. For larger decks that span 20+ feet wide, think of laying down your boards in a diagonal pattern so there are fewer butt joints.
Herringbone Decking Layout
The herringbone pattern is probably the most interesting and creative way to install the decking on your new addition.
The zipper pattern is an eye-catching design that features two diagonal deck patterns intersecting in the middle, creating a staggered effect resembling a zipper.
If you're looking for something similar but without the alternating look of a zipper, herringbone may be more your style. To create an octagon deck floor, install an offset pattern carefully following its shape. For parquet decks, simply use squares and alternate directions when laying them down!
To provide your deck with the necessary support and steadfastness, you must add blocking to the deck frame directly beneath your pattern. If using composite decking materials, you may choose complementary colors in order to create a visually pleasing effect.
Note: Try not to use multiple small pieces of decking material, as this can cause stability issues. Butt joints and miter cuts are known for separating over time so if any split does occur it will be easier for them (and smaller pieces) to loosen or fall out.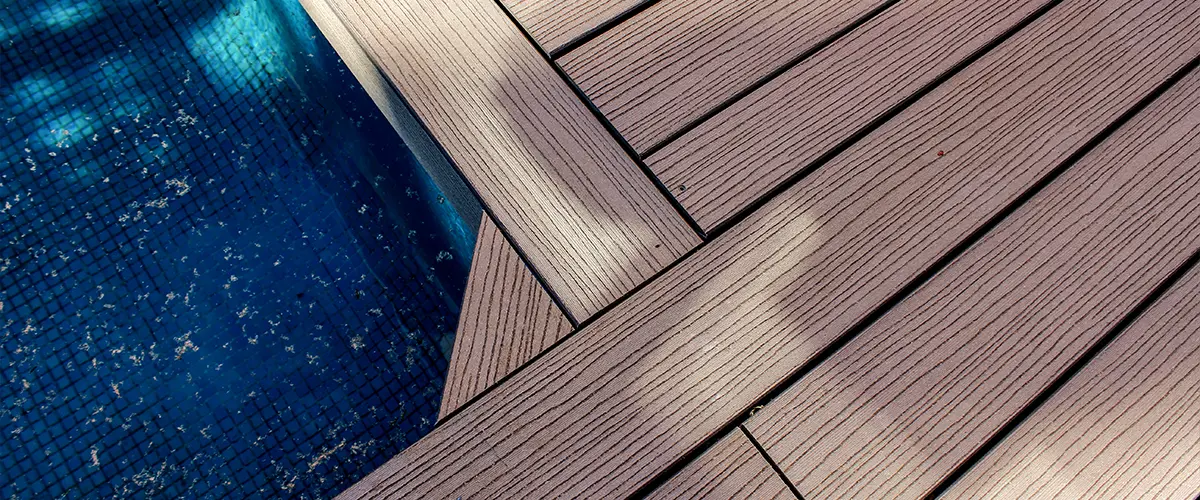 Horizontal Decking Layout
Applying your decking boards perpendicular to one of the edges is usually the easiest method for finishing a deck's surface.
For decks measuring less than 20' in width, you can avoid the need for splices or butt joints. On wider structures, however, it is recommended that you employ a joist to divide your deck boards and reduce the visibility of the joint line.
For optimal results, alternate where possible between different positions or use division boards to control their location and keep them looking neat.
Wood deck boards are usually available in 2' increments, however, most composite decks can be purchased in 12', 16', or 20′ lengths.
Note: If the design leaves a large gap between the ends of these materials and the edge of your decking area, this could lead to an unnecessary increase in costs for you. Work with pros and they'll come up with an efficient strategy.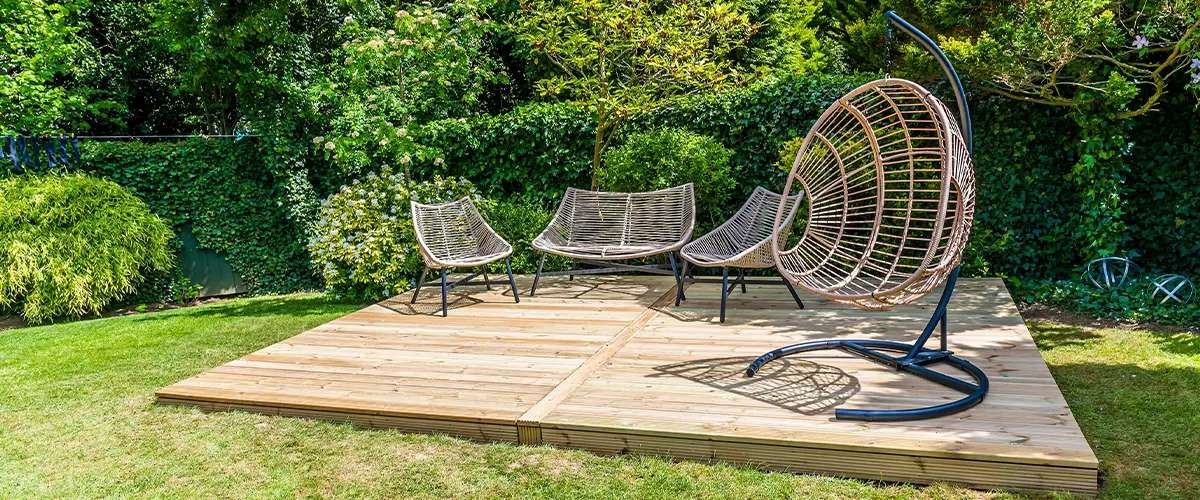 Installing a decking inlay is a creative way to add some flair to any deck project. Use a combination of contrasting colors, angles, and shapes to make a statement. We have seen some beautiful examples of octagons, compass roses, and even curved designs.
Crafting inlays, however, can be an arduous task that takes a great deal of time and effort – not to mention the wasted materials. To make your life simpler, plan ahead! Curved inlays are especially complicated for even experienced woodworkers to construct; pick a one-of-a-kind pattern that is both beautiful and feasible to complete.
When it comes to decking inlays, a great deal of care should be taken when measuring and cutting. Joists need to have generous vertical blocking as most materials can only be extended by 3″ beyond them.
Every circular saw cut would remain visible throughout the lifetime of your project, so ensure accuracy!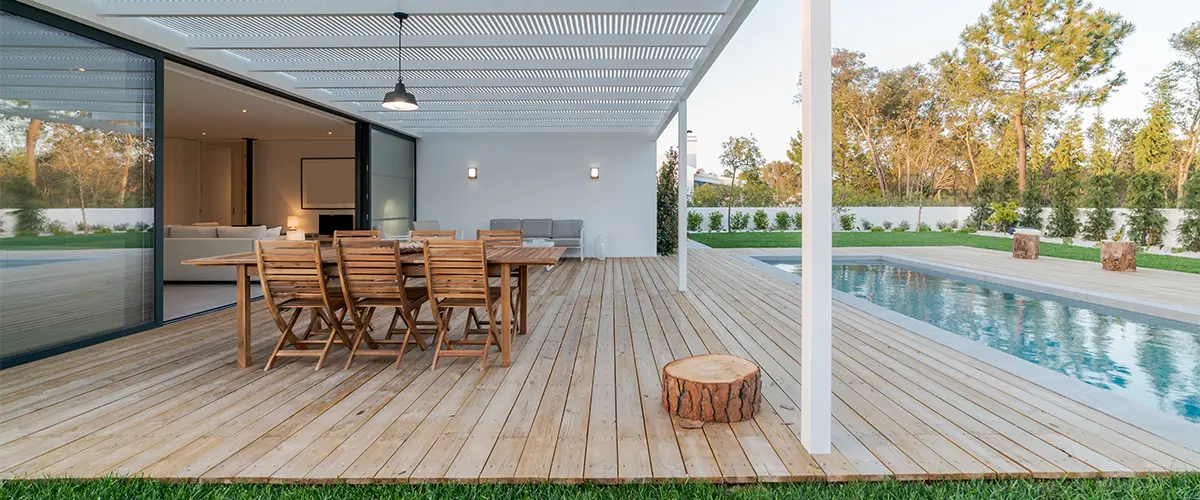 So, diagonal decking is not your only option, and it's not the best deck layout either.
Sure, it's different than the basic horizontal pattern, but nothing compared to a spectacular herringbone or inlay decking surface.
While the average contractor can install a simple decking pattern, you'll need a true expert to install a more intricate pattern.
Here at Deck Bros, we can get it done! We're experts with a lifetime of experience in deck building and installation, so you're ensured a smooth ride and a superior product.
We offer our complete decking services everywhere in the Omaha Metro Area, including Papillion, Bellevue, Gretna, Elkhorn, Lincoln, Fremont, and more!