The Best Deck Installation In Elkhorn, NE
Waste no more time and get a consultation with a real pro!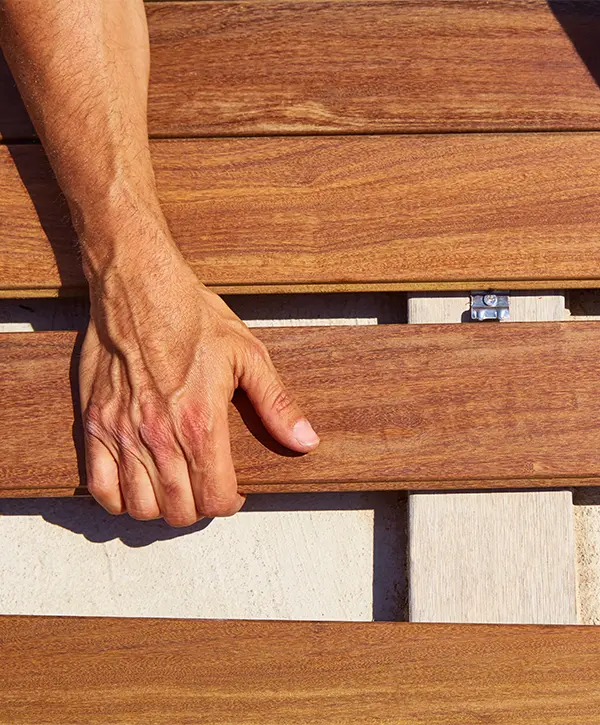 If you want quick and impressive improvements to your current deck, one of the simplest solutions is to replace its surface.
Deck Bros Elkhorn, NE, is the best choice when you're looking for top-notch deck installation at an affordable price and a lightning-fast turnaround! We specialize in setting up your new deck quickly and skillfully so you don't have to wait long before using it.
Our comprehensive service guarantees your complete satisfaction – let us provide you with the quality results you deserve!
Complete Deck Installation Services That Put Your First!
No matter how large or small the job, we are committed to giving you your new deck installation in the least amount of time with a team that values your needs above all else! You can trust us to bring your vision for outdoor living into reality without breaking the bank.
This is what makes Deck Bros your best choice:
Get Your New Decking Installed Without all the hassle!
At Deck Bros, we strive to provide you with a high-quality deck installation that will improve the look of your exterior space and turn it into an oasis for relaxation and leisure. Our mission is to ensure our customers have a place they can go whenever they need peace and quiet.
Your requirements become our primary goal, and we'll go above and beyond to guarantee that your decking is installed perfectly and looks stunning.
We have years of experience under our belts and can provide detailed information on keeping your decking installation in great condition for many years. No matter what materials you decide to use, trust that you're getting an experienced carpenter who knows exactly what they are doing.
Your Neighbors In Elkhorn Have Worked With Us Already!
They did a excellent job and the crew was professional. 
I live 2 hours from Omaha and they took the job without that being an issue. Our deck turned out beautiful. We have the best looking deck in town. I am so glad that we chose Deck Bros. 
 If you want quality go with Deck Bros! It will the best choice you make.
Can't say enough great things about Deck Bros! 
From the initial contact to the completion of my deck, Luan was always available and super responsive. He has a fantastic crew as well.
Deck Bros was hands down the most competitive with pricing. I couldn't be happier with how my deck turned out.
Here's What Your New Decking Can Look Like!
Deck installation is what finishes most decks and makes them functional. Proper installation means everything is symmetric and perfectly in place. Here at Deck Bros, our experience guarantees your new decking will look stunning – just like this!
Types Of Decking You Can Get
Homeowners have many materials to choose from when deciding on the perfect decking surface. From an affordable pressure-treated wood option to a more expensive teak one, there's something for everyone and every budget. With so much variety at your disposal, you'll be sure to find something that meets all of your needs!
Let's see some of Elkhorn, NE's most common decking materials.
Pressure-Treated Wood Deck Installation
Pressure-treated wood is a top choice for decking materials because of its wallet-friendly price tag. With pressure-treated decks costing as low as $5k, you can easily create the outdoor space of your dreams without breaking the bank!
However, it's important to understand the weaknesses of this type of lumber before investing in it. Despite being treated with sealants against water damage and other elements, pressure-treated wood may not hold up well over time compared to other materials.
Besides not being as durable, pressure-treated wood could easily be scratched and damaged or absorb water more quickly. For optimum durability, you'll need to regularly seal and stain pressure-treated wood at least once every 2 – 3 years.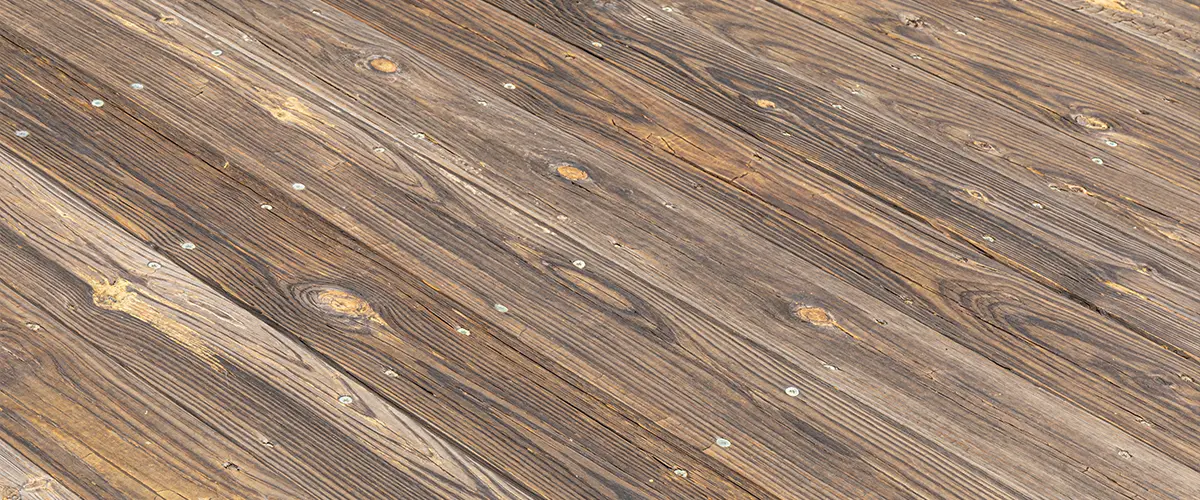 Cedar Wood Deck Installation
Cedar ranks as the second most desired wood for decking due to its stunning look. It is naturally more impervious to water and decay, yet inevitably even cedar's resistance will eventually succumb to Mother Nature.
To ensure longevity and maximize its strengths, you must seal and stain the cedar; however, bear in mind that this adds to the overall cost of the project. Additionally, depending on your choice of sealant, it can alter the color of your cedar to a golden hue that has an antiqued feel.
Although a little bit more expensive than pressure-treated wood, cedar is totally worth its price.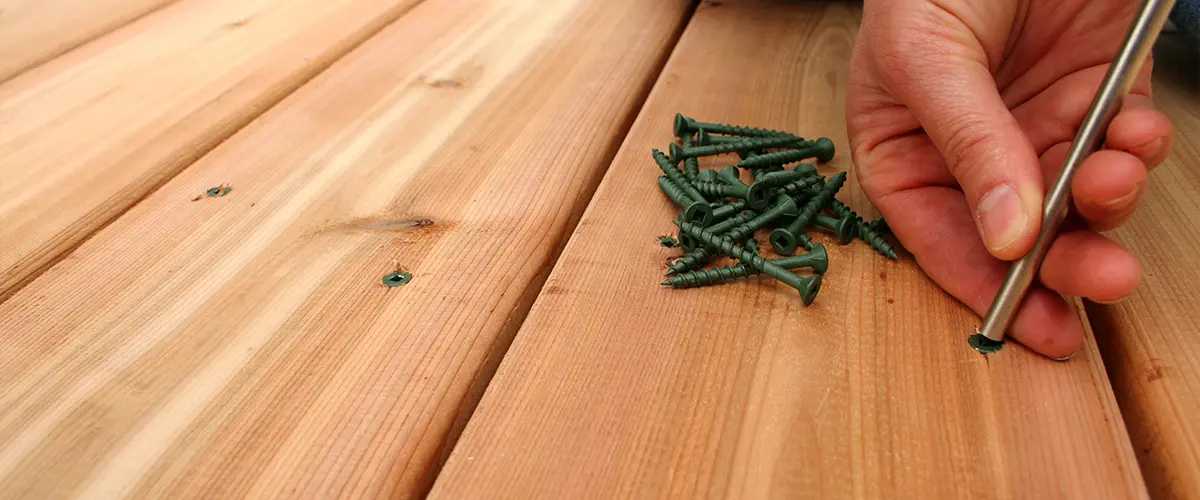 Redwood Deck Installation
Coming in at a close third, Redwood is the preferred choice for many due to its distinct hue and lustrousness. Adding visual interest to your deck or patio, Redwood offers an unparalleled aesthetic that will have passersby admiring your outdoor oasis!
Redwood is naturally strong and durable, making it more resistant to insects and decay than other wood species. With proper care, this wood type resists warping, splitting, and even the ravages of time for up to 15-20 years.
While redwood lumber is relatively soft and can be easily scratched or dented, its strength-to-weight ratio gives it an advantage over many other woods. Additionally, the stability of this wood provides minimal shrinkage or seasonal movement.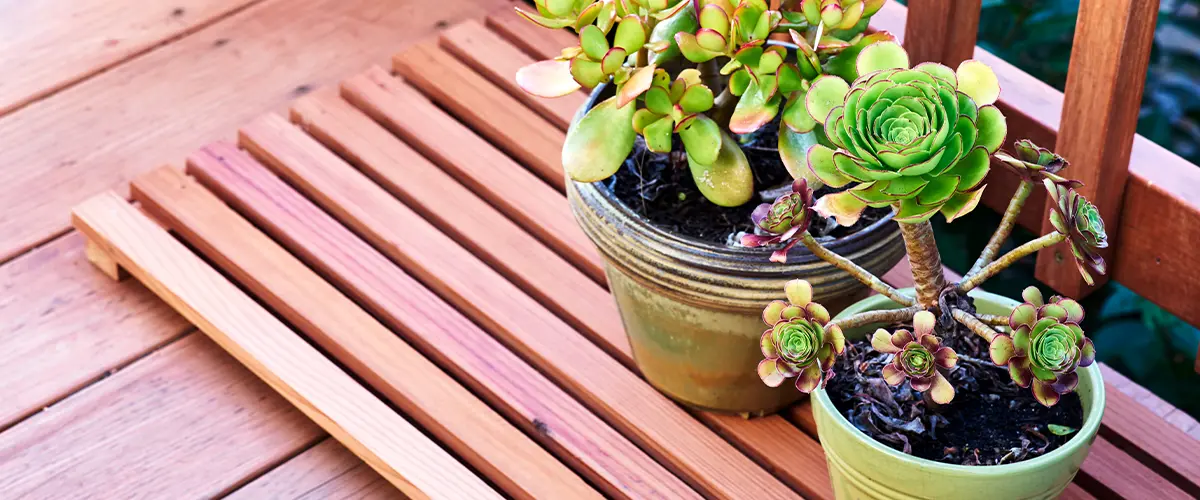 Hardwood Deck Installation
To elevate your decking surface to the next level, opt for a hardwood. Tigerwood, ipe, teak, cumaru and garapa are all beautiful options that will add a luxurious ambiance to your outdoor space – one of which is sure to delight any guest!
In addition to their eye-catching design, hardwoods are incredibly resistant to rotting, scratches, weather damage, and decay.
Take Ipe, for instance. It is a resilient wood that can withstand fire and withstand scratches while providing excellent slip resistance and lasting durability beyond expectation—all with good dimensional stability.
Hardwoods are the most expensive decking materials: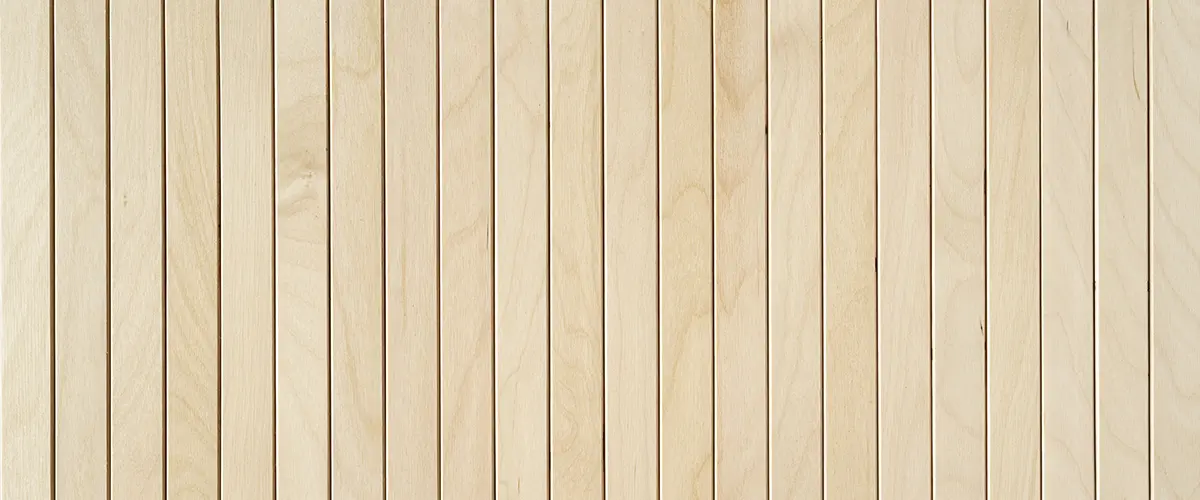 Composite Deck Installation
According to decking experts, the most desirable wood for outdoor decks isn't actually a natural wood at all – it's composite. More and more homeowners opt for this type of material due to its low maintenance requirements and longevity.
Composite and PVC decking are two excellent alternatives. Just a single power wash per year is all that's required to maintain its striking beauty and wellness.
Trex and TimberTech are two of the top composite decking brands striving to be more environmentally friendly using recycled materials. We love both products, but if you're looking for added durability against the elements, then TimberTech is your go-to choice! Its polymer surface provides stronger protection than other alternatives on the market.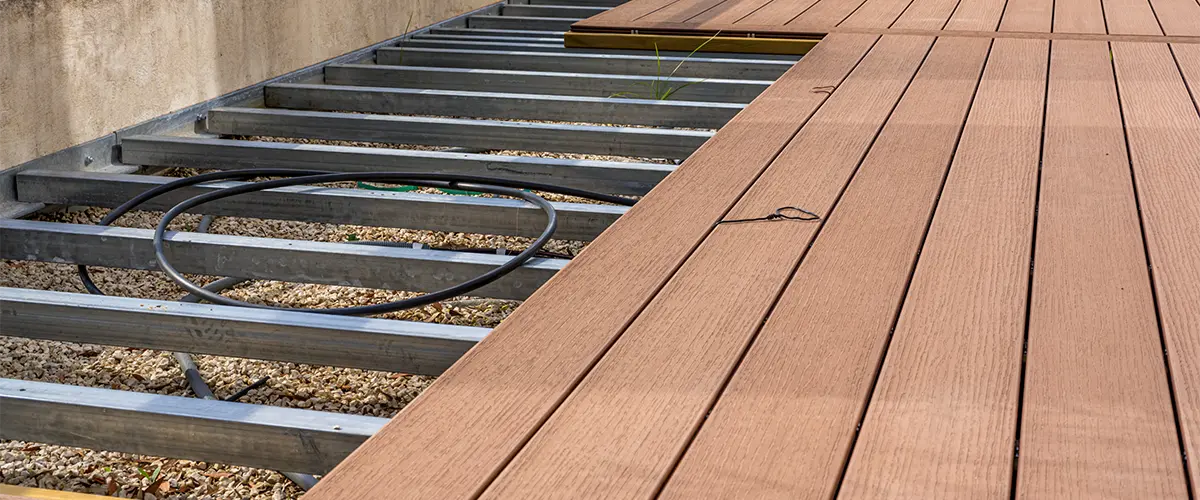 Start Now With As Simple As A few Clicks
Take full advantage of a quick process that delivers your deck in as quickly as 3 days! Everything we do is centered around you, your loved ones, and your satisfaction.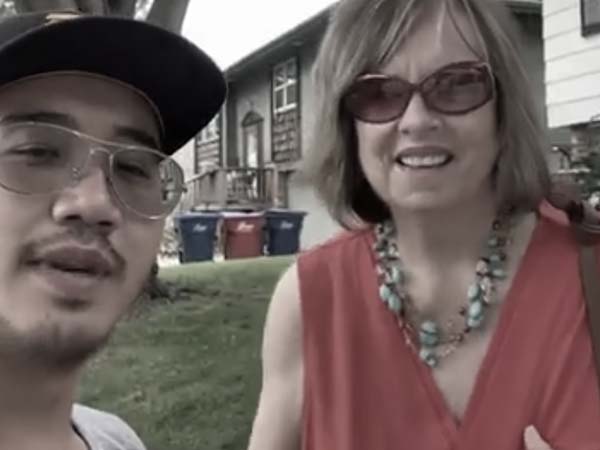 Contact us and we'll find the best plan to tackle your project.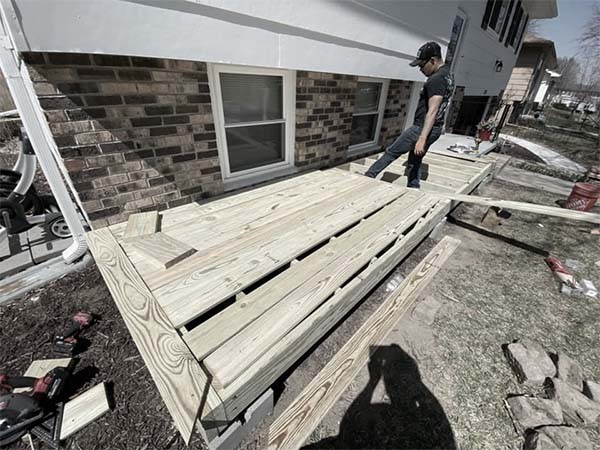 Watch us install your decking and get insights into what's happening.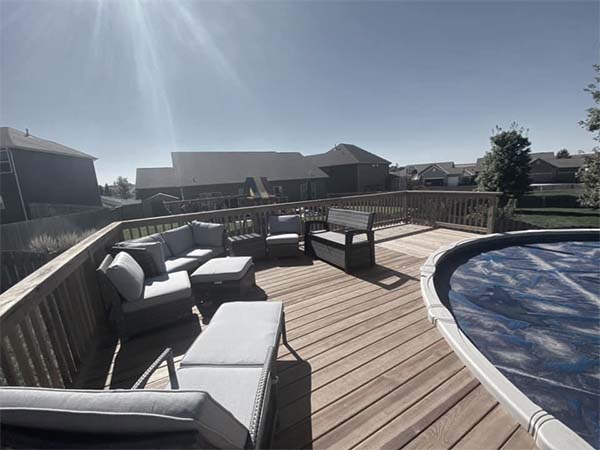 Plan your next barbecue! Your deck is up and running!
Frequently Asked Questions
Here at Deck Bros, we've had years of experience building cost-effective pressure-treated decks that don't break the bank. If you're looking for an affordable way to create a beautiful outdoor space, look no further than our experts in pressure-treated wood!
Even if you have minimal experience in constructing decks, Deck Bros can help. We use high-grade tools and techniques to ensure your deck is strong, secure, and won't move out of place. Plus, our prices on wood types and composite materials are unbeatable! With us by your side, the process of getting a new deck installation in Elkhorn has never been so simple. Let the pros at Deck Bros make it effortless for you – we guarantee you'll love it!
If you're looking for a 12×12 deck installation in Elkhorn, NE, the cost will range from $3k to $5k, depending on your material selection. Pressure-treated lumber keeps costs low, while composite decking increases the price tag. Additionally, adding stairs to your structure may further increase expenses.
Enjoy A Superior Deck Installation In Elkhorn, NE!
Elkhorn homeowners deserve a deck installer that is accountable for the entirety of their decks. At Deck Bros, we are devoted to ensuring your decks are stable and completely functional – from start to finish.
We take painstaking steps to guarantee you'll be delighted with the outcome, leaving nothing overlooked in our meticulous installation process.
If you're searching for a comprehensive deck installation service to cater to your desired specifications, look no further – we've got you covered!
Work with Deck Bros Elkhorn and enjoy:
Your long-Lasting Deck Installation In Elkhorn Awaits you!