The Best Deck Building In Fremont, NE
Ready to start your deck building project in Fremont?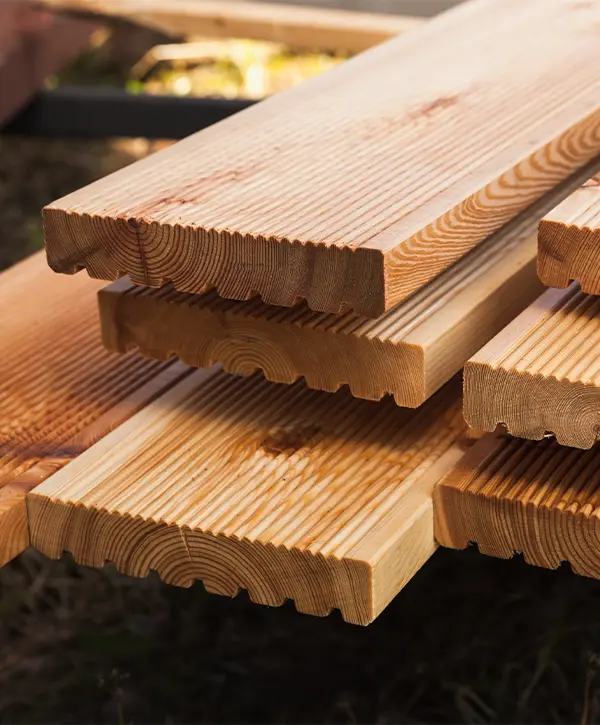 If you want to start a deck building in Fremont, look no further! Get the best decking solutions with Deck Bros and enjoy a simple and quick process!
As a subdivision of one of the leaders in the remodeling industry, Deck Bros aims to bring cost-effective solutions and a superior end-product to all homeowners in and around Fremont, NE.
Our ultimate goal is bold: Raise the standards of the deck building industry and change the way homeowners view contractors.
Professionalism, reliability, responsiveness, and transparency are at the core of our work, and they're what help us over-deliver and build the best decks in Fremont!
Get Yourself A Deck That Comes With Extra Perks!
We love seeing our customers fully satisfied with their new decks. This happens because we deliver more than what's expected of us. With Deck Bros, you'll also get:
Enjoy A Pristine Backyard With Your Premium Deck Building
Decks are impressive home additions that'll increase your property's value, boost the comfort of your backyard, and offer you the ideal place to entertain your guests and loved ones.
For all these to happen, your new deck needs to be safe, functional, and look great. Luckily, here at Deck Bros, these are the first things we're looking at when building your deck.
With us, you're getting a premium deck that'll awe all your guests and potential buyers. You and your needs will be our top priority during the building phase, so you've ensured a space that perfectly matches your lifestyle.
Check out our deck building offer right now! Get the best deal for your deck construction project in Fremont, and enjoy working with professionals that make your experience memorable!
Fremont Homeowners Love Their Deck Bros!
Here's what our past customers say about working with a professional deck builder!
I consider Deck Bros one of the best companies I have ever worked with. 
I had my old deck taken down and a new deck designed and erected all in a period of six days. Luan the designer allowed changes throughout the 6 days. 
The crew was tremendous in their work assuring the work met all safety requirements as well as starting each morning and keeping grounds cleaned up each evening as well as keeping us informed of how the job was progressing. 
If I'll ever need another deck I would never consider another company but Deck Bros. They are the best.
I found Deck Bros on Facebook & gave them a call. The owner Luan was very pleasant, came out and gave me a quote on the spot.
I HIGHLY recommended this company for your decking needs, Luan's employees were so much fun to be around. They didn't have any issues with the dogs being around checking on their work.
They were all very professional & worked hard, arriving early & getting to work. We even did some salsa dancing to the music. They went above and beyond, and no request was an issue.
Thank You, Luan, and the main guys that were there every day, Christian, Carlos & Leo.
Get New Ideas For Your Deck Building Project In Fremont
Get some new ideas for your project or check out some of our work!
Type Of Upgrades And Materials
The deck building industry has changed a lot since the first time you got your deck. Low-maintenance composite materials are all the rave, and aluminum features make your deck last a lifetime.
But there are a lot more materials to look into.
The main failure reason for older decks is the deck frame.
Grade 1 pressure-treated wood remains popular for homeowners, but it's not the favorite. Even when the wood is rated with ground contact, it can still rot and develop mold and mildew, ruining your deck's safety and aesthetics.
Steel or aluminum frames from renowned brands like Fortress Building Products are what all our customers want. They match well with all types of decking, but their functionality lies in the lifetime of metal. Although metal frames cost more, they're a worthwhile investment that'll pay off.
Many of our deck building projects in Fremont include replacing wood decking with composite materials. Homeowners are tired of keeping up with the maintenance of their decks and the maintenance costs that pile up.
Composite decking is the best alternative to wood decks. This material requires virtually no maintenance, and a pressure wash once a year will be more than enough to keep your deck looking its best.
Some of the best composite decking brands are TimberTech, Trex, Fiberon, Cali Bamboo, or more!
We recommend choosing hardwood if you want to stick with a wood deck. Mahogany, ipe, or teak are some hardwoods that make great decking materials.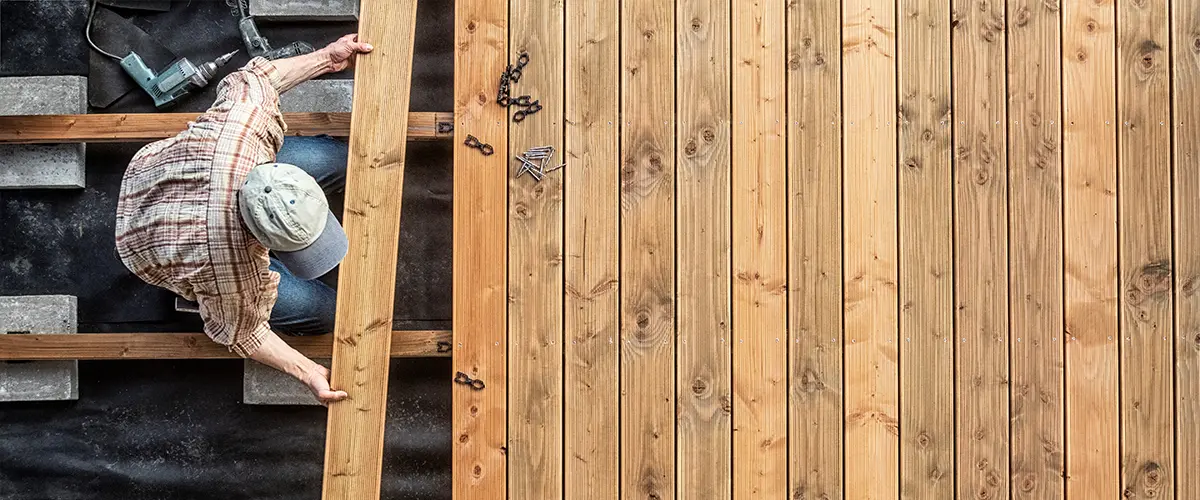 Railings will help finish the look of your deck and make it appear complete. But besides this, railings will also improve your deck's safety for your loved ones.
With railings, your decision will be easy.
Deck lighting is required by law in certain states and cities. In Fremont, NE, it's no different. Stairs lightings or railings lights are some of our favorite lighting options for decks. These create a cozy and comfortable feel while also offering your steps guidance at night.
As a rule of thumb, cost-effective, low-voltage lightings are the best call you can make. These won't make your electricity bill skyrocket, and you won't sacrifice the quality of your deck.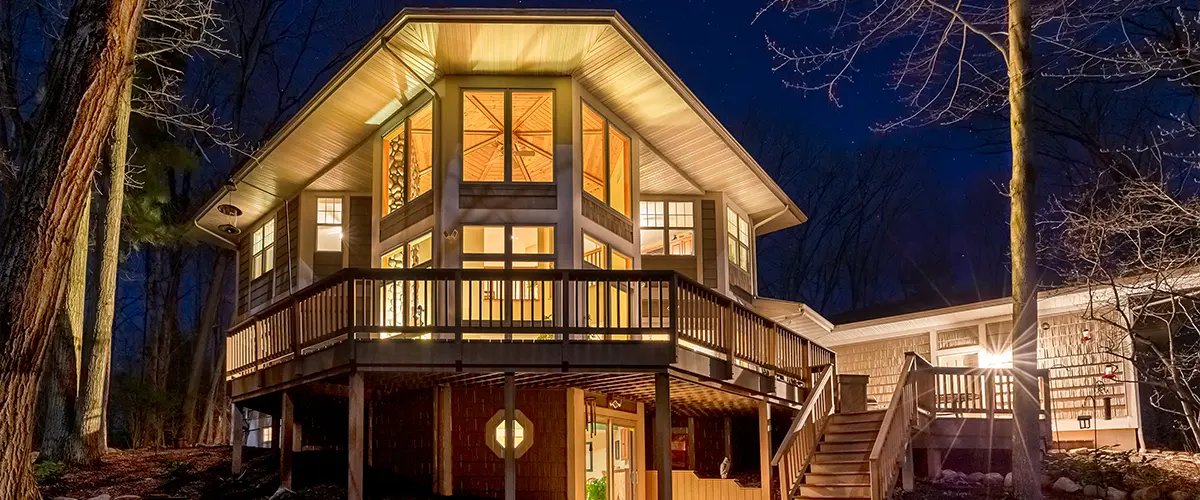 It's Never Been Easier To Start A Deck Building In Fremont, NE
You'll go through a process designed exclusively to make your deck building project much easier!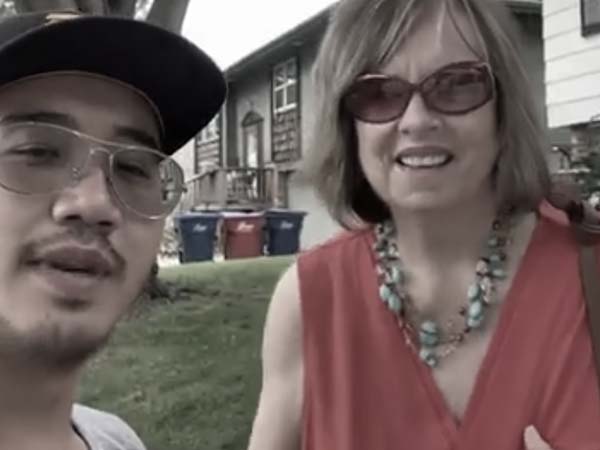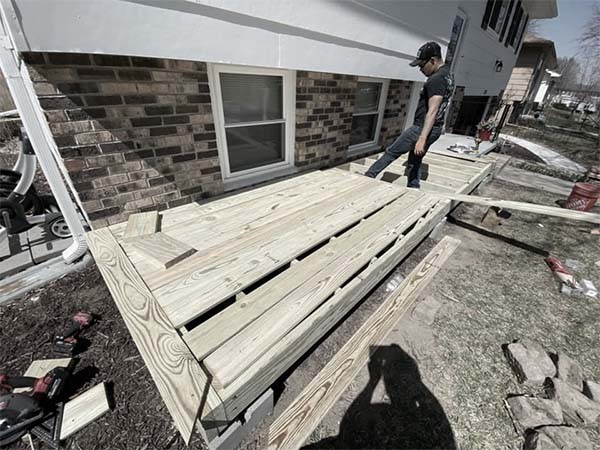 We'll sign the paperwork and get to work!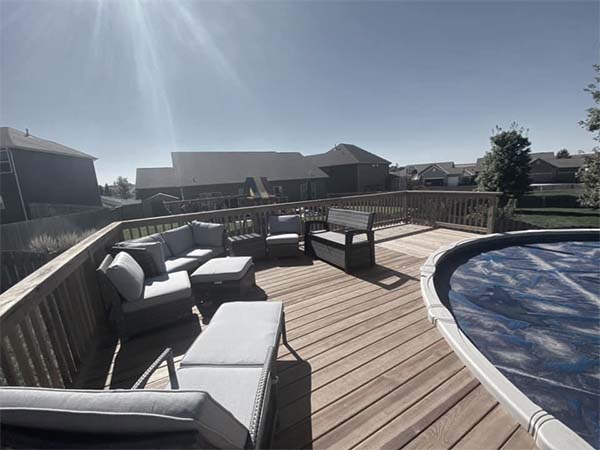 Plan your next barbecue on your new deck!
Frequently Asked Questions
Your final cost will be influenced by the size, elevation, materials, number of stairs, and extra features you want your deck to have.
For example, a simple 12×12 cedar deck will cost around $15k, while a 20×12 composite deck with aluminum railings, fascia wrapping, and a set of stairs will cost around $35k.
Our on-site consultation helps us determine the scope of work. After our visit, you'll know exactly how much to budget and what would be the best materials for your project.
Most of our projects take around three days. However, we allocate a week for more complex projects, like a larger deck elevated from the ground, with all sorts of upgrades and extra features.
Depending on your needs, we'll devise a time frame advantageous to you and your family. At our on-site visit, you'll get a more accurate timeline to know when your deck will be ready.
Yes! We offer a 5-year workmanship warranty that ensures your deck is built to last for as long as you'll live in your home.
Besides our warranty, you'll also get a limited-to-lifetime warranty on manufacturer materials.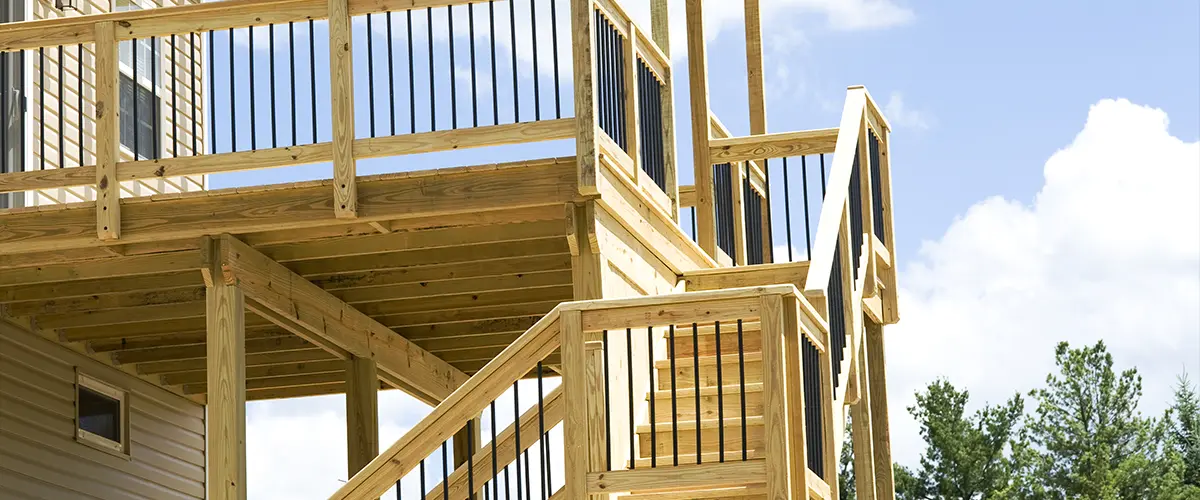 Have The Best Deck Builders In Fremont On Your Project!
Finding a reliable and honest contractor can be overwhelming, but not in Fremont.
If you're looking for one of the best deck builders in your area, Deck Bros is at your service! Your needs, preferences, and lifestyle will guide your project, and our desire to see you fully satisfied with your deck is fuel for our mission.
We tend to overdeliver, so besides a beautiful, safe, and long-lasting deck, you'll also get:
Get The Best Deck Building In Fremont, NE Today!