The Best Deck Installation In Fremont, NE
Waste no more time and get a consultation with a real pro!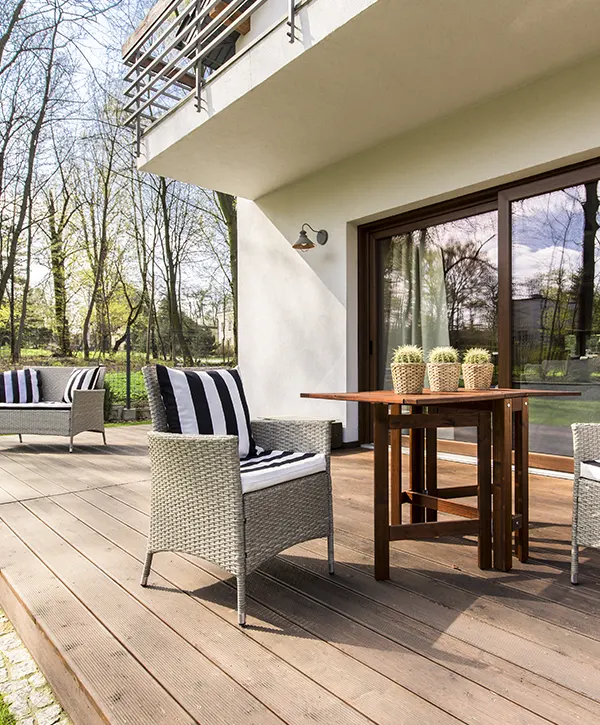 If you're looking for a straightforward yet efficient way to boost the appearance of your deck, changing the decking material is a cost-effective and impactful way to do so.
Deck installation in Fremont, NE, is one of our favorite jobs to tackle for a couple of simple reasons. We came up with a record-fast process that gets your deck up and running lighting fast, and it's a very affordable project that brings immense value to your outdoor space!
We're one of the best deck installers in the area, and we can guarantee you'll be 100% satisfied with your end product!
Reliable And Sound Deck Installation For Your Outdoor Space
Installing decking is more than just placing the boards and screwing them down. Exact measurements, quality boards and hardware, and proper installation technique all come into play to ensure your new decking is reliable and structurally sound for you and your loved ones.
We have all it takes and more to give you the best possible outcome.
Boost Your Outdoor Space Functionality With A Quality Deck Installation
At Deck Bros, we aim to offer you a proper deck installation that enhances the beauty of your outdoor area and creates an escape where you can take some time out for yourself and enjoy the great investment that you've made.
Your preferences and wishes always come first, and we're 100% in to satisfy you with our work. We're always ready to go the extra mile to deliver a stunning and highly functional deck.
You'll receive a team of professional carpenters and deck builders, all accustomed to the newest and most efficient deck installation techniques. If you're ready to install a deck as quickly as one day, this is your best shot!
Fremont Deckowners Love Their Deck Bros Upgrades!
They did a excellent job and the crew was professional. 
I live 2 hours from Omaha and they took the job without that being an issue. Our deck turned out beautiful. We have the best looking deck in town. I am so glad that we chose Deck Bros. 
 If you want quality go with Deck Bros! It will the best choice you make.
Can't say enough great things about Deck Bros! 
From the initial contact to the completion of my deck, Luan was always available and super responsive. He has a fantastic crew as well.
Deck Bros was hands down the most competitive with pricing. I couldn't be happier with how my deck turned out.
Get New Ideas For Your Deck Building Project In Fremont, NE
Get some new ideas for your project or check out some of our work!
Types Of Decking You Can Get
Homeowners can pick from an abundant selection of material options for decking surfaces. Whether you want wood decking or a high-quality composite material, our pros will help you choose the material that makes the most sense for your particular needs.
Let's see some of Fremont, NE's most common decking materials.
Pressure-Treated Wood Deck Installation
Pressure-treated decking is the most economical solution for building decks, and it's no surprise that homeowners are taking advantage of that! You can create an entire pressure-treated deck for as little as $8K.
However, its affordability might not seem so great when you learn that pressure-treated wood needs regular maintenance to preserve it in good condition. This softwood can easily be scratched, damaged, and absorb water, reducing its lifespan compared to higher-quality materials.
While short-term you'll receive more value for your money as it won't cost much, you'll spend more money on maintenance and repairs in the long run.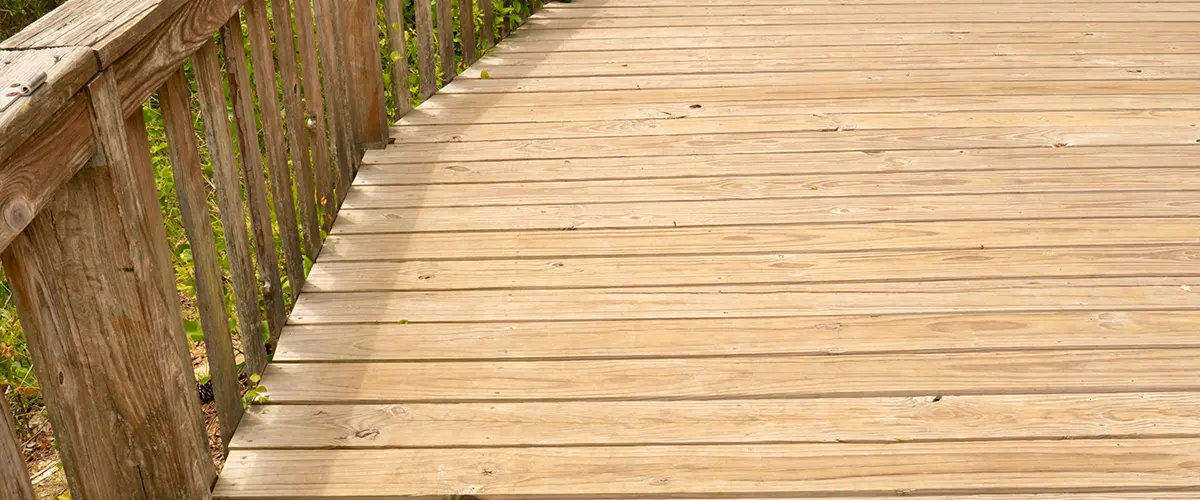 Cedar Wood Deck Installation
Cedar decking is beautiful and has a rather long lifespan with proper maintenance. In fact, it can last up to 30 years!
However, if you want to take full advantage of cedar's benefits, staining and sealing the deck every 2 – 3 years will become a must. Keep in mind though that depending on the sealant you choose, cedar can change its hue, something not many homeowners want.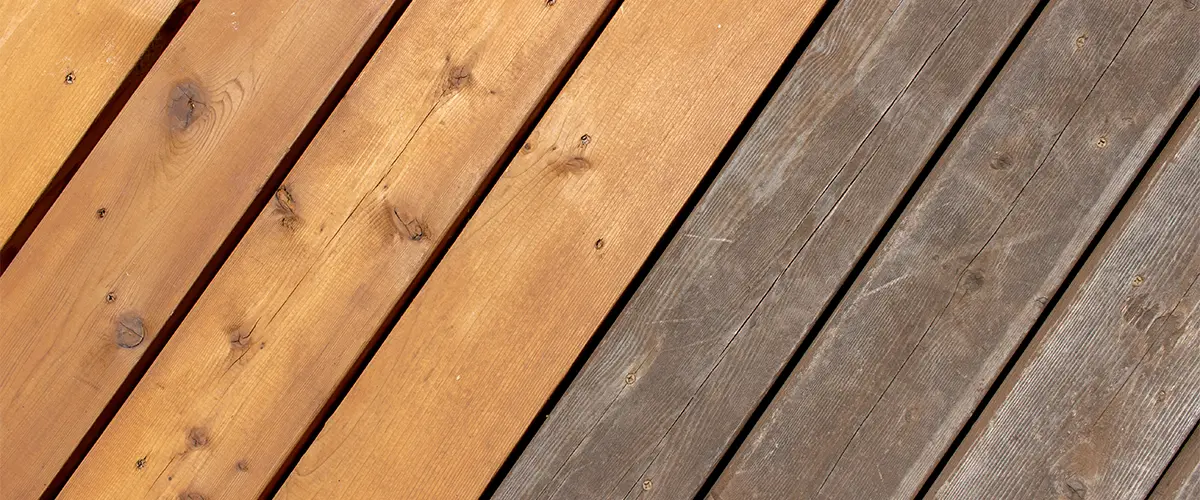 Redwood Deck Installation
Redwood is an often overlooked yet stunning type of timber that can transform the atmosphere of your outdoor decking with its exquisite hue. Ranking third in terms of popularity, it should not be underestimated for its impact.
Redwood's recognized for its strength and resilience to insects, deterioration, warping, and splitting. Nevertheless, even with this natural fortitude, it is important to maintain redwood regularly in order to ensure a lifespan of 15-20 years!
Even with its delicate nature and propensity to be damaged or dented, redwood lumber is still a superior choice due to its exceptional strength-to-weight proportion and steadiness – very minimal shrinkage or expansion throughout the seasons.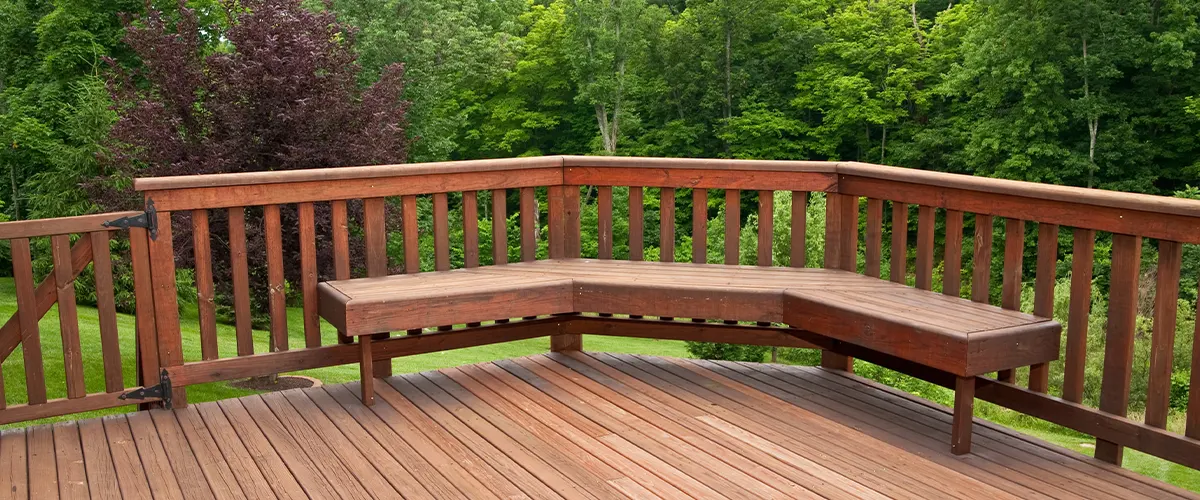 Hardwood Deck Installation
Tigerwood, ipe, teak wood, cumaru, and garapa are incredibly eye-catching decking materials, but they come with a higher cost.
These types of wood are perfect for designing an exquisite entertaining area, similar to those you see in high-end resorts around the country. Needless to say, a hardwood deck is guaranteed to impress your guests and deliver a stunning outdoor experience.
Besides hardwoods looking gorgeous, they're also more durable than other materials when it comes to resisting rot, scratches, decay, and weathering. Most of them are tough, fire-resistant, scratch-proof, and slip-resistant, and boast exceptional longevity and dimensional stability.
Hardwood decking materials are renowned to be among the most expensive options available.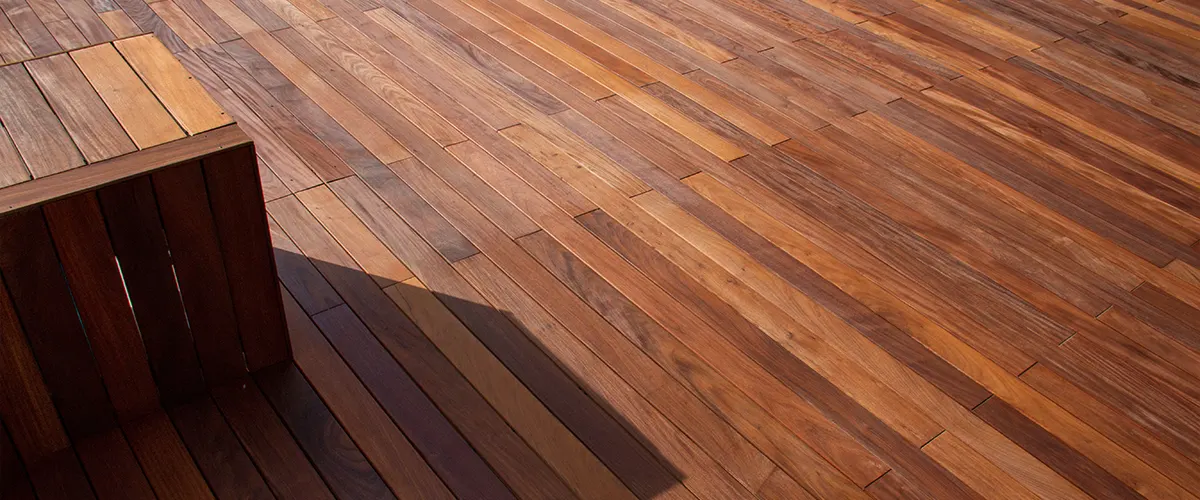 Composite Deck Installation
More and more homeowners are now choosing composite decking for their outdoor spaces, and for good reason.
This material looks gorgeous and mimicks most species of wood, it requires almost zero maintenance, and has great durability, strength, and stability even after many years out in the elements.
Both composite and PVC decking are options preferred by our senior customers who want to enjoy time relaxing on their decks more than maintaining them. Trex and TimberTech are two unparalleled composite decking brands.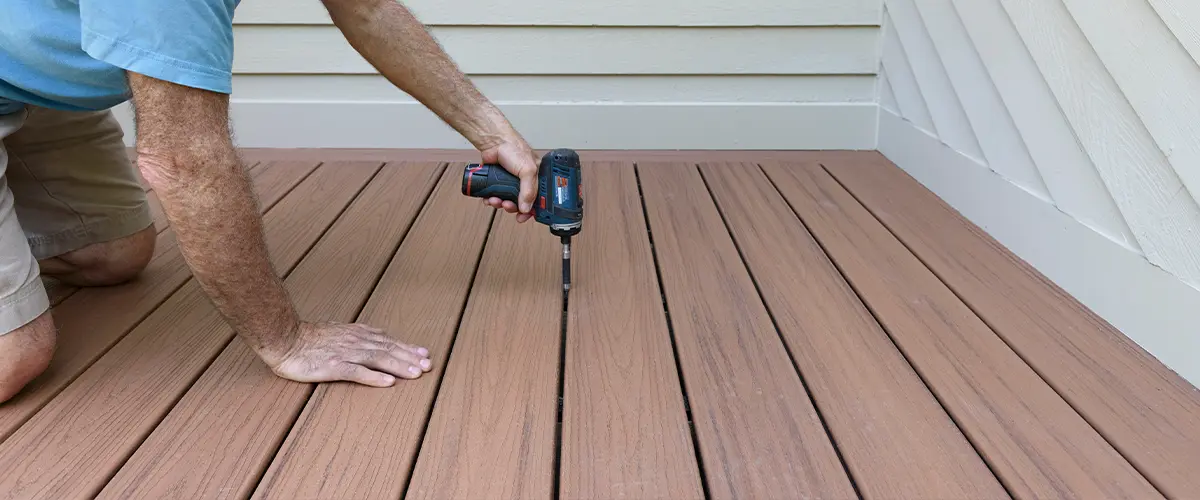 Deck Installation Is Now As Easy As It Gets!
Take full advantage of a quick process that delivers your deck in as quickly as 3 days! Everything we do is centered around you, your loved ones, and your satisfaction.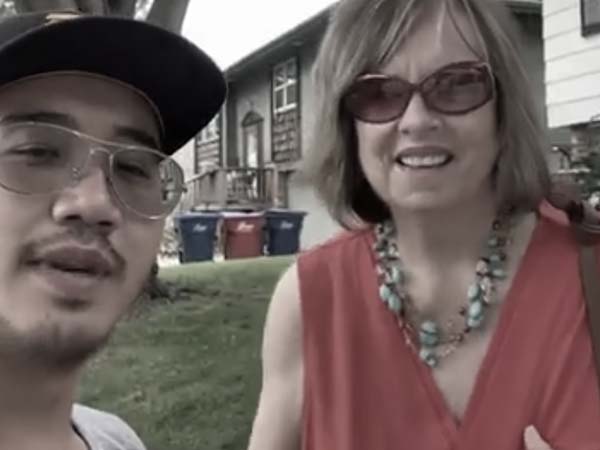 Contact us and we'll find the best plan to tackle your project.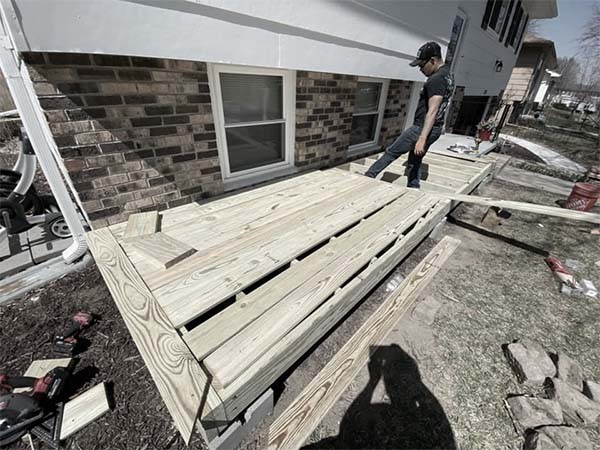 Watch us install your decking and get insights into what's happening.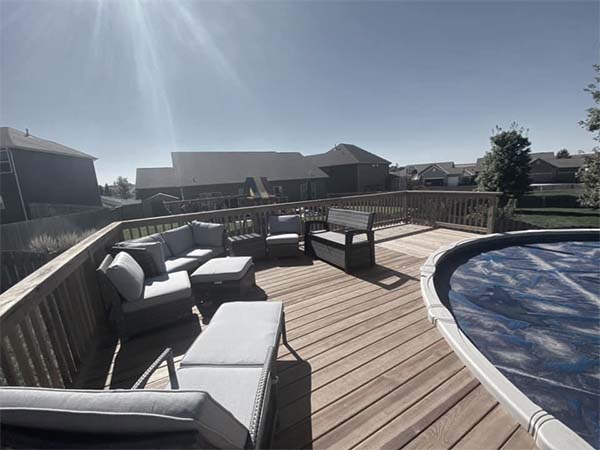 Plan your next barbecue! Your deck is up and running!
Frequently Asked Questions
If you're searching for a cost-effective deck solution, pressure-treated wood is the way to go. At Deck Bros., we specialize in crafting these types of decks and are excited to offer them at an affordable rate! We take great pride in our ability to build beautiful yet budget-friendly projects that put smiles on customers' faces.
Homeowners commonly make several mistakes when constructing decks. For instance, the boards are often not aligned with the grain texture and can be unevenly cut at their edges; additionally, screws or nails may remain visible after installation, detracting from what would otherwise be a stunning wood species.
So while you can install the decking yourself, working with a pro saves you from these little mistakes that can ruin the looks of your deck. If you're a homeowner in Fremont, Deck Bros can take on your deck installation project and give you a top-quality result.
If you live in Fremont, NE, and wish to build a 12×12 deck with pressure-treated lumber, the estimated cost is around $3k. However, if you opt for composite materials instead, this will up your total costs to approximately $5k—not including any extra charges that may be necessary for constructing stairs. 
Get A World-Class Deck Installation Service In Fremont, NE
Homeowners in Fremont can rest assured that Deck Bros will provide them with a deck they'll be proud of. We take complete responsibility for your project, making sure every detail is attended to and the final product is safe, secure, and fully functional.
We pledge to deliver only the highest standard of excellence, ensuring you receive maximum satisfaction with your product. Your needs and wants are our foremost priority—we will do whatever it takes to guarantee that you are fully satisfied in the end.
Work with Deck Bros Fremont and enjoy:
Get A Reliable Deck Installation In Fremont From A Local Pro