Deck Building In Gretna NE: Let Pros Handle Your Project
If you're searching for the top deck construction service in Gretna, NE, you've come to the right place!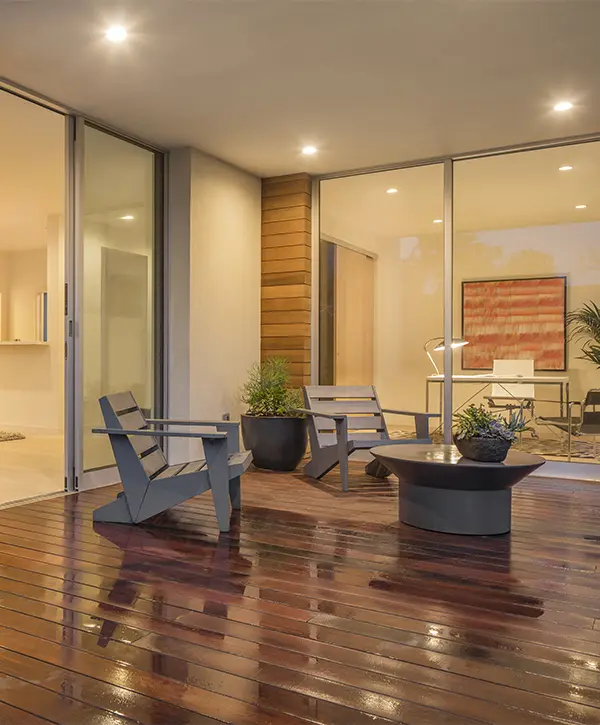 Deck Bros is the go-to deck building contractor for homeowners who want to enhance their outdoor space and include nature into their daily routine. So far, hundreds of homeowners like yourself got their new decks from Deck Bros, and they're happier than ever!
We have a lifetime experience in deck building and creating beautiful outdoor structures, and we're offering a complete deck building service that puts all other deck builders in Gretna to shame.
Enjoy A Process Packed With Benefits!
We want to exceed your expectations with every project we work on and give you the best deck building experience possible!
With us, you're also getting:
Make An Investment Out Of Your Superior Deck Construction
With Deck Bros, you can expect a simple deck building procedure and an end-product that will leave your guests speechless. Your new deck will become the favorite spot for family gatherings, and the ideal location to entertain your visitors.
We're dedicated to providing you a better experience with contractors and aim to make your project an easy and enjoyable journey.
We'll make your requirements and preferences a top concern from start to finish, so you'll make a real investment with your new, superior deck building in Gretna!
Get your deck building offer right now and enjoy some of the best deals in the deck building market today! We offer professional and complete deck building services in Gretna and surrounding areas!
Gretna Homeowners Love Their Deck Bros!
Check out what our customers in Gretna are saying about working with the best deck builders in Omaha Metro Area!
I consider Deck Bros one of the best companies I have ever worked with. 
I had my old deck taken down and a new deck designed and erected all in a period of six days. Luan the designer allowed changes throughout the 6 days. 
The crew was tremendous in their work assuring the work met all safety requirements as well as starting each morning and keeping grounds cleaned up each evening as well as keeping us informed of how the job was progressing. 
If I'll ever need another deck I would never consider another company but Deck Bros. They are the best.
I found Deck Bros on Facebook & gave them a call. The owner Luan was very pleasant, came out and gave me a quote on the spot.
I HIGHLY recommended this company for your decking needs, Luan's employees were so much fun to be around. They didn't have any issues with the dogs being around checking on their work.
They were all very professional & worked hard, arriving early & getting to work. We even did some salsa dancing to the music. They went above and beyond, and no request was an issue.
Thank You, Luan, and the main guys that were there every day, Christian, Carlos & Leo.
Your Deck Building Projects - Worthy Of Outdoor Magazines
Your neighbors are over the moon with their new deck additions! Check out some of our finished projects and get a taste of what your new deck can look like!
Type Of Upgrades And Materials
If you're looking to build a deck, it's important to consult with experts who can advise you on the best materials and upgrades for your project. During our on-site consultation, we'll go over all of your options in detail so that you can make the best decision for your home.
If you're looking to upgrade your Gretna NE home with a new deck, check out some of the most popular materials and upgrades below.
The most serious deck problems are due to the structure of the deck. Because the frame keeps your structure standing, any of its flaws must be fixed right away.
Although pressure treated lumber is a popular material choice for building decks, wood rots and termites can ruin it.
While steel is stronger and more durable than wood, it also doesn't require the same level of maintenance.
The surface of your deck is what will be seen the most and creates the atmosphere for you and your guests. You want it to look amazing but also stand up to bad weather conditions.
Your deck may be made of a variety of woods (such as Ipe, mahogany, tungsten, or even redwood), which gives it a natural and high-end appearance. However, they are more expensive than cedar and still need to be maintained.
The most practical material for avoiding the drudgery of cleaning your deck is composite decking. Composite is by far the greatest choice when compared to other materials in a humid environment with a lot of water.
Here at Deck Bros, we only work with the best of the best in the decking industry. You can find top products from Trex, TimberTech, Fiberon, Westbury, and Fortress among others.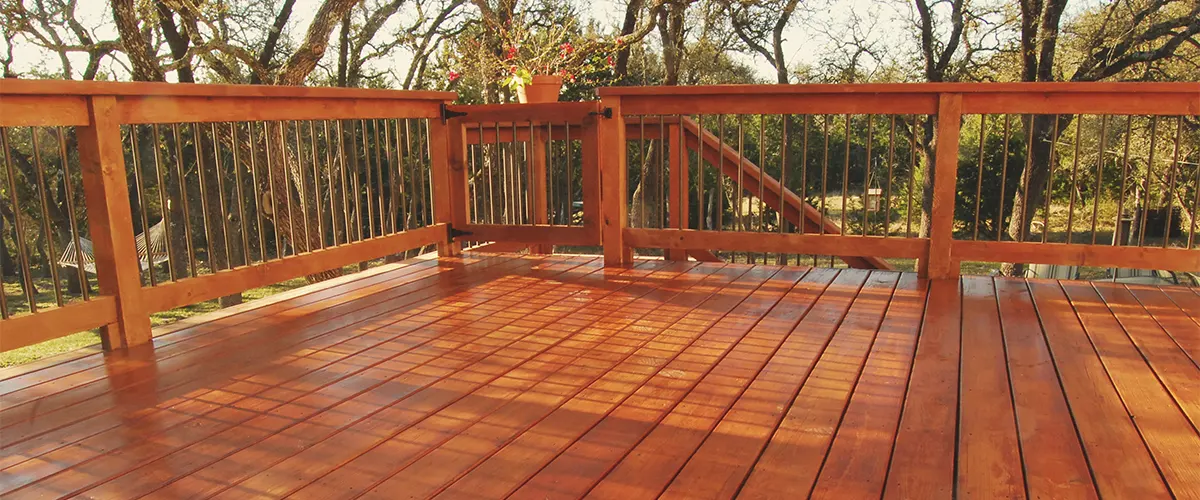 Railings are a must for raised decks. They provide you with comfort and security. Railings are necessary to give you both of these benefits.
We strongly advise our customers to choose composite or aluminum railings in place of wood railings since they are widely accepted. Composite is more long-lasting and attractive than wood.
Not only are aluminum railings safe, but they also complement your deck very well. They'll give the impression that your deck is more expensive than it actually is, and will offer it a more upscale mood.
Railings and lights are important not just for style, but also for comfort and safety. Stair lights, in particular, are essential to guide your steps and keep you safe, especially for decks that are elevated off the ground.
The choice is yours in terms of lighting. We recommend using a warm light, not too strong, but powerful enough to see at night.
When we recommend options to our customers, we have two main considerations: that the lighting is low-voltage and will last a long time. Not only does this save money on your electricity bill, but it also means you won't have to replace them as often.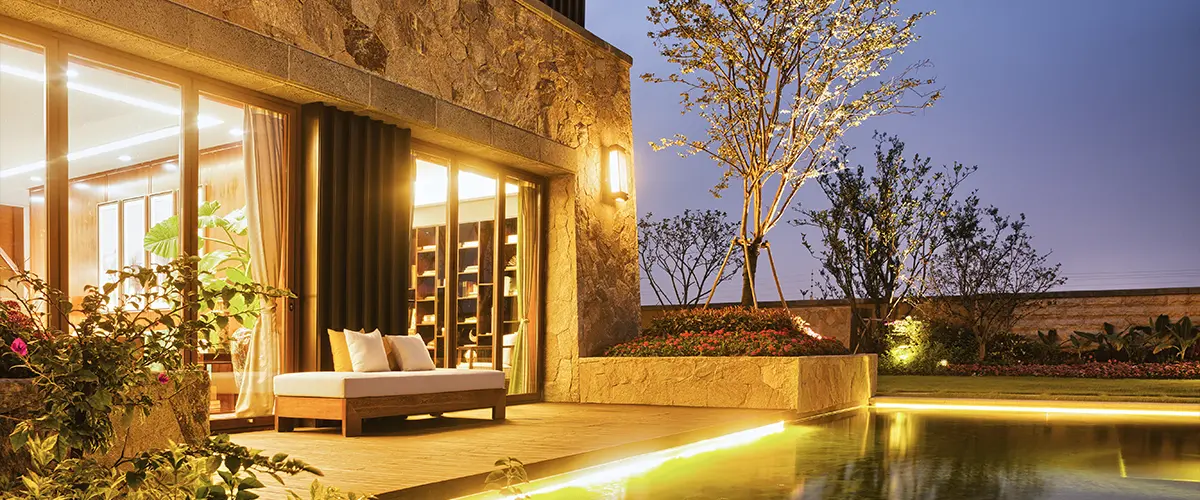 Getting A New Deck Got 10x Easier
Today, the deck building industry is falling short in multiple areas.
From a comprehensive communication to a thorough final walkthrough and everything in between, Deck Bros makes it simple to get your new deck!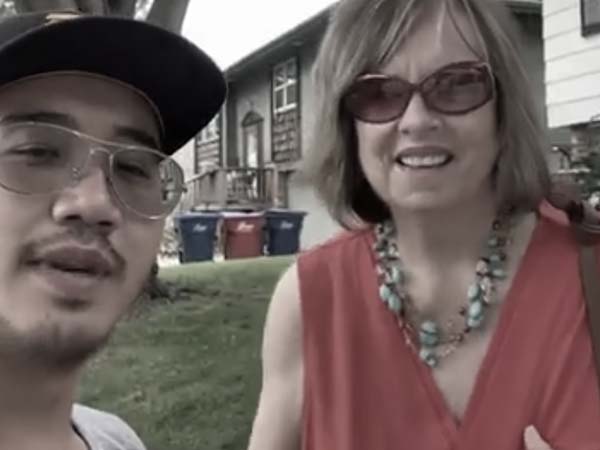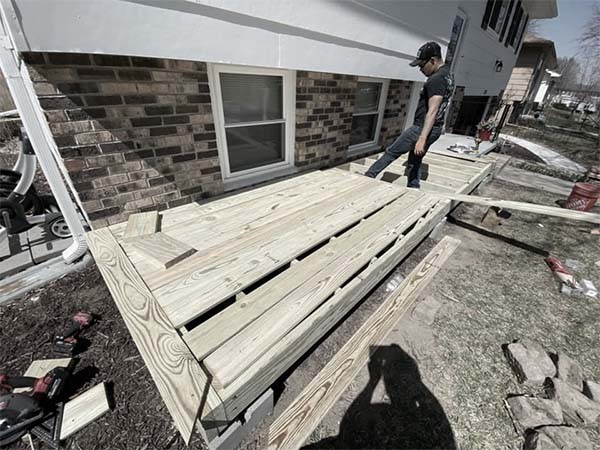 You'll see your new outdoor space come to life.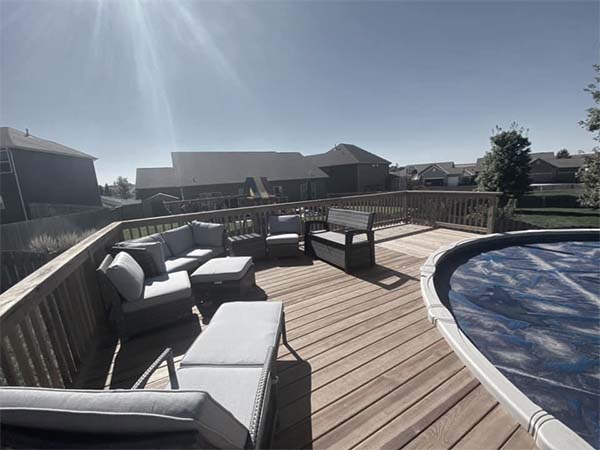 Your new deck is ready in record-time!
Frequently Asked Questions
Our average 12×12 cedar deck will cost around $14k. However, these decks will require regular maintenance, and the costs of sealants, stains, and paints will pile up.
In contrast, composite decks are low-maintenance and long-lasting. For a 20×12 deck with added features, you're looking at approximately $27k. It may seem like a hefty investment up front, but the stunning outdoor space you'll have in return is well worth it.
At Deck Bros, we understand that your time is important. That's why we provide quick delivery times for our decks, with most projects taking a usual 3-day build time once demolition is complete. In fact, we finish many of our basic and average decks in just one day!
We always prioritize the safety and quality of your deck over the time it takes to built it. If it requires more time or attention than usual, we're happy to put in the extra work- after all, your satisfaction is our number one goal. Rest assured your project is in good hands.
You'll get an accurate time frame at our on-site consultation.
I'm Luan, the owner of Deck Bros and a huge fan of the city of Gretna. I work with a team of professionals, all artists in what they do. We all know the deck building codes inside-out, so you're ensured the highest standards in the deck building industry in Nebraska.
You'll have your own project manager and everyone in your specialized in-house team will be fully dedicated to yours and your project's success.
Enjoy A Pristine, High-Quality Deck In Gretna!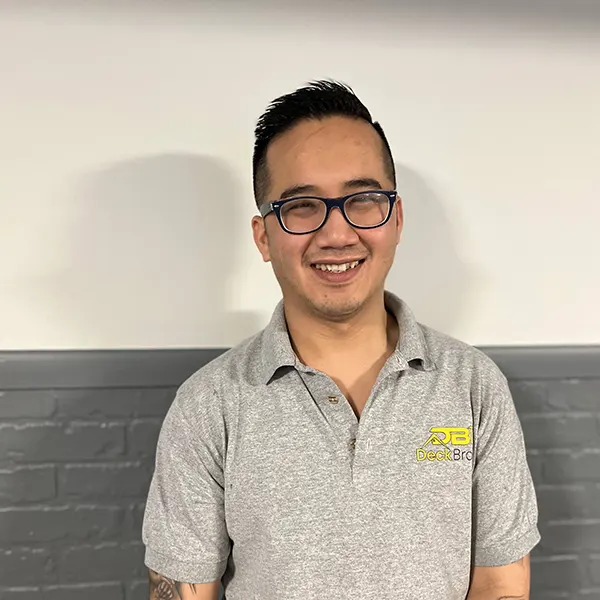 If you're in Gretna, Nebraska and want a high-quality deck, you've found the right people to deliver it.
Deck Bros has been in business for over 6 years, and our team has a lifetime of experience in deck building. We're dedicated to ensuring that your deck building project turns out exactly as you envisioned it.
We believe that communication, knowledge, quality, and transparency are key to your success in getting one of the best home additions that you could've ever wished for.
You'll get:
Let's Get You A Deck You Can Be Proud Of