The Best Deck Installation In Gretna, NE
Waste no more time and get a consultation with a real pro!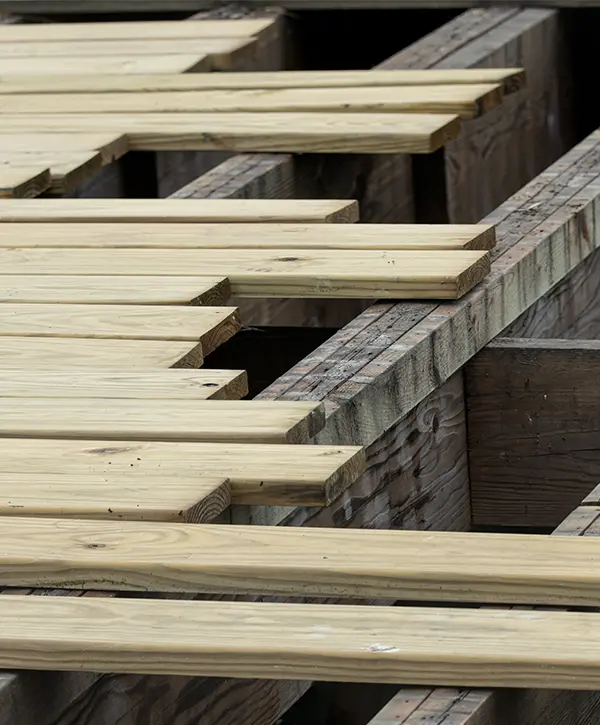 Deck installation is one of the quickest and most affordable ways of updating an outdated deck.
Replacing weather wooden boards with a new material ensures a safer and more aesthetic outdoor space that can make your entire deck appear new!
At Deck Bros, we put quality and efficiency at the front and center of our work, so by the end of your deck installation in Gretna, you'll have a world-class deck like the ones you see in the most expensive resorts in the country.
Improve The Curb Appeal Of Your Outdoors With A Complete Deck Installation
Your deck is most likely the main attraction in your outdoor space, so it's only natural it needs to shine bright and host some of the best gatherings in your family. You'll get a safe, beautiful, and highly functional deck that's everything you've ever dreamed of.
This is what makes Deck Bros your best choice:
Premium Deck Installation From A Reliable Contractor In Gretna
At Deck Bros, we are dedicated to offering you the best deck installation available that will last for years with minimal maintenance. You'll get a reliable and top-notch service to enjoy your deck without any worries!
Whether you want a simple, rectangular installation or a more intricate design with diagonal or herringbone decking, you'll work with an expert who can perfectly execute your vision.
You'll also enjoy an efficient installation, so you won't have to deal with the most common issues with decking. We take extra caution to avoid that, which is why you'll benefit from an advantageous 5-year workmanship warranty.
Gretna Homeowners Love working with A Professional!
They did a excellent job and the crew was professional. 
I live 2 hours from Omaha and they took the job without that being an issue. Our deck turned out beautiful. We have the best looking deck in town. I am so glad that we chose Deck Bros. 
 If you want quality go with Deck Bros! It will the best choice you make.
Can't say enough great things about Deck Bros! 
From the initial contact to the completion of my deck, Luan was always available and super responsive. He has a fantastic crew as well.
Deck Bros was hands down the most competitive with pricing. I couldn't be happier with how my deck turned out.
Get New Ideas For Your Deck Building Project In Gretna, NE
We're proud to have helped hundreds of homeowners in the Omaha Metro Area see their vision through. Our craftsmanship is proof of our dedication and passion. Here's what your deck can look like with us working on it!
Types Of Decking You Can Get
Homeowners enjoy a plethora of choices when selecting the ideal deck surface material. Whether you're looking for an inexpensive pressure-treated wood option or wish to indulge in luxurious teak, there are benefits associated with either selection.
Let's see some of Gretna, NE's most common decking materials.
Pressure-Treated Wood Deck Installation
If you want to create a getaway without breaking the bank, pressure-treated wood is your ideal solution. This decking material is highly affordable and gets the job done.
But with affordability comes several downsides. Pressure-treated wood often offers a lower quality because of its softer nature, making it more vulnerable to damage and water absorption.
Pressure-treated wood needs regular sealing and staining at least once every 2 – 3 years – especially if you want it to look good and keep it away from rot and pest damage.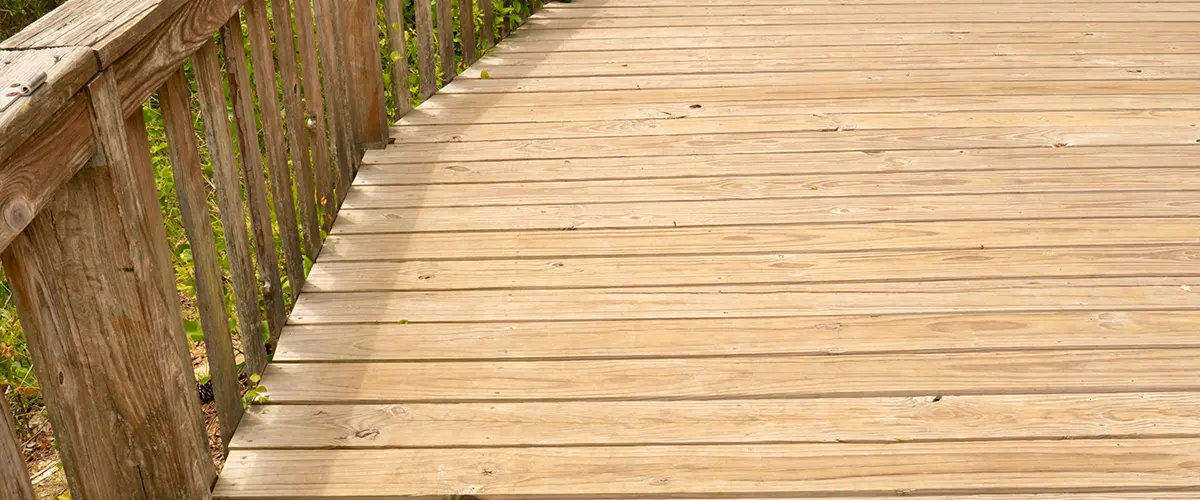 Cedar Wood Deck Installation
Cedar is captivating in its visual appeal and presents better water-repellent and rot-resistance properties than most other natural building materials. Nonetheless, these benefits will diminish after a while due to the continual weathering of its protective layer.
Sealing and staining your deck is a critical step in the maintenance process to ensure longevity and robustness. While this may add on extra costs initially, it will be worth it if you want to prolong the life of your outdoor space for many years to come.
Although a little bit more expensive than pressure-treated wood, cedar is totally worth its price.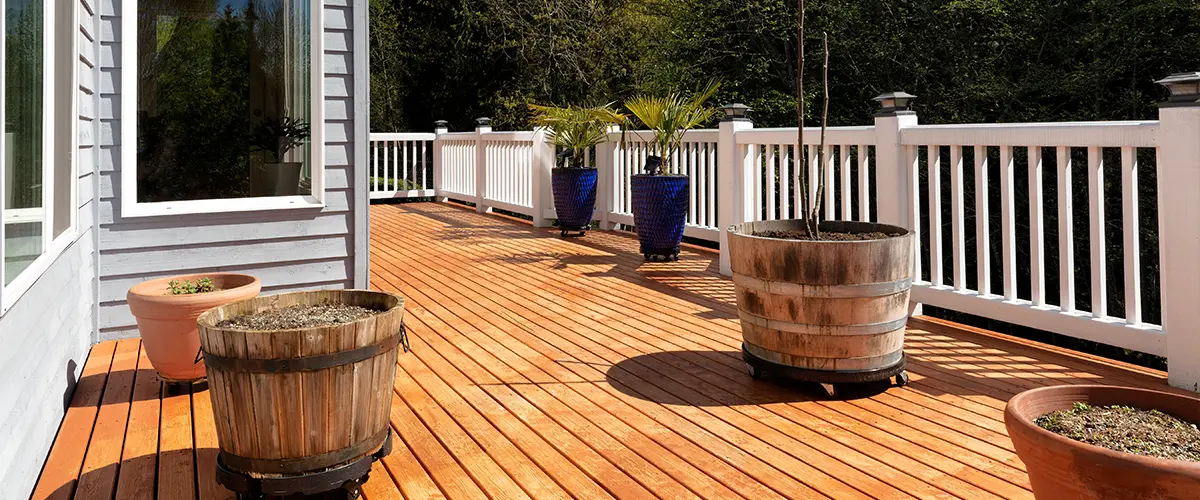 Redwood Deck Installation
Redwood is a top decking material renowned for the impressive beauty that sets it apart from other kinds of wood. With its captivating coloring, it's easy to see why this natural resource has earned itself the third spot in popularity.
Redwood is naturally impervious to bugs, rot, and warping; however, with regular maintenance every two or three years it can be sustained in its optimal condition for the longest time possible.
Despite feeling soft to the touch, redwood lumber provides an impressive strength-weight ratio and remarkable consistency. Although it may be more prone to scratching or denting than other types of wood, its minimal shrinking or movement make up for this slight disadvantage.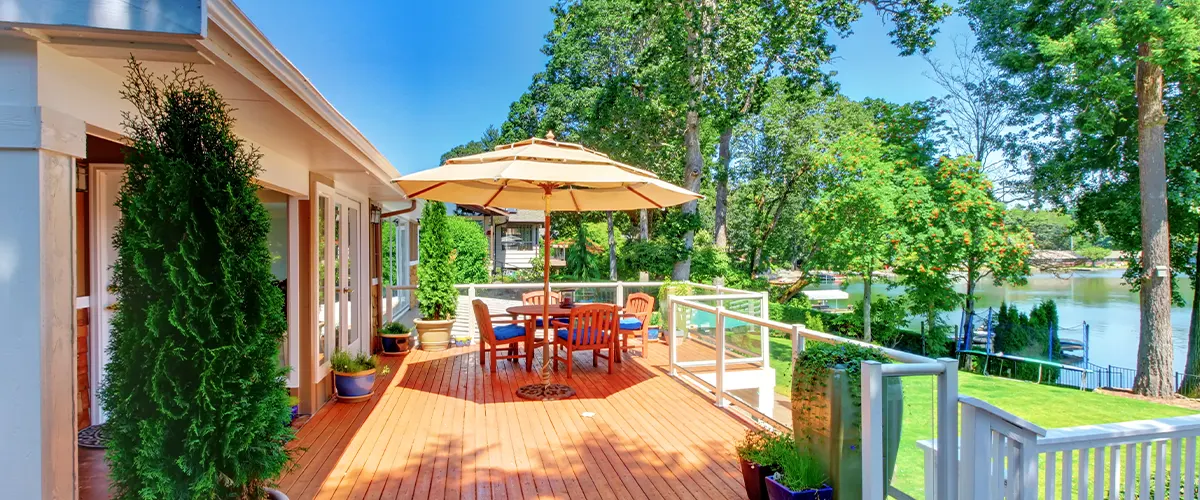 Hardwood Deck Installation
Transform your outdoor living area into an oasis with a hardwood deck installation! Teak, cumaru, ipe and tigerwood are perfect options to create a luxurious space that will have guests in awe. With these high-end woods, you can't go wrong!
Hardwoods possess breathtaking beauty, and their ability to resist rot and scratches over extended periods of time makes them ideal for outdoor use.
Take Ipe for example. This wood is sturdy, fire-resistant, scratch-proof, and slip-resistant, with remarkable longevity and superior dimensional stability.
Given hardwoods are the most costly option for decking materials, you should be prepared to pay a premium price.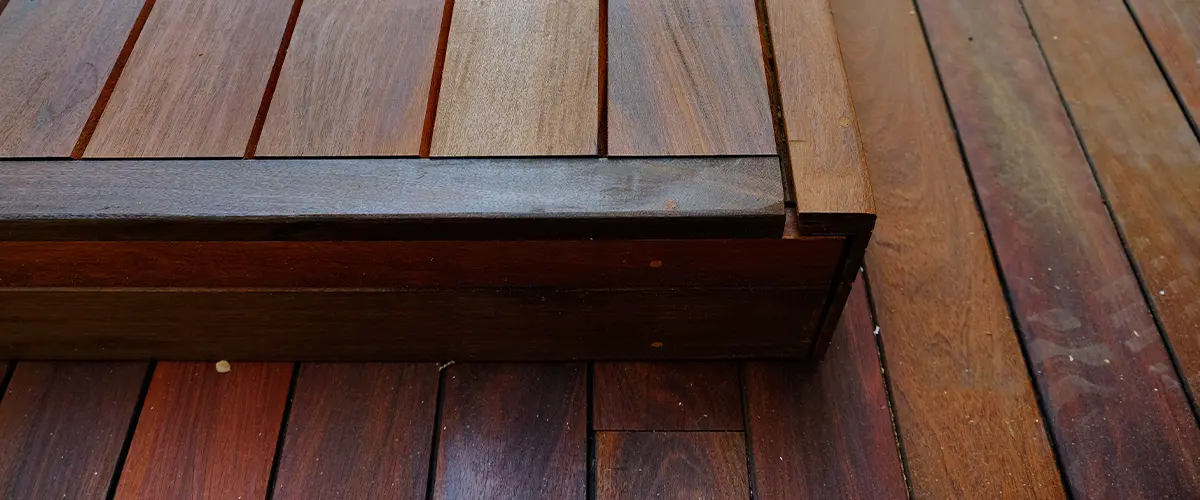 Composite Deck Installation
Composite wood is ideal for those who want a deck with minimal maintenance.
Many decking professionals recommend composite wood over other natural materials because it's more eco-friendly, looks upscale, and lasts much longer. Senior homeowners love this type of decking in particular because it saves them from the hassle of sealing and staining – and save money at he same time.
Two of the most popular composite decking brands are Trex and TimberTech decking. Both of these brands are highly efficient, but small differences make one better than the other in certain situations.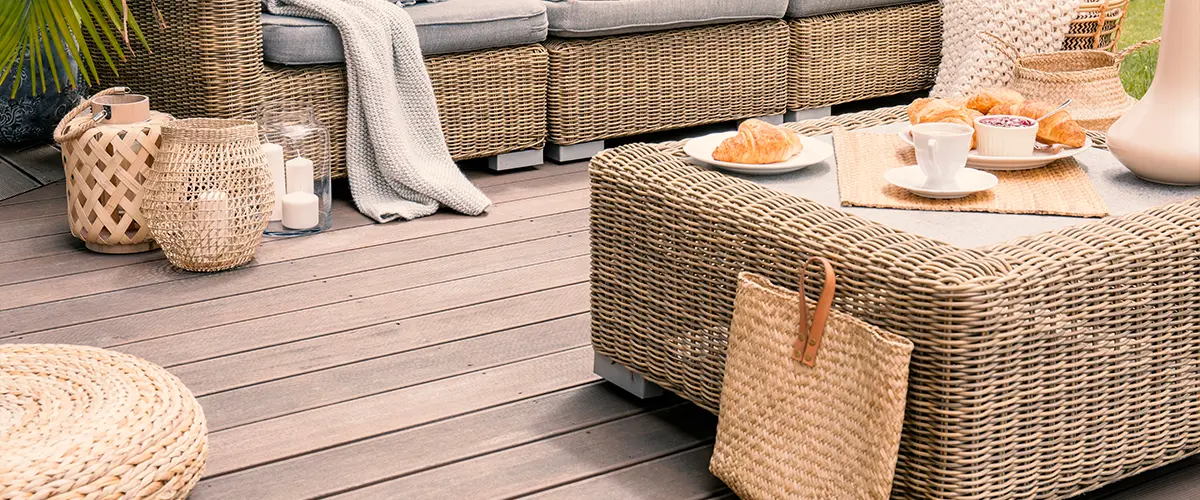 Deck Installation Is Now As Easy As It Gets!
Take full advantage of a quick process that delivers your deck in as quickly as 3 days! Everything we do is centered around you, your loved ones, and your satisfaction.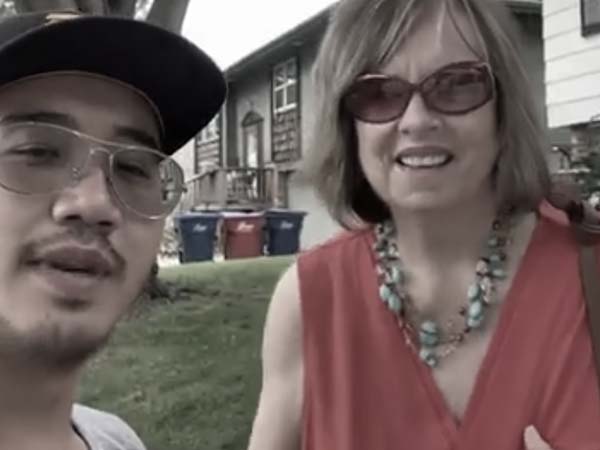 Contact us and we'll find the best plan to tackle your project.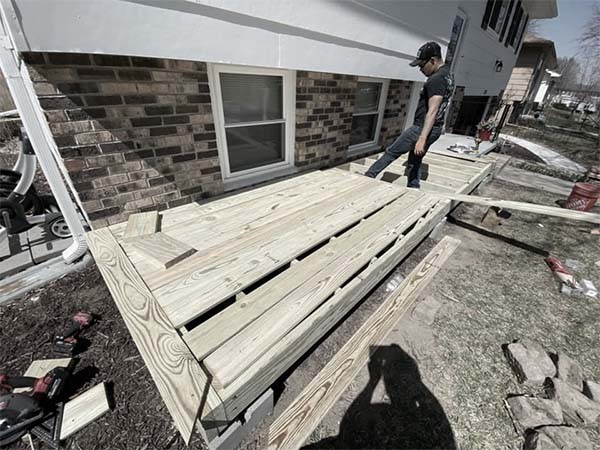 Watch us install your decking and get insights into what's happening.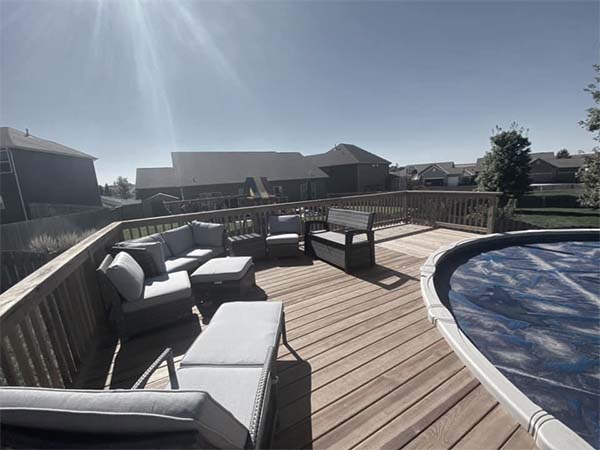 Plan your next barbecue! Your deck is up and running!
Frequently Asked Questions
A pressure-treated wood deck would be the cheaper and fastest structure to build. This material is widely available throughout Nebraska, and its low price point makes it the most popular decking material for homeowners looking for a high ROI. From a different perspective, composite decking will save you a lot of money and repairs in the long run.
Building and installing a deck is all about safety and aesthetics. It needs to function properly, look good, and be 100% safe for you and your loved ones. Needless to say that experts have the right tools and expertise to make this happen. If you have some experience with deck building, you might be able to tackle this project by yourself. If not, a pro is essential to ensure your deck doesn't pose a risk.
Constructing a 12×12 deck in Gretna, NE with pressure-treated lumber will cost around $3k; however, if you choose composite material for the structure instead, the price can potentially increase to about $5k. Moreover, should your platform need stairs for easy access from higher ground level down below its surface area as well – costs are likely going to skyrocket even more!
Enjoy A World-Class Deck Installation In Gretna, NE!
Gretna residents trust Deck Bros to construct a deck that will stand the test of time. Our devoted team is committed to offering outstanding quality and premier service – we will work with you every step of the way for complete transparency and accountability.
Our team goes above and beyond to guarantee your deck is built safely, with no detail overlooked. We prioritize customer satisfaction from the start of the project through completion.
We have exactly what you need if you are looking for a deck installation service tailored to your wishes and requirements!
Work with Deck Bros Gretna and enjoy:
Your long-Lasting Deck Installation In Gretna Awaits you!