The Best Deck Building In La Vista
Looking for a trustworthy deck builder in La Vista? Ask one of our experts anything about your new deck!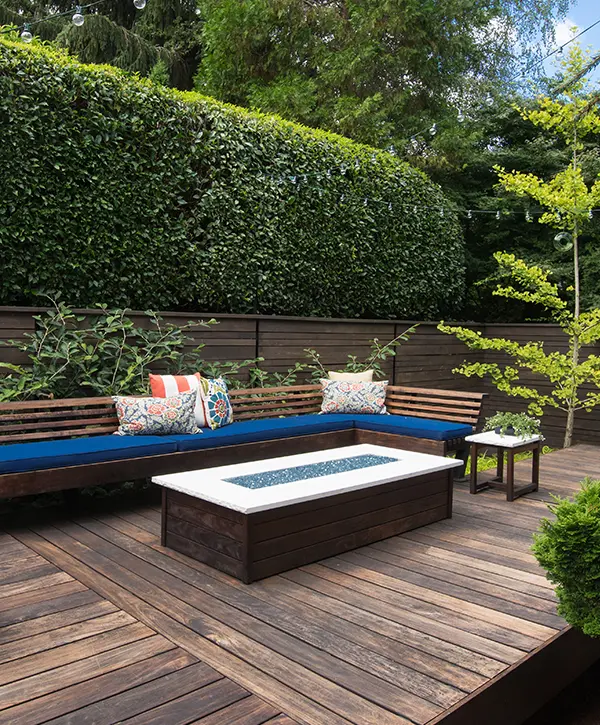 Planning to build a new deck in La Vista? Make the wise choice and get yourself a contractor worthy of your money!
Deck Bros have been the go-to for homeowners looking for a new deck building in La Vista since the very beginning. People love a highly-efficient deck builder that can get them the whole nine yards along with an easy process.
We're changing the deck building industry one deck at a time, and our mission is to give you a premium deck construction that'll last for a lifetime.
Get Your Hands On A Pristine New Deck In La Vista!
With Deck Bros, you're not just getting a new deck for your backyard. You're getting a premium addition that'll raise your property's value and improve your quality of life in unimaginable ways.
With Deck Bros, you'll also get:
Let Your Backyard Reach Its True Potential With A Superior Deck Building
We've visited a lot of homes and in each of them, it felt like something was missing. While the inside of the house was beautiful, their backyards were lacking an important thing. A deck that creates the ideal outdoor space to kick back with your friends and loved ones.
Working with Deck Bros gets you more than this. We're always trying to over deliver on our promises and build superb new spaces that completely transform your outdoors and how they feel.
Go through a memorable deck building experience with your local pros and enjoy professionalism at every step of the way.
Check out our deck building offer in La Vista! Get your free quote today and allow your backyard to reach its true potential with a superior deck construction.
La Vista Homeowners Love Their New Decks
They did a excellent job and the crew was professional. 
I live 2 hours from Omaha and they took the job without that being an issue. Our deck turned out beautiful. We have the best looking deck in town. I am so glad that we chose Deck Bros. 
 If you want quality go with Deck Bros! It will the best choice you make.
Luan and his crew are first rate deck builders. 
They refurbished and re-supported our old deck and added on additional new decking in a week after all was approved by the city of La Vista. 
The only problems were with the composite supplier which Luan handled quickly. 
Definitely recommend them if you are looking for a new deck or want to update an old one.
Get New Ideas For Your Deck Building Project In La Vista
Take a look at how our decks turn out! Get inspiration for your upcoming deck building project in La Vista and take the first step toward your new upgrade!
Type Of Upgrades And Materials
There's a vast sea of options when it comes to the materials and upgrades you can get for your new deck building in La Vista. All of them will affect your deck's functionality and aesthetics, so making the right decision is of utmost importance.
We'll consult and guide you through your best options at our on-site visit. Until then, let's look at some of the most popular deck materials.
The frame is what keeps the entire structure up, so you'll want it to be incredibly strong, durable, resistant, and safe. The frame usually consists of the footings, the posts, and the frame itself.
For footings, deck blocks or concrete footings are some of the most cost-effective options. For posts and the frame, grade #1 pressure treated wood rated with ground-contact is a good option, but not the best.
Metal frames from Fortress Building Products are some of the most reliable deck frames available. They're durable, strong, won't rot, warp, or crack, and they don't need any maintenance.
The decking surface sets the vibe of your outdoor space and gives it its final appearance. Naturally, you want it to look nice, but also to have great functionality and be easy to maintain.
Wood species like Ipe, mahogany, tigerwood, or even redwood are high-end materials that give your deck an upscale look. They're more expensive and still require regular maintenance, but compared to pressure treated wood, they look so much better!
If you're looking for a very low maintenance material, we recommend composite decking. This decking material requires no staining or sealing, and a quick pressure wash once a year will be enough to keep it looking great.
With Deck Bros, you'll get decking from the biggest composite decking brands in the deck building industry at competitive prices. We work closely with TimberTech, Trex, and Fiberon.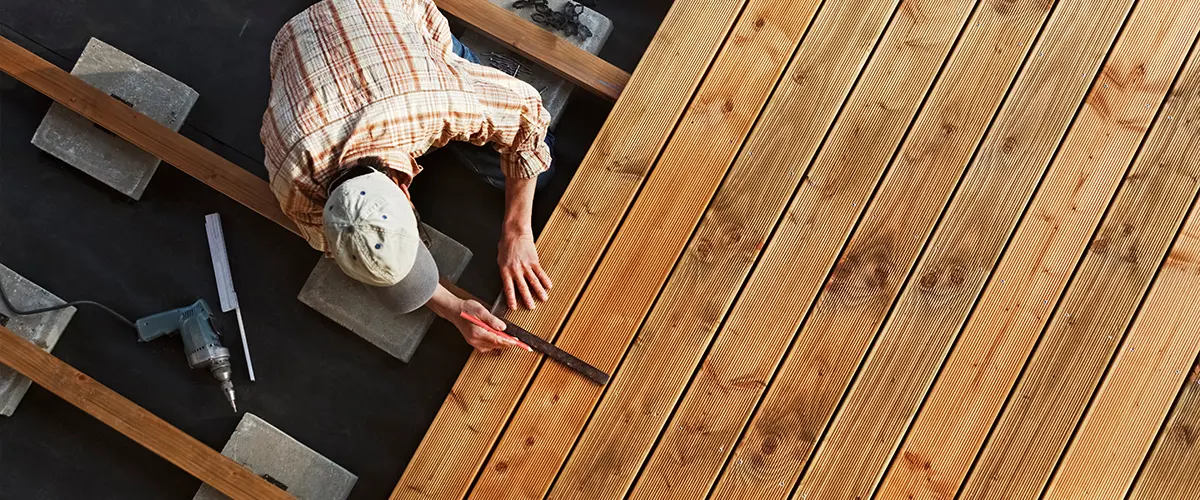 Railings are required by law for all decks elevated from the ground. Freestanding decks that are on the ground level look very good without rails, but a deck attached to your home and with a set of stairs will need railings.
Lights may provide you with a sense of security while also making your deck more safe, especially at night. Stairs lights for elevated decks are also necessary by building regulations in La Vista and all over Omaha.
The possibilities for lighting are endless. We recommend using low-voltage, long-lasting warm, cozy light. You don't want your power bill to go up and you don't want to have to replace them in a few years.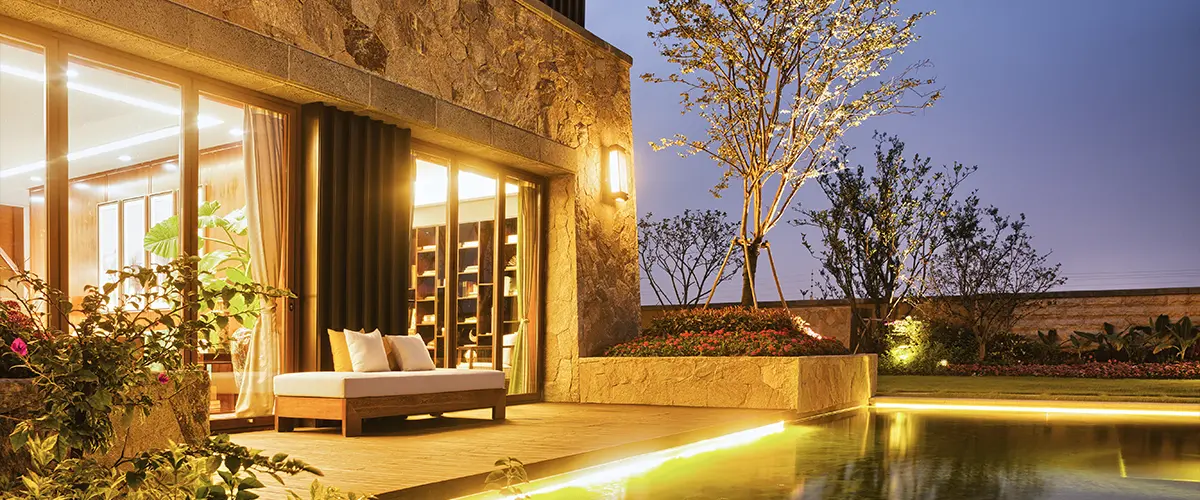 The Best Deck Building Process
At Deck Bros, we're always keeping your time one of our top priorities. This is why we offer quick deck building services, but also a quick and efficient process to get started.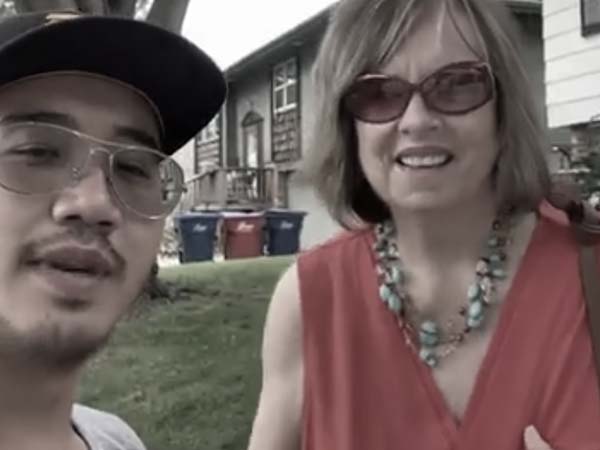 You're already doing this! Get your quote and we'll get back to you.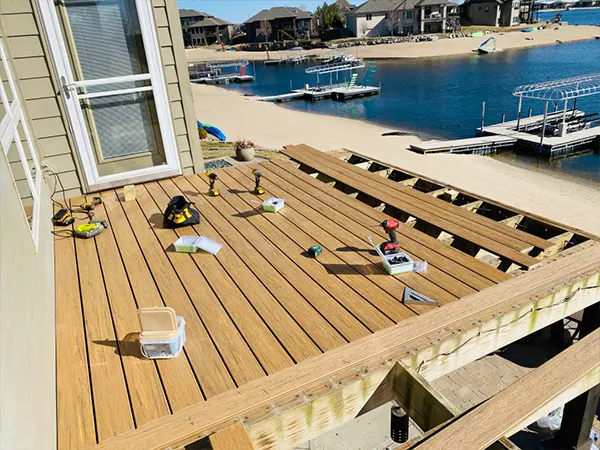 You'll be part of an incredible deck building journey – yours!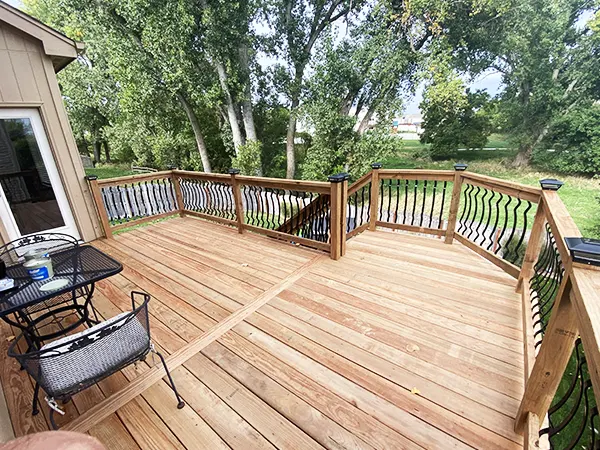 Start planning your next barbecue and invite people on your new deck!
Deck Building In La Vista: A Case Study
This deck in La Vista was an old wooden deck that was starting to rot and became unsafe for the homeowners. They wanted a new, safer deck, complete with premium materials and the best railing on the market.
This deck building in La Vista included:
Before
After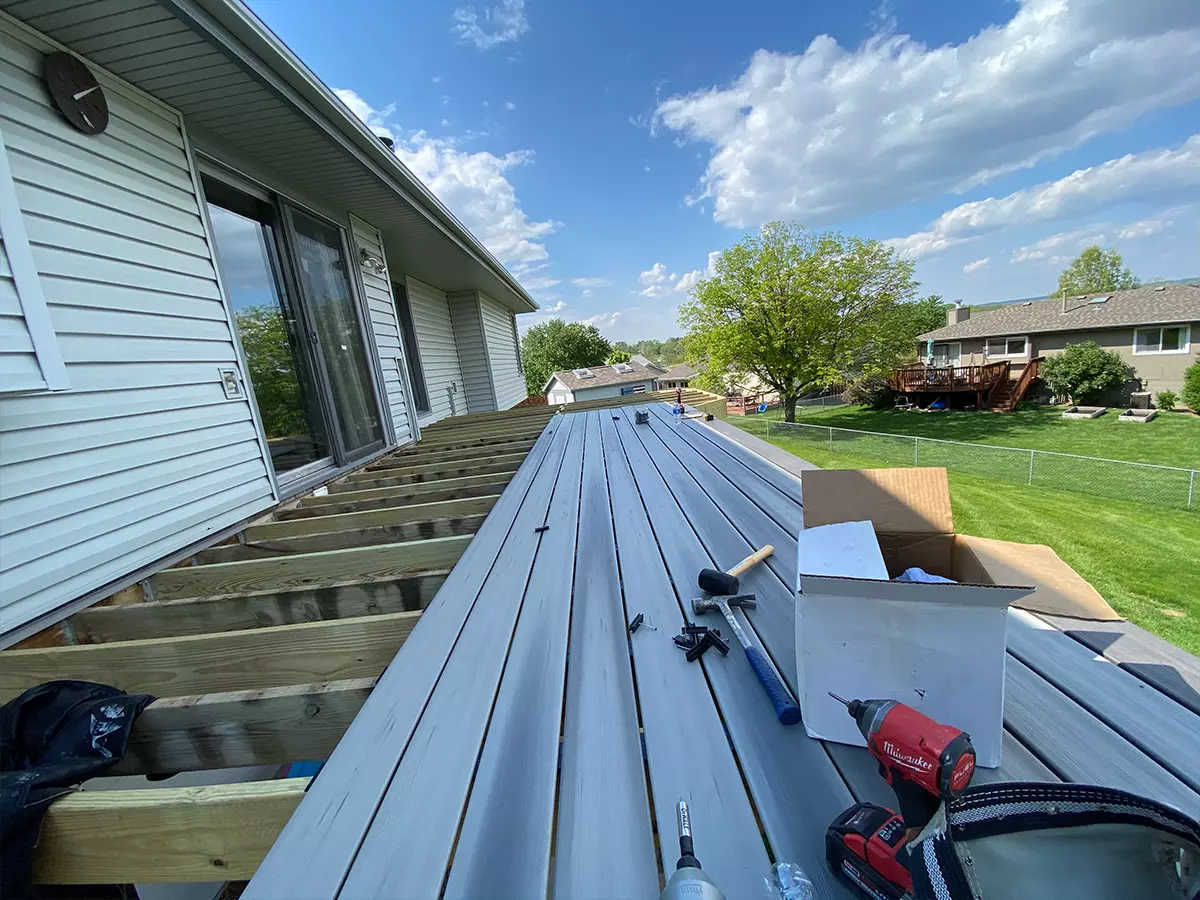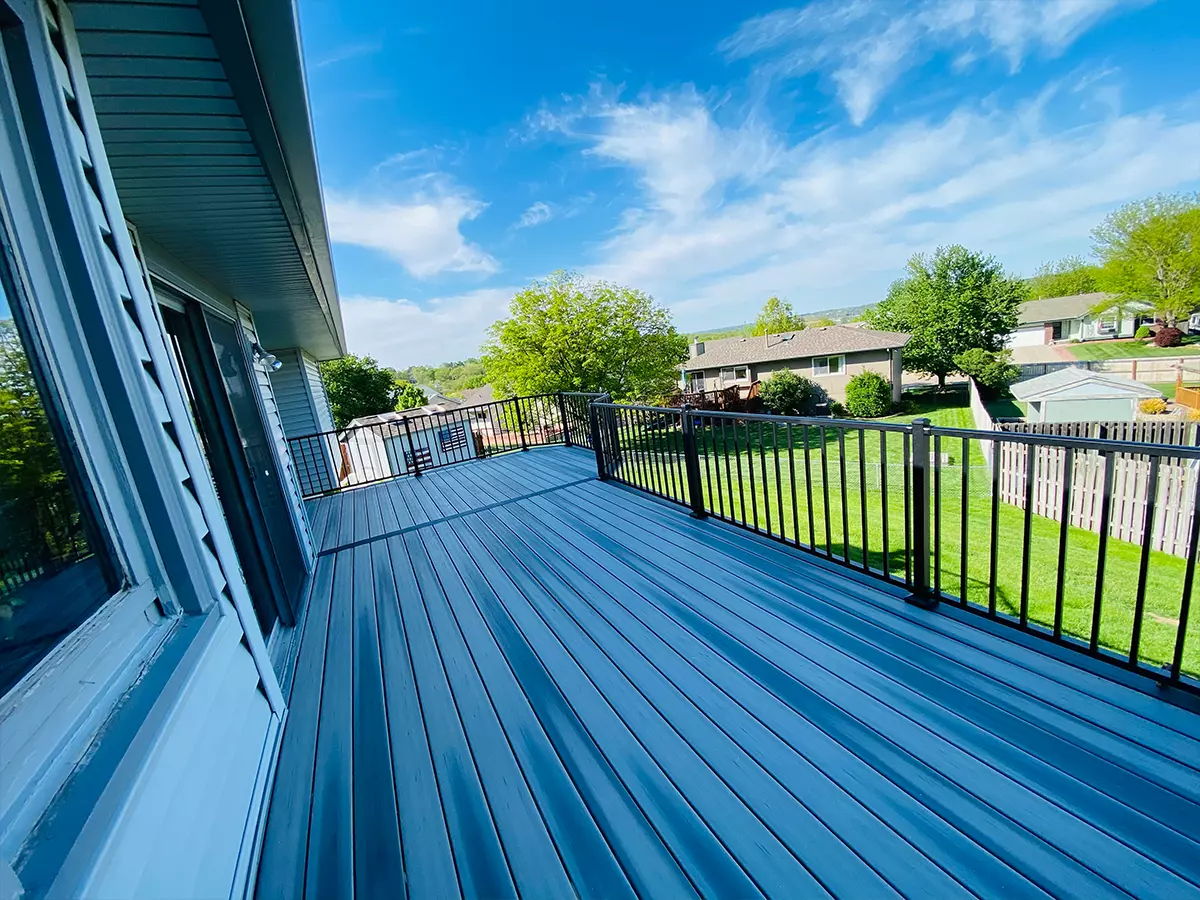 We quoted this project at $23,000, where the deck addition alone came in at $11,000.
Frequently Asked Questions
The final cost of your addition will depend on its size, elevation, and materials.
For example, the average 12×12 cedar deck will cost around $14k, but for a 20×12 composite deck with aluminum railings, fascia wrapping, and a set of stairs, you're looking to spend around $27k.
After our on-site consultation you'll get the most accurate pricing and timeframe quote.
Our goal is to deliver you a high-quality deck in the shortest time possible. Most of our projects take less than a week, with a usual 3-day built since demolition is complete. In fact, we've had a lot of deck building projects done in just one working day!
I'm the owner of Deck Bros, Luan, and I lead a team of licensed and insured carpenters.
Combined, we have a lifetime experience in deck building and providing the most cost-efficient solutions for homeowners looking to get a new deck. We know our way around every aspect of a deck, so rest assured you'll get a premium build that'll make your neighbors envy you.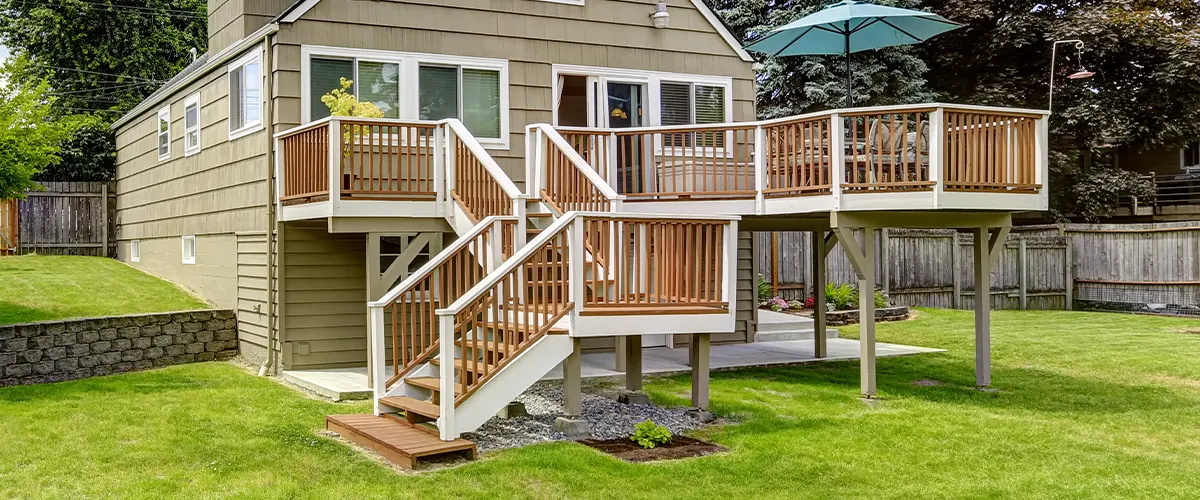 Let Deck Bros Take Care Of You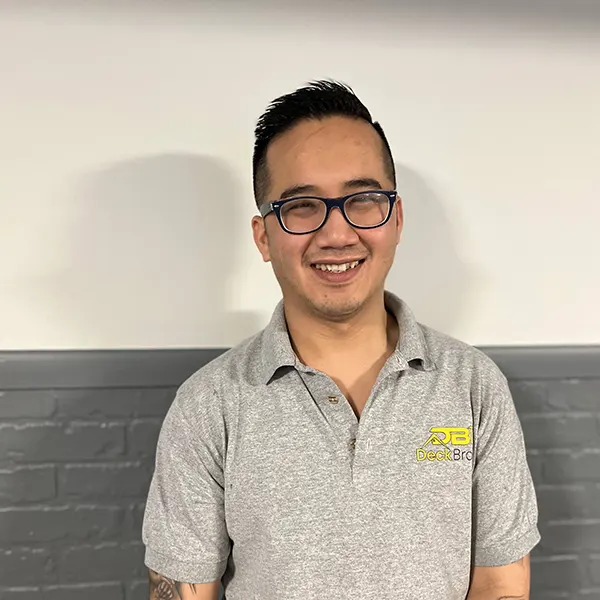 Your deck building in La Vista is in good hands with your local experts from Deck Bros.
We've been perfecting our craft and optimizing our process to suit your well-being and convenience. We understand your underlying needs and wants, which helps us build you your dream deck with minimum effort.
You'll get:
Get The Fastest Deck Construction In La Vista Today!