The Best Deck Installation In La Vista, NE
Waste no more time and get a consultation with a real pro!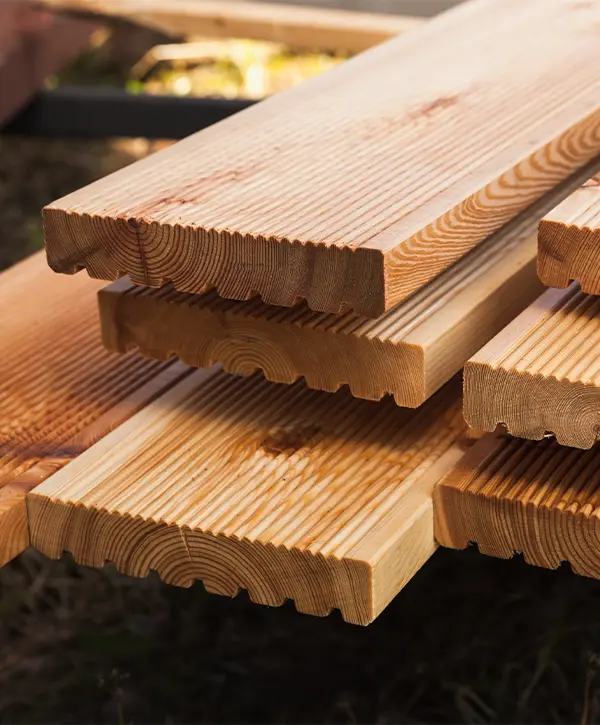 Looking for a straightforward yet powerful way to revitalize your deck? The ideal place to start is by swapping out the surface material.
At Deck Bros, we value quality and speed when building decks in La Vista, NE. We understand that your schedule is of utmost importance to you, which is why Deck Bros gives you the fastest turnaround time in the Nebraska decking industry!
We are committed to providing the highest standard of services, and that means you'll get only top-notch workmanship from attentive and considerate deck builders.
Enjoy A World-Class Deck Installation With The Best Deck Installer Around
Deck Bros quickly become the go-to deck builder and installer for many homeowners in La Vista and surrounding areas. We never sacrifice quality, and we go above and beyond to see you fully satisfied with the end product.
This is what makes Deck Bros your best choice:
Deck Installation From A Reliable Professional
Here at Deck Bros, we are passionate about bringing you a top-notch deck installation that will withstand the test of time without you needing to worry about its safety. We'll get you a deck that's 100% safe and sound.
Let us take the lead and bring your vision to life. Our experienced professionals are committed to delivering outstanding results while ensuring that all of your expectations are met along the way.
Our experienced carpenters will overshare their vast knowledge of outdoor spaces to help you take your project to the next level and give you valuable insights about your space. You'll get the best of the best, and aesthetics, structural integrity, and longevity will be a priority.
Your Neighbors in La Vista Love Their Deck Installations!
They did a excellent job and the crew was professional. 
I live 2 hours from Omaha and they took the job without that being an issue. Our deck turned out beautiful. We have the best looking deck in town. I am so glad that we chose Deck Bros. 
 If you want quality go with Deck Bros! It will the best choice you make.
Can't say enough great things about Deck Bros! 
From the initial contact to the completion of my deck, Luan was always available and super responsive. He has a fantastic crew as well.
Deck Bros was hands down the most competitive with pricing. I couldn't be happier with how my deck turned out.
Get New Ideas For Your Deck Building Project In La Vista, NE
We're proud to have our craftsmanship in many homeowner's backyards in La Vista. Our projects stand proof of our high-quality work, and they'll be there for a while. Check out our work below!
Types Of Decking You Can Get
Homeowners are afforded a wide array of choices when it comes to selecting the best deck surface material. Whether you're looking for a highly accessible material that's also affordable, or a luxurious and maintenance-free material, we've got you covered!
Pressure-Treated Wood Deck Installation
For those looking to stay within budget while creating an amazing backyard oasis, look no further than pressure-treated wood. This cost-effective choice costs as little as $5k – and is extremely accessible, so you'll have your deck in record time!
Pressure-treated wood may be an inexpensive option, but it is also often of lower quality due to its softer nature. This makes it more susceptible to damage and absorbs water deeper than other materials.
Remember to consistently seal and stain pressure-treated wood at least once every 2 to 3 years.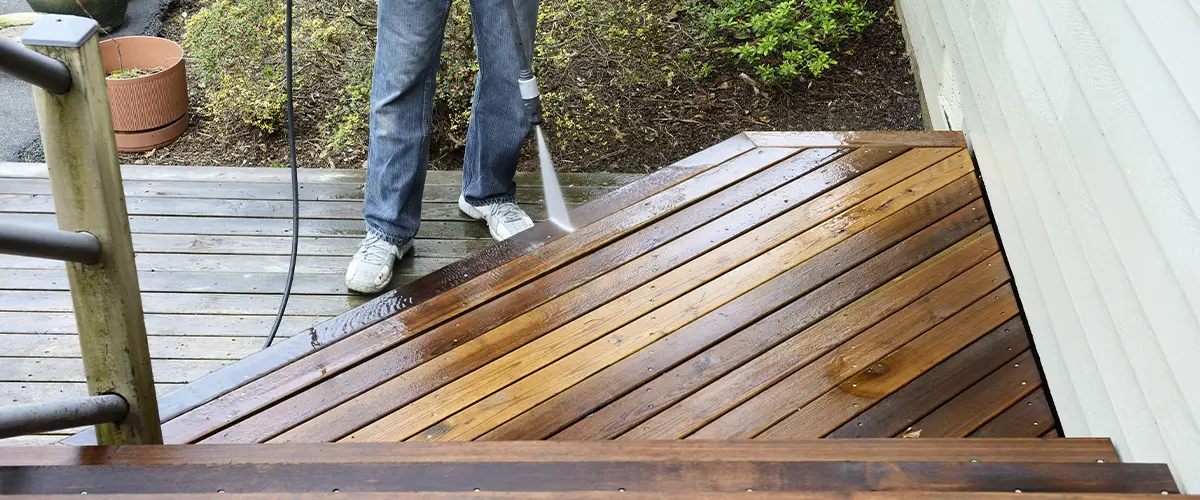 Cedar Wood Deck Installation
Admired for its captivating beauty, Cedar is a preferred natural building material due to its superior water resistance and stability. Despite these features, cedar is not immune to weathering and damage.
Sealing and staining your deck is essential to ensure durability and long-term stability. Although it may cost more upfront, the results will be worth it if you want a deck that can withstand any weather condition over time.
Although a little bit more expensive than pressure-treated wood, cedar is totally worth its price.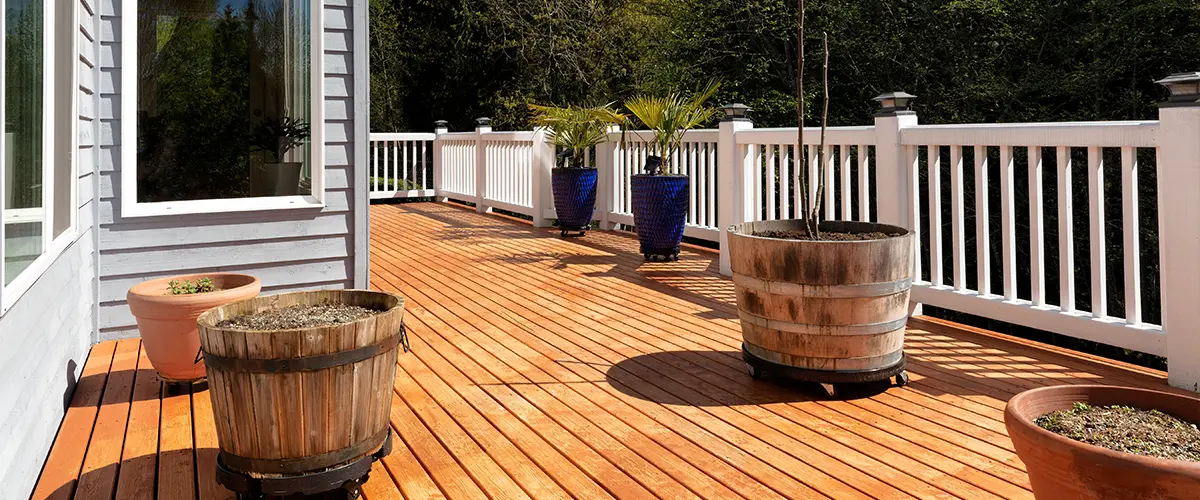 Redwood Deck Installation
Redwood takes the bronze medal of most sought-after decking materials, recognized for its exquisite and breathtaking color that can't be found in any other lumber.
Redwood has an innate resistance to bugs, rotting, and twisting; however, with proper maintenance every 2-3 years it can stay in its prime condition for optimal longevity.
Despite its soft feel, redwood lumber is incredibly resilient and uniform. This wood may be more prone to damage than others, yet it has next-to-none shrinking or warping – making it an ideal material for building projects that require strength and stability.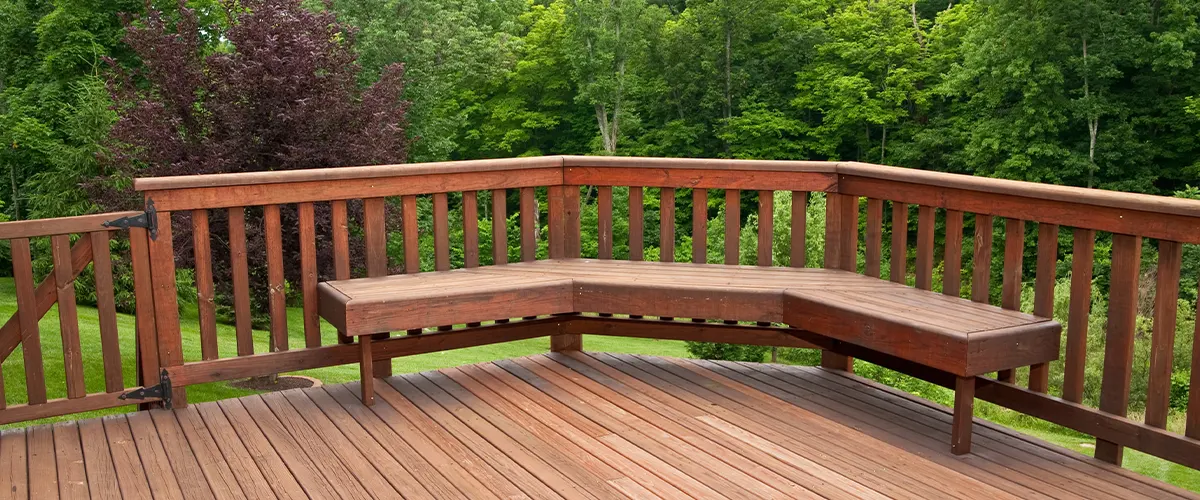 Hardwood Deck Installation
Elevate your deck to the pinnacle of luxury with a hardwood installation! Choose from incredible wood options such as tigerwood, ipe, teak, and cumaru for an outdoor space that will leave your guests in awe. Investing in quality craftsmanship is sure to add value to both your home and life.
Hardwoods provide both splendiferous beauty and unparalleled toughness, providing protection against rot, abrasions, and varying weather conditions. For example, Ipe is superiorly fire-resistant, scratch-resistant, slip-proofed, and incredibly long-lasting with excellent dimensional stability.
Given hardwoods are the most costly option for decking materials, you should be prepared to pay a premium price.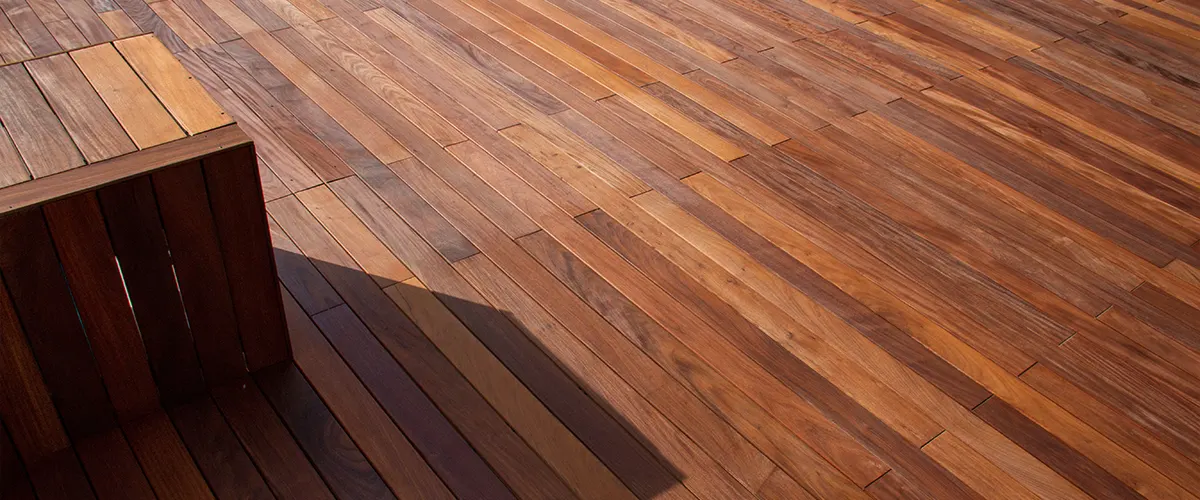 Composite Deck Installation
Composite wood decking and PVC decking is ideal for anyone who wants an outdoor space without much maintenance. Professional deck builders agree that homeowners highly favor composite wood due to its ease of care and upkeep, making it a preferred material over other natural materials.
With just one power wash a year, you can enjoy an immaculate outdoor living space that will look stunning for many years!
Both Trex and TimberTech composite decking uses recycled materials for their eco-friendly construction, but some of these companies go a step further to offer extra weathering protection, more color selections, and highly competitive prices. Both companies are great, but lately, we've been working more with TimberTech.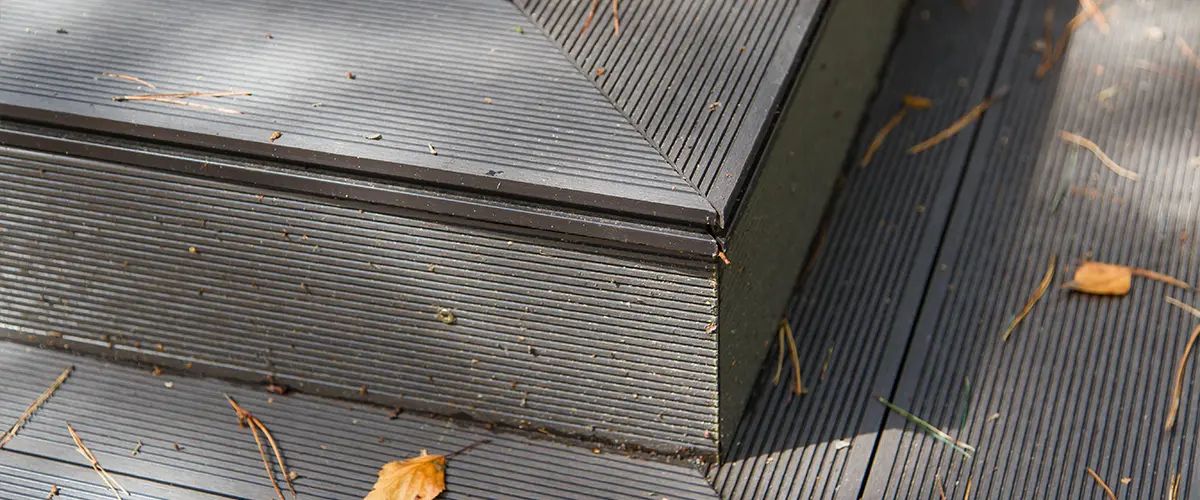 Deck Installation Is Now As Easy As It Gets!
Take full advantage of a quick process that delivers your deck in as quickly as 3 days! Everything we do is centered around you, your loved ones, and your satisfaction.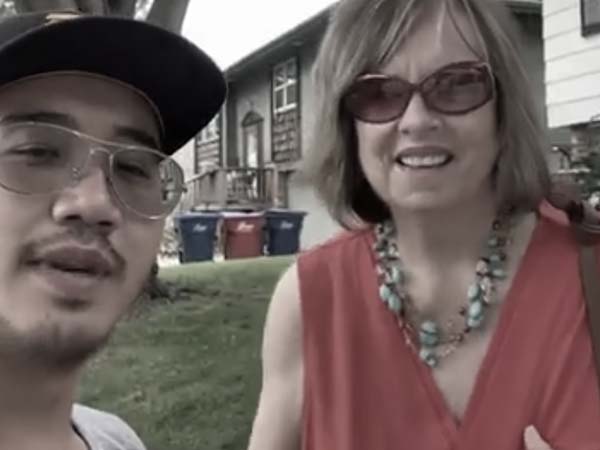 Contact us and we'll find the best plan to tackle your project.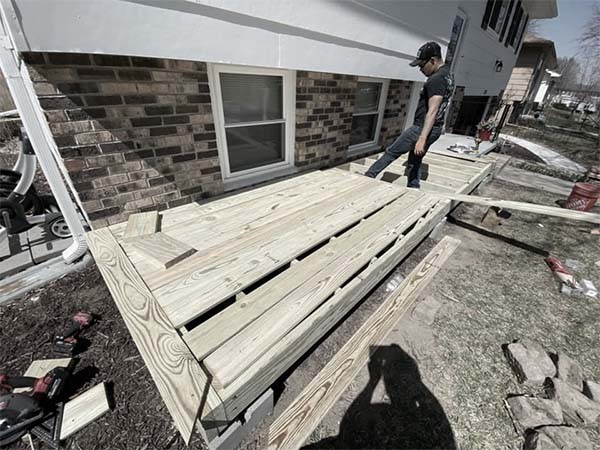 Watch us install your decking and get insights into what's happening.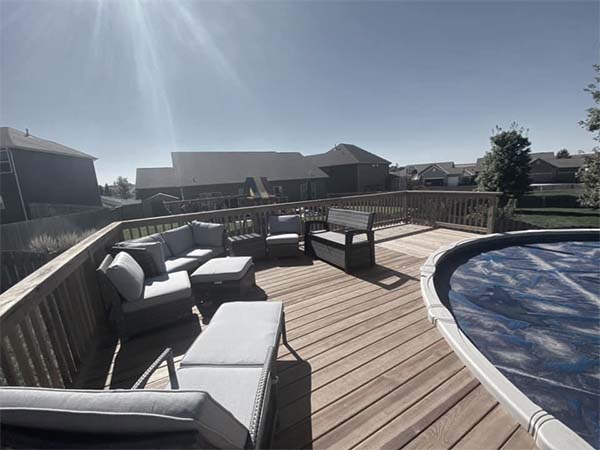 Plan your next barbecue! Your deck is up and running!
Frequently Asked Questions
Pressure-treated wood is just the solution if you're on a tight budget. Here at Deck Bros, we are experts in utilizing pressure-treated components for decks, so you know you're getting quality work at an affordable price. You can also get premium composite materials that require zero maintenance – saving you time and effort while still giving that classic look.
Deck Bros is the go-to if you're looking for a reliable and efficient deck installation! We have budget-friendly wood types and composite materials not provided by our competitors. Plus, with our streamlined service, getting your La Vista deck installed quickly will be easier than ever. Of course, if you can afford to take on risks, then feel free to try out the project yourself.
Constructing a 12×12 deck in La Vista, NE with pressure-treated wood may cost around $3k. If you're looking for something more durable and stylish, though, opt for composite materials–it's likely to total just under $5k. Keep in mind that the addition of stairs will cause your expenses to climb even higher!
Ready To Enjoy A Professional Deck Installation In La Vista, NE?
Deck Bros is the premier deck-building service for homeowners in La Vista – dedicated to providing exemplary customer service and unrivaled quality that will last for years. With total transparency throughout each process step, you can trust us to provide a reliable product with outstanding results.
The team here will strive to ensure your deck is crafted with the utmost attention to detail and safety standards, allowing you to relax knowing customer satisfaction remains our top priority.
If you're looking for a deck installation service that caters to your exact preferences, we are here to meet all your needs!
Work with Deck Bros La Vista and enjoy:
Get A Reliable Deck Installation In La Vista From A Local Pro