If you're thinking of building your own deck and trying to overcome all issues, you're in for a treat!
Leveling ground for decking is one of the biggest obstacles in all decking projects. Fixing this problem can be costly, so it's understandable to look for ways to do it yourself.
However, you should know that if you're trying to level the ground like professionals do, you'll need way more than this blog post.
We're talking about professional tools, expertise, and a lot of work force to get the ideal ground for a deck building project.
Let's dive in and see how professional deck builders manage to overcome this obstacle.
Building A Ground Deck Or An Elevated Deck?
As you already know, the process to ensure you're laying down even decking boards will be different depending on the type of deck you want.
Under no circumstance we would advise any homeowner to start a decking project on their own, let alone an elevated deck.
A deck is about safety first, and then comfort. And if you have no carpentry experience or you've never worked on decks before, you're better off leaving this project to professionals.
With that being said, leveling ground for decking is done depending on what deck you're looking to get.
We'll begin with ground decks, as the ground leveling process is more complicated.
Leveling Ground For Decking For Deck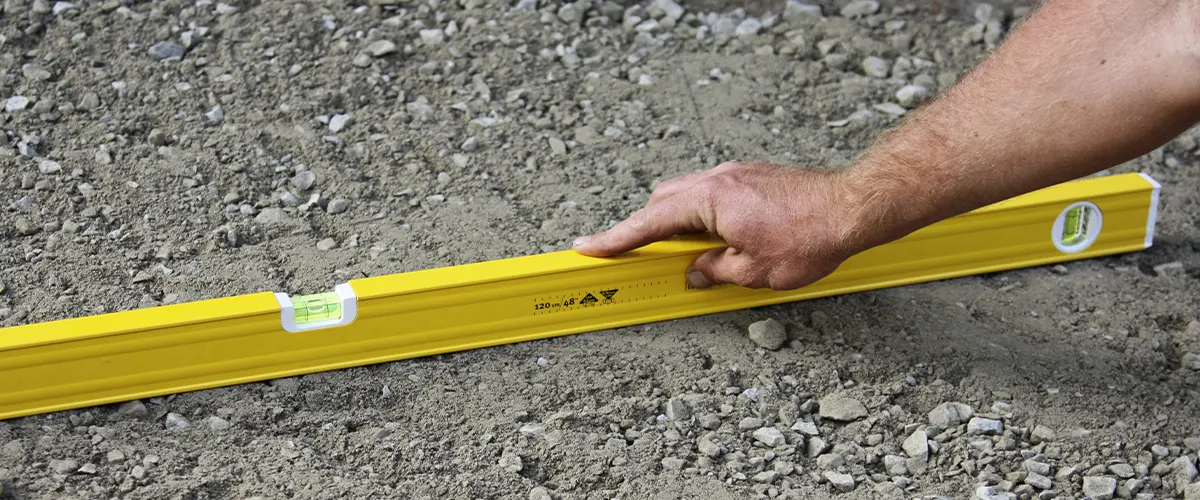 Naturally, before you start building a ground level deck (or a floating deck) the site needs to be properly prepared, unless you want your stuff to keep rolling on your deck boards.
Let's see how you can begin getting the site ready for your new deck.
Determine the dimensions of your deck and hammer a peg into where every corner of the deck will go.
Run a line between the four posts to help you visualize the site.
Clear the site of any weeds, plants, or big rocks. Use an edger to cut into the lawn, as this ensures a straight cut. Use a shovel to remove the patches of grass from the site.
To check if the area is leveled, you'll need to use a straight board (like a decking board). Place the board on the ground, and the level above it. Get the ground to as level as possible.
Then, you'll have to choose on what surface your deck frame will sit. And here you have to main options:
Let's see what these options are about.
If you're looking to install the deck frame on concrete, way to go. This is what we would recommend as well, as concrete ensures ground level decks last longer and are more stable. It works as a concrete patio, but makes a great platform deck.
Position the concrete pads in the right place and ensure they're all square for the deck joists and joist hangers. Dig holes of 150mm square and 150mm deep and fill the concrete blocks with concrete.
Again, use a level to straighten the frame while the concrete is still semi-dry.
After the concrete has dried, cover the entire surface with weed control fabric and a layer of gravel.
If you're looking to install the deck frame directly on gravel, use weed control fabric on the area and then turn up to 50mm of gravel.
Note: Never install a deck frame or place wood posts directly in the ground. The soil absorbs water, and as long as your wood post is in wet soil, there's a high chance your post will rot way sooner.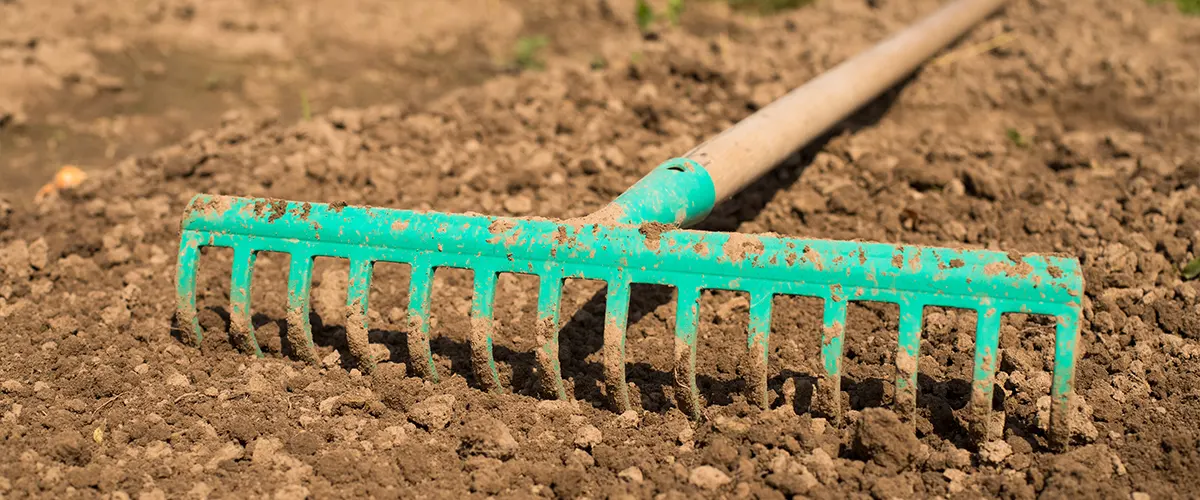 Leveling Ground For Elevated Decks
I can't stress enough how important it is for elevated decks to be safe.
Deck frame failures and collapses cause serious accidents that are simply not worth the money you want to save.
While leveling ground for decking on a ground-level requires extensive work and measurements, for elevated decks, you'll need incredible precision and extremely accurate measurements.
Elevated decks also require stairs, better decking material (like composite decking), safety railings, and stairs lights. All of which require professional installation.
Elevated decks don't need the ground beneath them to be completely even. Because the deck will be raised from the soil, leveling ground for an elevated deck is not necessary.
However, the posts are what keeps it elevated, so they need to be perfectly even and flush with where the deck framing will go.
There are a lot of steps involved in making sure an elevated deck construction will go smooth, and writing about them in an article will make everyone confused.
However, we'll give you some tips and an overview of how our experts from Deck Bros ensure every deck we work on is safe and sound, and fully functional.
Why It's Best To Get A Pro Deck Builder
There are dozens of reasons I can list as to why letting a professional deck builder take on your project would be 10x better than trying to do it yourself.
And you know half of them.
It's true that the biggest downside of hiring a professional to work on a home improvement project is the budget. And it makes sense. Some contractors out there charge a fortune for a project that would otherwise cost so little.
Inaccurate quotes, hidden fees, unreliable and unresponsive representatives, and wrong time estimates are just a few obstacles that you probably already dealt with on other home projects.
But this is why you need to look for the best deck builder, not just any contractor.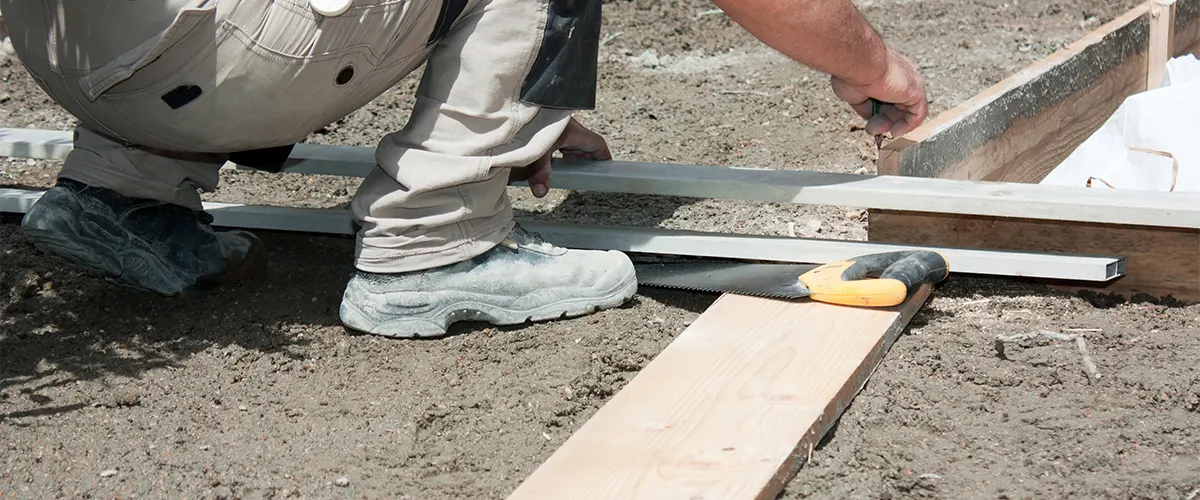 How Can Deck Bros Make Your Project Easier
We realized from the very beginning that remodels and working with contractors can be stressful.
At Deck Bros, we strive to change the deck building industry and offer you a pleasant journey with minimum stress and no anxieties. You'll go through a simple process, from a free quote on our website, to a last project walkthrough where you'll see everything we did, and why.
Here's what you can expect to receive:
If you're still considering leveling ground for decking by yourself, we admire your courage and perseverance. Even if you don't want to get professional help, know that our doors are still open and you can always call us at
(402) 369-5724
 to get more insights and help for your upcoming project. If you decide you want an expert to work on such an important project, don't hesitate and get in touch with us. You can 
click on this link to request a free quote
 and we'll get back to you as soon as possible. If you're in a hurry and want to start sooner, you can always call us and talk directly to Nam, the owner of Deck Bros.