The Best Deck Installation In Lincoln, NE
Ready to get your deck installation in Lincoln? Work with the only pro that can do it properly!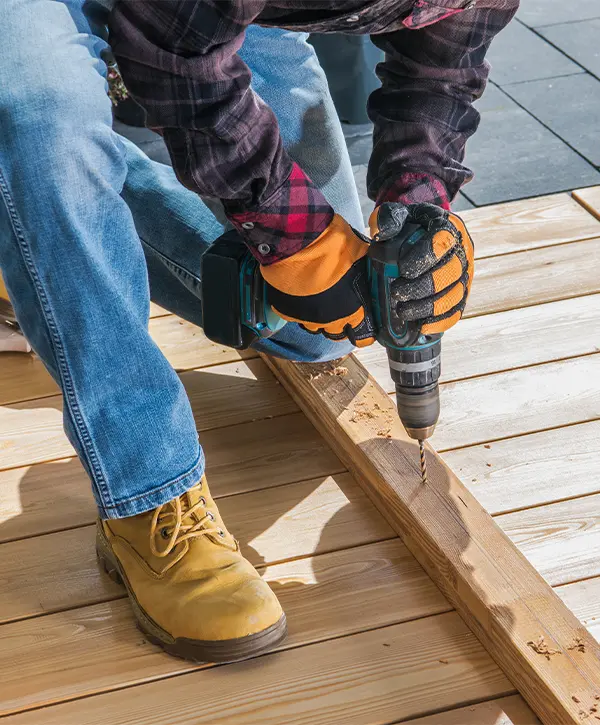 If you're searching for a straightforward and impactful way to spruce up your current deck, replacing the surface is an excellent place to start.
When it comes to deck installation in Lincoln, NE, Deck Bros provides an unparalleled level of quality and efficiency. We understand that time is of the essence, so we go the extra mile to finish your deck installation faster, so you can enjoy your deck sooner.
You'll enjoy reasonable rates and high-quality workmanship from deck builders that truly care about you, your home, and your investment.
Complete Deck Installation Services That Put Your First!
With us, your new decking will be installed in the most efficient way possible, as we prioritize all of your needs first and foremost. We go above and beyond to ensure you're fully satisfied with our work, and we won't call it a day until you are!
This is what makes Deck Bros your best choice:
Deck Installation From A Reliable Professional
At Deck Bros, we strive to offer you a deck installation that not only upgrades your outdoor environment but also serves as an oasis of rest and relaxation whenever life becomes too stressful.
Your needs and desires become our top priority, so you'll get an attentive team of workers that can execute your vision to perfection without you stressing over anything. You'll be thrilled with a stunning deck installation!
If you're ready to receive the highest quality of materials and craftsmanship in the industry for your deck, Deck Bros is your best choice. Our experienced carpenters provide an abundance of knowledge and will give you valuable insights about your outdoor space and your property.
We want to help turn your backyard into the perfect escape from the mundane!
Lincoln Deckowners Love Their Deck Bros Upgrades!
They did a excellent job and the crew was professional. 
I live 2 hours from Omaha and they took the job without that being an issue. Our deck turned out beautiful. We have the best looking deck in town. I am so glad that we chose Deck Bros. 
 If you want quality go with Deck Bros! It will the best choice you make.
Can't say enough great things about Deck Bros! 
From the initial contact to the completion of my deck, Luan was always available and super responsive. He has a fantastic crew as well.
Deck Bros was hands down the most competitive with pricing. I couldn't be happier with how my deck turned out.
Get New Ideas For Your Deck Building Project In Lincoln, NE
Get some new ideas for your project or check out some of our work!
Types Of Decking You Can Get
Homeowners have an abundance of choices when it comes to their decking surface materials. One can opt for a cost-effective pressure-treated wood deck or splurge on a luxurious teak one, while still enjoying the distinctive benefits each offers.
Let's see some of Lincoln, NE's most common decking materials.
Pressure-Treated Wood Deck Installation
Pressure-treated wood is the go-to option for decking due to its affordability. With a pressure-treated deck, budget-conscious people can enjoy their dream backyard paradise for as little as $5k!
Pressure-treated wood remains a favored choice for homeowners due to its affordable price. But pressure-treated wood is a softer option, making it more susceptible to damage and water absorption. If the low price tag makes up for the lower quality, this is a great option.
Keep in mind that you'll need to regularly seal and stain pressure-treated wood at least once every 2 – 3 years. The cost of pressure-treated wood boards is between $15.00 to $24 per square foot, and installation will be anywhere from $10 to $15 per square foot.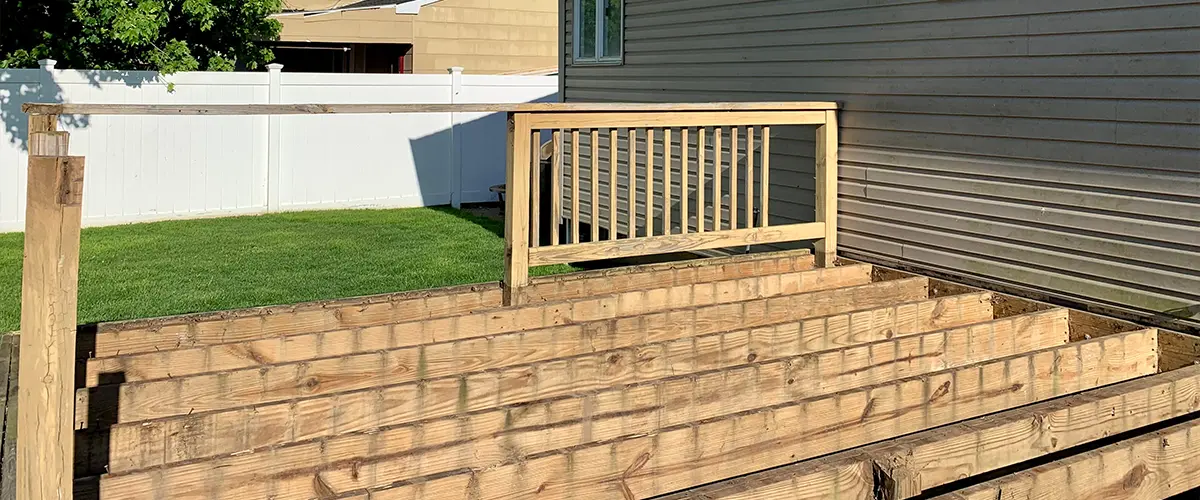 Cedar Wood Deck Installation
Cedar is widely favored as the second most popular decking material, thanks to its stunning aesthetic. As a natural building material, cedar tends to be more resistant to water damage and rot compared to other materials – however, given time even this protective layer will eventually diminish due to exposure to environmental elements.
To ensure lasting strength and resilience, sealing and staining is necessary. This will add to the total cost in the years ahead, yet it's well worth it. Depending on which sealant you choose, your cedar may develop an aged appearance with a yellowish tint that gives off an inviting sense of vintage allure.
Although a little bit more expensive than pressure-treated wood, cedar is totally worth its price.
Investing in cedar decking materials can vary from $25 to $30 per square foot, depending on the grade and size of each board. Installing cedar decks ranges between $15 to $20 every square foot, a cost-efficient option for decorating your outdoor space!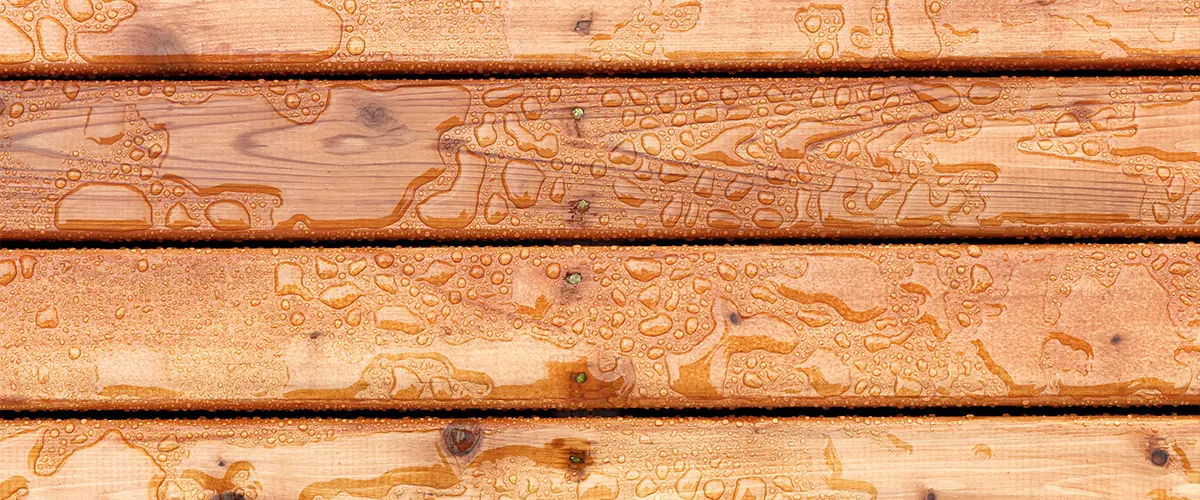 Redwood Deck Installation
Falling in the third position of popularity, Redwood bestows your deck with a distinct and magnificent hue, making it stand out from all others. With its remarkable appearance, this type of wood is sure to grant your outdoor space an unparalleled artistic charm.
Redwood is naturally resistant to insects, deterioration, and warping and splitting. However, it still needs regular maintenance for optimal durability – up to 15-20 years!
While redwood lumber is relatively soft, it does offer a considerable strength-to-weight ratio and is remarkably steady. You may find it easy to scratch or dent this type of wood, but you can rest assured that its shrinkage or seasonal movement will remain minimal.
Redwood decking is not inexpensive, with materials costing between $30 and $35 per board, and installation ranging from $15 to $20.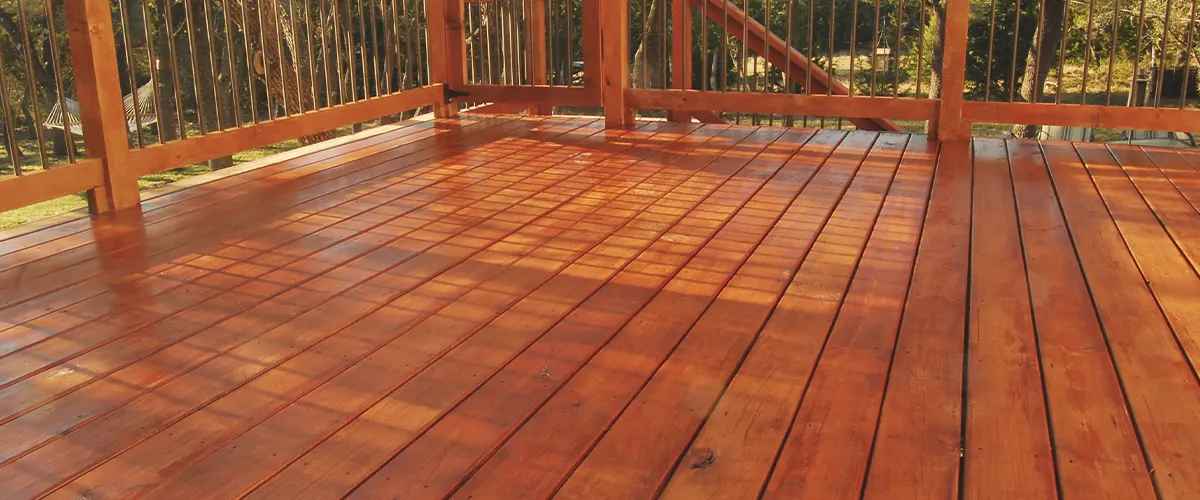 Hardwood Deck Installation
If you want to take your decking surface up a notch, hardwood is the answer! With woods such as tigerwood, ipe, teak, cumaru, garapa – and even the most expensive variety- your outdoor space will attain an opulent allure that can't help but be admired by guests.
Not only do hardwoods boast an aesthetic appeal, but they are also far more resilient to rot, scratches, decay, and even changing weather conditions.
Ipe, for example, is tough, fire-resistant, scratch-resistant, slip-resistant, incredibly long-lasting, and has very good dimensional stability. So are Cumaru and Garapa woods.
Given hardwoods are the most costly option for decking materials, you should be prepared to pay a premium price.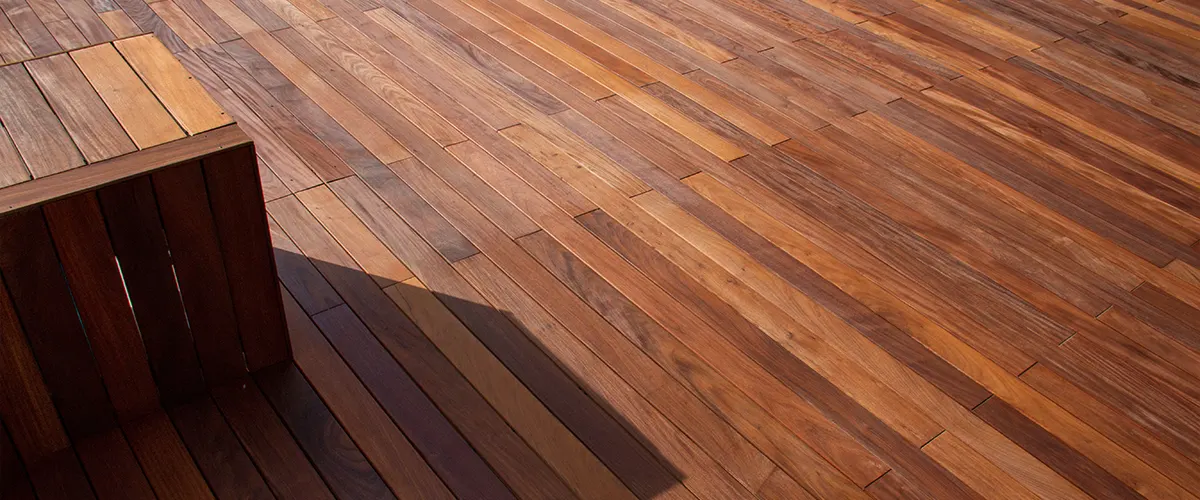 Composite Deck Installation
If you are looking to construct a low-maintenance outdoor patio, many decking professionals recommend utilizing composite wood over natural lumber. This material is becoming increasingly popular among homeowners who wish for the convenience of little upkeep.
Composite and PVC decking are two options that offer near-perfect maintenance levels. Just one annual power wash is all it takes to ensure your deck remains well-maintained and visually pleasing for years to come.
Both Trex and TimberTech, composite decking brands, boast eco-friendly construction, utilizing recycled materials; however, TimberTech stands out with an additional polymer sealant coating that gives extra protection against the elements.
Composite decking prices range from $29.00 to $31.00 per square foot for materials and between $15 to $20 for its installation.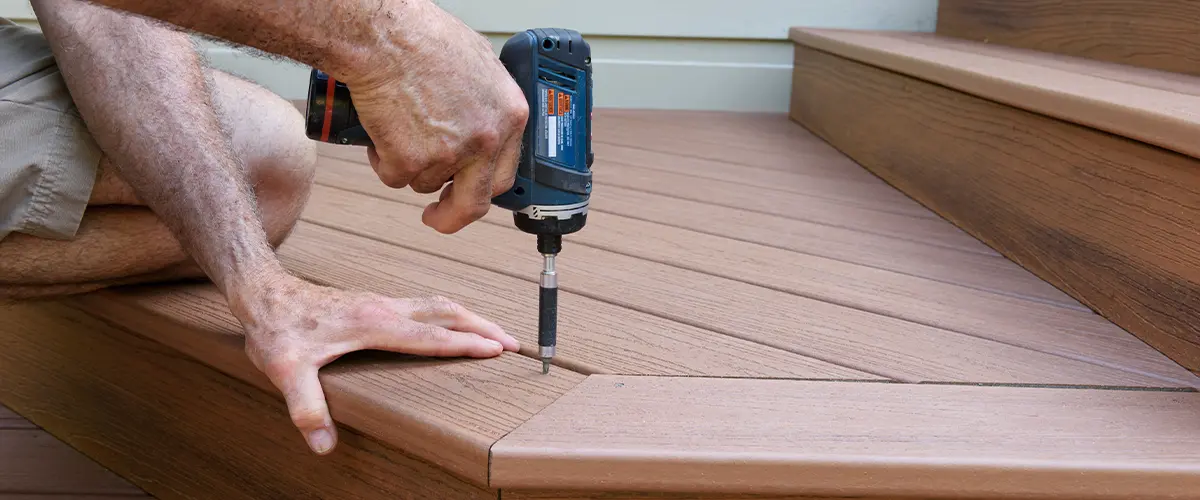 Deck Installation Is Now As Easy As It Gets!
Take full advantage of a quick process that delivers your deck in as quickly as 3 days! Everything we do is centered around you, your loved ones, and your satisfaction.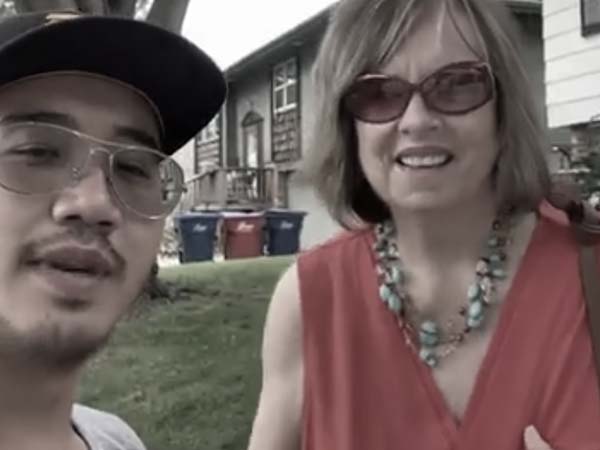 Contact us and we'll find the best plan to tackle your project.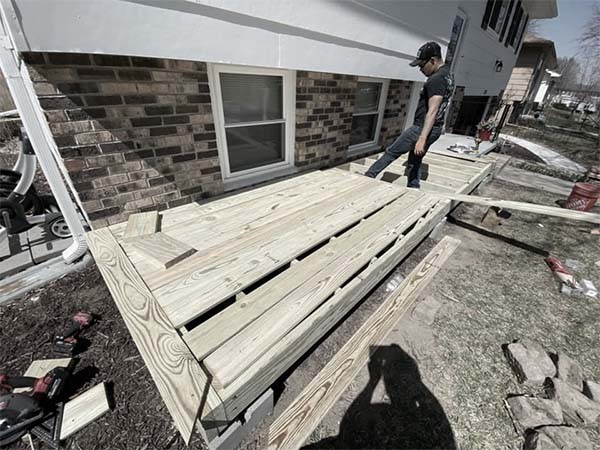 Watch us install your decking and get insights into what's happening.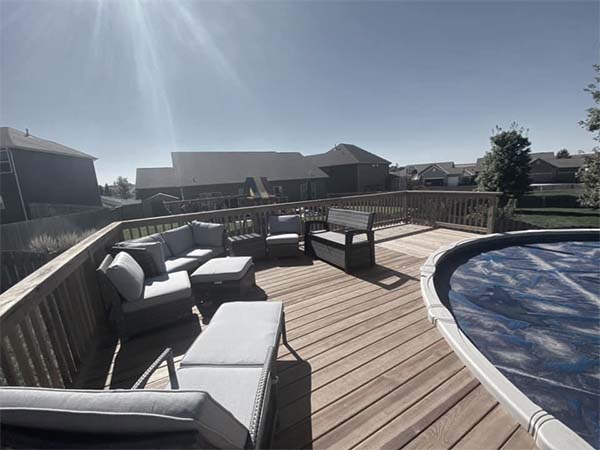 Plan your next barbecue! Your deck is up and running!
Frequently Asked Questions
Constructing a deck doesn't have to break the bank—pressure-treated wood is an economical material that will let you build one without any problems. At Deck Bros, we specialize in pressure-treated decks and have been doing so for years. Get ready to save some cash with us at your side. We can also replace your wood decking with premium composite materials to set you free from all the maintenance!
An expert's experience and tools make the deck installation efficient and reliable without you having to risk anything. Additionally, we have access to lower-priced wood types and composite materials that are available solely through Deck Bros. We even offer a streamlined experience, so you can love getting your Lincoln deck installation done with an expert! But if you think you're up to the task (and risks), you can try installing the decking yourself.
For a 12×12 deck installation in Lincoln, NE, utilizing pressure-treated lumber, you'll likely pay around $3k; however, if the deck is constructed with composite material, it could cost approximately $5k. Moreover, should your structure require stairs to access your platform's top surface, anticipate higher expenses.
Ready To Enjoy A Professional Deck Installation In Lincoln, NE?
Lincoln homeowners can count on Deck Bros for a deck that is designed to last. We are committed to providing excellent service and superb quality, taking full responsibility from start to finish.
Whether it's making sure your new deck meets safety standards or ensuring we've taken care of every detail, our team goes above and beyond to guarantee complete customer satisfaction!
So if you want a complete deck installation service that revolves around your needs and wants, we've got you covered!
Work with Deck Bros Lincoln and enjoy:
Get A Reliable Deck Installation In Lincoln From A Local Pro