In recent years, many homeowners and deck builders, including us, started looking more and more into metal railings for their decks.
And although wood is still the traditional railing option for the majority of homeowners, those who invest in metal railings say it's the best investment they made when choosing materials for their decks.
And the reason behind this is simple.
Overall, a metal rail will bring many more advantages than a wood rail, or even a composite rail.
Let's find out why metal rails are so much better than wood rails.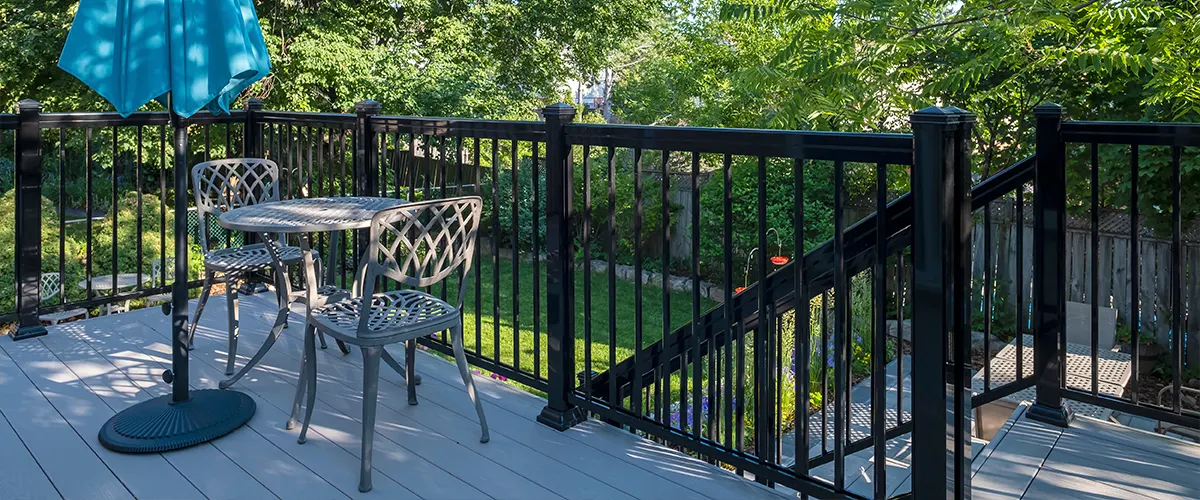 1. Metal Railings Are Permanent
You might think wood railings are also permanent, but are they truly?
In most cases, wood railings are out in the rain from day one, and even if you treat them regularly, water always finds a way into this material, causing numerous problems.
The main issue you'll have to deal with with wood is rot. It's what weakens the wood and creates many injury hazards.
Metal, however, doesn't rot. Yes, you'll still have to treat it with a powder-coat to ensure the metal is resistant to corrosion, but it's nothing like the maintenance of a wood rail.
2. Metal Railings Are Safer
Let's say you treat your wood regularly, as per the manufacturer instructions, and it's in a real good state even after years of having it.
It might look good and feel safe enough, but how safe can a wood rail be?
Let's say your wood rail is made of Australian Buloke – which is highly unlikely. This is the hardest type of wood out there, measuring over 5,000 pounds-force. In comparison, common aluminum alloy's tensile strength ranges from 10,000 psi to 75,000 psi.
But why would you need such strong railings?
3. Metal Railings Can Be Matched With Anything
A very common argument to metal railings is 'how will I match my wood deck with metal railing?'.
It's easy. wrought iron railing, for example, matches incredibly well with most types of decking. And you don't need to have a railing made entirely of aluminum. Many homeowners choose a wood balustrade with metal railing to keep at least a part of the natural look in their upgrade.
Even if you don't find the metal rail that you'd like, you can always finish it to look in a particular way. We'll discuss some metal rail finishes below.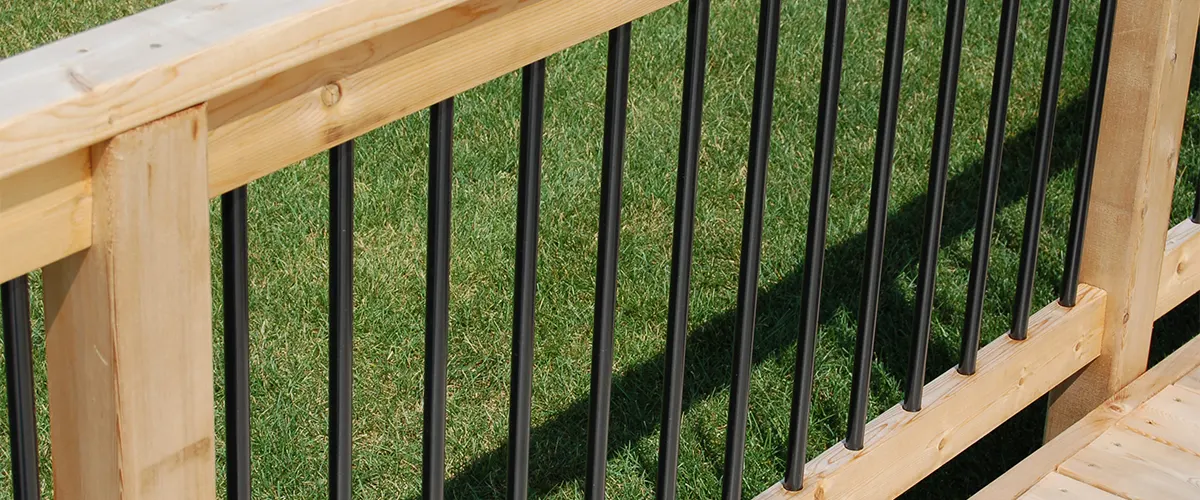 4. Metal Railings Have A Greater ROI
It's true that wood railings are more affordable and increase the value of your home.
But that happens when the railing is new and 100% functional. If you ever plan to sell your property, a rotten, wobbly wood rail with faded color will actually be a reason for buyers to negotiate for a lower price.
A metal rail that was treated at least once with a powder coat or other finish will not only increase your property's value, but also keep it.
Types Of Finish For Metal Rails
Bare metal might not be as aesthetically pleasing as wood or composite railing.
When it comes to finishes for a metal rail, there are 4 common options that professional deck builders prefer.
A powder coat is probably the most popular option for homeowners because of its versatility and accessibility.
It gives you the option to match your metal railing with your surroundings by providing a multitude of colors and textures. You can get a powder coat in:
Aluminum, steel, and stainless steel are just a few metals that can be powder-coated.
The brushed stainless steel offers a more luxurious and sleek design for a railing, and it might not be the best option for outdoor spaces.
However, this finish could work great for fancy rooftop decks or more elegant spaces. It could work great for a metal railing for a set of indoor stairs.
This metal finish gives the aluminum a lustrous look. It doesn't chip or peel and it's a great option for both indoor and outdoor spaces.
The anodized aluminum finish is a great alternative to stainless steel, as it has a silvery metallic appearance that resembles the stainless steel, but at a lower cost.
Hot-Dipped Galvanized Steel
Galvanizing steel is a great option to protect steel from corrosion. It offers a more industrial look that many homeowners today are looking for. It goes well in combination with rustic elements, like a hardwood balustrade.
To quickly fix a rusty metal railing, you can paint metal railings to quickly change their appearance.
To avoid thick coats of paint that will take forever to completely dry, use drop cloths instead of brushes. This will also help you avoid brush marks.
Use a wire brush to thoroughly clean the railing before painting. To avoid peeling paint, loose paint, or flaking paint, apply a primer that'll help the paint stick. The best paint for aluminum railing, for example, are latex or acrylic paints.
Two coats of a thin paint should be enough to significantly improve the look of your railings.
Metal deck railing is available in steel, mid grade steel, iron, genuine wrought iron railings, and aluminum railings. These materials will significantly impact the cost of your railing.
Beside this factor, the second major cost factor is the shape and complexity of the railing.
Let's consider 3 decks, each 500 square feet:
| Type Of Deck | Basic | Better | Best | Railing Installation Cost |
| --- | --- | --- | --- | --- |
| Rectangular, One Level Deck, 65 Linear feet of railing | $2,600 | $4,450 | $6,175 | $40 - $95 per linear foot |
| Non-rectangular, One Level, 80 Linear feet of railing | $4,400 | $6,250 | $8,400 | $50 - $105 per linear foot |
| Two-level deck with stairs, 115 Linear feet of railing | $7,475 | $10,300 | $13,225 | $65 - $115 per linear foot |
These prices are just guidelines to help you make a general idea about how to budget for a metal rail. Contact us for an exact quote at (402) 369-5724.
There's no doubt that metal railings are becoming more and more sought-after by homeowners who want to uplift the safety and vibe of their outdoor spaces.
Even if you'll pay more upfront to get them installed, the ROI and all the other benefits you'll reap in the years to come will be 100% worth every penny.
If you're not entirely sure what would be the best material and finish for your rail, don't hesitate to reach us. Your local experts from Deck Bros will assist you at every step of the way, ensuring you'll get the best deck in the neighborhood!
Request a quote today, or call us directly to discuss your upcoming project!