Deck Building In North Bend, NE
Elevate your outdoor space to new heights of comfort with a premium deck construction.
If you're seeking a durable and breathtaking deck without breaking the bank, you're in for a treat. Look no further than Deck Bros, your go-to team for all your deck building needs in North Bend, NE. With unrivaled efficiency, we'll transform your project into a masterpiece.
Renowned as one of the most reliable and esteemed deck builders in the Omaha Metro Area, we're fully equipped to help you realize your dream outdoor living space.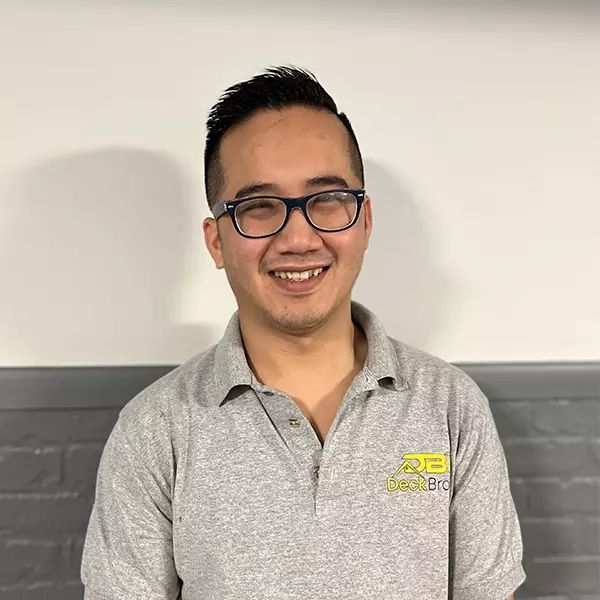 Luan Nguyen – Owner of DeckBros
Hi, I'm Luan, the owner of Deck Bros. Once you become our client, we'll treat you like family, and you can count on us long after your project is complete. We value honesty, integrity, and we're committed to delivering your deck as fast as possible to the highest standards of the deck building industry.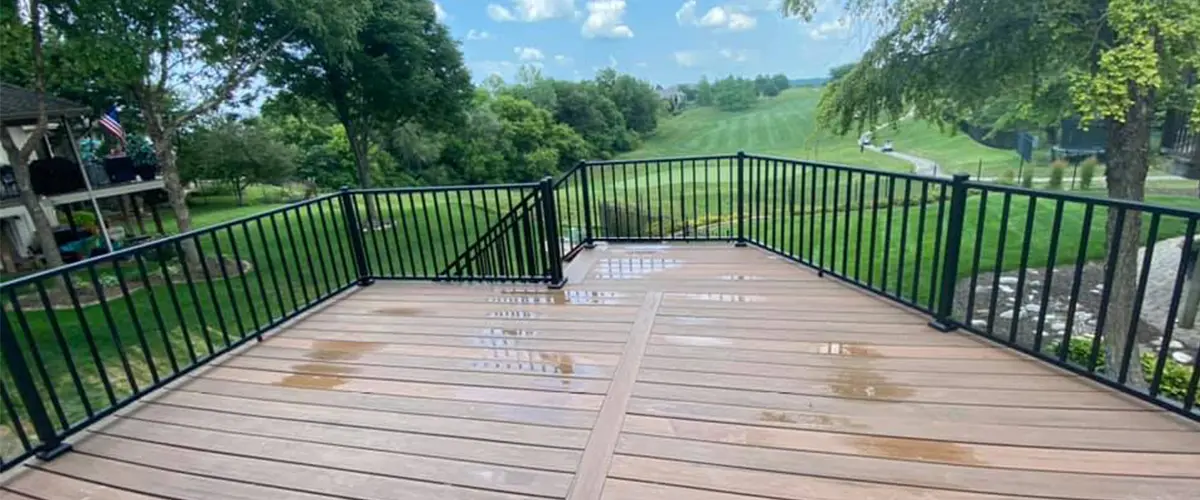 Quality Deck Building In Nebraska
With our profound expertise, we guarantee a seamless deck-building project that will leave you absolutely satisfied. Our dedication surpasses industry standards as we genuinely prioritize you, your home, and your investment.
By choosing us, you can expect:
years of carpentry experience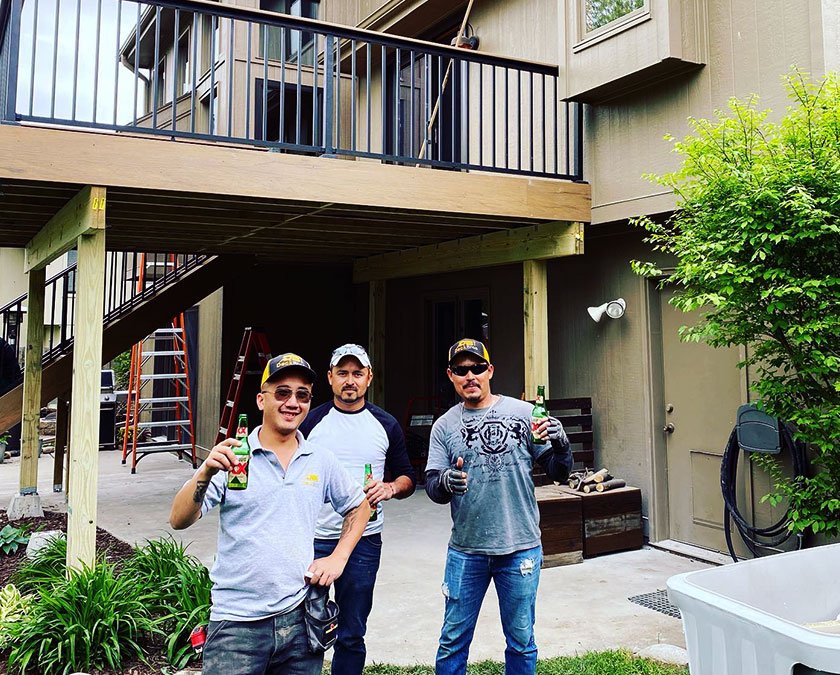 Not sure about your upcoming decking project? Feel free to ask us any questions you may have. We are more than happy to provide you with answers, and there are no obligations! You can reach out to us by sending a message, giving us a call at (402) 369-5724, or filling out the form below.
Your Neighbors Loved Working With Professionals
We've built hundreds of decks for hundreds of homeowners in North Bend, NE, and surrounding areas. Here's what our customers keep saying about us.
I consider Deck Bros one of the best companies I have ever worked with. 
I had my old deck taken down and a new deck designed and erected all in a period of six days. Luan the designer allowed changes throughout the 6 days. 
The crew was tremendous in their work assuring the work met all safety requirements as well as starting each morning and keeping grounds cleaned up each evening as well as keeping us informed of how the job was progressing. 
If I'll ever need another deck I would never consider another company but Deck Bros. They are the best.
I found Deck Bros on Facebook & gave them a call. The owner Luan was very pleasant, came out and gave me a quote on the spot.
I HIGHLY recommended this company for your decking needs, Luan's employees were so much fun to be around. They didn't have any issues with the dogs being around checking on their work.
They were all very professional & worked hard, arriving early & getting to work. We even did some salsa dancing to the music. They went above and beyond, and no request was an issue.
Thank You, Luan, and the main guys that were there every day, Christian, Carlos & Leo.
Average Deck Building Cost In North Bend, NE
A ground-level cedar deck measuring 12'x12′ can be achieved with a modest design, but it comes with a price tag of approximately $14,000. However, if you prefer a composite deck of the same size, you'll have a wider range of material options available for both decking and railing.
On the other hand, if you're looking to elevate your deck to a second-story level and opt for a composite material, the starting price increases to around $25,000.
What influences deck building cost: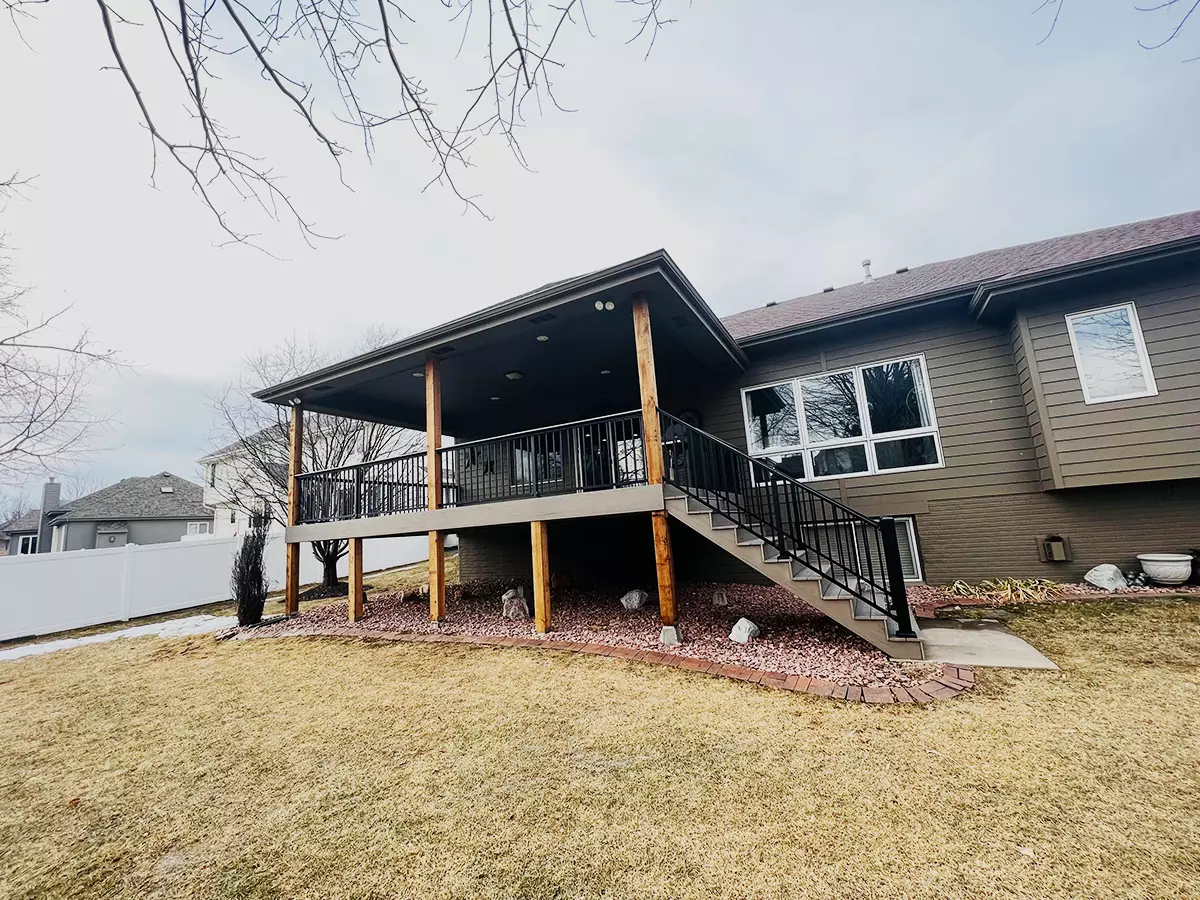 Complete Composite Deck Replacement in Omaha
This 25×14 ft. composite deck included:
This deck building project was quoted at $38,500, where the most expensive item was the Timbertech Ashwood Decking material, priced at $14,500.
Average Deck Building Costs For Different Sizes
| Decking Type | Square Feet | Cost Range (Installed) |
| --- | --- | --- |
| Composite Decking | 100 sq ft | $4,000 - $4,200 |
| Composite Decking | 200 sq ft | $8,000 - $8,500 |
| Composite Decking | 400 sq ft | $16,000 - $16,900 |
| Composite Decking | 600 sq ft | $24,100 - $25,400 |
| Composite Decking | 800 sq ft | $32,100 - $33,900 |
| Composite Decking | 1,000 sq ft | $40,100 - $42,300 |
| Pine Decking | 100 sq ft | $2,100 - $2,400 |
| Pine Decking | 200 sq ft | $4,100 - $4,900 |
| Pine Decking | 400 sq ft | $8,300 - $9,700 |
| Pine Decking | 600 sq ft | $12,400 - $14,600 |
| Pine Decking | 800 sq ft | $16,500 - $19,400 |
| Pine Decking | 1,000 sq ft | $20,600 - $24,300 |
| Deck Type | Cost Range (Per Sq Ft Installed) |
| --- | --- |
| Pressure-treated Pine Deck | $21.00 - $24.00 |
| Bamboo Deck | $27.00 - $30.00 |
| Cedar Deck | $34.00 - $39.00 |
| Composite Deck | $40.00 - $42.00 |
| Redwood Deck | $45.00 - $49.00 |
| Cumaru Deck | $46.00 - $50.00 |
| Massaranduba Deck | $49.00 - $52.00 |
| Garapa Deck | $45.00 - $49.00 |
| Tigerwood Deck | $53.00 - $57.00 |
| Ipe Deck | $64.00 - $68.00 |
| Teak Deck | $67.00 - $70.00 |
*Prices may vary based on labor and material costs. Reach out to us for a precise quote and budget-friendly options for your deck-building project.
At Deck Bros, our unwavering dedication is to provide you with an exceptional and effortless experience. We prioritize your satisfaction, time, and investment above all else. Our mission is to craft exquisite decks that elevate your outdoor space and ignite your passion for the natural world's splendor.
No More Budget And Time Constraints
When homeowners embark on a home improvement project, like adding a deck to their property, they typically have two primary concerns.
Investing in a new deck offers a remarkable 65%+ return on investment, along with numerous benefits. At Deck Bros, we provide competitive prices and exceptional end products backed by a 5-year workmanship warranty. We'll work within your budget, regardless of what it is.
We value and prioritize your time, just as we do ours. By adhering to our initial timeline, we guarantee optimal efficiency on the job site. This commitment ensures that you can enjoy your new deck as promised while also enabling us to transition to our next client seamlessly.
Deck Building Can't Get Easier Than This!
Our meticulously crafted deck-building process takes care of every detail, ensuring you can fully savor the excitement of this upgrade.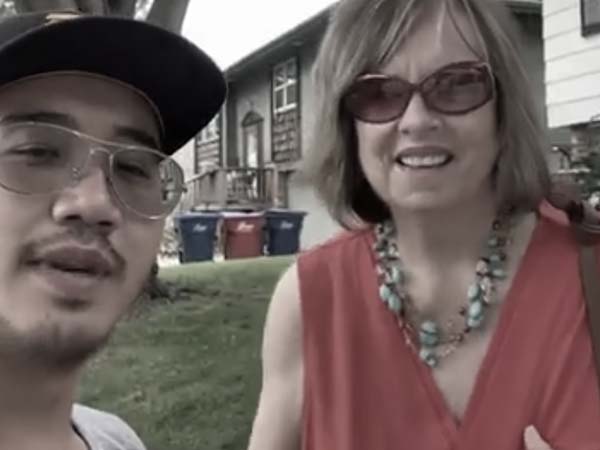 Get in touch with us, share your vision, and we'll come up with a spectacular design for your new deck.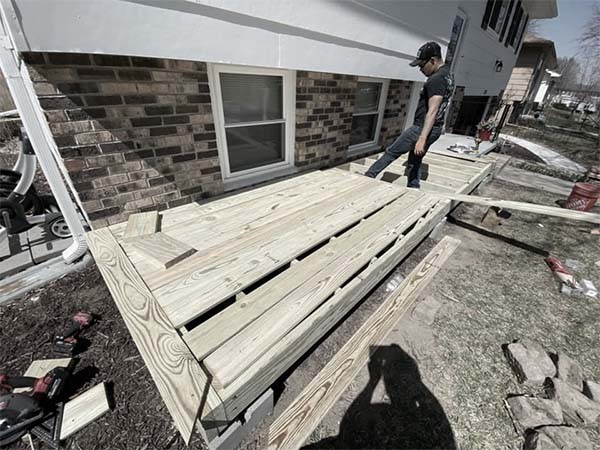 After we've decided on every single detail, we get to work. You'll have complete control over the project at all times.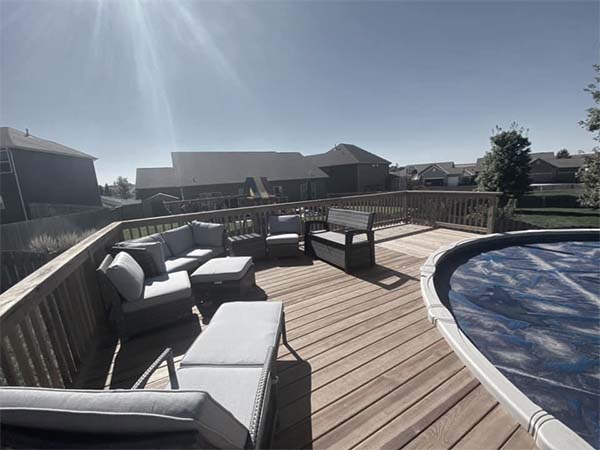 Your new deck is up and running! Enjoy a beautiful outdoor space and schedule your next barbecue!
Frequently Asked Questions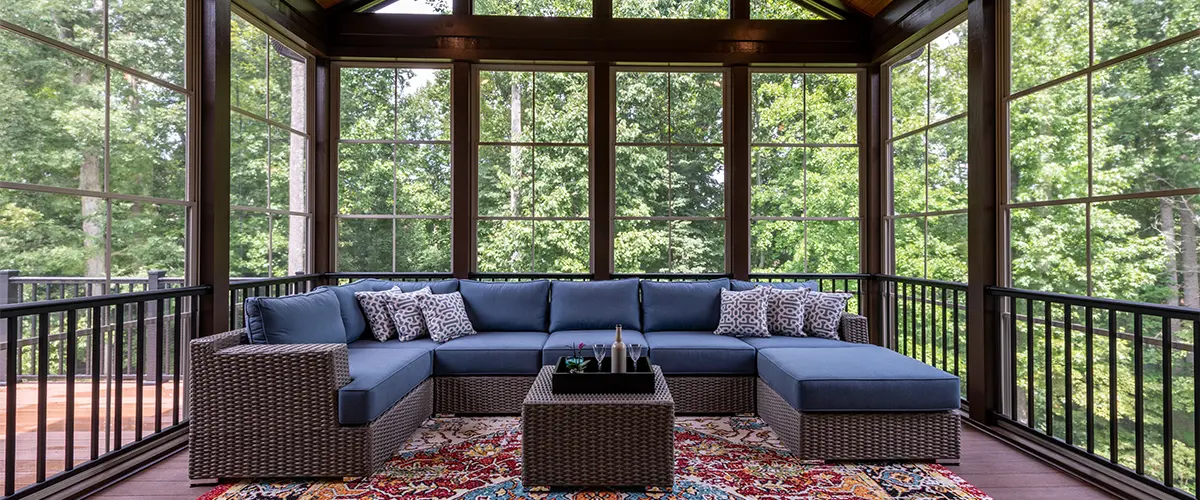 Ready To Get Your New Deck?
Transform your outdoor space and increase your property value with a beautiful and reliable deck in North Bend, NE. Deck Bros offers you a unique chance to make a long-lasting investment and create an addition that will surpass your expectations, elevating your outdoor area to new levels of comfort and functionality.
Host your guests and relish the outdoors with an entertainment area that's built for your needs and preferences. Contact us today at (402) 369-5724 and let's discuss your upcoming deck building in North Bend!
Luan and his team removed an old wood deck and installed a new composite deck with a hottub enclosure. I absolutely love it. He was on-time, in budget, and his crew worked fast and was so respectful of my yard, cleaning everything up after they finished.
The owner was very responsive, crew talented, and work done to last a long time. Work was completed on time and project started quickly.
Other services you might be interested in:
North Bend, NE, is a charming city nestled within the expansive plains of Dodge County. The city is renowned for its rich agricultural traditions, friendly community, and historical landmarks. One of the most notable landmarks is the North Bend Carnegie Library, a symbol of the community's commitment to education and culture. The Platte River, a major tributary running through the city, offers residents and visitors beautiful scenic views and outdoor recreational activities. North Bend's high school, recognized for its excellent educational standards, serves as another significant landmark in this tight-knit community.