Deck Building In Omaha: Let Pros Handle Your Project
If you're looking to get one of the best deck building team for your upcoming project, look no further!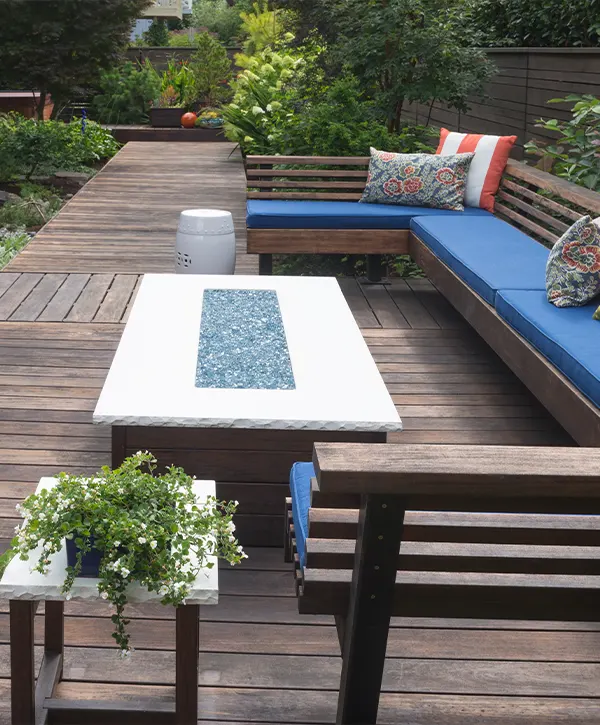 So far in Omaha, Nebraska, over a hundred homeowners like yourself got their new decks from Deck Bros, and they're happier than ever!
With Deck Bros, you get more than 30 years of experience in carpentry and deck building in Omaha, and the reassurance that your outdoor space is on the right track!
You're Getting More Than A Deck
If you want someone who overdelivers on their promise, you're in the right place!
With Deck Bros, you'll also get:
Get Your Premium Deck Building In Omaha
At Deck Bros, we're dedicated to giving you a better experience than what the deck building industry offers.
We establish our core values around your needs and preferences from the very beginning. Transparency, respect, and reliability are three key factors that will get you the best deck building project in Omaha.
In other words, rest assured you'll get the best team of deck builders that are up to any challenge.
Check out our deck building offer and get the best team of carpenters in Omaha on your project today!
Omaha Homeowners Love Their Deck Bros Upgrades!
They did a excellent job and the crew was professional. 
I live 2 hours from Omaha and they took the job without that being an issue. Our deck turned out beautiful. We have the best looking deck in town. I am so glad that we chose Deck Bros. 
 If you want quality go with Deck Bros! It will the best choice you make.
Can't say enough great things about Deck Bros! 
From the initial contact to the completion of my deck, Luan was always available and super responsive. He has a fantastic crew as well.
Deck Bros was hands down the most competitive with pricing. I couldn't be happier with how my deck turned out.
Get New Ideas For Your Deck Building Project In Omaha
Get some new ideas for your project or check out some of our work!
Type Of Upgrades And Materials
Deck building requires a lot of knowledge and expertise. During your on-site consultation, you'll have a detailed breakdown of all material options and upgrades you can get.
Below you'll discover some common upgrades and materials homeowners in Omaha Metro choose.
The most serious deck issues come from its frame. And since the frame is what keeps your structure up, these issues must be addressed ASAP.
Pressure treated lumber remains a popular material choice for deck framing. However, the problem with wood is that it rots and is susceptible to termites, even if it's ground-contact rated.
Steel, on the other hand, is stronger, durable, and a lot more reliable than wood is. In addition, steel doesn't require the maintenance and attention that wood does.
Your deck surface is what gives the final look and vibe of your outdoor space. You want it to look upscale but also have great functionality.
Some types of wood (like Ipe, mahogany, tigerwood, or even redwood) give your deck a natural and high-end look. However, they're more expensive than the popular option – pressure treated wood – and still need maintenance.
The best material option if you want to avoid spending too much time cleaning your deck is composite decking.
With Deck Bros, you'll get decking from the biggest composite decking brands in the deck building industry: Trex, TimberTech, and Fiberon.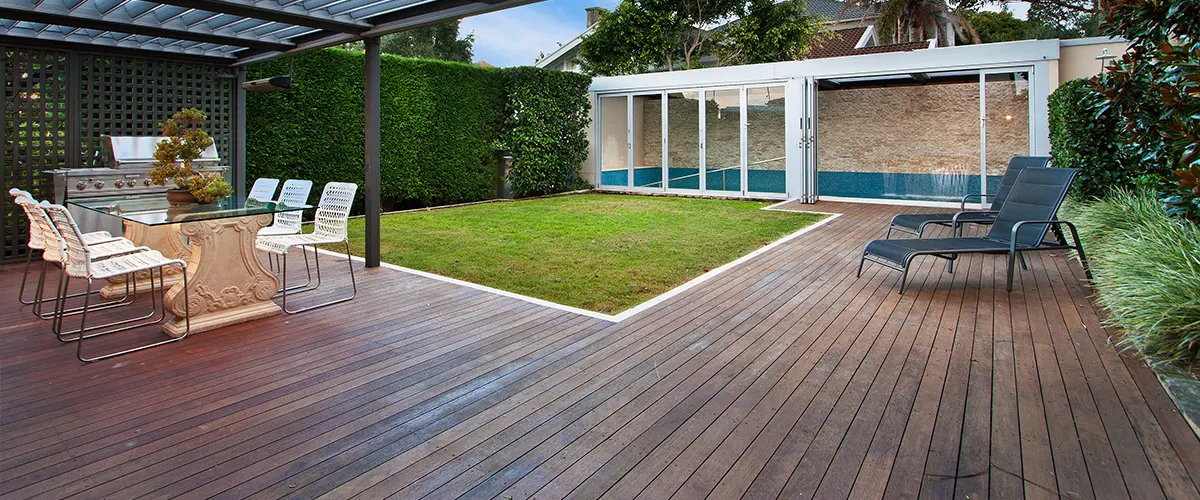 Especially for elevated decks, railings are mandatory. Railings give you comfort and a great sense of security.
While wood railings are still the norm, we advise many of our customers to go for composite or aluminum railings. Composite is more durable and aesthetic than wood.
Aluminum railings are extremely safe and fairly easy to match with your deck. Besides, they give a beautiful upscale look to your deck, making it seem more expensive than it really is.
Like railings, lights give you a sense of comfort and safety on your deck, especially at night. Stairs light, for example, are a must for elevated decks.
Lighting options are up to you. We recommend using a warm light, not too strong, but powerful enough so you can see at night.
We recommend our customers multiple options, with two things to keep in mind: get low-voltage lighting with a long lifespan. You don't want your electricity bill to skyrocket, and you don't want to have to replace them in a few years' time.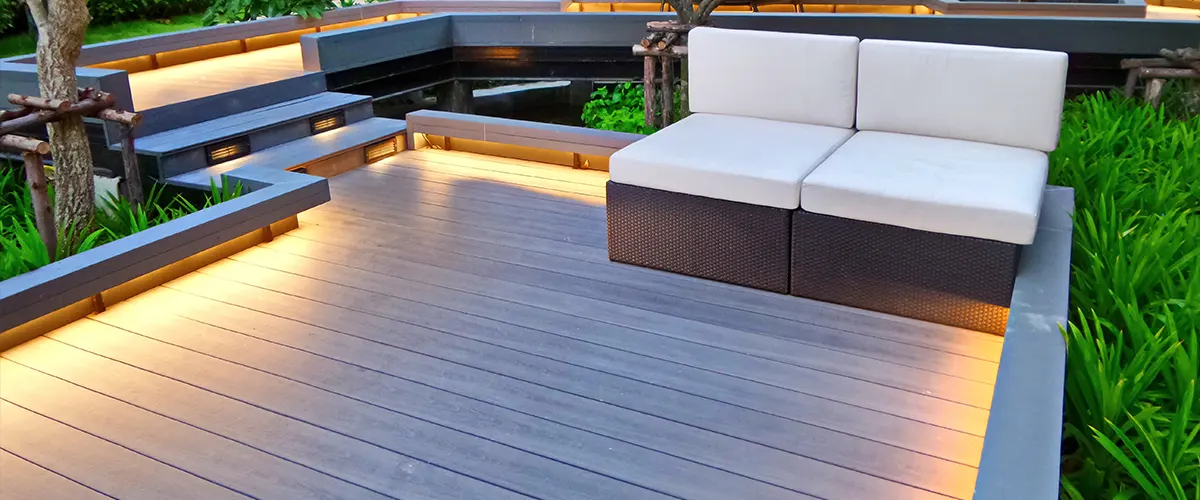 Deck Building In Omaha Has Never Been So Easy!
Today, the deck building standard is to deliver a deck in one to three weeks.
At Deck Bros, we developed a simple process that gets you your new deck in one to three DAYS!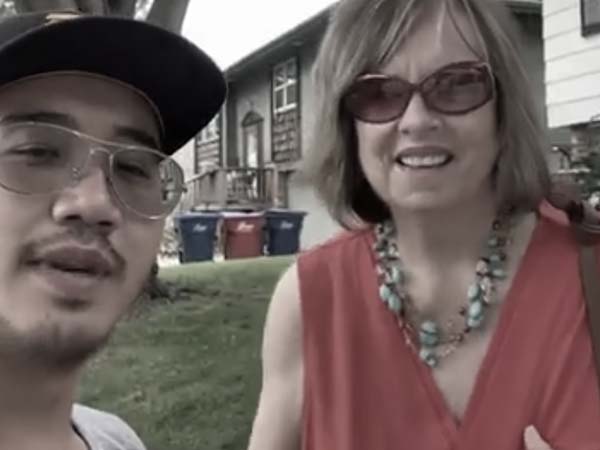 Contact us and we'll find the best plan to tackle your project.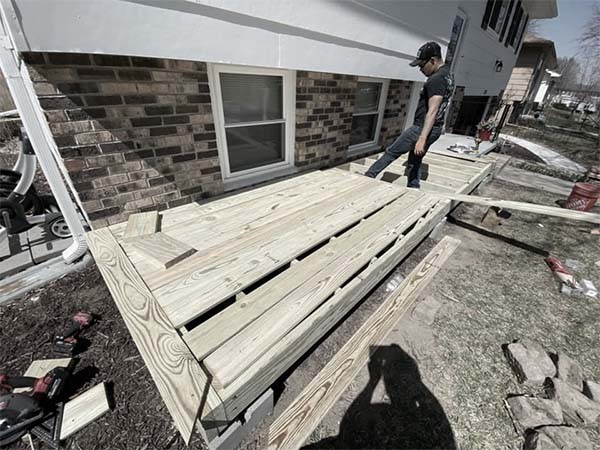 You'll see your new outdoor space come to life.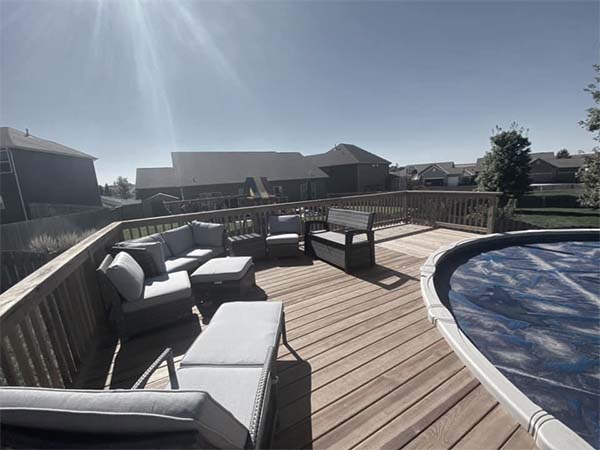 Your deck is ready in record-time!
Deck Building In Omaha: A Case Study
One of our customers in Omaha wanted to make some changes to his 25×14 ft. wood deck. After our on-site consultation, he realized his deck needed more work than he initially thought.
The upgrade included:
We quoted this deck building project at $38,500, and the most expensive upgrade on the list was the TimberTech Ashwood decking material, priced at $14,500.
Frequently Asked Questions
The size, elevation, and materials will significantly impact the total cost of your project.
An average 12×12 cedar deck will cost around $14k. However, wood decks will need regular maintenance like stains, paints, and sealers. In the long term, you'll spend another few thousands dollars maintaining your deck.
On the other hand, composite decks require little to no maintenance. For a 20×12 composite deck with aluminum railings, fascia wrapping, and a set of stairs, you're looking to spend around $27k.
With Deck Bros, you get a ready-to-use deck as fast as possible. We deliver most deck projects in less than a week, with a usual 3-day build time since demolition is complete.
You'll get an accurate time frame at our on-site consultation.
I'm the owner of Deck Bros, Luan, and I lead a team of skilled and licensed carpenters. We have over 30 years of experience in deck building and creating beautiful outdoor spaces.
We're insured and licensed, so you won't have to bother with building permits for your deck.
We serve homeowners like yourself in Omaha Metro, and surrounding areas, including Papillon, La Vista, Bellevue, and Gretna.
Let Deck Bros Take Care Of You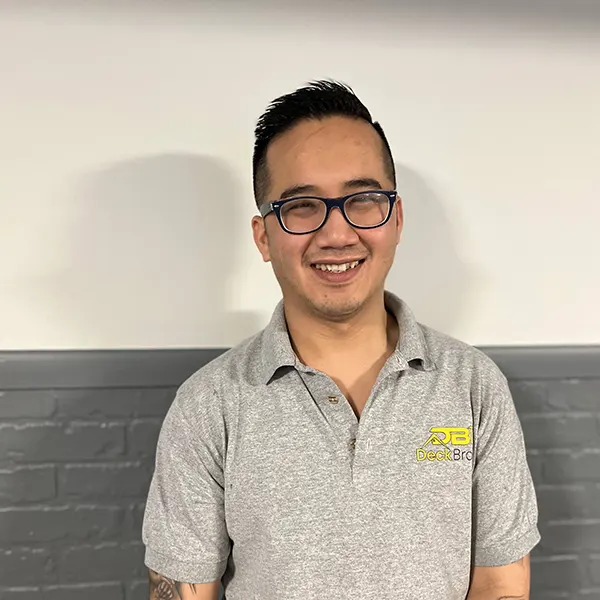 If you're looking for a deck building company in Omaha, Nebraska, you just found the right fit!
Deck Bros is your local deck builder with over 30 years of experience in building the best outdoor spaces for your neighbors. And now it's your turn!
You'll get:
Let's Get You A Deck You Can Be Proud Of