Deck Repair In Omaha: Let Experts Handle Your Project
If you're looking to bring back to life an outdated outdoor space, look no further!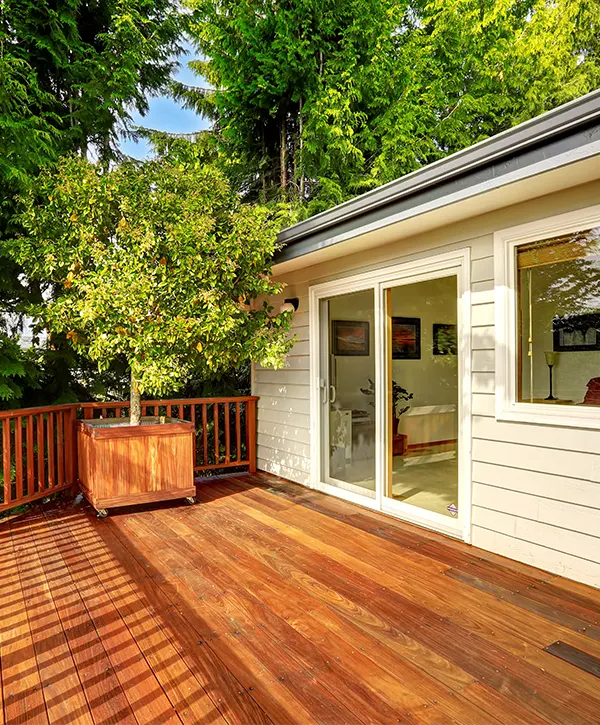 You just found your expert deck repair in Omaha! We've been restoring decks back to their former glory for hundreds of homeowners like yourself, and we keep delivering the best end-product in the decking industry.
At Deck Bros, we're trained carpenters that know how to upgrade a deck, uplift its look, and boost its longevity so you can enjoy you outdoor space like never before.
An Omaha Deck Repair With Never-Ending Benefits
And you're getting much more than a deck repair.
Get A Deck Repair That You Know You Can Trust
Deck repairs are not always one-day projects.
Many of the decks we inspected had their frames and posts rotten so bad that they were about to fall at the slightest push.
These are decks that can't be repaired without undergoing an extensive project. If you want your deck to be 100% functional and safe, you'll need to replace the frame and posts altogether.
For decks with a-ok posts and frames, repairing the decking and the railing is the best thing to happen to them.
For example, a lot of our customers decide to replace their wood decking with low-maintenance composite decking that lasts longer and doesn't need constant staining or sealing.
At Deck Bros, we take our deck repair offer serious, as this feature needs to be safe before everything else. After a thorough inspection we'll be honest and tell you exactly what your deck needs. It's up to you if you want to make your deck safe for your family, or just want to make it look better.
Our Customers Love Their Deck Bros Repairs
They did a excellent job and the crew was professional. 
I live 2 hours from Omaha and they took the job without that being an issue. Our deck turned out beautiful. We have the best looking deck in town. I am so glad that we chose Deck Bros. 
 If you want quality go with Deck Bros! It will the best choice you make.
Can't say enough great things about Deck Bros! 
From the initial contact to the completion of my deck, Luan was always available and super responsive. He has a fantastic crew as well.
Deck Bros was hands down the most competitive with pricing. I couldn't be happier with how my deck turned out.
Your Deck Could Look Just Like These
Get some new ideas for your project or check out some of our work!
Type Of Upgrades And Materials
When it comes to deck repair in Omaha, Nebraska, our customers have a lot of upgrade options.
At your on-site consultation, you'll get a detailed breakdown of all the upgrades and repairs you can get.
Below are the most common repairs homeowners in Omaha get for their decks.
While for younger homeowners staining, sealing, and pressure washing their deck can be relaxing, older homeowners would rather have someone else do it.
Many of our older customers that already had a wood deck simply couldn't maintain it any longer. They know about low-maintenance composite decking, but were never presented with the opportunity.
Composite is a much better alternative to wood decks. They last longer, don't require on-going maintenance, and you'll save money on stains and sealers so you can invest elsewhere in your home.
Along with the wood decking, the wood rail is also prone to rot or insect damage that will weaken the stability of the rail.
Our deck repair projects consist in either refinishing a wood rail to look a little better, or will mean replacing it altogether with a more durable and resistant material.
Metal railing, like aluminum or wrought iron railing are increasing in popularity, as more homeowners value their safety and know how dangerous an unreliable wood railing can be.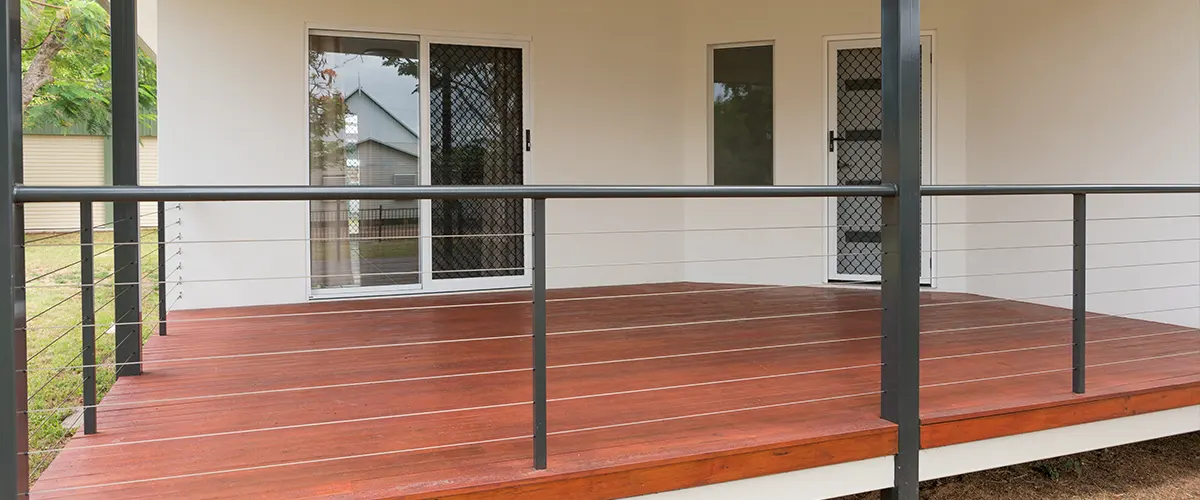 The most serious issues with older decks come from their frame. Back in the days, deck posts were placed directly in the ground and the lumber was poorly treated against the elements.
This caused the posts to rot at a faster rate, and the frame to be wobbly and dangerous at every step.
Lately, we're seeing a lot of homeowners choosing metal frames for their outdoor space. These are extremely durable and will resist even the harshest weather conditions. Besides, metal frames from Fortress Building Products come in ready-to-assemble kits, which makes the deck building process much quicker.
For a more budget-friendly alternative, Grade 1 pressure treated lumber is still a reliable option that will guarantee your deck is safe for many years to come.
Deck Repair In Omaha Couldn't Get Any Easier
With us, you can get your deck repaired in record-time. We developed a quick and effortless process, with you at its core.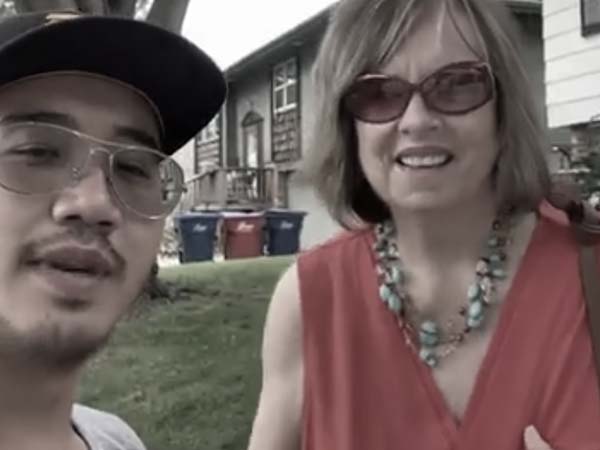 We'll have a thorough inspection to see what your deck really needs.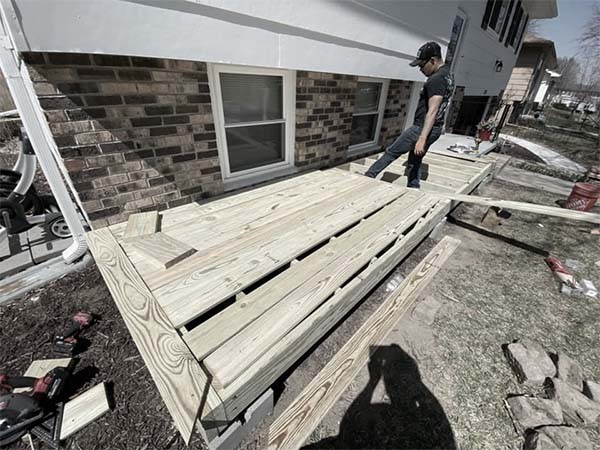 Based on what we discover, we'll get to work and fix your deck.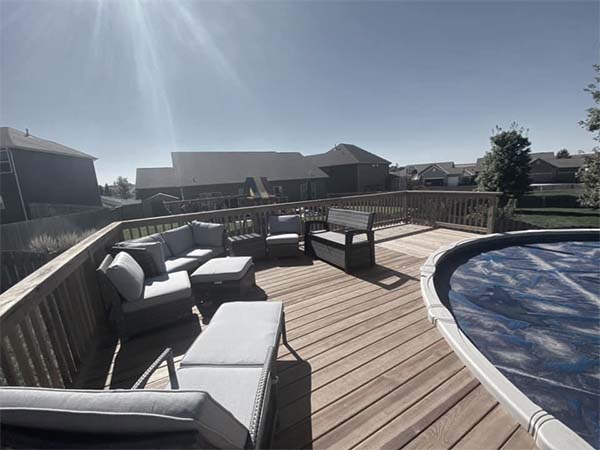 Start planning your next barbecue because your deck is ready!
Deck Repair In Omaha Metro: A Case Study
This was an extensive 24×12 ft. deck repair in Omaha Metro. 
This project included:
Before
After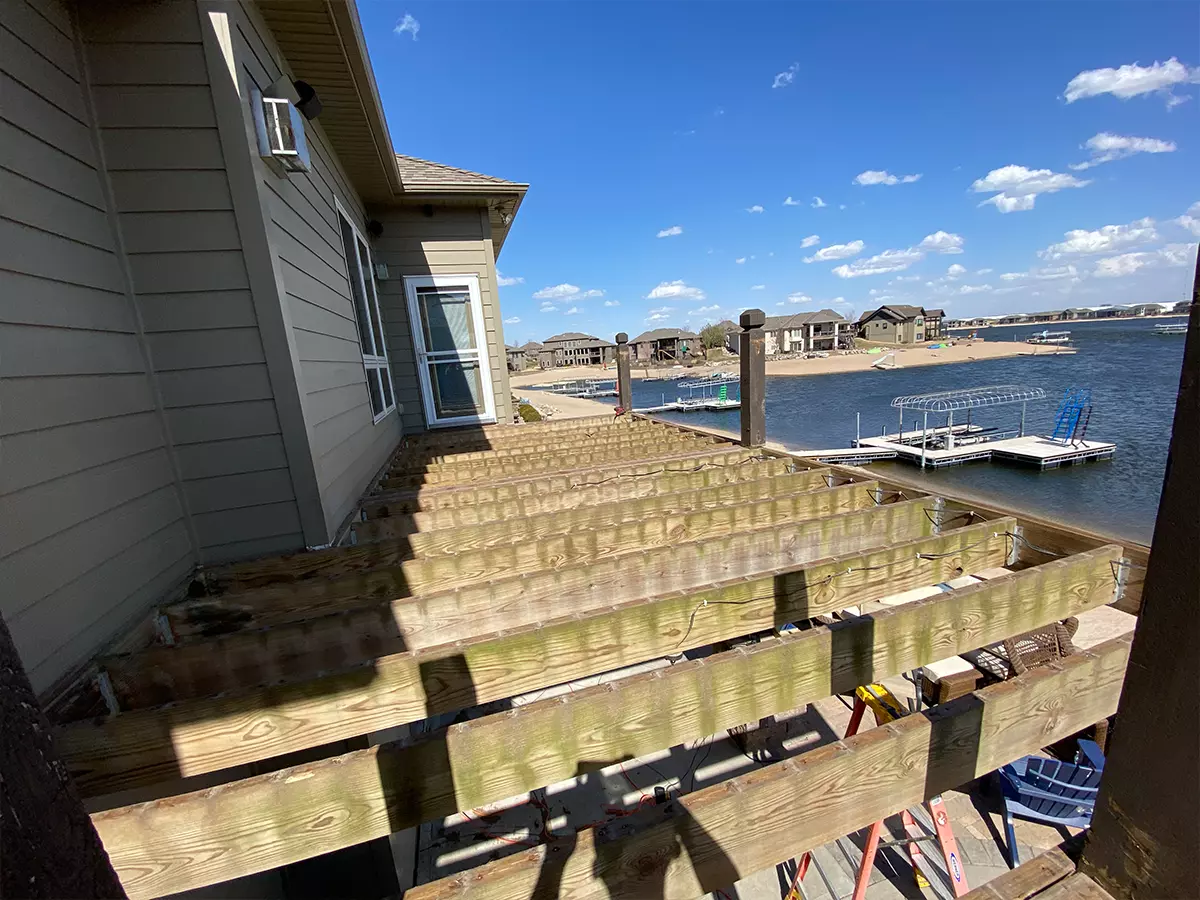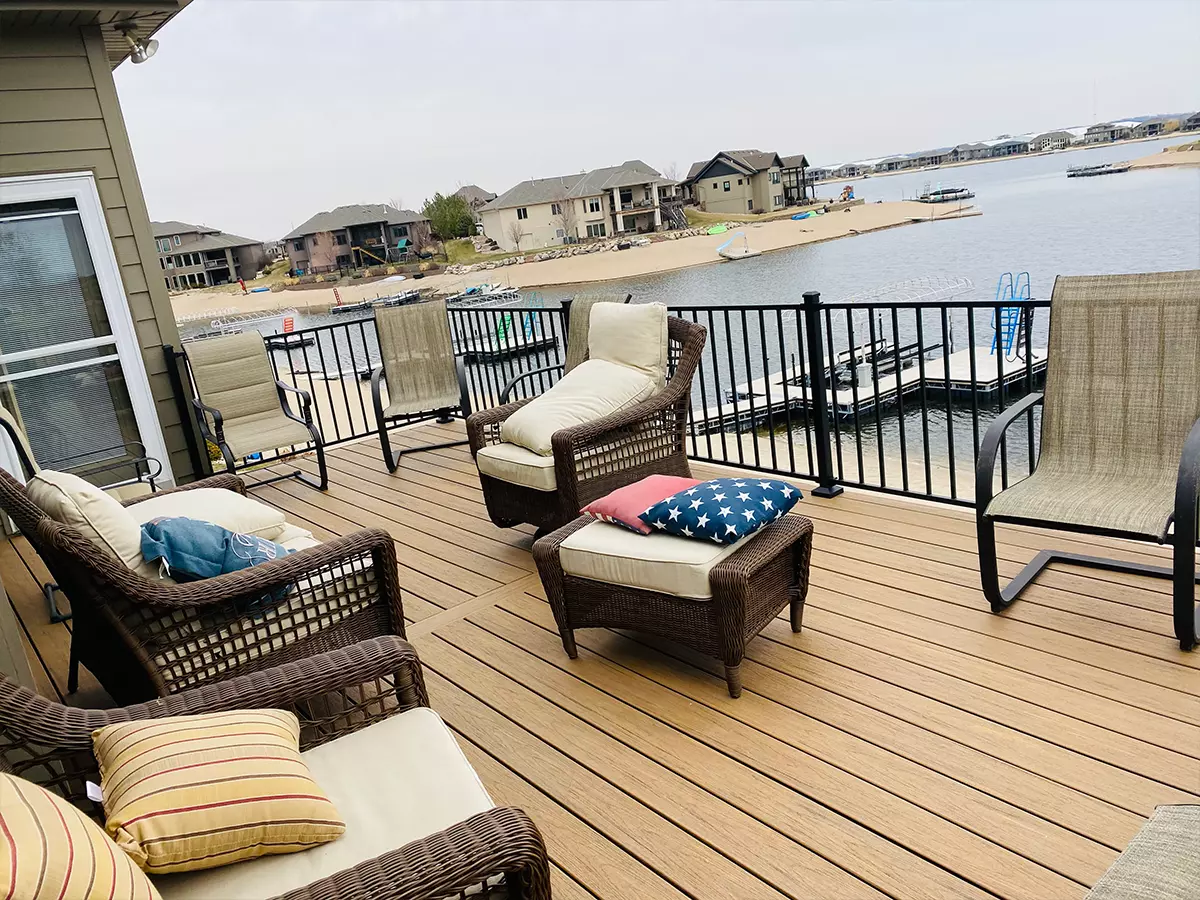 We quoted this deck repair project at $18,000. Our customer wanted to replace the wood decking with composite decking, and he wanted a quality material that required no maintenance. The most expensive item was the TimberTech Decking, coming in at $8,760.
Frequently Asked Questions
If your deck starts showing a bit of wear and tear but still feels sturdy, minor repairs can make it look like new.
If its wood posts, frame, or railing is rotten and wobbly, your deck's structural integrity is compromised, and will be a safety hazard. In this case, rebuilding your deck altogether is recommended.
After our on-site consultation and our inspection, we'll be honest about what your deck truly needs. Then, it's up to you if you want it to look good, or be safe and look great.
The deck repair cost in Omaha varies depending on the extent of the damage.
For example, repairing worn-out and damaged stairs may only cost about $5k, while replacing an entire 12×12 wood deck will cost around $14k.
Any extra upgrades will drive the cost up.
At Deck Bros, we approach deck repairs with the same speed and efficiency we do for deck building.
The scope of work and your choice of upgrades and materials will be what impacts your deck repair timeline.
Once we assess your deck's condition, we'll be able to give you an accurate time estimate.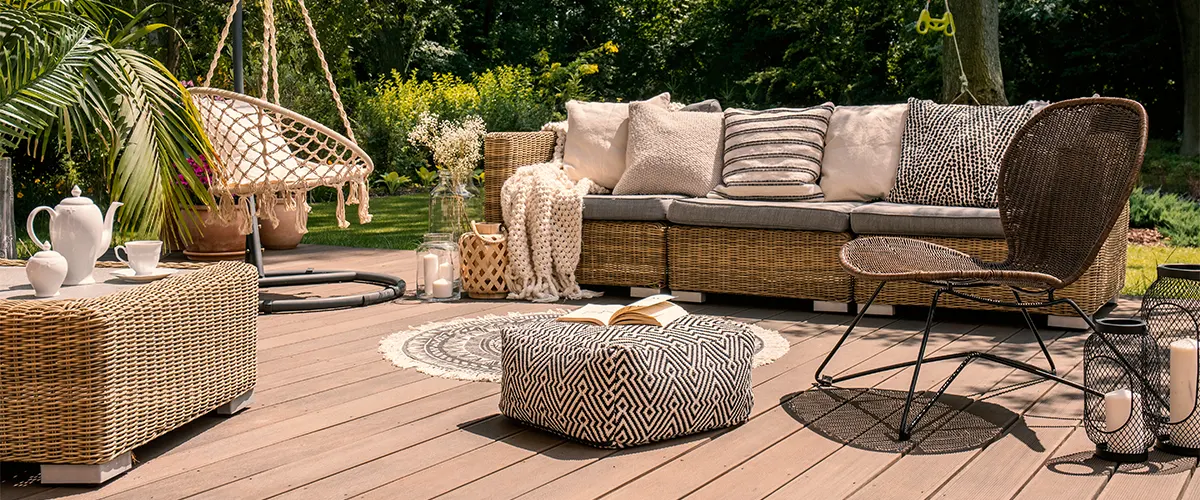 It's Time To Regain Trust In Your Deck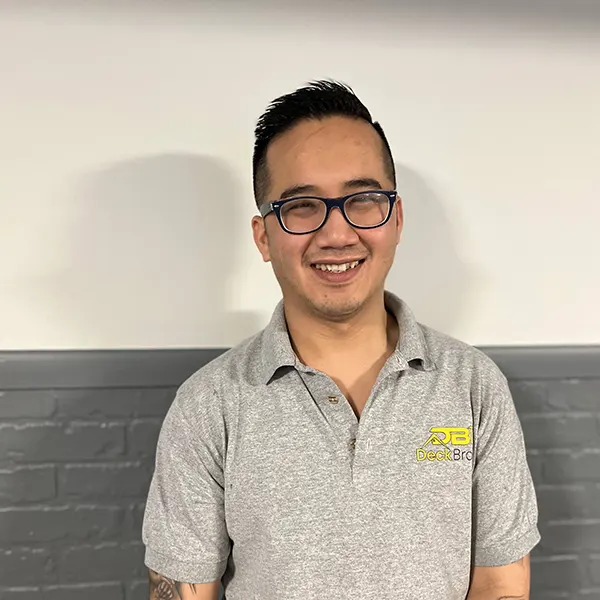 If whenever you step on your deck you're hearing squeaks and you feel it moving, that's a clear sign your deck is not as reliable as it used to be.
At Deck Bros, we know everything that can go wrong with a deck, and we know how to avoid that from happening. 
If you're looking to regain trust in your deck and you want the best deck builders in town to help you achieve that, you're in the right place!
With us, you'll get:
Get Your Deck To Feel Safe And Look Great Again!