A Process Tailored To Your Needs
Relax While We Build You Your Dream Deck
100% Satisfaction Every Time
Licensed, Bonded, and Insured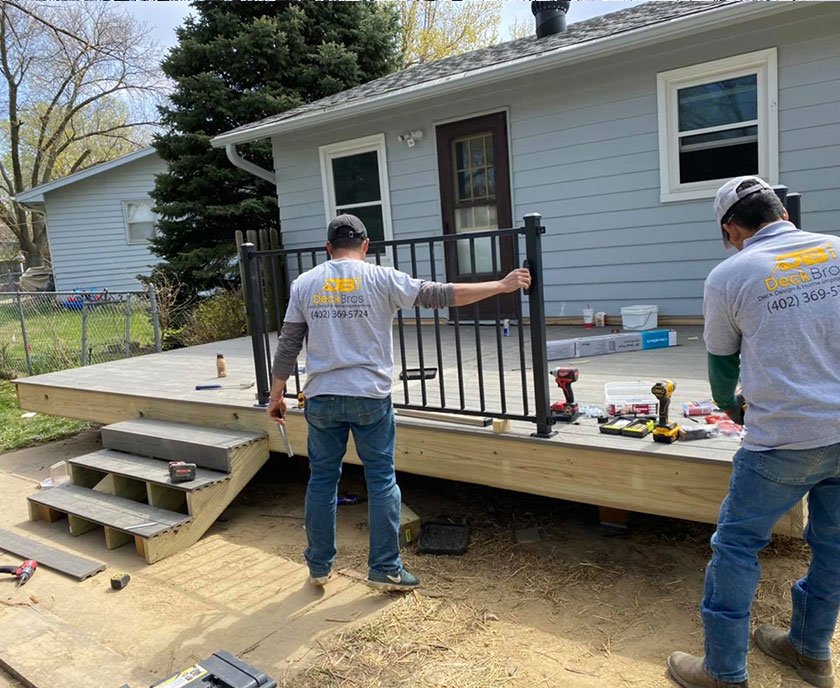 Our Process is Built Around Your Comfort
There's no need to let your new deck project keep you up at night. Our effective process takes away all your worries and allows us to take care of everything for you.
Having a professional team working on your deck is a wise decision if you want your outdoor space to look great and serve you well over the years.
We'll advise you on the right materials, finishes, and protective solutions for your new deck, and install everything in place and up to code. We keep you updated at every step, so you're always in control of what happens.
We had one dream when we started our company: to provide the best experience in deck services for our customers. After we're done, all that's left for you to do is make the best of your new outdoor space and enjoy it every day.
5 Easy Steps Towards Your Beautiful Deck

If you're ready to start on your dream deck, get in touch with us so we can talk about your project. We'll have a phone consultation to discuss your vision and see how we can help you bring it to life.

Step 2. Consultation And Estimates
Our team will come to your location and take all the measurements necessary for your new deck. If you need a deck repair, we'll first inspect it and give you our recommended solution. Once we've got a clear idea of what needs to be done, we'll provide you with a timeline and project estimate that leaves no room for surprises.

Step 3. Work On Your Deck
Once you've decided on the materials and finishes, we get to work on your deck. We only use high-end products so that we can guarantee quality for you, and we commit to delivering our best work no matter the size of the project. Our workmanship is backed by a 2-year labor warranty.

Step 4. Final Walkthrough
When we're done with all the building and installation work, we'll do one final inspection together to make sure everything looks exactly as expected. We love it when our customers are happy with the end result, so our work is not over until you give us that thumbs up.

Step 5. Love Your New Space
Now that your deck is complete, it's time to start planning for all the ways you can use your new space to relax and entertain. Bring your friends and family together and celebrate your new outdoor space.
Licensed, Insured, and Bonded
100% Satisfaction Guaranteed
Over 30 Years of Experience in Carpentry
Here's What Our Customers Say…
Our goal is to deliver outstanding, long-lasting results, so we work hard to make sure every one of our customers is happy. We live by the mantra "100% satisfaction guaranteed." We will not stop until you are happy. ​
We hired Luan and his team to do some minor repair on the deck. Luan came over and found more problems than we thought.
Within a few days, he completely transformed the deck. We went from a deteriorated deck to a 80% new deck, all for the price of the minor repair as well. Luan explained and kept us updated throughout the process.
He was professional and was even willing to teach me a few things here or there! I will definitely recommend Luan and his crew for any deck projects!
Luan and his team are awesome. He does a great job communicating what you need done, why you need it done, and how he will do it.
He doesn't try to oversell either, just gives you what you need.
He's an expert in all things decking and I will be referring him to my peers any time I hear they need a new deck or a deck re-fresh and want to bring new life to their old deck.
Deck Bros just completed a 10×10 deck for my pool. They were on time and did it all in one day.
They did everything I asked for including a gate. Very professional and it looks great! Their price was the best Out of all of the estimates I had gotten.
I would definitely recommend them to anyone that is looking to have a deck built and would use them again!
Experience A Hassle-Free Process Designed To Handle Everything For You