Deck Building In Papillion: Let Pros Handle Your Project
If you're looking to get a deck that will leave everyone one of your guests in awe, you're in the right place!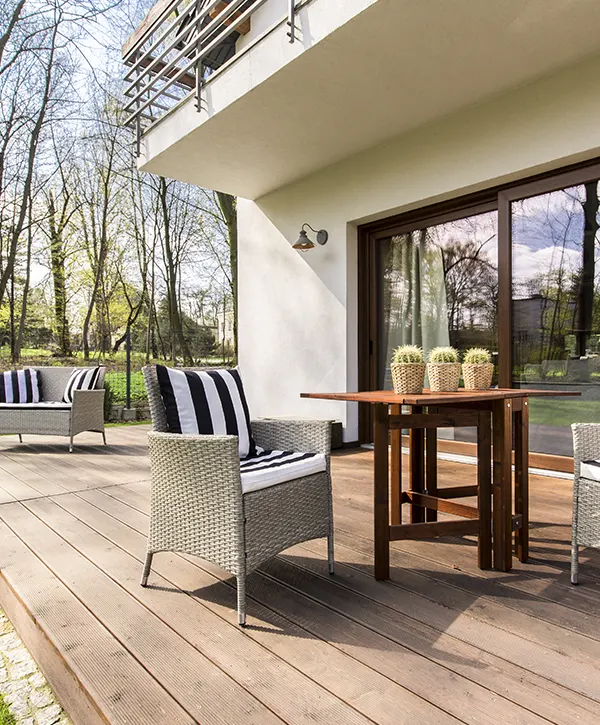 Deck Bros is the first choice for homeowners like yourself that are looking to start their deck building in Papillion!
With over 30 years of experience and hundreds of families served around your neighborhood, rest assured your project is in good hands with your local deck-building experts! 
Enjoy Your New Deck With Extra Perks
We raised the industry standards so you're getting more than just a deck!
Let The Pros Lead Your Project To Success
Our team members know a contracting experience can get stressful, which is why we aim to minimize the anxiety it creates.
From the start to the completion of your project, Deck Bros' experts will dedicate themselves to your well-being and satisfaction.
You'll receive constant guidance, insights, tips, and all the information you need to be on top of the project without putting any pressure on you or your family.
We've managed to keep deck building in Papillion a pleasant experience, and now it's your turn to get this well-deserved upgrade!
Check out our deck building offer and get your project in Papillion taken care of by Deck Bros professionals!
Our Customers In Papillion Love Their Deck Bros Upgrades!
Our deck was literally rotting off our house. They tore down and put up our new one in a day. It looks amazing and they made it a little bigger!
The team was respectful and professional. They had my deck done within the week I called them.
He was fair and honest about the pricing.
I'd recommend Deck Bros to anyone. Such a good experience.
You can not fault this company. They were honest and upfront, no surprises. 
 They kept us informed, started work ahead of time, replaced the deck quickly, were courteous, friendly, respectful and helpful. 
Even if they are more than some of your quotes, go with them. You will be happy!
Get New Ideas For Your Deck Building Project In Papillion
Get some new ideas for your project or check out some of our work!
Type Of Upgrades And Materials
In recent years, a lot of new technologies started gaining ground in the deck building industry, but also in constructions in general.
In your on-site consultation, we'll discuss in more detail all your material options. Until then, let's see the most common options.
Your deck framing is what keeps the structure stable, so you'll want it to be sturdy and last a long time.
The common material choice for deck framing remains pressure treated lumber (namely grade one and two). However, even grade one pressure treated lumber starts to rot at a point, and termites start to eat it from the inside.
The best alternative is steel. It's stronger, durable, and a lot more reliable than wood is. Besides, steel doesn't require the level of maintenance that wood does, so you'll recoup a lot of its costs.
Your decking is what sets the vibe of your outdoor space. But you don't want it to just look nice – you want a decking material with great functionality.
Wood like Ipe, mahogany, tigerwood, or even redwood are upscale materials that give an upscale look to your deck. However, they're more expensive and still require regular maintenance.
We recommend an increasingly popular material option that helps you spend more time enjoying your deck, instead of cleaning it: composite decking.
With Deck Bros, you'll get decking from the biggest composite decking brands in the deck building industry at competitive prices. Trex, TimberTech, and Fiberon are just three decking brands you'll want to look at.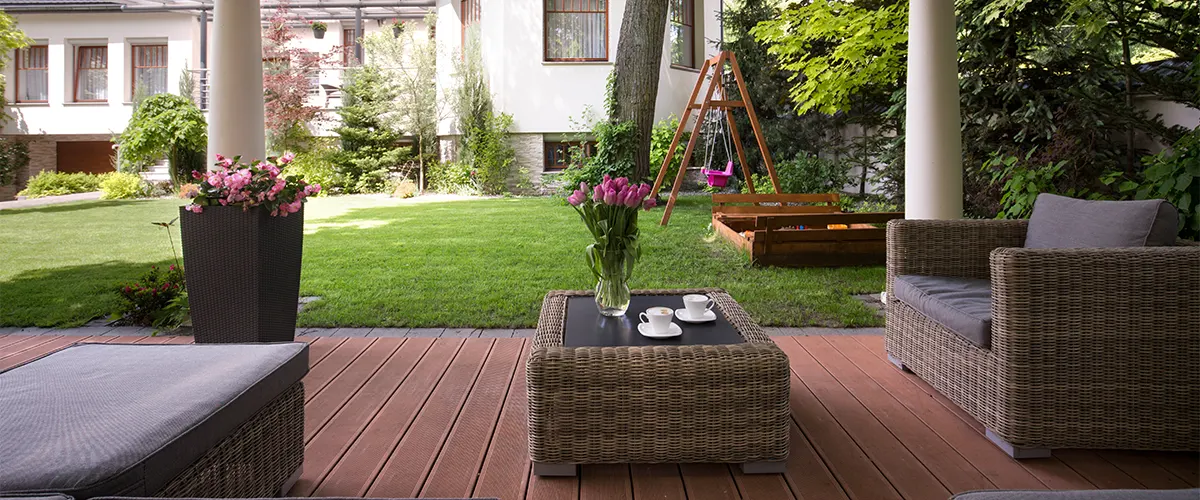 Railings are mandatory for most deck building projects. And even if they weren't, we always recommend our customers to get railings, as they give a sense of comfort and security.
While wood railings are still the norm, we advise many of our customers to go for composite or aluminum railings. Composite railings are more durable than wood, but aluminum railings tops everything.
They give an upscale look to your deck, making it look way more expensive.
Lights give you a great deal of comfort, but also improve your deck's safety, especially at night. Stairs lights for elevated decks are also required by the building laws.
Lighting options are up to you. We recommend using a warm, cozy light low-voltage lighting with a long lifespan. You don't want your electricity bill to skyrocket, and you don't want to have to replace them in a few years' time.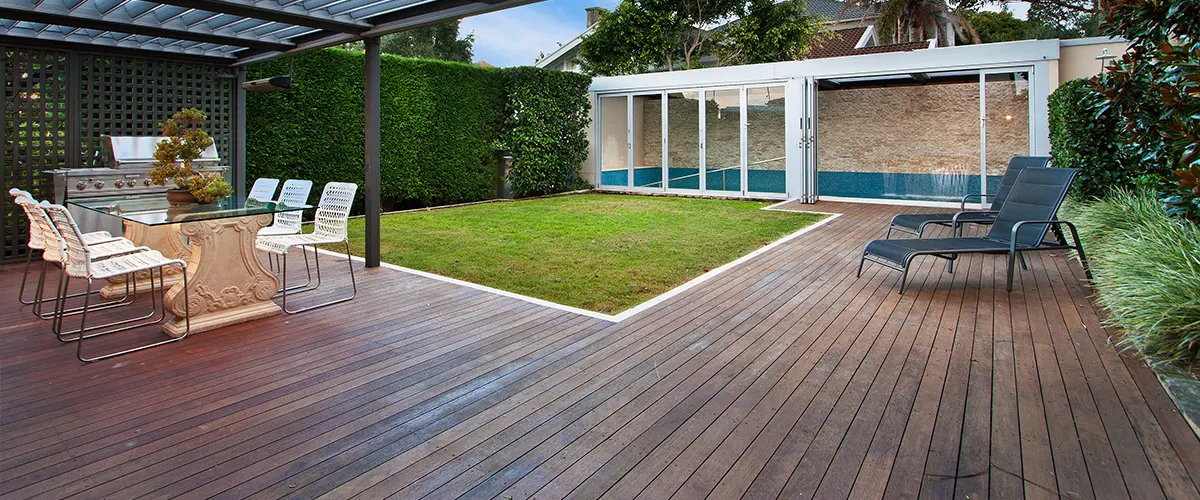 Deck Building In Papillion Has Never Been So Easy!
At Deck Bros, we make your time one of our priorities, which is why we came up with a quick and simple process to get started.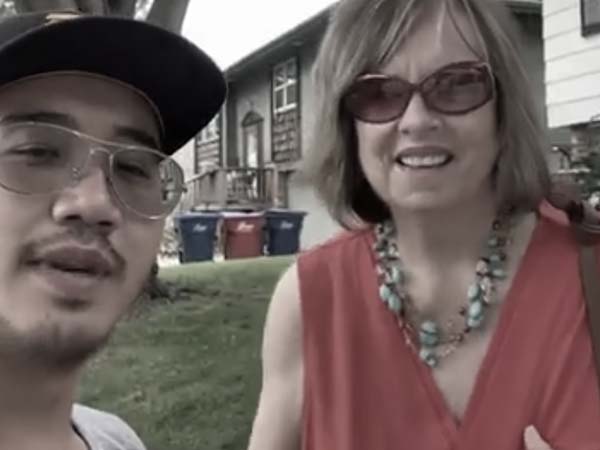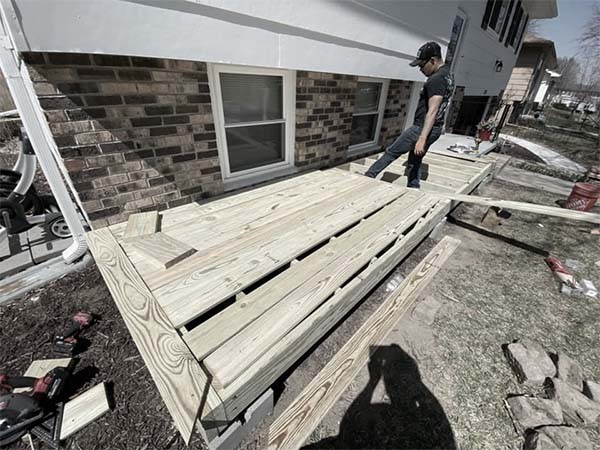 You'll be part of an incredible deck building journey – yours!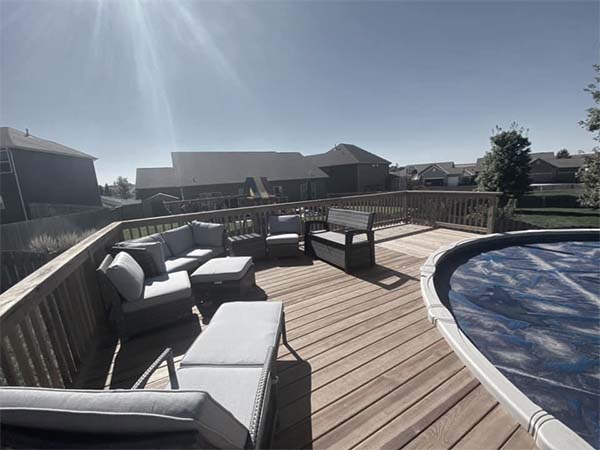 Start planning your next barbecue and invite people on your new deck!
Deck Building In Papillion: A Case Study
One of our customers in Papillion wanted to renovate his 750 square foot wood deck. This was a huge project that involved a lot of work, but our customer was happier than ever with the end product.
The upgrade included:
Before
After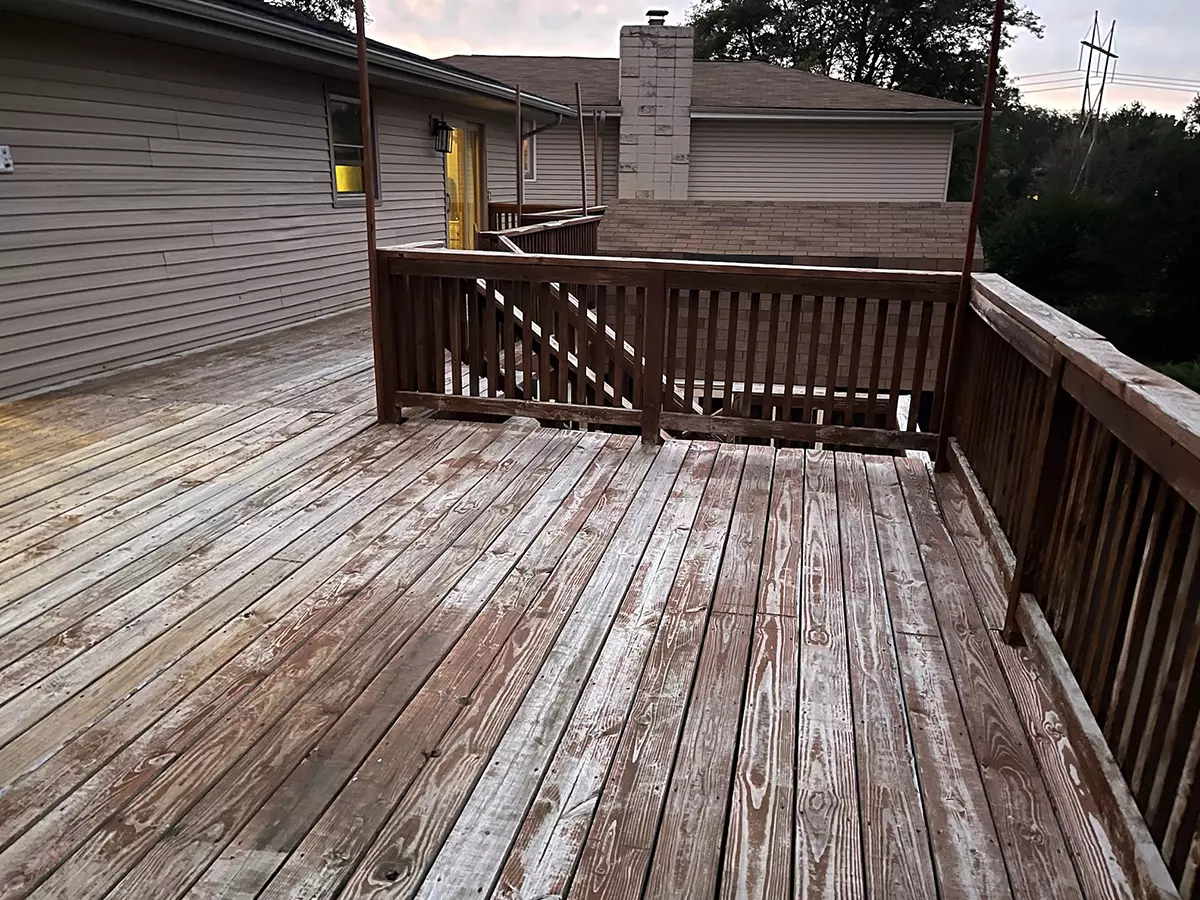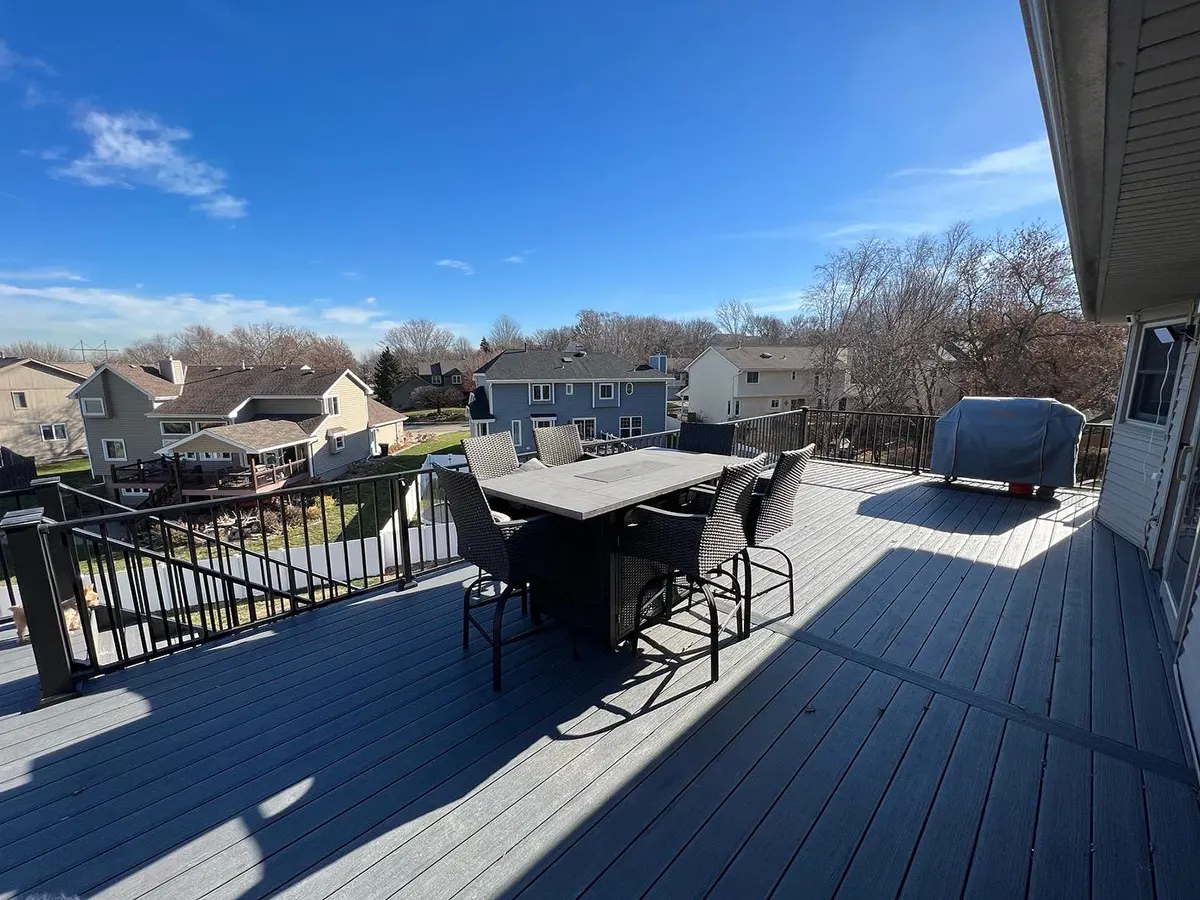 We quoted this deck building project at $72k, and the most expensive upgrade on the list was the premium aluminum railing custom made with built-in lights, priced at $22k.
Frequently Asked Questions
Size, elevation, and materials are what impacts the final cost of your project.
While an average 12×12 cedar deck will cost around $14k, for a 20×12 composite deck with aluminum railings, fascia wrapping, and a set of stairs, you're looking to spend around $27k.
We deliver most deck projects in less than a week, with a usual 3-day build time since demolition is complete. Rest assured we'll finish your project according to the timeframe we'll provide you with.
I'm the owner of Deck Bros, Luan, and I lead a team of licensed and insured carpenters. We have over 30 years of experience in deck building and providing the most cost-efficient solutions for homeowners wanting to add a deck.
We love homeowners in Papillon, and we can't wait to get to know you.
Let Deck Bros Take Care Of You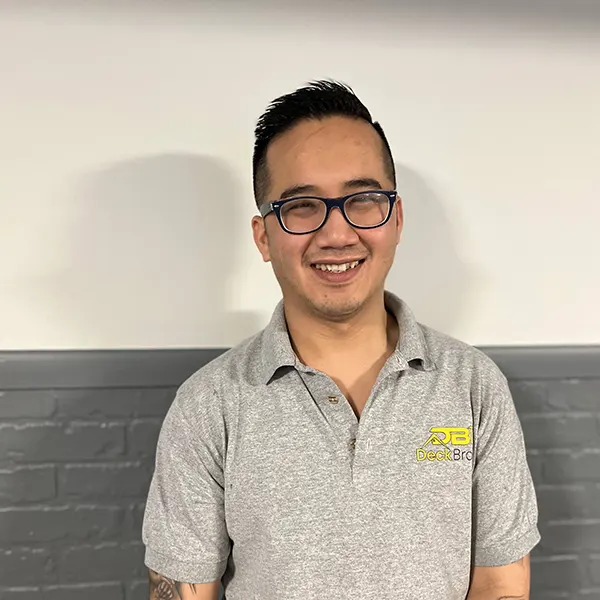 Your deck building in Papillion is in good hands with your local experts from Deck Bros.
With over 30 years of perfecting our craft and understanding the underlying needs of our customers, you're sure to receive the best deck building service in Papillion.
You'll get:
Get The Fastest Deck Construction In Papillion Today!