Spending time on your deck or porch is great, especially in the summer, but there's one thing that can ruin the experience. Too much sun.
And yes, sun lotions work – to a degree -, but the best option is a permanent one: a pergola.
If a while ago you were just thinking about getting pergola, now it's the right time to dig a little deeper and find how much it would cost you.
In this post, you'll discover everything you need to know about a pergola price. We'll look into pergola's material options, but also some other alternatives to your outdoor space.
Let's begin!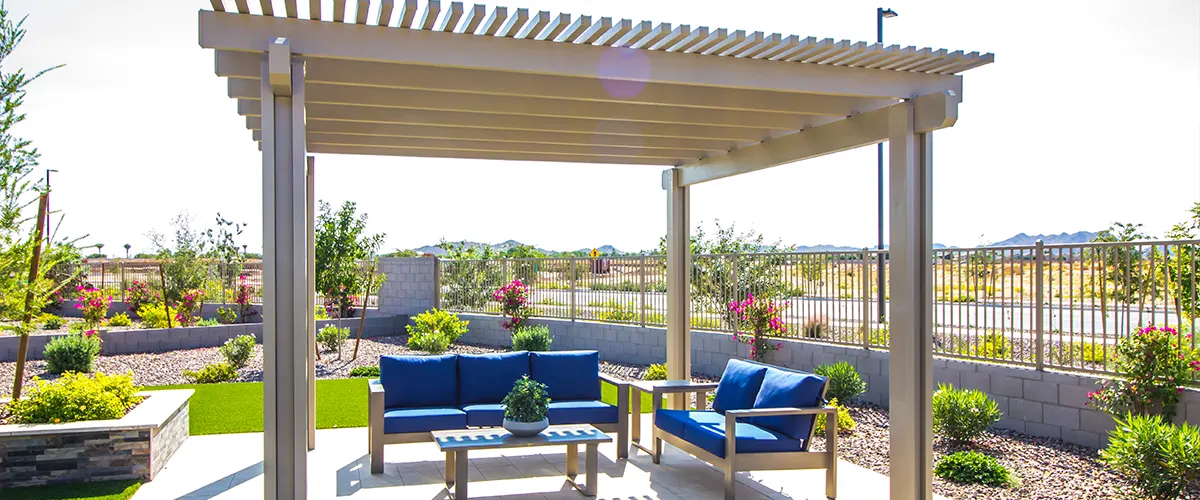 A pergola is a large structure, freestanding or attached to the house, that provides shade wherever you place it. It consists of four columns (or pillars) that support a roofing grid. The roofing grid can remain open or be covered to create a more sheltered area.
Homeowners most often build their pergolas on their porches, patios, or decks, as this is where they relax.
Similar to pergolas are another two structures. Arbors and gazebos are sometimes used interchangeably with pergolas, but they serve different purposes. 
Let's discuss each of them.
A gazebo is a small wooden structure always with an enclosed roof. Many gazebos have stairs, a raised floor, a rounded shape, and a roof. Gazebos are great alternatives to pergolas if you're looking for a smaller, more affordable outdoor space.
Arbors are even smaller structures than gazebos, usually shaped like an arch. Unlike pergolas and gazebos, arbors are designed exclusively for climbing plants, as they provide a great environment to grow.
Pergolas are the largest structure of the three. Homeowners get pergolas for their porches and decks, but they can also be seen as a freestanding structure anywhere in a backyard. Traditional pergolas can also be designed for cars, and are called carports.
Pergola Price by Construction Type
Pergolas come in two types of constructions, prefabricated or custom built.
Pergola Price By Materials
The average cost to build a pergola is around $5,000, but if you're looking to get a custom design and build for a larger pergola, you can expect to pay as much as $15,000. Of course, we're talking here about upscale, huge pergolas with premium materials.
In fact, material costs have the biggest impact on the final pricing.
| Pergola Material | Cost Per Square Foot |
| --- | --- |
| Cedar | $25- $35 |
| Pine | $20 - $30 |
| Teak | $55+ |
| Aluminum | $10 - $30 |
| Fiberglass | $60+ |
Cedar is a common building material for pergolas, mostly because of its beautiful color and resistance to rot and pests.
Like any wood material, cedar too requires staining and sealing if you want it to last longer. Another great advantage of cedar is that it takes stain well, so maintaining it should be pretty fast. A redwood pergola will give your structure the reddish tint, but it comes at a higher price than cedar.
A wood pergola is usually the most affordable option. The price of cedar boards vary between $2.25 and $14.25.
Pressure treated pine is another common material for woodworking in general. Pine is also naturally resistant to rot and insect damage, but it's a soft wood, so it's prone to splitting, cracking, and denting with time.
Pine is similar to cedar, but it requires more maintenance. If you want to make the most out of a pine pergola, you'll have to sand and stain the wood periodically to extend the life of your outdoor structure.
On average, pinewood eight to 16 feet long can retail for anywhere from $2 to as much as $20 per piece.
Teak is a premium material that will definitely increase the price of your pergola. Similar to Ipe, and tigerwood, teak lasts for a longer time and doesn't require as much maintenance as other materials.
Because teak is imported from other countries, this material is quite expensive. In the US, you can expect to pay between $25 and $28 per board foot. Depending on manufacturer or seller, teak can cost even more.
Metal pergolas are among the most durable and maintenance-free outdoor spaces you can get, but metal pergolas are only available in kits. You can find aluminum, steel, or wrought iron pergolas, but the aluminum pergola is the most common.
Some metal pergolas can have a fiberglass or vinyl wrapping for an improved aesthetic, and still keep the durability of aluminum.
An aluminum pergola ranges from $500 to $1,500, while wrought iron ranges from $1,000 to $3,000.
Fiberglass is a great pergola material for a modern outdoor space. Homeowners opt-in for this option mostly because it's a low-maintenance, long lasting material.
A great benefit of fiberglass is that it's not affected by extreme heat or cold. It's one of the most durable materials you can find for your pergola, but it comes with a downside: fiberglass' colors are limited.
 A fiberglass pergola price averages from $1,500 to $10,000.
Bricks are the most expensive material for pergolas, but they look great and last for years. Brick pergolas are only custom-built, as you can't find prefabricated brick pergolas. Keep in mind that you can't use bricks for roofing, so you'll have to find another material just for that.
If you decide to go with a brick pergola, the best option would be to buy a prefabricated top of a different material, or you can custom build one from wood.
The cost of materials for a custom brick pergola is between $2,000 and $4,000. Add labor and the roofing, and you'll get the most upscale pergola in the neighborhood.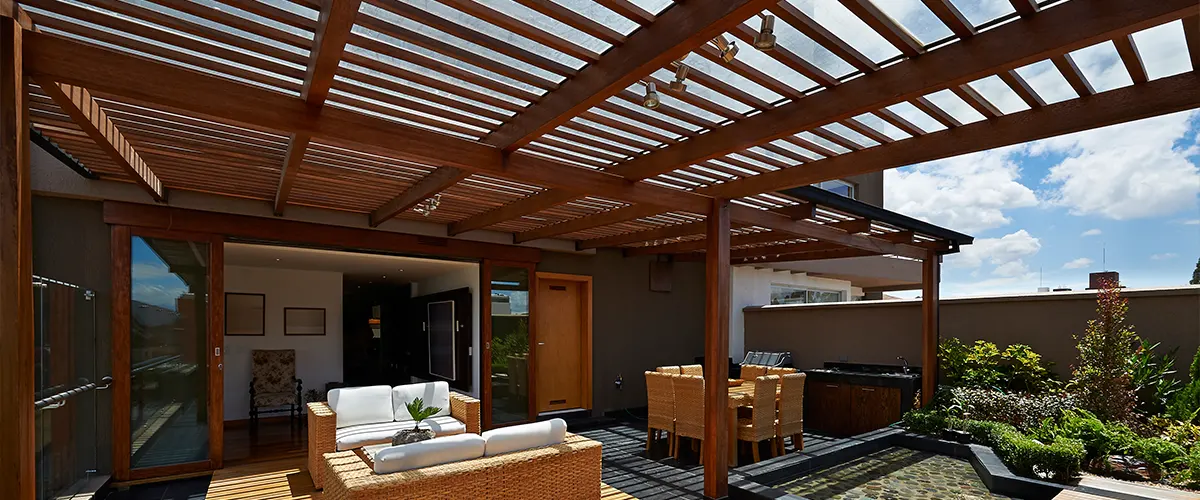 Pergola Price By Square Footage
Prefabricated pergolas come in specific sizes, but with custom built pergolas, there's nothing stopping you. Freestanding or attached to the house, you can build your pergola as large as you want.
Most pergolas are square or rectangular because it's a simple design and offers a quick installation. If you're going for a custom built pergola, you can choose your own style, but know that the design will most likely cost you more.
The pergola price estimates you'll see below are based on a structure made from cedarwood, one of the most popular pergola material.
| Pergola Size | Average Prefab Installation | Average Custom Installation |
| --- | --- | --- |
| 10' x 10' | $1,100 - $3,000 | $1,700 - $4,500 |
| 10'x 12' | $1,300 - $4,200 | $1,900 - $$6,500 |
| 12' x 12' | $1,700 - $5,000 | $2,000 - $7,000 |
| 12' x 14' | $2,200 - $6,000 | $2,500 - $7,500 |
| 14' x 18' | $3,500 - $7,000 | $3,000 - $8,000 |
| 20' x 20' | $6,000 - $10,000 | $5,000 - $15,000 |
Additional Pergola Roofing Costs
You can leave the wood grid above your pergola, or you can choose to fully cover it with a roof for more protection. You can consider the roofing a different aspect of your pergola, so it'll cost you separately from the construction itself.
Let's see some of the most common roofing options available that add to your pergola price.
Adding a mechanized retractable roof to your pergola is sure to impress each and every one of your guests. With this upgrade, you can bathe in the hot sun or hide from it whenever you wish to.
The best part about it – you'll do it without any effort, just by pressing a button.
But it comes with a cost. The average cost of buying and installing a retractable pergola roof includes materials, at about $315 – $330 and labor costs at around $150 – $165, plus $4.50 pergola installation cost per square foot.
A louvered roof for your pergola is made of a series of horizontal, adjustable wood slats that can create shade, stop raindrops, but can also open up to let more sunlight in.
Louvers are usually made of wood, but you can find them in metal to give your pergola an upscale feel. This solid roof is often used in fancy restaurants.
Installing a louvered pergola roof costs about $85 per square foot.
Cloth is the least expensive option for your pergola roofing. It provides plenty of shade, but it lacks the flexibility to balance the amount of sunlight you want to let in. Besides, heavy rain will soak the cloth and water will still drop inside your pergola.
A cloth pergola is super easy to install and oftentimes it's part of a DIY pergola kit. A basic pergola cloth for a 10 foot structure can be as cheap as $180, so it won't add too much on your pergola price. 
You can find these at big box stores like Ikea, Lowe's, or Home Depot.
Pergolas are an impressive upgrade in any backyard. They're functional, look great, and not everyone has one.
Here at Deck Bros, we've seen and built hundreds of decks now, but it feels to us like a deck coupled with a pergola is something out of this world when done properly. And the homeowners love them too.
Keep in mind that these are just averages and guidelines to help you get an idea of what your pergola price would be in Omaha, Nebraska. Every project is different, so the best way to find out your pergola price is to request a quote from us.
It takes less than two minutes to fill in this form, and we'll get back to you ASAP.  
If you're in a hurry, you can call us directly right now at (402) 369-5724.