Both solariums and sunrooms are great additions that you can get to boost your property's value and the comfort of your home.
But what is actually the most efficient way to do so?
Solariums are more expensive and might offer a more elegant look, but sunrooms are affordable and much easier to get.
In this guide, we'll put an end to the solarium vs. sunroom discussion. Let's begin.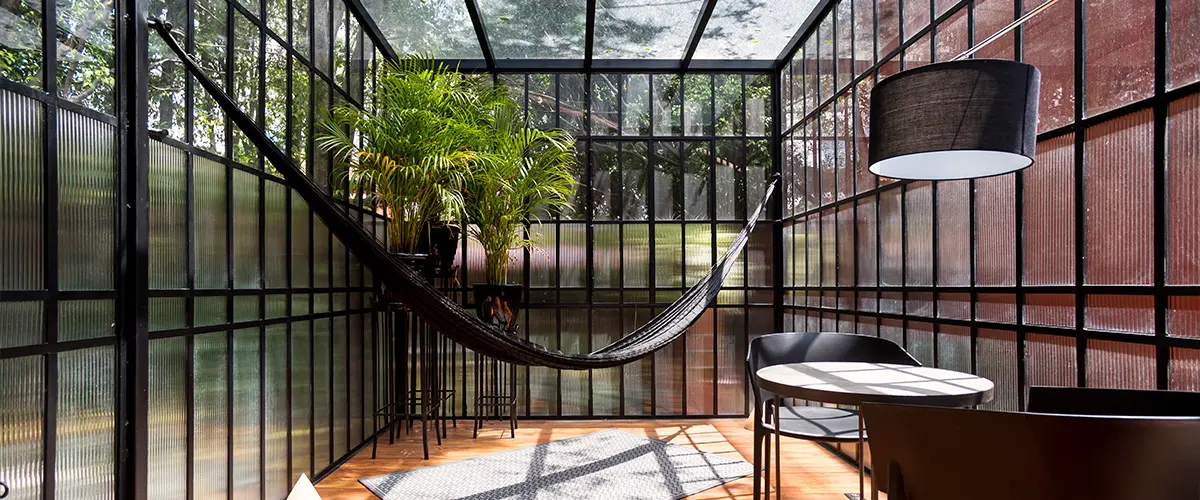 A solarium is an architectural feature designed to allow a large amount of sunlight into a building, usually through windows and skylights.
Solariums are typically built on the roof or backside of a structure, and can be used for many purposes including providing natural light in an otherwise dark room, heating up space in the winter, or simply providing a stunning view of the outdoors.
Solariums are usually more expensive than sunrooms and require professional installation since they involve working with glass panes and skylights.
The labor costs for installing a solarium vary from $300 to $850 per square foot, depending on the size and design.
Glass solariums cost between $30k and $75k, while an atrium with a roof may cost as little as $10k to $35k. Glass solariums are generally the most expensive type of sunroom, anywhere from $30,000 to $75k.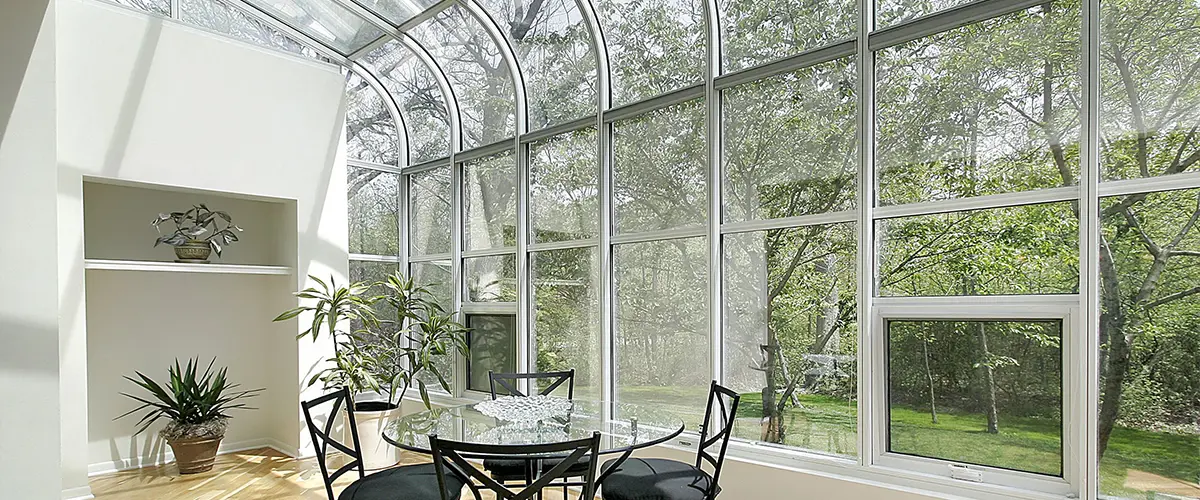 A sunroom is an indoor space usually connected to the outside of your home and can be used for many purposes.
Sunrooms are usually cheaper than solariums and easier to build since they don't involve any complex construction. However, sunrooms aren't as efficient in providing natural light as solariums, and their temperature is not always regulated due to their outdoor connection.
Unlike solariums, sunrooms have a roof built out of the same material as the main home.
Sunrooms offer the perfect way to bring outdoor elements into an indoor space.
Transforming a covered porch into an amazing glass-walled room is simple and efficient, and windows can be opened so you can still feel the warmth of the sun or listen to birds singing on a summer morning.
The two main types of sunrooms are three-season and four-season.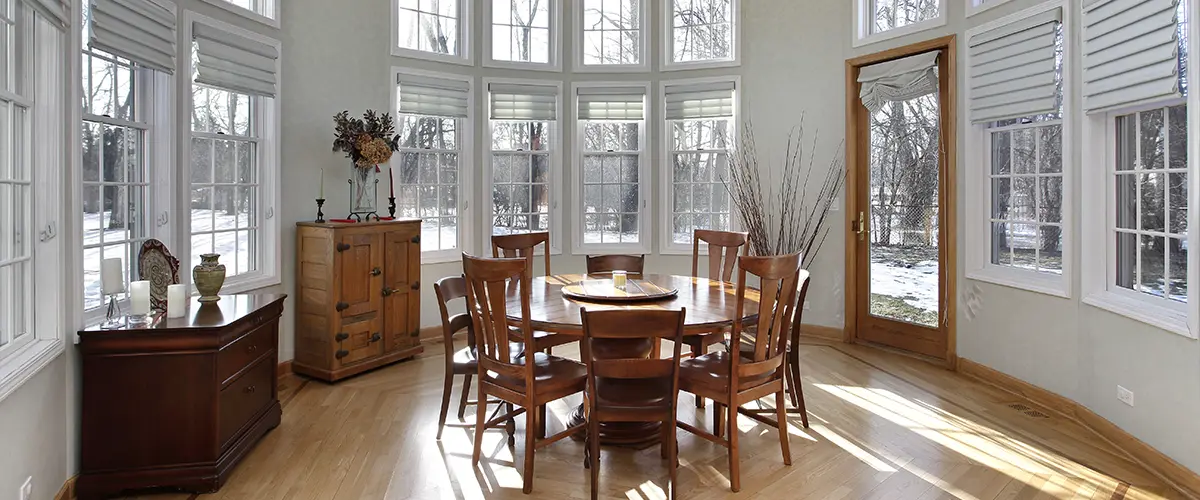 Sunroom Cost per Square Foot
| Square Footage | 3-Season Sunroom | 4-Season Sunroom |
| --- | --- | --- |
| 8 x 8 | $5,120 - $14,720 | $12,800 - $25,600 |
| 10 x 10 | $8,000 - $23,000 | $20,000 - $40,000 |
| 14 x 14 | $15,680 - $45,080 | $39,200 - $78,400 |
| 20 x 20 | $32,000 - $92,000 | $80,000 - $160,000 |
Pros And Cons Of Solariums And Sunrooms
Let's take a look at the benefits of having a sunroom addition.
Let's take a look at the benefits of having a sunroom addition.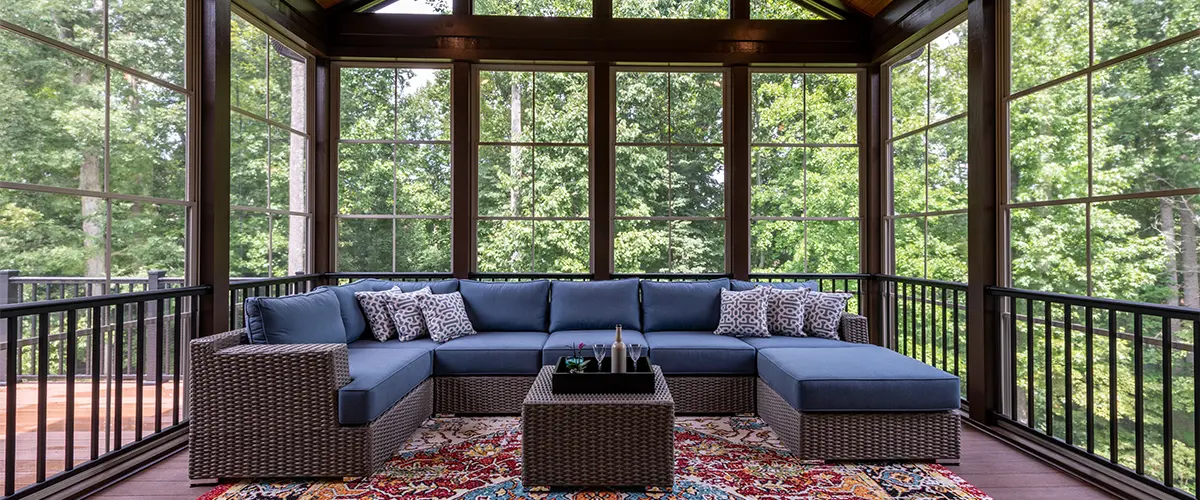 Let's also take a look at the downsides of getting a sunroom addition.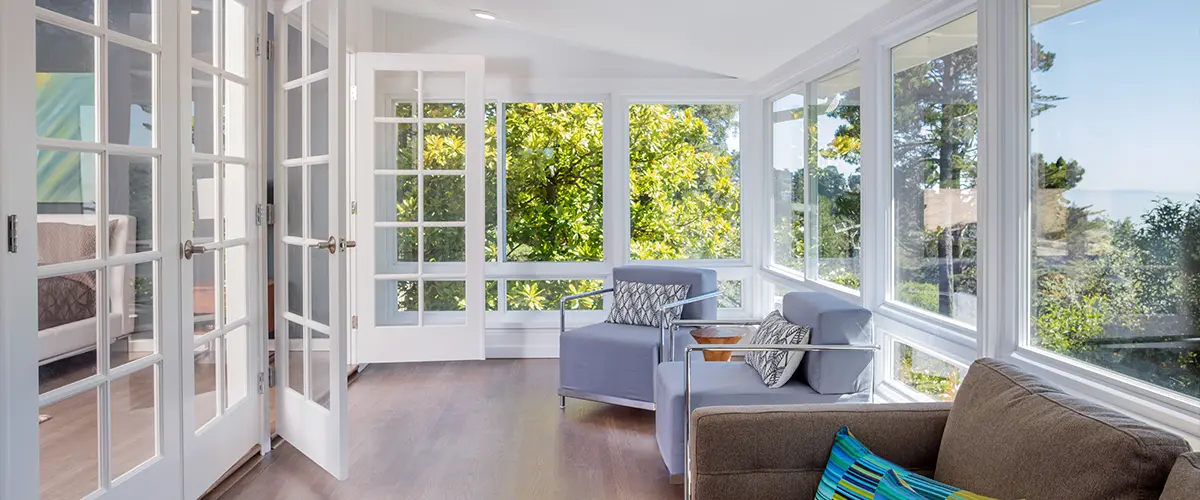 A screen room (such as a sunroom or solarium) is a beautiful addition that can quickly become an investment in your home. They raise the value of your property and boost the comfort and functionality of any space.
And while the cost to build a solarium can be quite expensive, a three-season sunroom is relatively affordable, and a possible upgrade for most homeowners.
Budget at least $5k for the smallest sunroom on the market and at least $25 for a solarium. Keep in mind that prefabricated sunrooms, or sunroom kits, are also an option. All you need is a professional to install them.
Here at Deck Bros, we're experts when it comes to outdoor spaces and decks. We've been installing sunrooms and solariums for hundreds of homeowners, and we're ready to help you get yours!