Composite decking is increasingly more sought-after among senior homeowners, but also for homeowners tired of maintaining a wood deck.
If you're getting ready to build a composite decking, you've probably looked into the best composite decking on the market and you're left with two of the most popular choices. TimberTech vs Trex composite decking.
Both these decking brands have a lot in common, but also several differences that can tip the balance in their favor.
Here at Deck Bros, we're constantly using both Trex and TimberTech, so we'll offer you an objective opinion on both of these brands.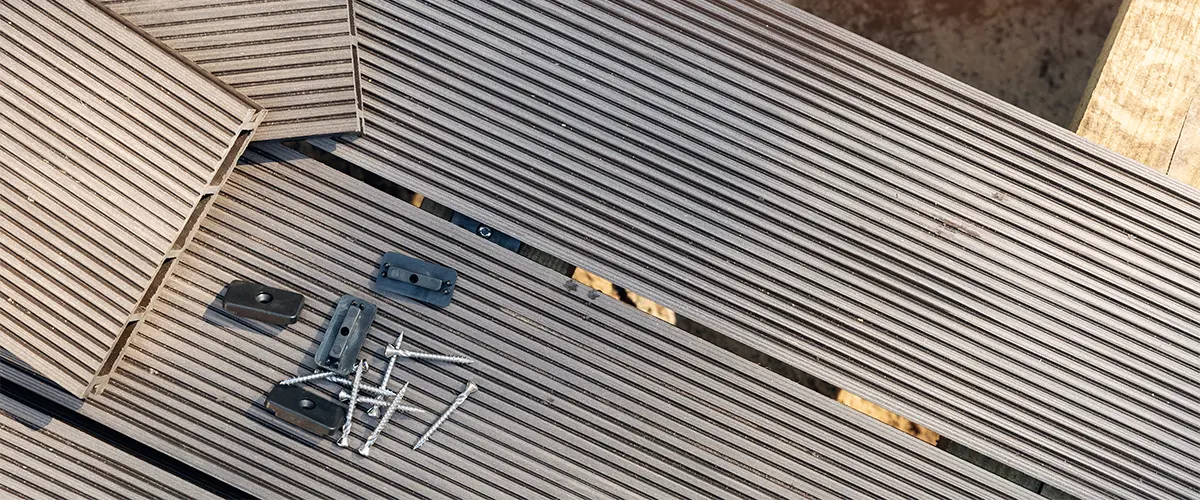 TimberTech vs Trex Pricing
We'll start with the most common concern, which is the cost of these composite decking materials.
One thing's for certain, both Trex and TimberTech have a higher cost than pressure-treated wood decking or cedar decking. Understandable, especially when you keep in mind that composite requires no ongoing maintenance costs as wood does.
Pressure washing, sanding, and sealing a wood deck will cost around $2k, and you'll need to do it every two to three years to keep a traditional wood decking looking at its best. That's at least $2k saved with composite decking.
Use this deck building cost calculator to get a cost estimate for your new project. Select composite decking from the material dropdown, move the sliders to set the square footage and the linear feet of railing, and select the extra features you want for your new deck!
TimberTech vs Trex Versatility
Both Trex and TimberTech have a lot of boards available. Each of them will have different colors, different embossing patterns, different sizes, and, ultimately, different quality.
Trex boards are split into three categories:
TimberTech works on the same principle:
The difference between these is mostly revolving around quality. All TimberTech decking boards, for example, are covered with a durable polymer cap on all four sides, whereas Trex only covers the top and the edges.
Naturally, the Trex Transcend and TimberTech Edge are the best options you can choose, but also the most expensive ones.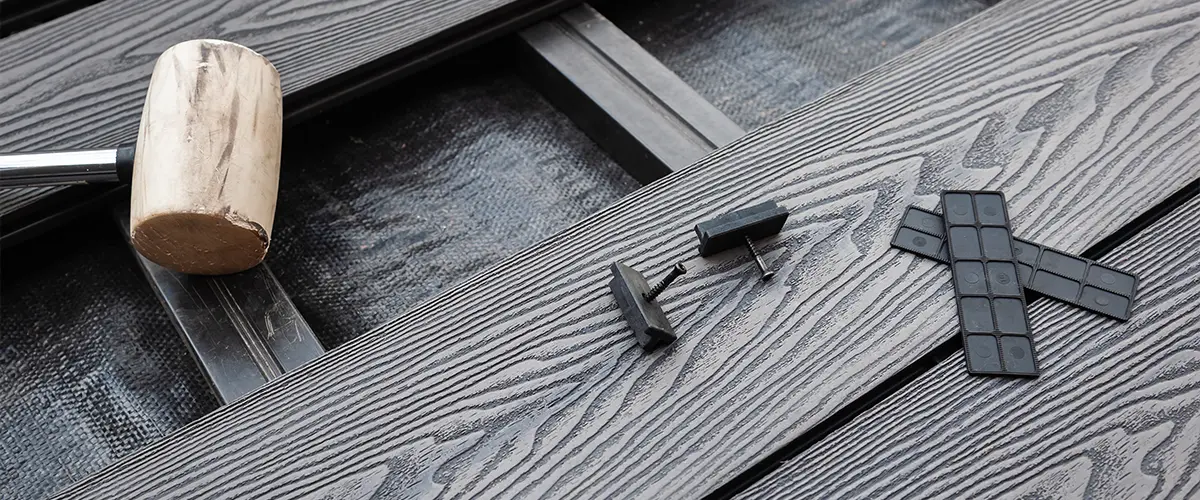 TimberTech vs Trex Warranty
You'll want to make sure the decking boards have an advantageous warranty, and while both Trex and TimberTech have a standard 25-year warranty, TimberTech went a step further with their product.
Besides the 25-year warranty, TimberTech offers their customers a 30-year staining and fading warranty. Although both companies state that their product shouldn't fade more than a certain point, having an extended 5-year warranty is always a comforting thought.
Let's see the warranty coverage for both of these composite brands.
| TimberTech Time | Coverage |
| --- | --- |
| 1 to 10 years old | 100% |
| 11 to 12 years old | 90% |
| 13 to 14 years old | 80% |
| 15 to 16 years old | 70% |
| 17 to 18 years old | 60% |
| 19 to 20 years old | 50% |
| 21 to 22 years old | 40% |
| 23 to 24 years old | 30% |
| 25 to 26 years old | 20% |
| 27 to 30 years old | 10% |
| Trex Time | Coverage |
| --- | --- |
| 1 to 10 years old | 100% |
| 11 to 13 years old | 80% |
| 14 to 16 years old | 60% |
| 17 to 19 years old | 40% |
| 20 to 22 years old | 20% |
| 23 to 25 years old | 10% |
You'll receive a greater recovery rate from Timbertech over the years than you will from Trex.
With warranties like a Lifetime Limited Product Warranty and 50-Year Fade & Stain Warranty, a TimberTech deck translates to serious time-, cost-, and back-saving benefits over the years.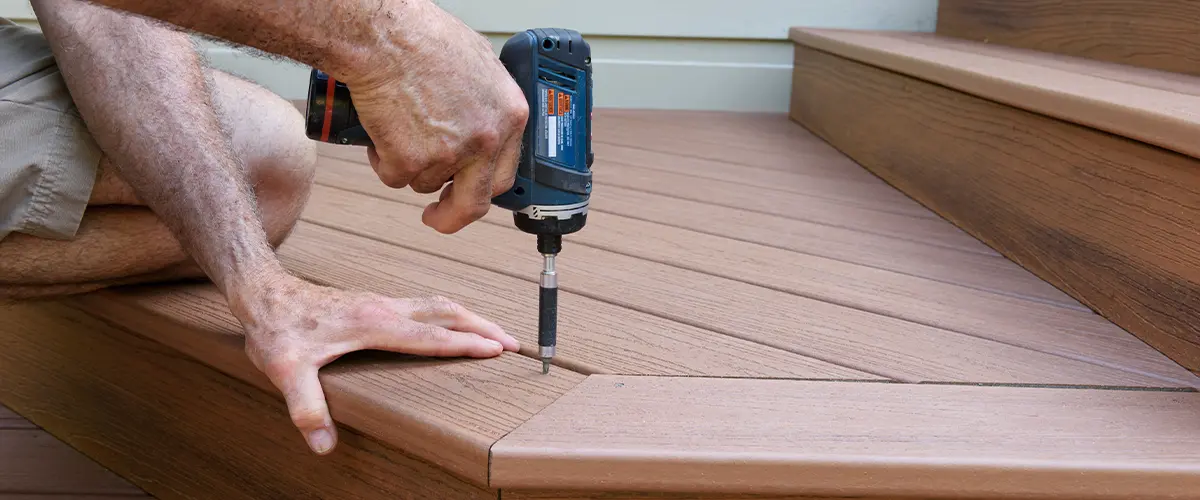 TimberTech vs Trex Materials
If you're all in for the environment, you should know that the core of Trex is 95% recycled plastic and wood fibers, whereas TimberTech boards are only up to 80% recycled. Will this impact the quality of the decking? No. In fact, it won't make any difference whatsoever.
As we mentioned above, TimberTech entry boards are covered with a polymer cap on all sides, but not the TimberTech EDGE. Trex decking is only capped on the top of the board, leaving the other sides more exposed.
If you want to compare to Trex — well, you can't. Trex doesn't offer any capped polymer decking products.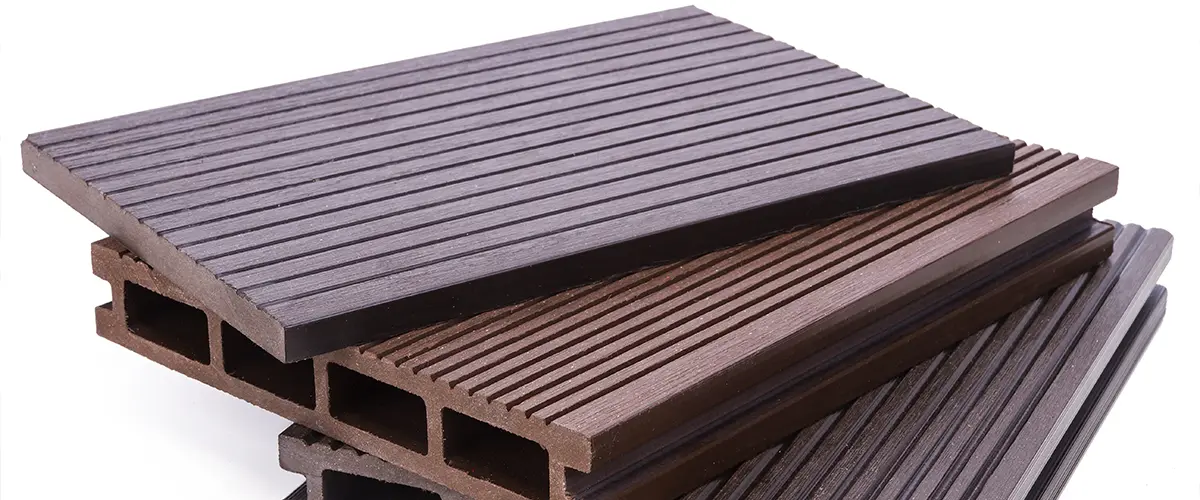 TimberTech vs Trex Availability
One frequent issue we've been dealing with lately is Trex availability. Our customers prefer the highest-quality Trex, but the Trex Transcend can only be ordered directly from the company. We'll have to wait for the product to arrive, which can take weeks. As a result, we can't start building the deck without the decking.
At the same time, the shipping timeline is confusing and unpredictable, at least for us. We've had projects where we waited an outrageous amount of time for the Trex decking to arrive.
On the other hand, TimberTech is available directly from the stores, and even when it's not, their shipping is quick and on point. We would rather buy our materials directly from the shelf, as this allows us to touch it and see the actual color without losing precious time with samples.
We believe this debate will live a long life simply because both these composite decking options are extremely good. They are, after all, the leading composite brands in the composite decking market.
For us, TimberTech decking availability tipped the balance because we love to get our customer's projects done as quickly as humanly possible. If you opt-in for TimberTech, the process is more predictable and quick. If on the other side, you want to go with Trex, we might have to wait a little longer for the deck boards, but that's not always the case!
We're big fans of both a Trex deck and a TimberTech deck, and we're using these composite deck boards consistently in our deck building projects around Nebraska. We know these boards inside-out, so you'll get the best insights on your project.
Call us today at (402) 369-5724 to discuss your upcoming deck addition and what composite material is best for your particular situation, or request your free quote and let's talk!