Composite decks have become a popular choice for homeowners in recent years. They are made of recycled materials and require less maintenance than traditional decks. 
However, there are some composite deck problems that you should be aware of before deciding whether or not to install one for your home.
Being the world's largest manufacturer of wood-alternative decking products, trex is starting to become an eponym (when the brand name becomes a noun). In this article, when we talk about "trex decking" we mean composite decking because that's how many homeowners refer to it. We proudly use trex materials when building our decks, so these are common issues found with composite decking in general, and not specific problems with trex decking.
Let's discuss the pros and cons of composite decking so that you can make an informed decision about whether or not it is the right choice for you.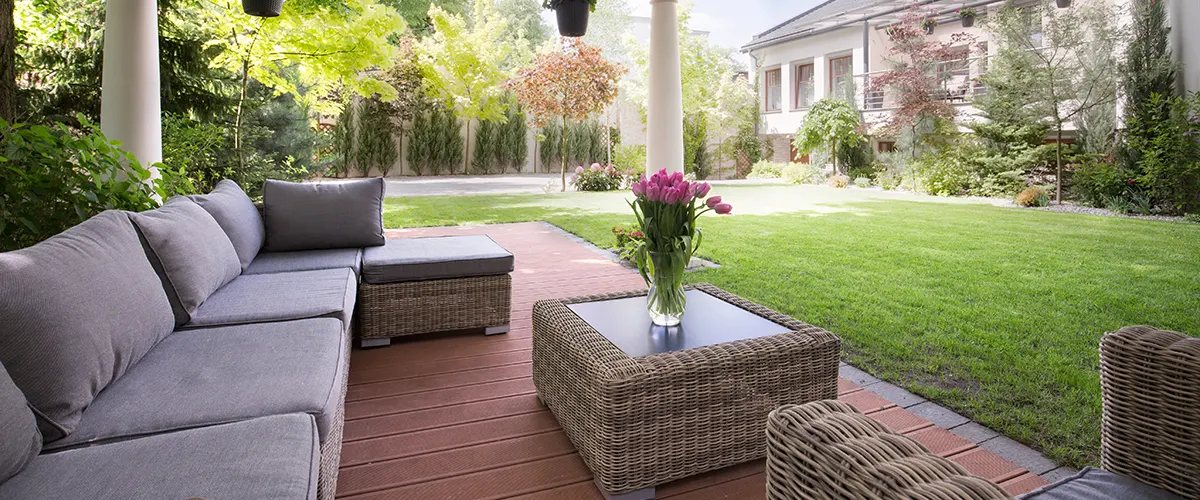 Composite deck problems and how to solve them
1. Improper Framing And High Temperatures
In extreme cases, large temperature swings can cause the composite boards to expand and contract, and shift around. Also, the way the decking is framed will have a big influence on how well it performs.
The drying and shrinking of framing lumber can cause the composite boards to change shape and move with the frame, so it's important that your deck builder uses proper materials for framing your trex deck. If installed incorrectly, the boards might come loose from their frame or curl up at the ends.
Keep in mind that installing composite decking over an old wooden frame is not a great idea as framing for composite decking requires special care.
2. Is Composite Deck Slippery When Wet?
Composite decks can become slippery when wet, but it's usually not a big problem. Stained and painted wood decks will often slip more than a composite deck. To reduce slipping to a minimum, try choosing a composite board option with more prominent grooves instead of a fine wood-grain look. This will increase the surface traction. You can even combine two different-looking grains and use the non-slippery one in high-trafficked areas and the fine-grained one on the rest of your deck.
3. Mold and mildew on composite deck
Mold and mildew can form on composite decking if not properly cleaned or if you live in a humid environment. But it's only an unsightly issue, as mold and mildew cannot damage a capped (PVC-coated) composite deck.  
To prevent mold from forming on your deck, you should clean it regularly with soap and water or deck-dedicated products.
4. Composite Decking Cannot be Repainted
To prevent fading and extra maintenance, the color of composite decking boards is mixed in with wood fibers, recycled plastic, and bonding agents, so it cannot be changed if you want a different color. Make sure to choose a color that you know you'll love for years to come, and keep in mind that certain discoloration is inevitable, even with high-end composite boards, with dark colors being more susceptible to some fading.
5. Composite Decking Can Lack The Real Wood Look
This is both a pro and a con, depending on who you ask. While some homeowners love the vibrance and the uneven look real wood has, others will want the more cohesive, seamless look of a composite deck.
These being said, composite decking boards offer a very even color as compared to wooden decks.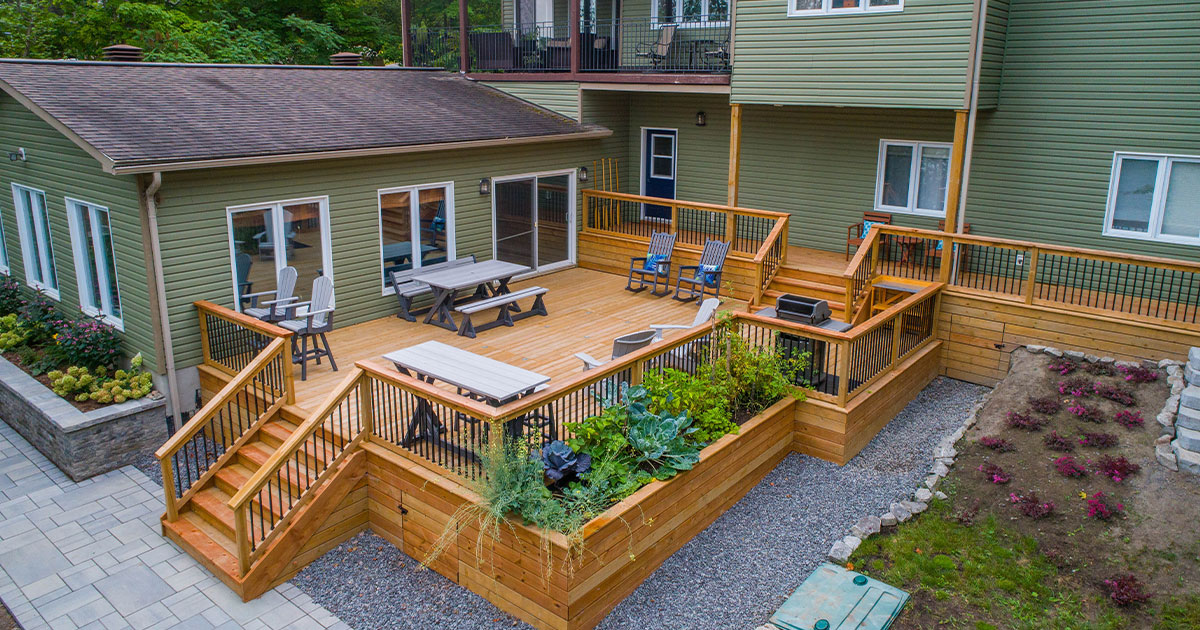 6. Price Tag And Environmental Care
Another drawback is the price tag. Composite decking is typically more expensive than traditional wood, with 15 to 25% more. 
Yet, composite decking is a more environmentally friendly option than traditional decks. Wood decks require forests to be cut down, while composite decks are made from recycled materials. This makes composite decking a more sustainable choice than wood.
Composite decks and their advantages
Composite decks offer several benefits over traditional decks. They are low-maintenance, requiring no staining or sealing, and resistant to rot, insects, and weathering, making them a durable option. Composite decking is made of recycled materials, and you can choose to build them in various colors and styles. 
Which type of deck is right for you - composite or wooden?
In the end, the best type of deck for you depends on your budget and your lifestyle. 
If you are looking for a low-maintenance option, then composite decks may be the best choice. 
If you can't leave without that real wood look, go with a wooden deck. While they don't last as long as composite decks, there are professional sealants and maintenance techniques that will help you keep your wooden deck safe. 
Deck Building Cost Calculator
We've built this deck building cost calculator to help you determine an approximate cost for your new deck. We've included the labor in the final cost as well to give you as much of a precise quote as we can.
As you can see, there are a few things to keep in mind when it comes to composite decking. While it does have some great advantages, like being low-maintenance, long-lasting, and with a great variety of color and style choices, it's not without its problems.
Before deciding whether or not to use composite decking for your home, be sure to weigh all the pros and cons carefully. If you have any other questions about composite decks, don't hesitate to reach out DeckBros for more information. We'd be happy to help!