Depending on what composite brand you're going for, they might have different types of composite decking available.
Some will perform better, while others will be more affordable, sacrificing a bit from their functionality and durability.
For example, TimberTech decking types are split into two major categories.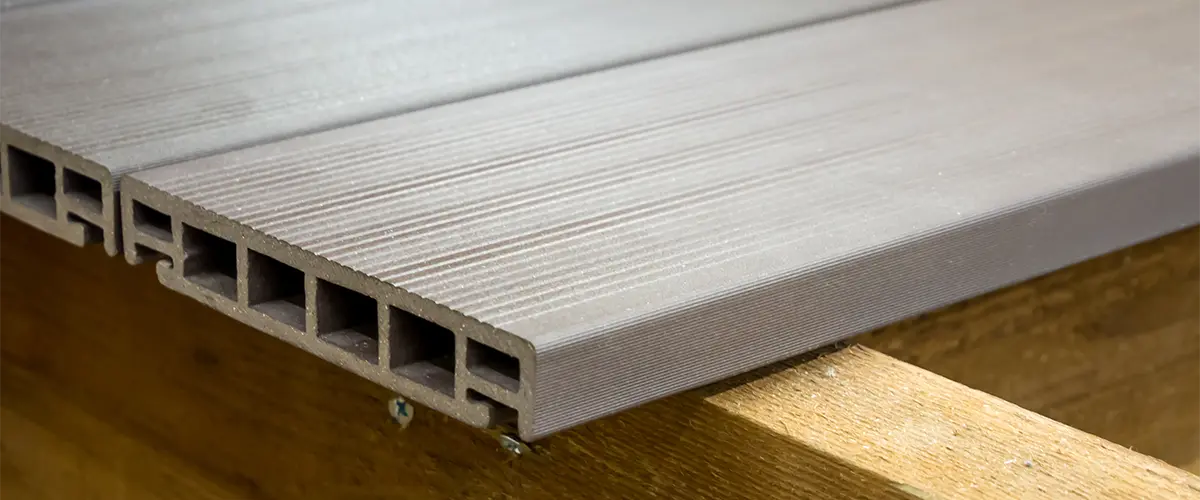 TimberTech Capped Composite Decking
For a long time, pressure-treated wood was the main type of decking used in residences. Even now, when people hear about decks, they often think only of wooden ones – but even regular lumber has some problems.
Natural wood decking materials rot, splits, crack, warp, and gets ruined quickly.
Early composite deck boards faded quickly or lost their structural integrity faster than people expected. However, composite decking manufacturers kept trying to improve their products and finally reached a milestone.
Capped composite decking is a relatively new product that has become extremely popular because it fixes the main problem of first-generation composite products: unprotected boards.
The Composite deck board core is made from a mix of post-consumer plastics and other recycled materials, like lumber.
It is: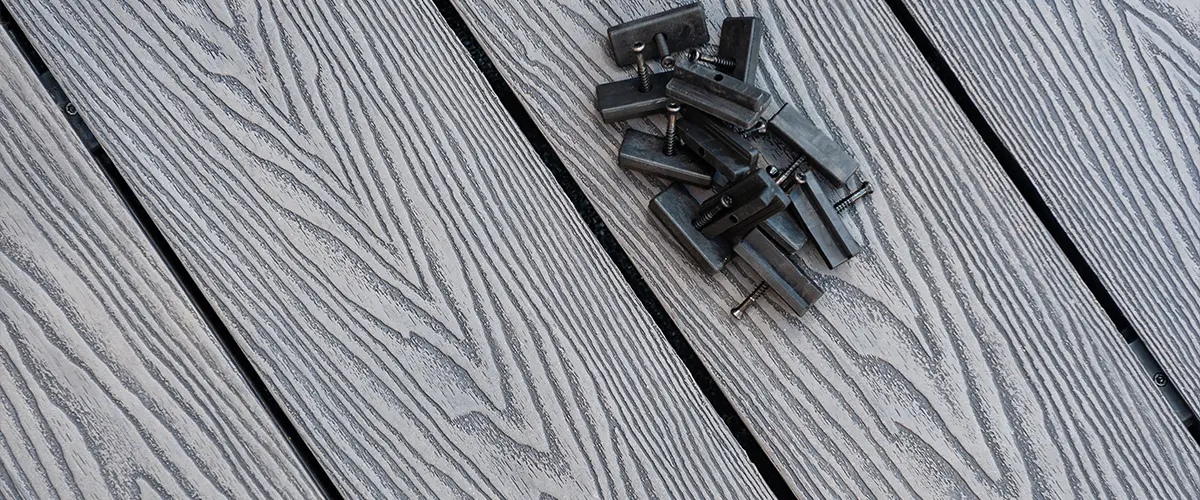 TimberTech Capped Polymer Decking
Made of 100% synthetic deck material from core to cap, and absolutely no wood.
The CAP is made from a high-performance proprietary polymer blend that protects the boards against moisture, UV rays, and other factors that contribute to erosion. This capping method is better than anything else on the market these days.
What About Trex Decking Capping?
It's crucial to understand that Trex composite boards are not capped on all 4 sides. Some people believe that moisture will always seep into the boards and that they need time to dry out, but this isn't the case.
It would be like saying you have a security system wired to protect 75% of your home because "a burglar will get in eventually."
The best way to keep your home safe is by protecting every part of it.
With that being said, Trex composite deck boards don't have a polymer cap, but it's a 3-sided capped composite decking, with no cap on the bottom.
It is: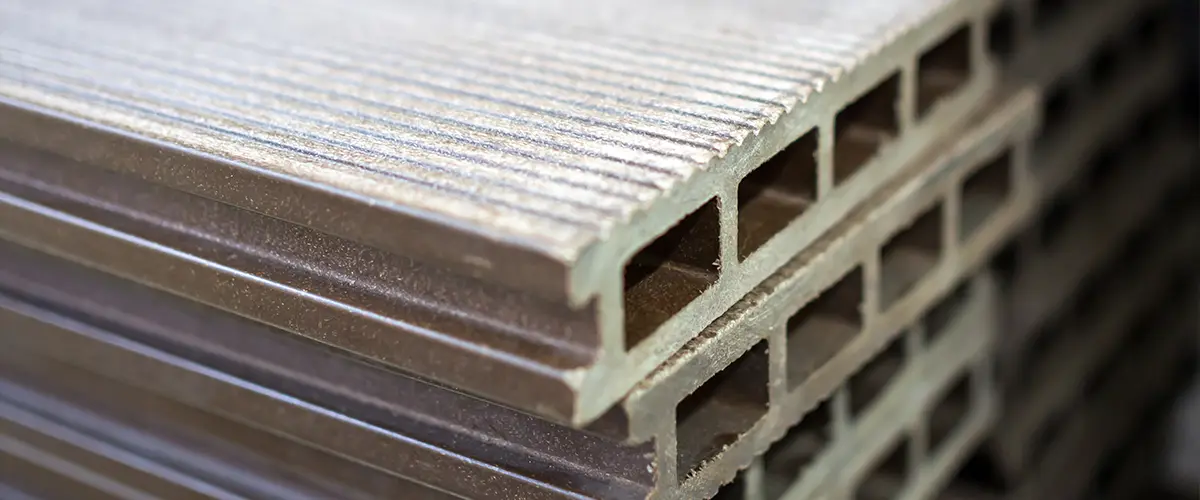 Capped Composite decking contains an estimated 75-95% recycled material from its original composition.
Capped Polymer decking is made with 100% PVC (Polyvinyl Chloride) and it does not contain any wood fiber. This artificial product is very tough. Installing this type of composite decking requires a little more skill than Capped Composite, but it's more resistant to staining, fading, and scratching over time.
Note: Since Capped Polymer decking is 100% plastic, it expands and contracts during changes in temperature slightly more than Capped Composite decking.
Is PVC A Type Of Composite Decking?
First-generation PVC decking stained quickly, built-up heat, deteriorated rapidly, and had plenty of other issues.
Over time, however, TimberTech addressed the issue of PVC decking with the goal of making it perform better. Their capped polymer boards ditch the issues that plagued those older PVC deck boards, making their PVC decking boards: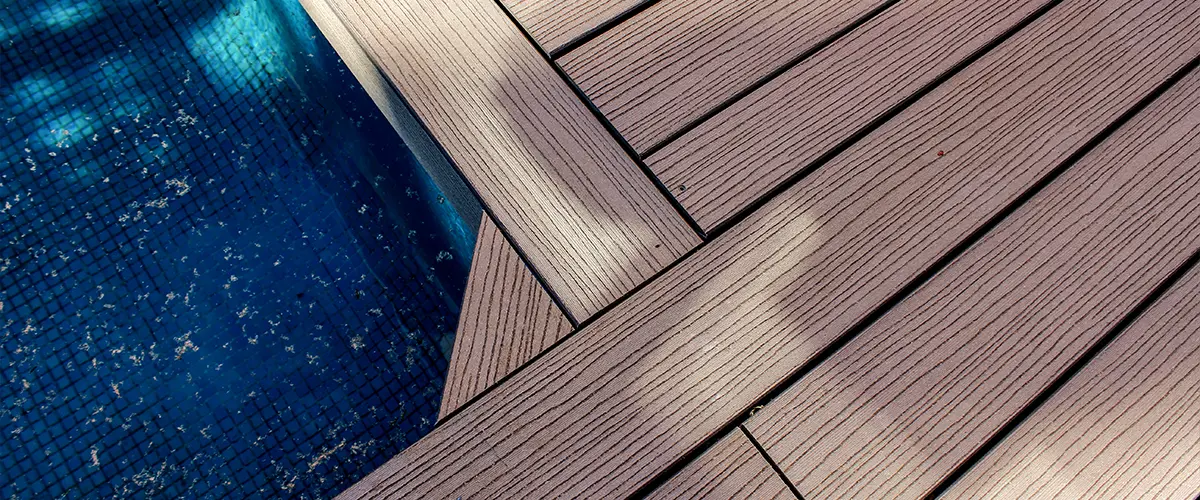 If you're looking for good PVC decking, here at Deck Bros we work with some of the best composite decking brands. For PVC TimberTech AZEK decking line might be just what you need, but if you want composite decking, both Trex and TimberTech will be great options.
So, capped composite decking or polymer composite decking?
If it was up to us, we'd go for polymer-capped composite decking. PVC decking boards are much stronger, resemble the natural look of wood, are 100% sustainable, will last a lot longer in your backyard, and there are more colors and styles to choose from.
It's true that they're more expensive, but it pays off!
If you want to install PVC decking on your outdoor space, get in touch with your local pros from Deck Bros! We offer professional deck building services all around Omaha, and we can't wait to help you see your vision through!