The Best Deck Building In Valley, NE
Get valuable insight on your upcoming deck building in Valley from your local pros!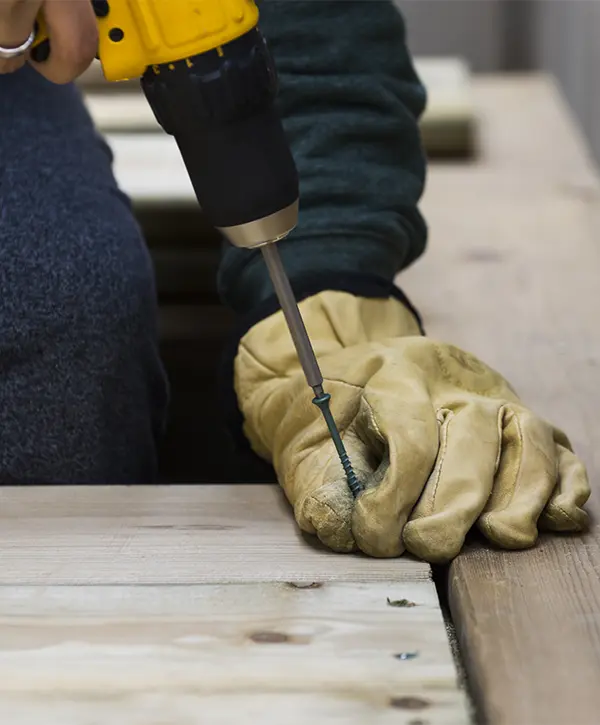 If you're planning to get a reliable and beautiful deck building in Valley, NE, you're in the right place.
Deck Bros offers an experienced team of professionals dedicated to building you a secure and functional deck while ensuring your total satisfaction. We guarantee that when we're done with it, your backyard is going to make all the neighbors jealous!
Our mission is to provide an effortless and straightforward process that always keeps you updated and in full control.
A New Deck That Brings With It Extra Benefits
We're offering more than the industry offers anywhere else in Nebraska. Here in Valley, NE, our focus is your complete satisfaction, and we're going the extra mile to make sure you're 100% happy with your new outdoor space.
Your Premium Deck Building In Valley, NE, Awaits You!
We value the safety, practicality, and aesthetics of your deck more than anything else.
When these three objectives are achieved, you know for a fact that you'll have a high-quality deck that'll last for as long as you live in your home. Our way of doing things ensure your new addition will stand the test of time and weather and will uplift the look and vibe of your backyard.
With Valley's premier decking solutions, you can get the deck of your dreams without compromising on quality.
In short, your guests will be delighted with your deck's beauty and grandeur, and your neighbors will envy you for not getting one ahead of you.
Check out our deck building offer and get the best deal right now! Have a top-tier contractor on your project and enjoy a reliable and efficient team!
Homeowners Love Their New Decks!
Many people in the Omaha Metro Area have already got their new decks with us, and they're over the moon with the results! Check out what people say about working with us!
I consider Deck Bros one of the best companies I have ever worked with. 
I had my old deck taken down and a new deck designed and erected all in a period of six days. Luan the designer allowed changes throughout the 6 days. 
The crew was tremendous in their work assuring the work met all safety requirements as well as starting each morning and keeping grounds cleaned up each evening as well as keeping us informed of how the job was progressing. 
If I'll ever need another deck I would never consider another company but Deck Bros. They are the best.
I found Deck Bros on Facebook & gave them a call. The owner Luan was very pleasant, came out and gave me a quote on the spot.
I HIGHLY recommended this company for your decking needs, Luan's employees were so much fun to be around. They didn't have any issues with the dogs being around checking on their work.
They were all very professional & worked hard, arriving early & getting to work. We even did some salsa dancing to the music. They went above and beyond, and no request was an issue.
Thank You, Luan, and the main guys that were there every day, Christian, Carlos & Leo.
Get Inspiration For Your Upcoming Deck Building In Valley, NE
Witness the stunning results of our deck projects! Experience luxurious quality in your backyard without delay!
Type Of Upgrades And Materials
During your on-site consultation, we'll guide you through your project's best options, including the many types of decking, framing, and railing options. Until then, let's discuss the most popular materials and upgrades in Valley, NE!
Crafting a sound framework is paramount, as it holds the entire structure together. For this reason, every detail should be addressed with precision – from footings to framing itself.
When it comes to deck framing, the reliable and cost-effective choice is still concrete footings or deck blocks. Ensure you use grade #1 pressure-treated wood rated for ground contact when selecting your lumber for posts and frames. They are a sturdy framing option that doesn't break the bank!
If you're looking for a top-tier and highly efficient option, Fortress Building Products' metal frames are the way to go. With no upkeep necessary and guaranteed durability, these deck frames provide long-term value that will be hard to beat.
Set the tone and aesthetic of your deck with two popular options: wood or composite. Both offer a unique composition to match any style, making it easy for you to find the ideal choice for your outdoor space.
Here at Deck Bros, we're big fans of TimberTech and Trex decking. We work closely with these brands and believe their products are some of the most diverse on the market.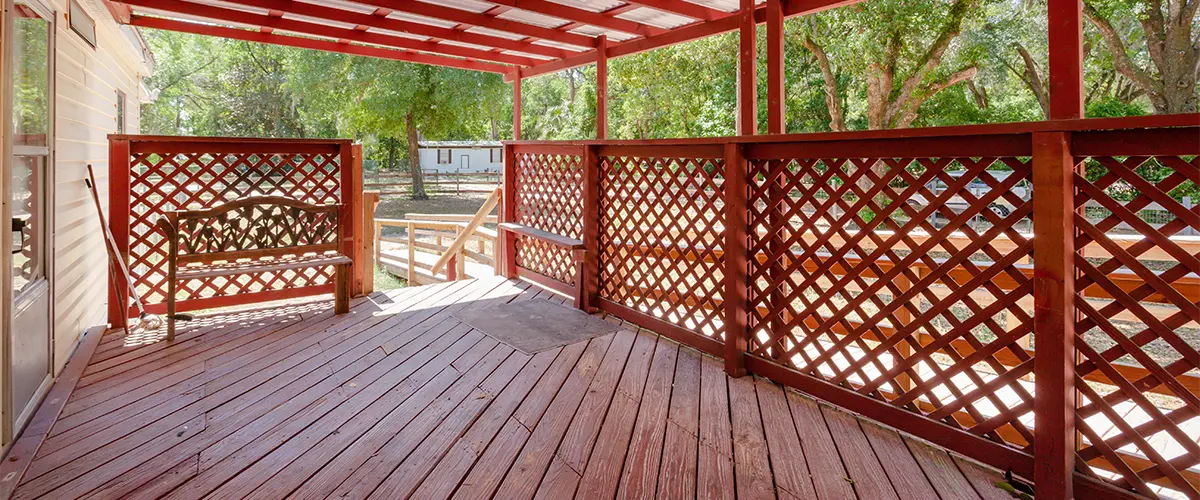 Beyond the requirement of law, having railings and handrails for stairs is paramount to safety. Unless you're planning a ground-level deck, make sure these are installed!
With the right railing, your deck can go from incomplete to complete. Not only do railings provide an extra sense of security and peace of mind, they also lend a polished look that greatly improves its aesthetics.
At Deck Bros, our preferred railing is Westbury's exceptional products. They're easier to install and fairly accessible, and they make your deck look more expensive than it really is.
Cost-wise, composite railings are on par with aluminum railings, yet lack the superior efficiency that comes along with those made from wood. With this in mind, your choice should be effortless.
A sense of assurance and security is bestowed on decks with lights, especially at night. Furthermore, in Omaha as well as many other states, lighting fixtures are a legal mandate for raised platforms.
With the wide variety of lighting options available, your choice ultimately comes down to personal preference. Nevertheless, we strongly suggest our customers opt for warm lighting – gentle enough that you can still marvel at the stars but powerful enough to light your way in the darkness.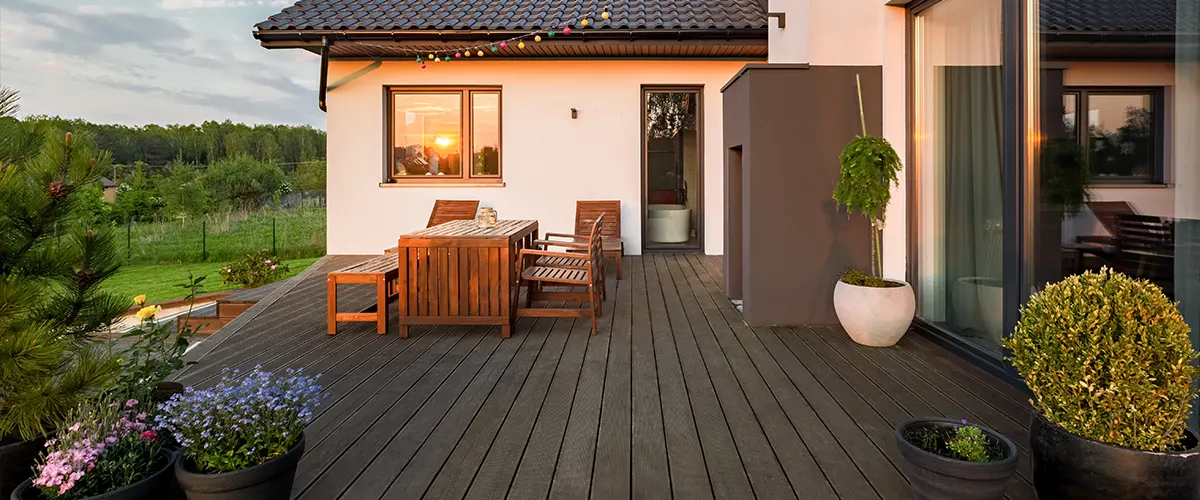 Getting A New Deck Got 10x Easier
Experience a tailored process designed for your ease and satisfaction. Reap the rewards of an effortless journey that'll culminate in you being over the moon with your new deck!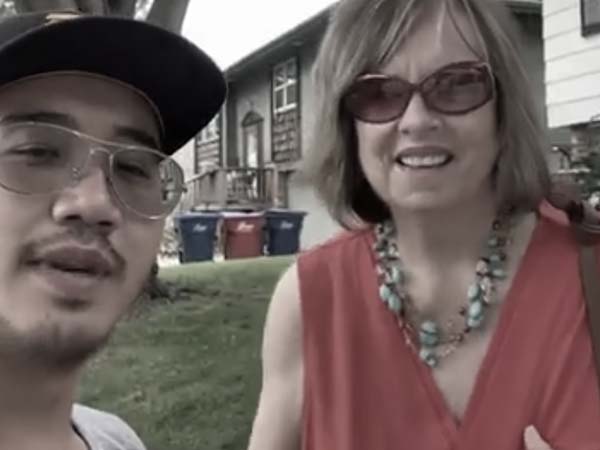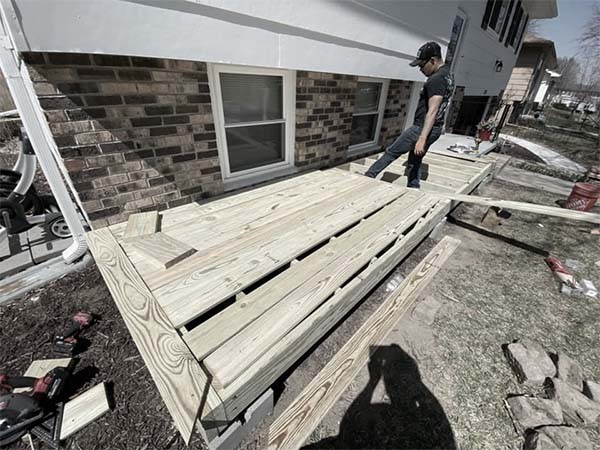 We'll sign the paperwork and get to work!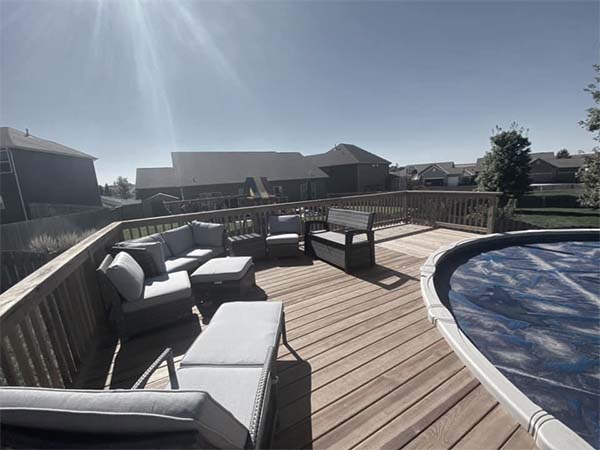 Plan your next barbecue on your new deck!
Frequently Asked Questions
When considering the ultimate cost of your deck, size, elevation and materials should be your top three priorities.
For instance, a 12×12 cedar deck's cost is usually around $14k. But in the long run, wooden decks become much pricier due to maintenance expenses.
In contrast, composite decks are low-maintenance but come with a higher cost. If you're looking to build a 20×12 deck complete with aluminum railings, fascia wrapping, and stairs, then expect to pay around $27k for the job.
Our team is proud to offer remarkably swift deck building services, with most projects completed in under a week—and demolition typically only takes 3 days!
We never skimp on quality to speed up the process. No matter how complex your project is and regardless of the time it requires, we always ensure that no detail goes unaddressed.
During our on-site consultation, you'll get a precise timeline for your project. Furthermore, if any modifications should occur in the future, your project manager will without fail keep you abreast of all changes.
Here at Deck Builders in Valley, Nebraska, we are determined to help you enjoy a secure and fully functional outdoor space through our licensed, insured, and certified deck building services.
Our experienced carpenters only utilize superior materials that guarantee each build meets both your needs and the property's standards. We strive to make sure that all homeowners get exactly what they desire from their custom-made decks.
You'll have your own project manager and the communication lines will be constantly open for feedback, questions, or other concerns.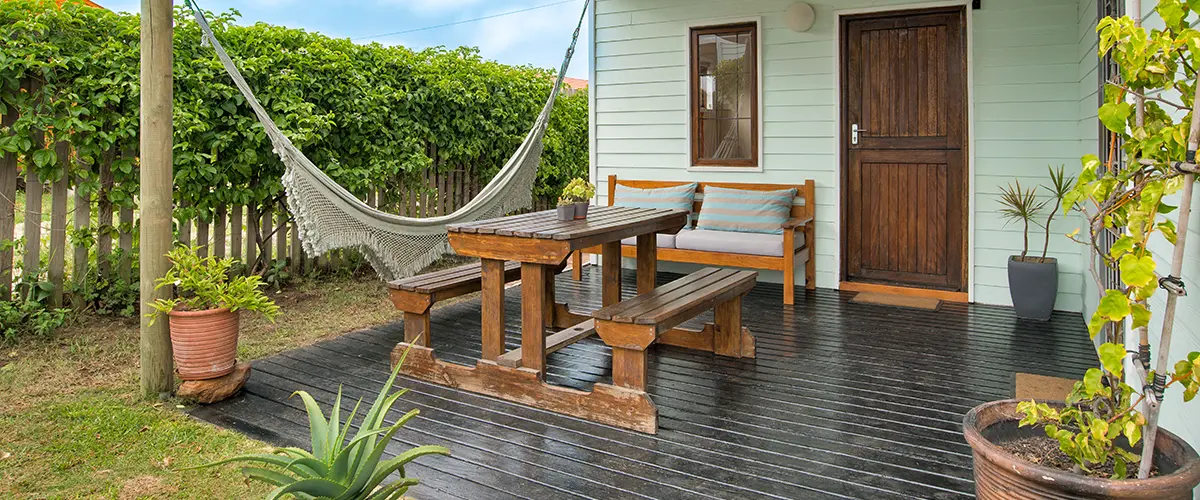 Boost The Comfort Of Your Outdoors With A New, High-Quality Deck
With the experience of hundreds of decks and other water structures already built by our expert deck builders in Valley, NE, you can rest assured that your dream project will turn out just as you imagined it.
We strive to make sure that each customer's building process is stress-free and enjoyable from start to finish!
Enjoy full transparency on pricing and communication, and work with a deck builder that guarantees you a stunningly beautiful premium deck that'll pay off every time you step outside!
But besides this, you'll also enjoy:
Get The Best Deck Building In Valley, NE Today!