The Best Deck Installation In Valley, NE
Waste no more time and get a consultation with a real pro!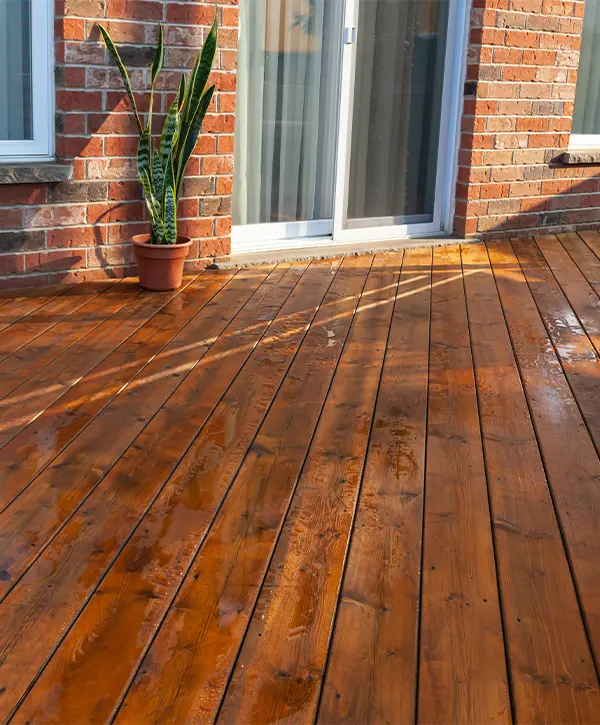 Deck installation is one of the quickest and most affordable ways of updating an outdated deck.
Transform the look of your deck by replacing worn-out wooden boards with a fresh material! Not only will it create an area that is much safer to walk on, but also one that looks better.
At Deck Bros, quality and speed are our top priorities. That's why when we finish building your deck in Valley, you'll have a luxurious outdoor space that rivals even the most extravagant resorts around!
Improve The Curb Appeal Of Your Outdoors With A Complete Deck Installation
Your deck is sure to be the centerpiece of your backyard, so ensuring it looks and performs its best is a must. We'll help make that dream happen by constructing a secure, eye-catching, and highly useful deck for you – one fit for all the amazing memories that are about to be made!
This is what makes Deck Bros your best choice:
Premium Deck Installation From A Reliable Contractor In Valley
At Deck Bros, we are devoted to providing you with the most dependable and extraordinary deck installation that will last for years without any fuss. With us, you'll be able to relax and bask in your top-notch new outdoor space worry-free!
Seeking something sleek and straightforward, or a more sophisticated pattern like herringbone or diagonal decking? Our professionals have the know-how to bring your vision to life.
You'll love the ease of installation as we pay special attention to avoiding any common issues associated with deck construction. This is why you will receive a generous 5-year workmanship warranty – a major advantage that other services can't match!
Valley Homeowners Love Working With Us!
Your neighbors love working with Deck Bros for a few simple reasons. Check out what our customers say about us!
They did a excellent job and the crew was professional. 
I live 2 hours from Omaha and they took the job without that being an issue. Our deck turned out beautiful. We have the best looking deck in town. I am so glad that we chose Deck Bros. 
 If you want quality go with Deck Bros! It will the best choice you make.
Can't say enough great things about Deck Bros! 
From the initial contact to the completion of my deck, Luan was always available and super responsive. He has a fantastic crew as well.
Deck Bros was hands down the most competitive with pricing. I couldn't be happier with how my deck turned out.
Deck Installation Inspiration In Valley, NE
Get some new ideas for your project or check out some of our work!
Types Of Decking You Can Install
Homeowners can select from various deck surface materials to suit their needs. Pressure-treated wood is the budget-friendly option, while teak provides an elegant and luxurious feel at a higher price point. No matter which material you choose, you will surely be satisfied with your decision!
Let's see some of Valley, NE's most common decking materials.
Pressure-Treated Wood Deck Installation
To craft your escape without breaking the bank, pressure-treated wood is a perfect pick. This decking material won't drain your wallet and gets the job done!
Although pressure-treated wood may be more affordable, it also presents struggles due to its weaker structure, making it susceptible to weather damage and water absorption.
To maintain a polished aesthetic and ward off rot and pests, pressure-treated wood requires regular sealing and staining at least biennially for optimal results.
The cost of pressure-treated wood boards is between $15.00 to $24 per square foot, and installation will be anywhere from $10 to $15 per square foot.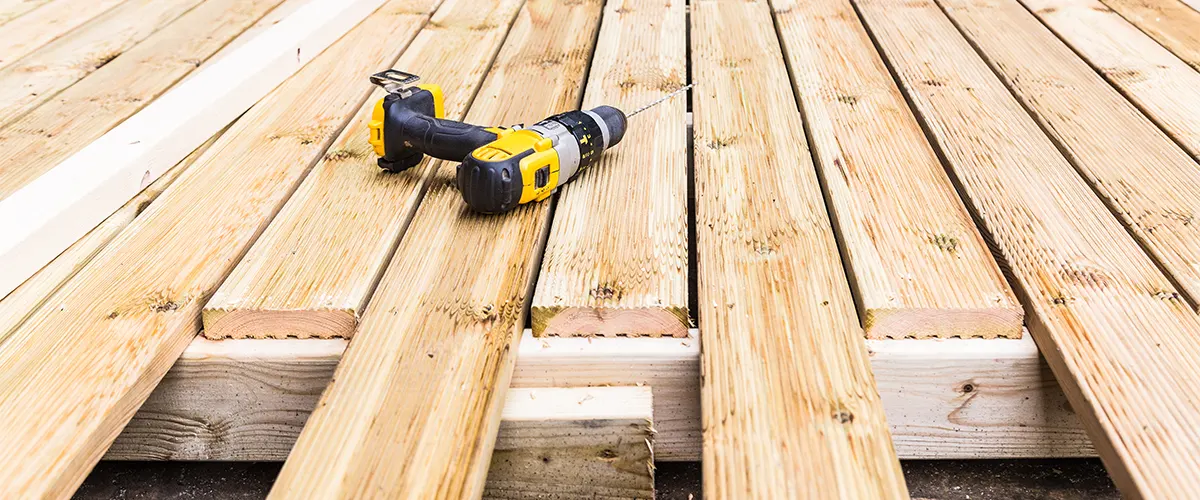 Cedar Wood Deck Installation
Cedar is an aesthetically pleasing building material with superior water-repellent and rot-resistant qualities compared to other natural materials. However, cedar's protective layer will eventually wear away without proper maintenance.
Staining and sealing a cedar deck will boost its lifespan and help it better withstand extreme temperatures. Although this might be an extra expense initially, you will thank yourself later when your outdoor space is safeguarded for years.
Although cedar materials cost more than pressure-treated wood, this decking material definitely justifies its price.
Investing in cedar decking materials can vary from $25 to $30 per square foot, depending on the grade and size of each board. Installing cedar decks ranges between $15 to $20 every square foot, a cost-efficient option for decorating your outdoor space!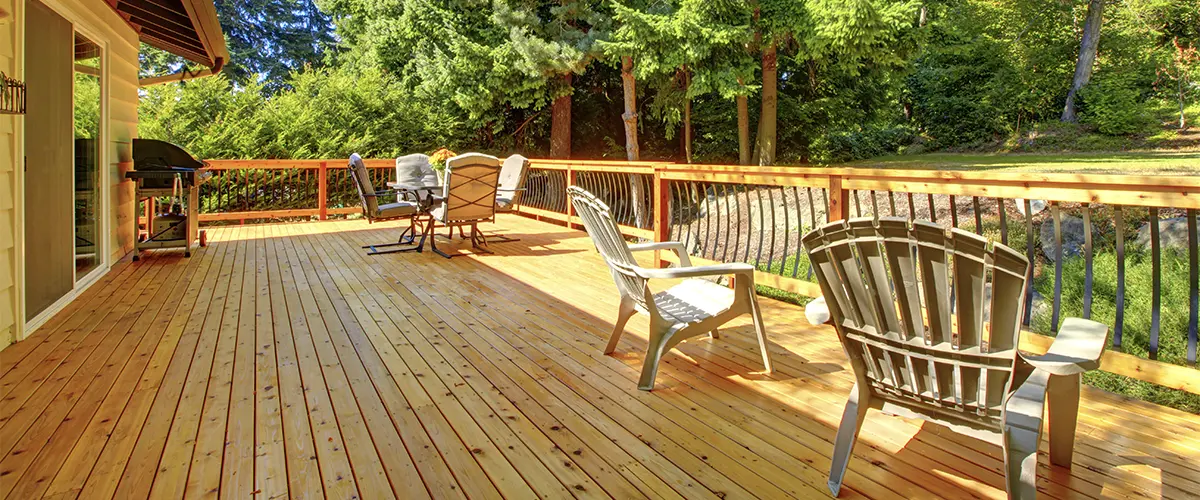 Redwood Deck Installation
Renowned for the gorgeous hues that make it stand out amongst other wood materials, redwood is one of the most sought-after decking options. With its captivating coloring, it's no surprise why this natural resource holds a top three spot in popularity!
Redwood is immune to pests, decay, and bending, and it can retain its highest condition through yearly maintenance every two or three years.
Redwood lumber is exceptionally lightweight and provides outstanding strength. Its delicate feel may make it susceptible to scratching or denting, yet its low shrinkage or movement outweighs this minor drawback.
Redwood decking is not inexpensive, with materials costing between $30 and $35 per board and installation ranging from $15 to $20.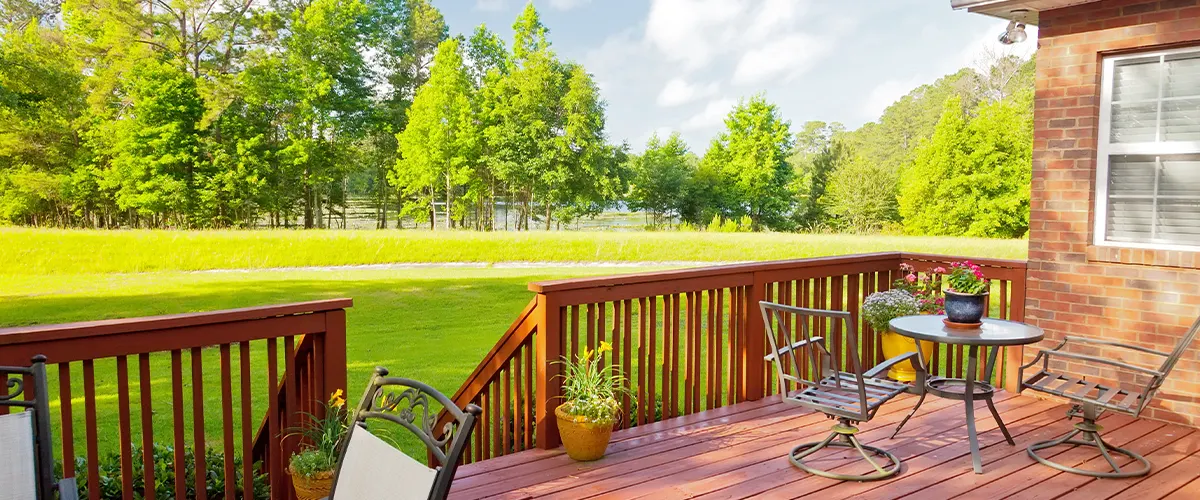 Hardwood Deck Installation
Elevate your outdoor living area to an awe-inspiring oasis with a hardwood deck installation! Teak, cumaru, ipe, and tigerwood are perfect options for creating a luxurious space that will wow visitors. With these high-end woods, you can't help but create something spectacular!
The splendor of hardwoods is truly breathtaking, and their capacity to persevere through time without succumbing to rot or scratches makes them the perfect choice for outdoor construction.
Consider Ipe: a durable and fireproof wooden material that is resilient to scratches, slips, and has prolonged longevity with outstanding dimensional stability.
Since hardwoods are the priciest decking material you can buy, be aware that it comes with a hefty price tag.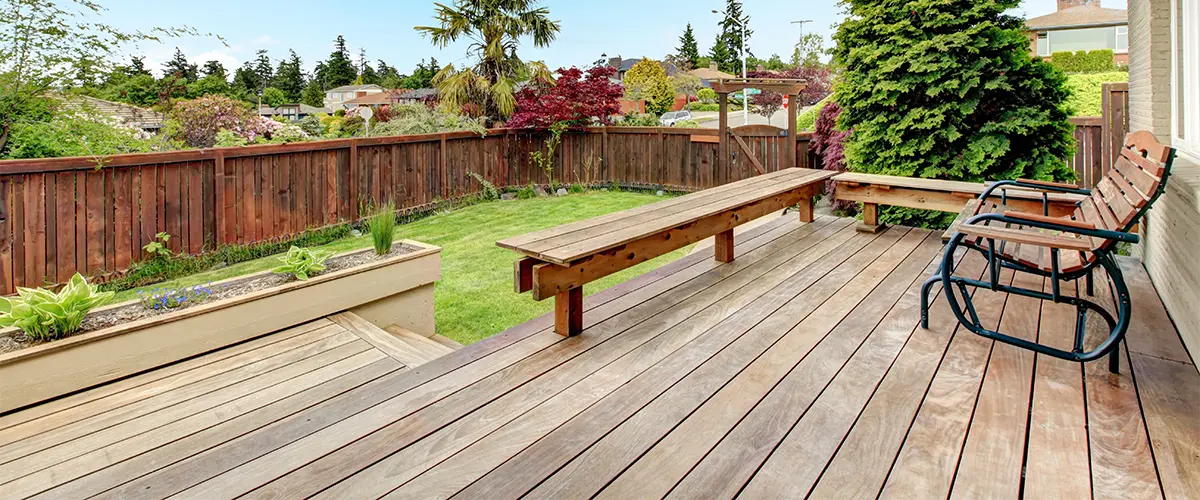 Composite Deck Installation
Composite wood is ideal for those who want a deck with minimal maintenance.
Decking experts often advise that composite wood is superior to more natural materials due to its environmental sustainability, luxurious appearance, and extended durability.
Senior homeowners particularly appreciate this type of decking because they can avoid the inconvenience of staining and sealing it, while simultaneously saving money. Two of the most popular composite decking brands are Trex and TimerTech.
Composite decking prices range from $29.00 to $31.00 per square foot for materials and between $15 to $20 for its installation.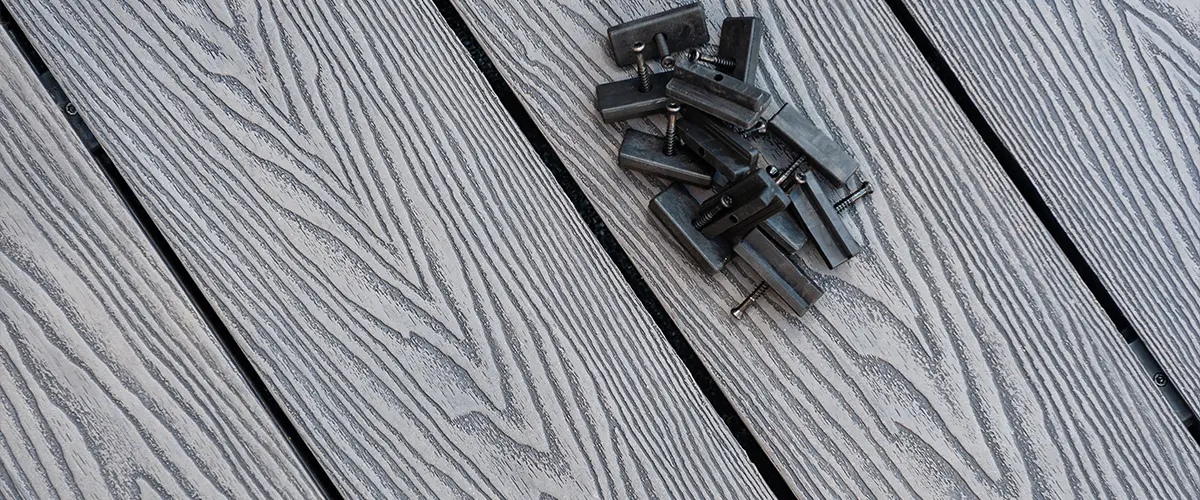 Deck Installation Is Now As Easy As It Gets!
Take full advantage of a quick process that delivers your deck in as quickly as 3 days! Everything we do is centered around you, your loved ones, and your satisfaction.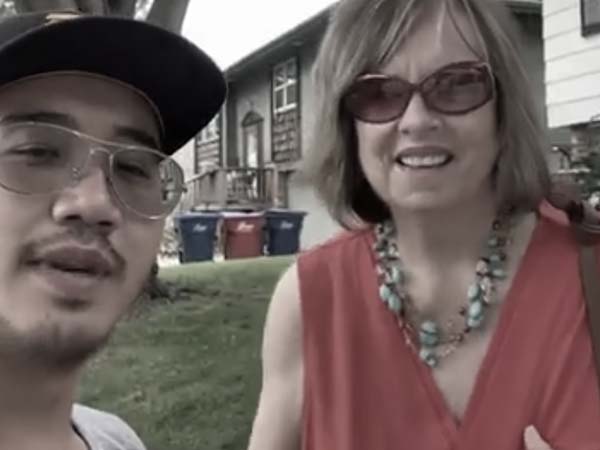 Contact us and we'll find the best plan to tackle your project.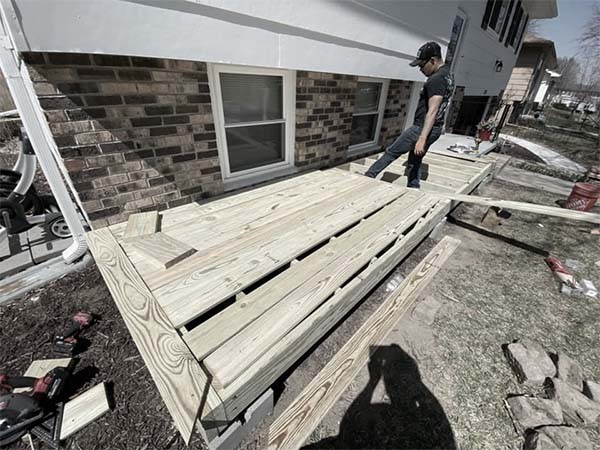 Watch us install your decking and get insights into what's happening.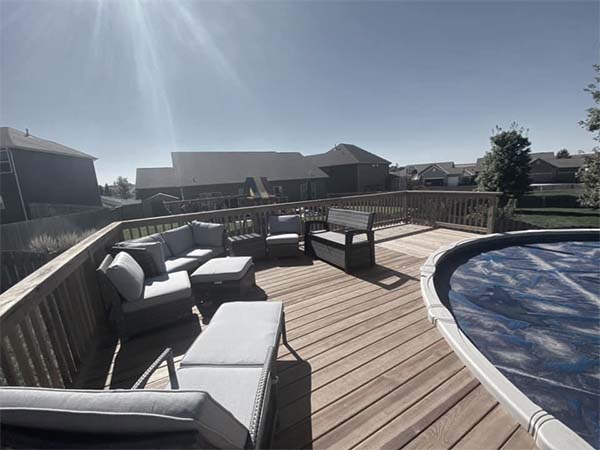 Plan your next barbecue! Your deck is up and running!
Frequently Asked Questions
If you're looking for a cost-effective and speedy solution, then pressure-treated wood decks are the perfect option. Nebraska has an abundance of this material readily available at affordable prices – it's no wonder why so many homeowners prefer timber to maximize their return on investment (ROI).
With deck installation, you must have numerous safety precautions in place first and foremost. Your deck needs to be structurally sound, aesthetically pleasing, and most importantly, it should be safe to host a barbecue with all of your friends and family.
A professional is highly recommended if you have no experience building decks. Here at Deck Bros, for example, we've been building, installing, and repairing decks for years! We're familiar with the building codes and can finish your deck installation in Valley in record time!
If you're building a 12×12 deck in Valley, NE made out of pressure-treated wood, then it can cost around $3k. However, if you opt for composite material instead, that price might go up to nearly $5k! Plus, if your deck needs stairs so people can access it from higher ground levels, then expect the costs to soar even further.
Ready To Enjoy A Professional Deck Installation In Valley, NE?
Delighted Valley residents trust Deck Bros to construct a deck that will endure and impress. Our determined team is dedicated to providing exceptional quality and remarkable service – we'll collaborate with you every step of the way for complete clarity and responsibility.
With us, you can be assured that your deck will be constructed safely and that no detail will be overlooked. We put your satisfaction at the heart of our process – from beginning to end.
So if you're searching for a deck installation service completely customized to your needs, Deck Bros has it all!
Work with Deck Bros Valley and enjoy:
Your long-Lasting Deck Installation In Valley Awaits you!