As professional deck builders that value quality craftsmanship and respect the contracting industry, we would very rarely recommend DIY projects, especially when it comes to your outdoors.
However, we understand that sometimes the budget for a home improvement project, like a paver patio, is too tight and the only available option would be to save on labor costs.
In this article, we'll guide you through how to make a DIY paver patio to look like it's made by one of the best landscapers in your area.
Let's begin.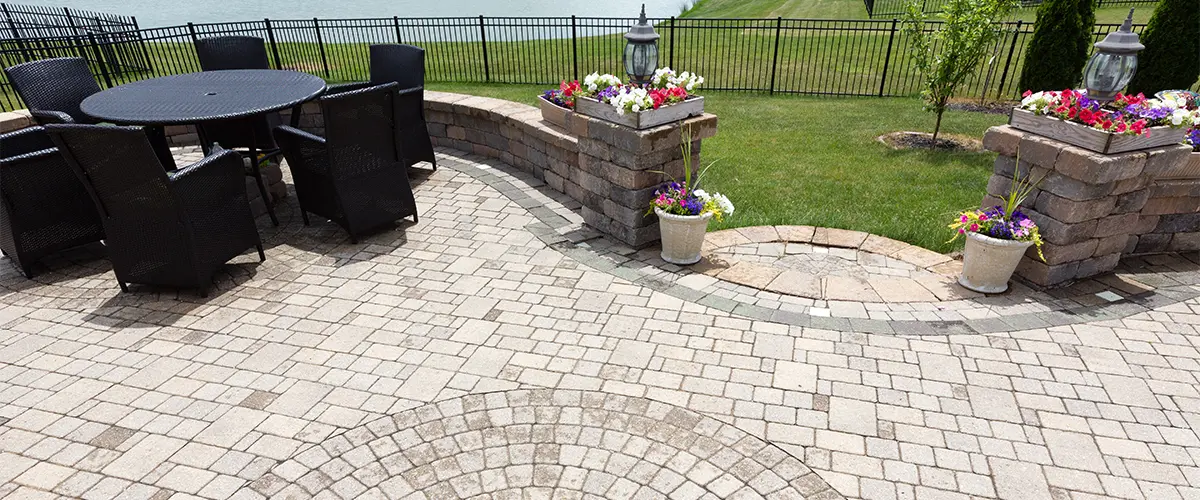 1. Measurements And Materials
Measure the area you want to pave and purchase the necessary number of patio stones, in this case, the concrete pavers. You will need to buy more than the total square footage because you will need to leave space for joints between the pavers.
Talking about pavers, there are multiple design and material options you can choose from.
Pavers can be made of a variety of materials, but the most popular option is concrete. However, there are also pavers made of natural stone, brick pavers, or other materials. When deciding which type of paver to use, be sure to consider the climate in your area and how the paver will hold up over time.
For example, if the concrete paver is of lower quality, water can seep in and break it, leaving a nasty look on your paver patio. On the other side, bricks will be more expensive, but they'll offer a more unique feel to your outdoors.
Prepare the patio area by removing any existing sod, plants, or debris. If there is a concrete slab or patio already in place, you will need to remove that as well. Check out how much it would cost to remove concrete slabs from your backyard here!
Building over concrete is never a good idea, as it's very likely that with time, the concrete slab will move around, break, or even sink, ruining the looks of your DIY patio with pavers.
After the site is clean and you're ready to begin your project, make sure you have everything you need to start building the patio with pavers. You'll find all these at home improvement stores like Lowe's or Home Depot.
To begin, use a level and string line to create your entire patio space. Before starting excavation, call 811 to check for underground utilities (like water pipes or cables). If everything is clear, excavate down to the desired depth (usually about 6″). Compact the soil with a hand tamper.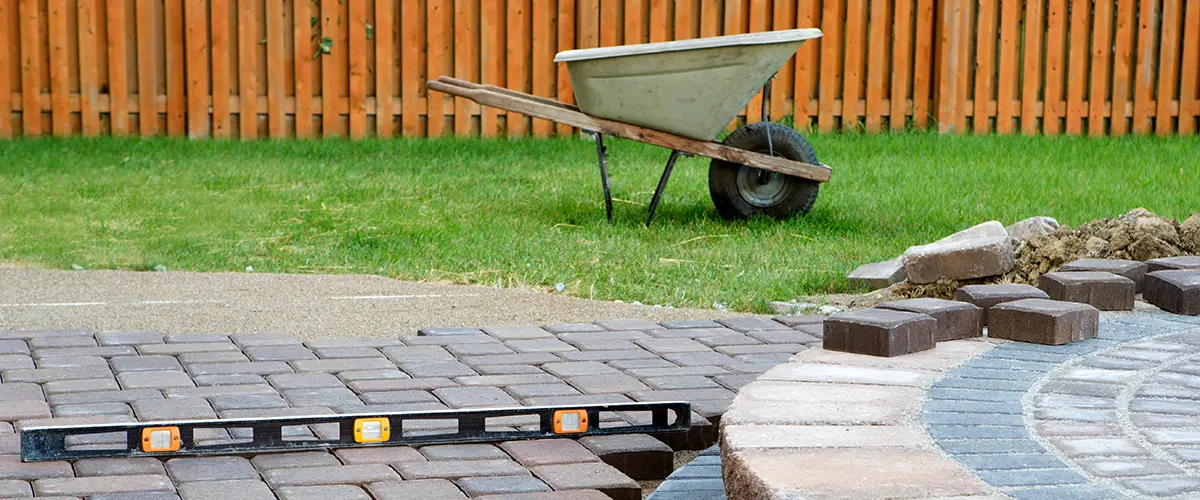 3. Begin Laying Out The Paver Patio Materials
To lay patio pavers or concrete pavers for a typical patio installation, you need to build up several layers:
After the 1 inch layer of sand, level the ground again and start placing the pavers. You'll have to start in one corner and work your way out. You'll have to use a spacer to leave a gap between each paver for joints. The gap is usually half an inch. Once the paver is in place, tap it with the rubber mallet a few times to make sure it's not going anywhere.
Rinse and repeat until you reach the other end of the patio paver area.
4. Install Paver Patio Edging
This step can be done prior to filling in the gaps with sand, or after.
After you get some of the pavers in place, install plastic edging or paver restraints along the perimeter with spikes spaced about every foot.
More likely than not, you'll need to cut some pavers to fit them between the perimeter. Measure, make a mark on the paver, and cut them using a circular saw with a concrete blade.
You may also clamp the pavers one at a time to a stable surface so you can cut right through them without any obstacle. Make sure you're using a mask and safety glasses, and also keep an eye out for the dust collected in the saw, as this can cause your tool to wear.
Check out this paver edging made of solid rock. It simply looks great and keeps the patio vibe consistent.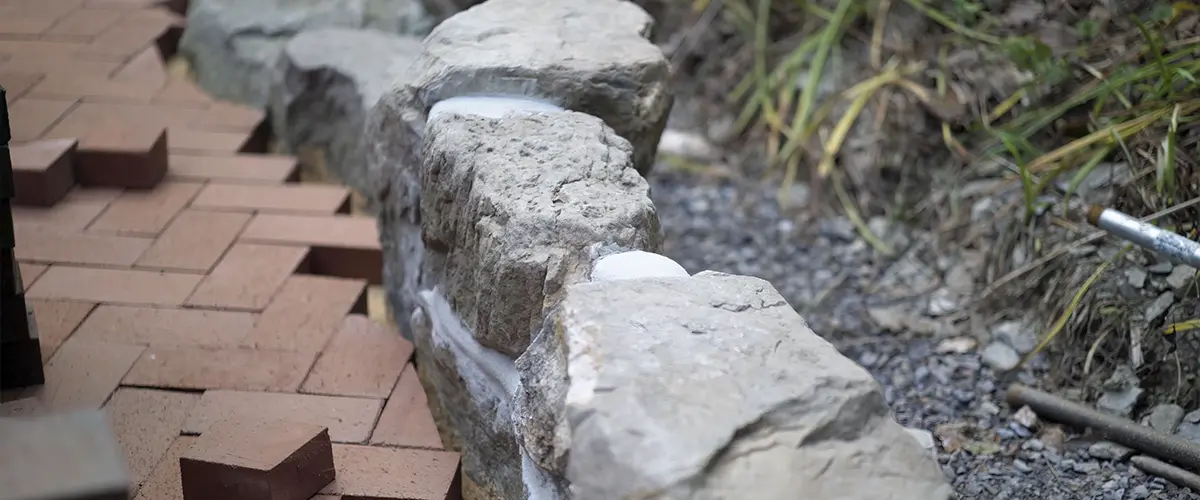 5. After Laying Out Pavers
Once the entire patio is laid, fill in any gaps between the pavers with sand. Use a push broom to push all the sand in-between the gaps. This process will take a lot of time and patience, so be sure to have both.
You'll want to spread the sand, push it in the gaps, spray it down with water, let it dry, and do it again. The water helps the sand settle and sink, and you'll do it again to make sure there are no gaps in the joists, or you'll risk the pavers moving.
The Price Of Pavers Patio
The cost of having a patio with pavers can vary depending on the size of the patio, the type and quality of the pavers, and the installation process. Generally, though, you can expect to spend anywhere from $5 to $15 per square foot for a paver patio, not including labor costs.
If you're considering doing the project yourself, be sure to factor in the cost of renting or buying all the necessary tools, as well as the cost of the pavers and other materials. It's also important to factor in your own time and labor when calculating the overall cost of the project.
Hiring a professional to install a paver patio for you will cost more, but it will also save you a lot of time and effort. The average cost to have a professional install a paver patio is $8 to $25 per square foot, depending on the size and complexity of the project.
Keep in mind that the price of having a patio with pavers installed by a professional can also vary depending on the type of pavers you choose, as well as the company you hire. Be sure to get multiple quotes from different companies before making a final decision.
The Price Of A Patio With Pavers
There are a few additional costs that you may want to factor into your budget when planning for a paver patio. These include: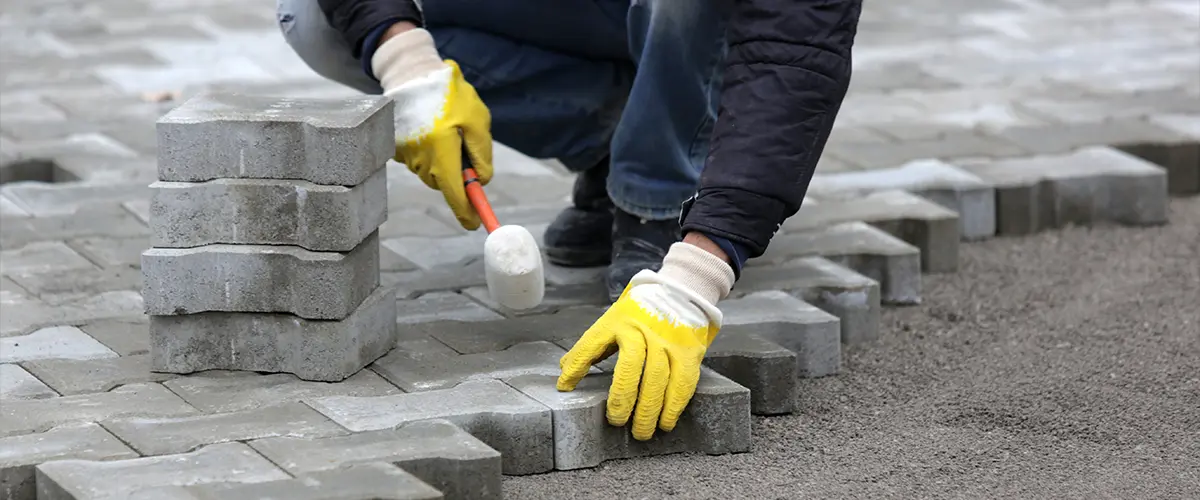 If you're still determined to get a DIY patio with pavers, this is the best guide you can get. It's a simple process, but it does take a lot of time and effort to build a paver patio right.
Our advice is simple. If you're going to do a DIY paver patio, choose a simple design pattern, make sure you know how to use the necessary tools (a circular saw is a dangerous tool to use), and make sure you allocate the project enough time.
If, however, you'd rather have the opinion and craftsmanship of a professional, contact Deck Bros today. We offer professional deck building and deck repair, and we can also tackle any patio or landscaping project.