Whether you're looking for an outdoor oasis to entertain in or a private escape to relax and rejuvenate in, rooftop decks are the perfect way to elevate your space. 
From breathtaking views of the cityscape below to lush gardens and relaxing pools, these rooftop deck ideas will have you dreaming of spending lazy afternoons and balmy evenings up high. 
So take a look, and get inspired to create your own rooftop paradise!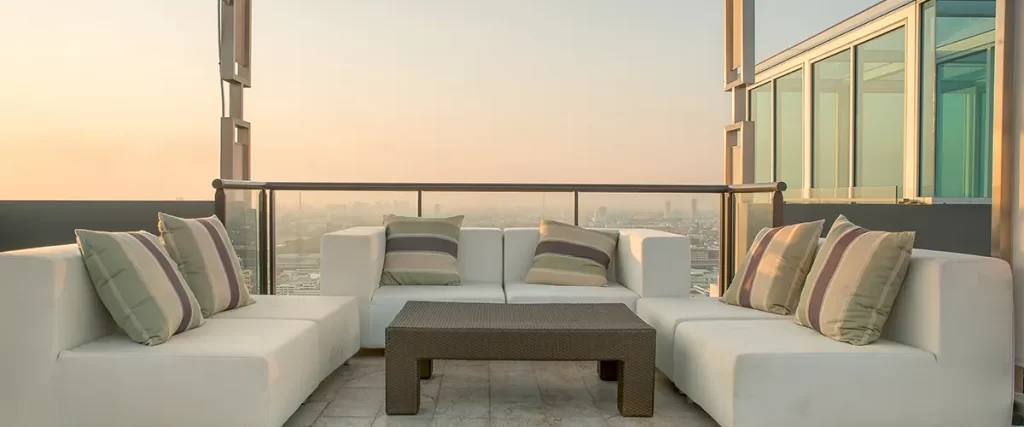 The Benefits Of Rooftop Decks
A rooftop deck offers unique benefits that are worth taking into consideration if you're planning to add one to your home. Rooftop deck construction is not for everybody. You need a rooftop deck design that can make your space fully functional.
For starters, they can extend your living space by providing a larger area for recreation and relaxation. A rooftop deck also offers stunning views of the surrounding area, which can be enjoyed while relaxing on a comfortable chair or lounging on a sunbed. What's more, rooftop decks can increase your home's value, making it an attractive investment for potential buyers down the road.
If you're considering adding a rooftop deck to your home, be sure to keep the following in mind:
When it comes to rooftop decks, there are endless possibilities for creativity and enjoyment. With a little bit of planning and forethought, you can create a rooftop oasis that will be the envy of your friends and neighbors. So go ahead, start dreaming up your perfect rooftop deck with the ideas below.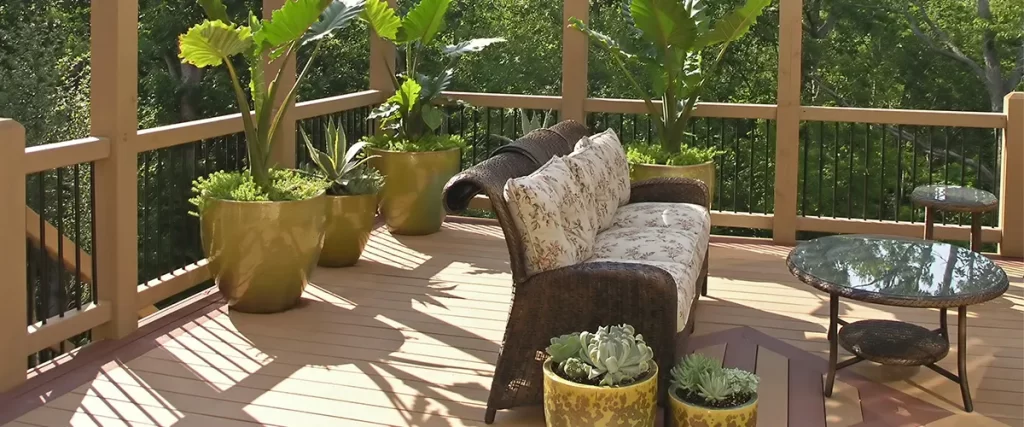 1. Add A Pergola On Your Rooftop Deck
Adding a pergola to your rooftop deck is a great way to make the space feel more intimate and inviting. Not only does a pergola provide shade and shelter from the elements, but it can also be used to create a focal point or divide the space into separate areas. 
When choosing a pergola, be sure to select one that is appropriately sized for your rooftop deck. If you have limited space, consider opting for a freestanding model that can be placed anywhere on the deck.
2. Select Materials That Are Weatherproof And Durable
When it comes to rooftop deck materials, there are a few different options to choose from. Wood, metal, and plastic decks are all waterproof and durable, making them a great option for rooftop decks. Wood decks are the most popular type of rooftop deck, and they can be made from a variety of materials, such as cedar, pine, or redwood. Hardwood decking is also highly durable and aesthetically pleasing.
Metal decks are a great option for those who want a sleek and modern look, and plastic decks are perfect for those who want a low-maintenance deck. So make sure you are taking decking material into consideration — from deck flooring to deck boards, you need a structurally sound outdoor living space.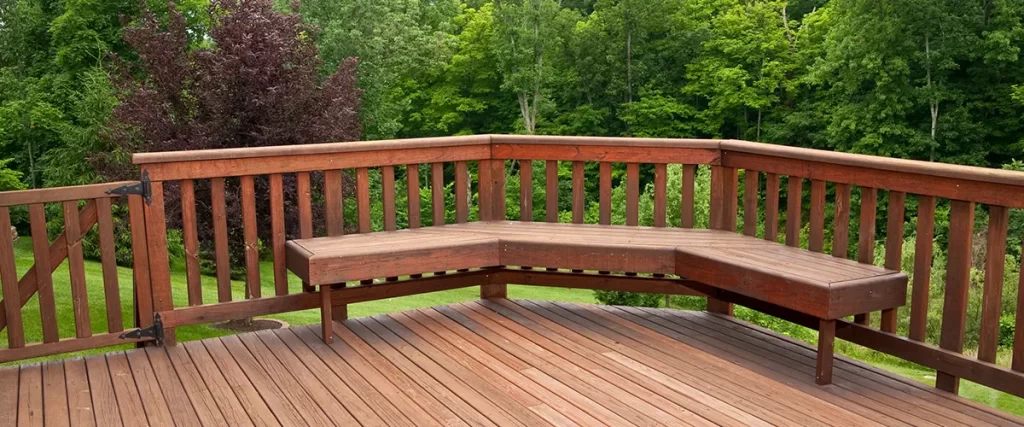 3. Add Plants And Flowers
Roof decks provide the perfect way to escape and relax in nature while enjoying beautiful views of your surroundings. One of the best ways to add personality and natural beauty to your rooftop deck is by adding plants and flowers. 
Not only do they add color and life, but they can also provide shade and privacy. Be sure to choose plants that are weatherproof and durable, so you can enjoy them year-round. Some good options include ivy, bamboo, roses, and hibiscus.
If you're looking for rooftop deck ideas that will elevate your space to the top of its game, then look no further! These inspiring designs will have you dreaming of lazy afternoons and balmy evenings spent up high. So take a look, get inspired, and create your own rooftop paradise.
4. Install Patio Furniture
When it comes to rooftop deck furniture, you want to choose pieces that are both comfortable and stylish. Benches, chairs, and tables are a great place to start, and you can add colorful cushions and pillows for extra comfort. 
If you're looking for a bit of shade, consider adding a canopy or pergola to your deck. And don't forget the essential accessories – rugs, umbrellas, a wet bar, lights, a fire pit – to make your deck feel like a true outdoor oasis.
Here are a few tips for choosing the right patio furniture for your deck: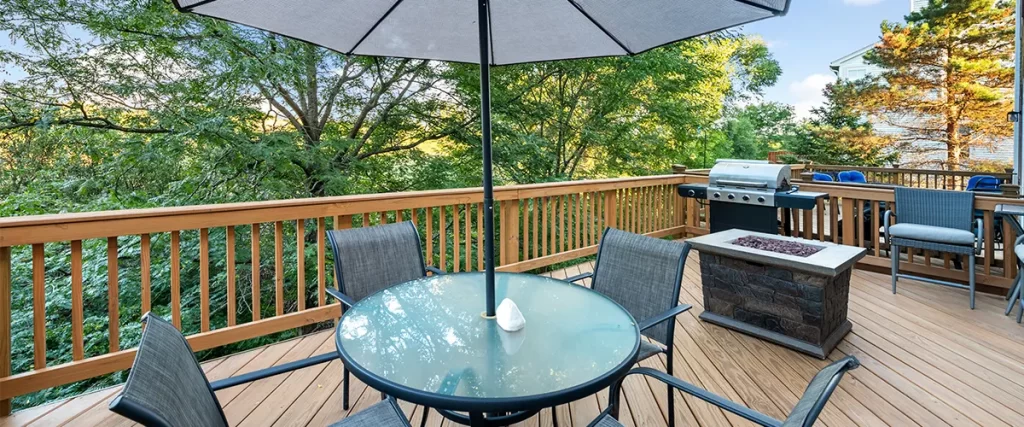 5. Use Lights To Set The Mood On Your Rooftop Deck
Adding light to your rooftop deck is a must to extend the hours of usable outdoor space. Whether you're looking for ways to increase your security or just want to be able to enjoy your rooftop deck later into the evening, adding light is a great way to do it.
There are many different ways to add light to your rooftop deck. You can install solar lights, use string lights, or add sconces and other forms of wall lighting. Whichever route you choose, be sure to think about the function of the space and choose a light that will best meet your needs.
For example, if you're using your rooftop deck as an outdoor living room, you'll want to choose soft, ambient lighting. If you're using it for dining, you may want to choose brighter lights that can easily light up the space. No matter what your needs are, there is sure to be a lighting solution that will work for you.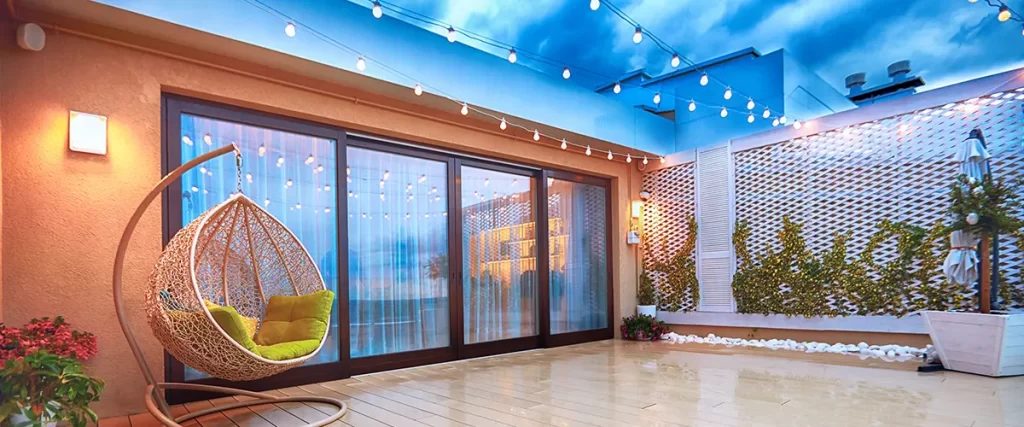 6. Add Heating To Your Rooftop Deck
When it comes to rooftop decks, one of the biggest concerns is often the weather. In colder climates, a rooftop deck can be chilly in the winter, and in hotter climates, a rooftop deck can be too hot in the summer. Adding a heating system to your rooftop deck can help make it more comfortable year-round.
There are a variety of different heating systems that you can add to your rooftop deck, including:
Which heating system you choose will largely depend on your budget and the size of your rooftop deck. Heating cables are generally the cheapest option, while radiant heaters are the most expensive. 
If you're not sure which system is right for you, consult with a professional to help you make the best decision.
7. Add A Pool To Your Deck For Extra Fun
Adding a pool to your existing roof deck is a great way to make the most of your space. Not only does it provide a fun place to swim and relax, but it can also be used to cool off on hot summer days. Here are a few tips for adding a pool to your rooftop deck:
1. Make sure you have enough space. You'll need at least 15 square feet per person if you want to swim, and more if you plan to sunbathe or relax on the deck.
2. Make sure your rooftop can support the weight of the pool. Most pools weigh between 2,000 and 4,000 pounds, so make sure your rooftop can handle the extra weight.
3. Plan out your plumbing and electrical. You'll need to run plumbing and electrical lines to the rooftop, so make sure you have a plan in place before you start construction.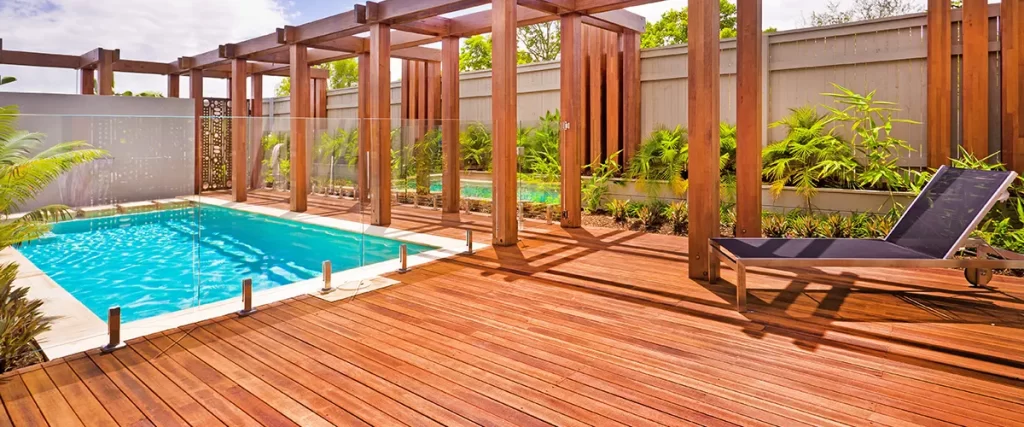 Rooftop decks are a great way to extend your living space and enjoy the outdoors. If you're ready to make the leap, there are some important steps to take before laying down any materials. 
These decisions will determine everything from which style of furniture can fit on top of your rooftop oasis, as well as its shape and surrounding walls. 
If you want extra help on your rooftop project, feel free to contact us and let our team of experts guide you.