So you're probably looking to get a deck, and you've already asked for several quotes from different contractors, but you're amazed at how much you'll pay for your addition.
If you're asking yourself, "why are decks so expensive?", there's a good reason behind it.
Below is a deck building cost calculator that'll give you a quick breakdown of how much your deck will cost, based on size, materials, and extra features. We recommend you request a pricing quote to avoid any guess work and know exactly how much your deck will cost.
Three Factors That Will Impact Your Deck Building Cost
Like any home improvement project, there's no one-size-fits-all.
You can't expect to pay the same amount of money for any deck for obvious reasons. The materials will be different, the size of your deck will vary, and so on.
There are more factors that will impact how much you'll pay for your deck, but let's discuss the most important ones.
The size of your deck is the most important factor of all. Naturally, the larger the deck, the more you'll end up paying for it.
Here are some typical deck prices for raised decks of various sizes, based on an average cost to build a deck of $30 to $60 per square foot.
Note: for a raised deck, you'll also need to budget for a set of stairs and longer posts. These, too, will increase the price of your deck.
| Deck Size | Deck Cost Range |
| --- | --- |
| 10 x 10 | $3,000 - $6,000 |
| 12 x 12 | $4,300 to $8,600 |
| 14 x 20 | $8,400 to $17,000 |
| 20 x 20 | $12,000 to $24,000 |
You should know by now that there are two main decking materials, composite and wood.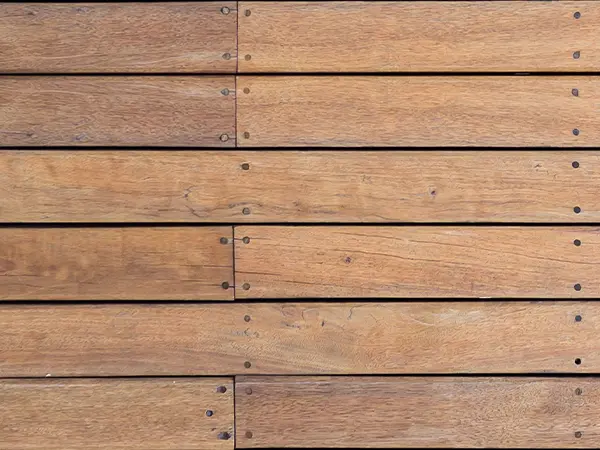 Wood decks are the traditional material. They're more affordable but require ongoing maintenance, such as staining, sealing, and repairs. 
You might think you're saving money getting a pressure-treated deck, but in reality, you'll spend an extra $2k for maintenance every 2 – 3 years for any wooden deck.
Composite decks are gaining more and more ground nowadays. This is a low-maintenance decking material made from recycled plastics and wood fibers. 
The cost of composite decking boards is higher, but it'll save you more money in the long term.
If you're going for wood, here are some of the most popular types of wood for decks.
A pressure-treated wood deck is a popular choice because they're very affordable. Pressure-treated wood will inevitably develop splits, cracks, and wear over time due to exposure to the elements. On average, pressure-treated lumber runs about $5-$8 per square foot.
Cedar wood is ideal for decks exposed to outside elements due to its natural beauty and rot resistance. However, this softwood is prone to denting and scratching despite its $4-8 per square foot affordability.
Redwood is an excellent option for decking due to its invulnerability to insects and warping, but it does come at the cost of $7 per square foot. Redwood requires yearly upkeep to remain in pristine condition, particularly when exposed to direct sunlight. Proper maintenance allows redwood to take paint or stain nicely for a stunning final look.
Although it makes your outdoor space look beautiful and unique, bamboo is prone to rot. However, if you're looking for a budget-friendly decking material, bamboo is an excellent choice. For just around $3 – 4 per square foot, bamboo proves itself as an amazing alternative to other wood species.
If you want a composite deck, here at Deck Bros, we recommend TimberTech composite materials. This is a more upscale composite brand that offers better warranties, better lifespan, better protection against wear and tear, and more styling options.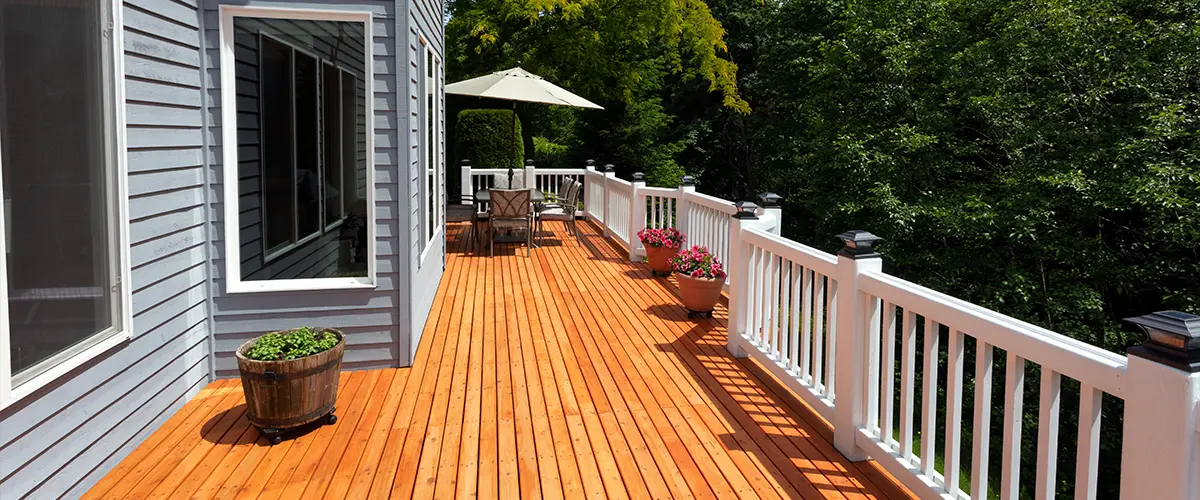 Deck builders in Omaha charge different prices for their services. Some boast years of experience in the deck building industry, while others will offer the same quality (or even better) after just several years in business.
In the end, it all depends on the values a company follows.
At Deck Bros, we're all in for your project, and we're always going above and beyond to see you satisfied with your new deck. With us, you're getting the most cost-effective decking solutions and a beautiful journey that you'll cherish every time you step on your deck.
Deck builders will charge anywhere between $10 per hour and $30 per hour for deck installation.
Note: The lowest bid might not always be the most advantageous, and the highest won't be either. Make sure the company offers a service worth every penny, from communication to craftsmanship.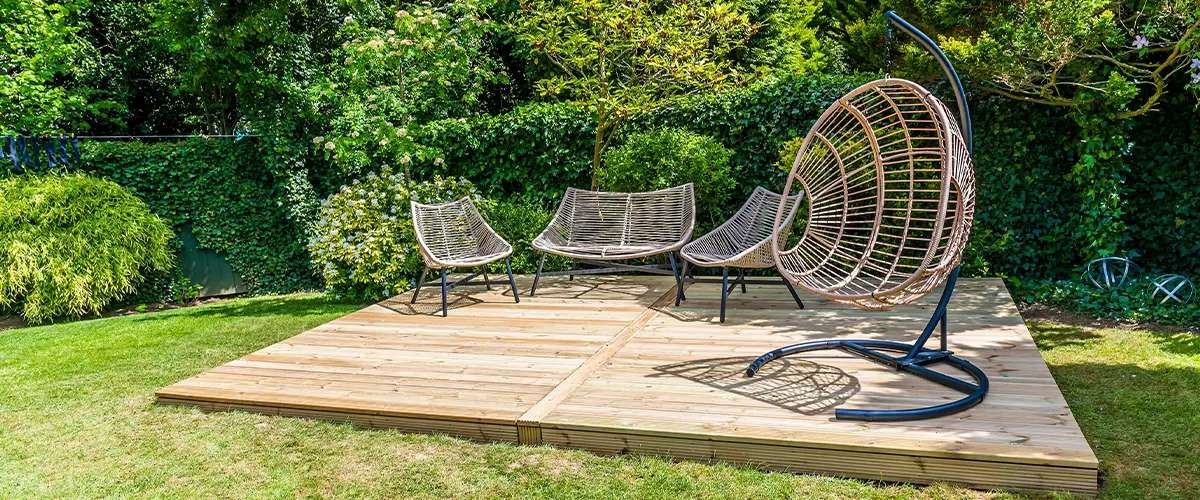 If you're building a simple, freestanding deck, you won't have to worry about many of the extra costs below. If, however, you have a more difficult project, keep these expenses in mind to be fully prepared for your upcoming deck building project.
If you're planning to DIY without any carpentry skills, give us a call and we can walk you through what you need to keep in mind before you start. We might even offer you a great deal on your project!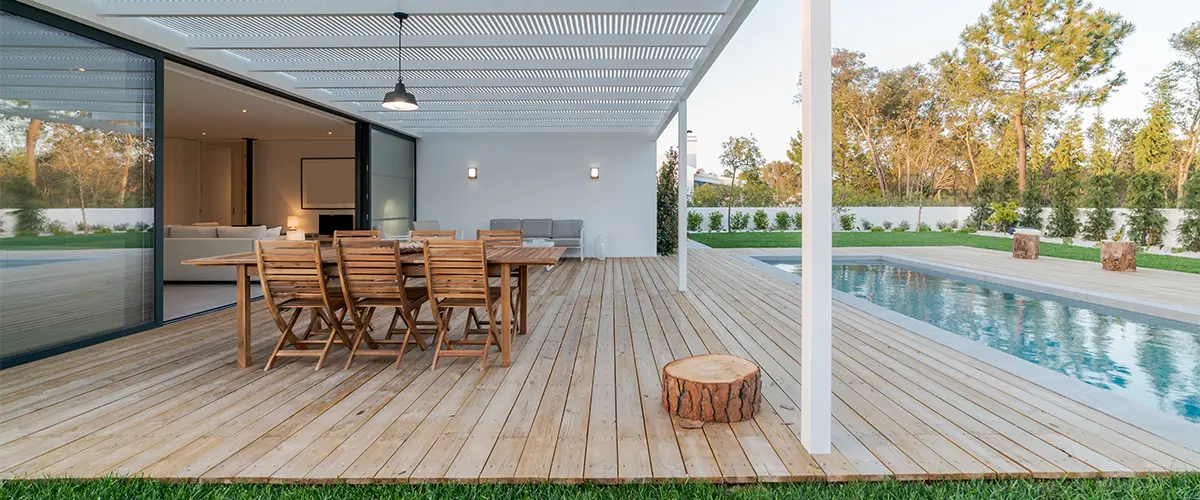 So, why are decks so expensive?
Labor, building materials, and extra fees like removal, permits, and demolition all add up to create a price that maybe you did not expect.
Does this mean you're being ripped off?
No. It just means the workers you have on your project need to make a living. As long as their craftsmanship is top-notch and the service you'll get is the best in the industry, you'll understand why building a deck can sometimes cost more than expected.
At Deck Bros, every single dollar you spend is invested into your deck and the comfort of your outdoor space. With us, you'll get a long-lasting and high-quality deck that'll entertain your guests for as long as you live there.