Decks are beautiful outdoor spaces that increase your property's value, aesthetics, and functionality. They're a great addition that will make your life so much better, and your backyard much more entertaining.
But if you're planning to start a deck building project, you want the best deck materials, and the best-looking deck in your neighborhood.
In this blog post, we'll discuss the best deck materials to start your deck project, but we'll also talk about the least efficient ones!
Let's begin.
A Quick Breakdown Of The Best Materials
You came here to find the best materials, so let's begin with these.
Grade 1 pressure treated wood is a common choice for most homeowners when it comes to their deck posts. For elevated decks, these provide a great deal of stability and strength, while also giving your deck the natural look of wood.
For homeowners who want to take it one step further, we recommend metal posts. They are much more durable and strong, and you won't have to worry about repairing them for a very long time.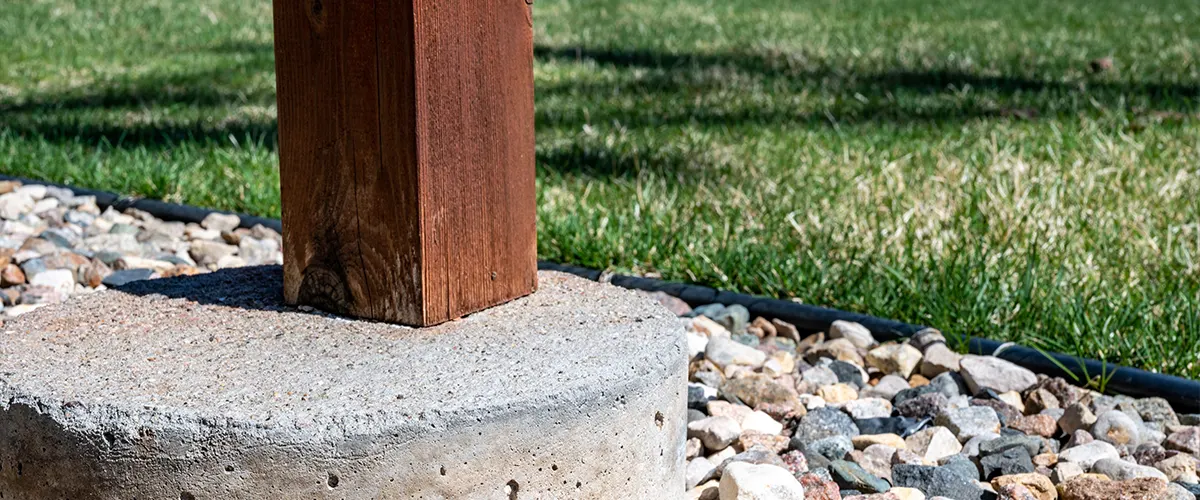 Like the posts, grade 1 pressure treated wood is a common choice for our customers. It's relatively durable and strong, but there's an even better option.
Metal frames are the perfect choice if you want a frame that'll last through the years without causing any concern. Metal can't fall victim to rot, cracks, splinters, or pests.
In fact, metal frames and posts will make your deck stand strong even against the most severe weather conditions the US has been seeing lately.
The only thing that can hurt metal is corrosion, but with the right treatment, the metal will be safe for more than a lifetime.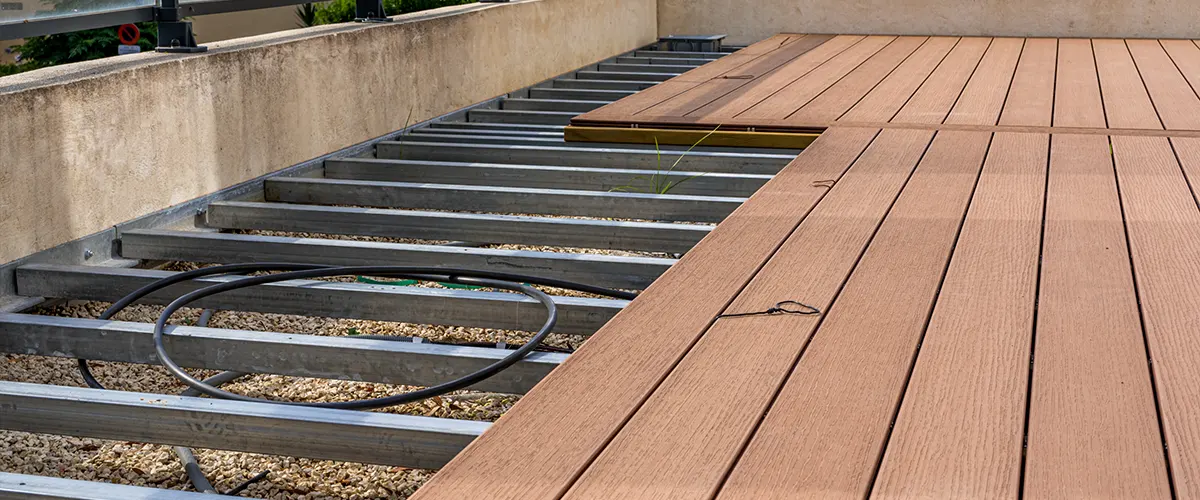 The best decking material when it comes to your decking boards is the composite (sometimes referred to as pvc decking). This is a manufactured material made of wood fibers and plastic pressed together under extreme heat and pressure.
Composite is a low-maintenance decking material that requires no staining, sealing, or regular cleaning. It's more durable and resistant to water damage and pests, and one power wash a year is enough to keep a composite deck in a perfect state.
You can find composite deck boards that have the same look as natural wood, and very similar to their wood grain.
Although composite decking materials are more expensive upfront, it's a much better investment in the long run, as you won't spend any money and time on its maintenance.
Besides, with wood decking prices constantly going up in recent years, composite is rapidly gaining in popularity in Omaha's outdoor spaces.
On average, a composite deck board costs between $4.50 to $13 per square foot for the decking alone, or about $30 to $60 per square foot installed, including the substructure (joists, posts, and beams).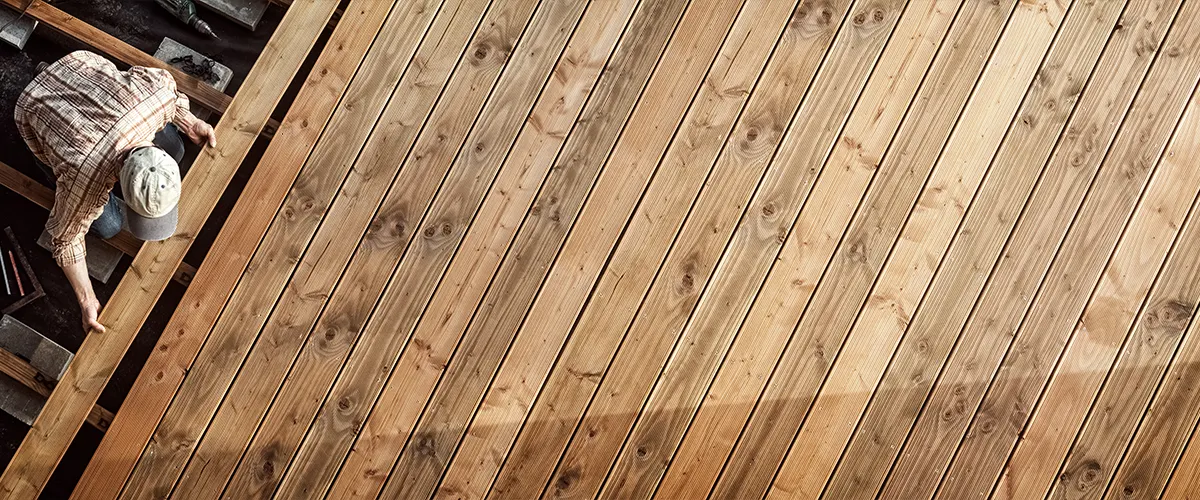 If you were thinking of skipping railways, you should know that in many cases, railways are mandatory as per the building code in Omaha.
But make no mistake! Railways are often what improves the look of your deck and what completes your outdoor space.
The best deck material when talking about railways are aluminum railways. Companies like Westbury have different materials with different finishes and looks available that are sure to match your composite decking.
Another, more affordable railway option, is the composite railway. These are stronger and more resistant than wood rails that start to wobble in just a few years.
Check out our article Metal Rail Vs Wood Rail For Decks to learn more about the benefits of metal railing on your deck.
If you want to get the best deck in Omaha, you'll need some extra features to make it truly yours, as well as more functional.
Some popular deck upgrades that are sure to uplift your outdoor living space are:
Deck Materials That You Should Avoid
When buying the best deck materials, their cost might have you thinking twice about your choices. At that point, it's a matter of how determined you are to get the best deck out there.
Other options like, say, cedar wood for decking, can look much more attractive when it comes to price. But even when stained to look good, their functionality is very limited.
Wood is susceptible to rot and pests damage, the biggest enemies of a wood deck. If in the first few years your cedar wood deck still looks decent, it will, over time, start showing rot, warps, or splinters. Besides, their color will fade, so you'll need to repaint and stain them once every two years.
What's more is that wood also needs to be sealed against water. Cedar and redwood, for example, are soft woods that can absorb water and start warping or growing mold.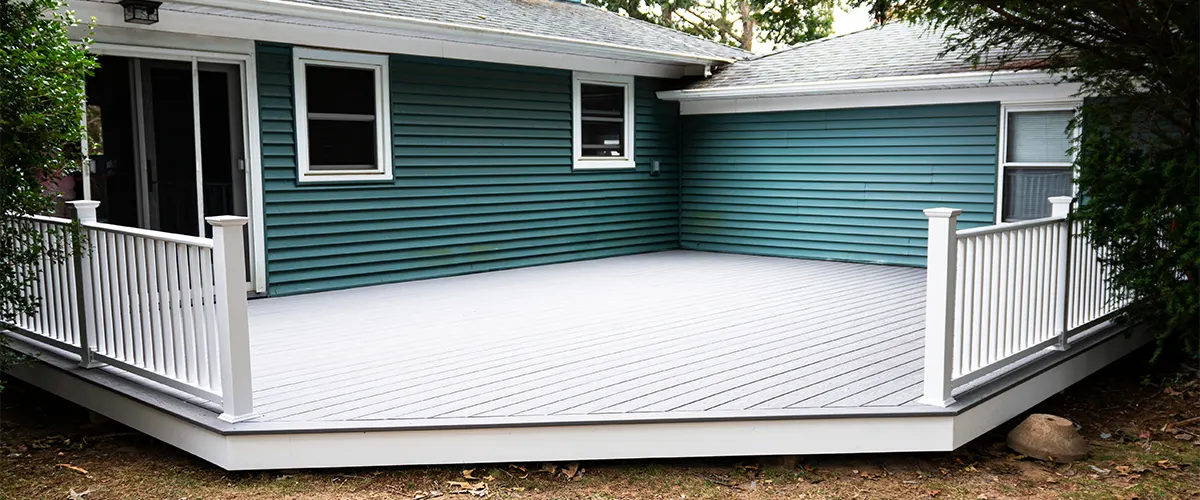 The Best Deck Materials - At The Best Price
Let's say investing in metal posts, frames, railway, composite decking, and extra upgrades is outside your budget. In that case, you still want to find the perfect equilibrium between aesthetics, functionality, and price.
Popular decking materials that are also affordable and functional are:
All homeowners want the best for their homes. The best bathroom remodel, the best addition, and the best deck materials that create a perfect outdoor living space for you and your loved ones.
At Deck Bros, our goal is to give you the best deck that'll match your needs and preferences, no matter the budget. We'll discover what you really need out of your outdoor space, and we'll do the impossible to make it happen.
If you're interested in the best solutions for your deck, request a free quote and we'll get back to you. If you're eager to start, call us right now and let's talk!