Deck Installation Cost In Bennington, NE
Do you need a quote on the price of installing a deck in Bennington? Get your free quote now!
We strive to offer homeowners in Bennington and the surrounding areas transparent insights into deck installation costs. Our goal is to provide comprehensive and concise information, ensuring clarity and peace of mind for those considering this investment.
Composite decking installation costs around $10k for a 25 x 10 ft. deck. If you opt for pressure-treated wood decking, the cost will be lower at around $5k. The basic cost of installing wood decking ranges from $9.74 to $12.43 per square foot.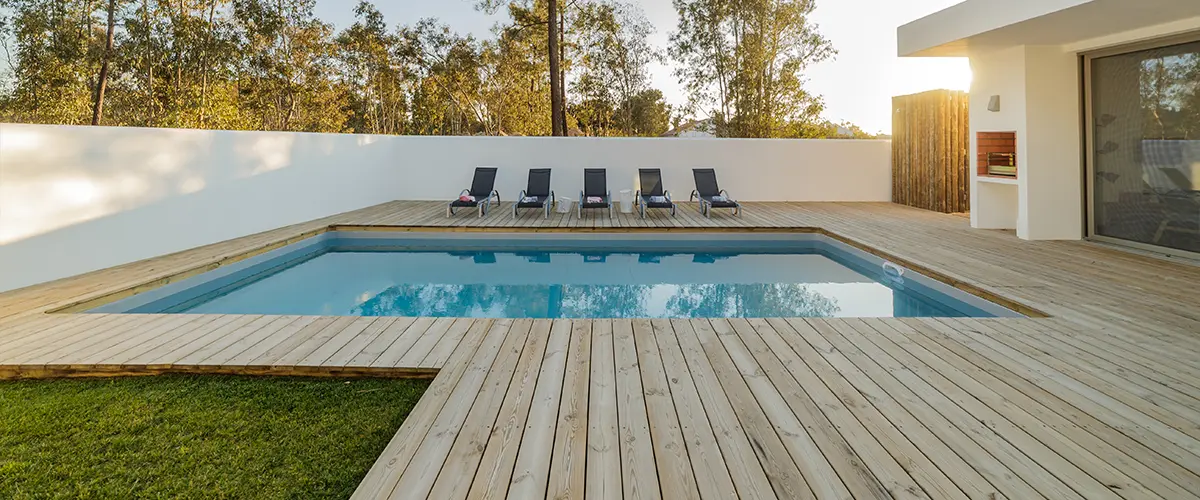 Typical Deck Installation Cost In Bennington, NE
The cost of your deck increases with the size and quality of materials you choose. Opting for pressure-treated wood offers a more affordable option, whereas selecting exotic hardwoods entails a higher expense.
| Deck Size | Square Footage | Average Cost Range |
| --- | --- | --- |
| 8' x 10' | 80 | $1,600 – $4,000 |
| 10' x 10' | 100 | $2,000 – $5,000 |
| 12' x 12' | 144 | $2,880 – $7,200 |
| 10' x 20' | 200 | $4,000 – $10,000 |
| 12' x 20' | 240 | $4,800 – $12,000 |
| 16' x 16' | 256 | $5,120 – $12,800 |
| 16' x 20' | 320 | $6,400 – $16,000 |
| 20' x 20' | 400 | $8,000 – $20,000 |
Before
After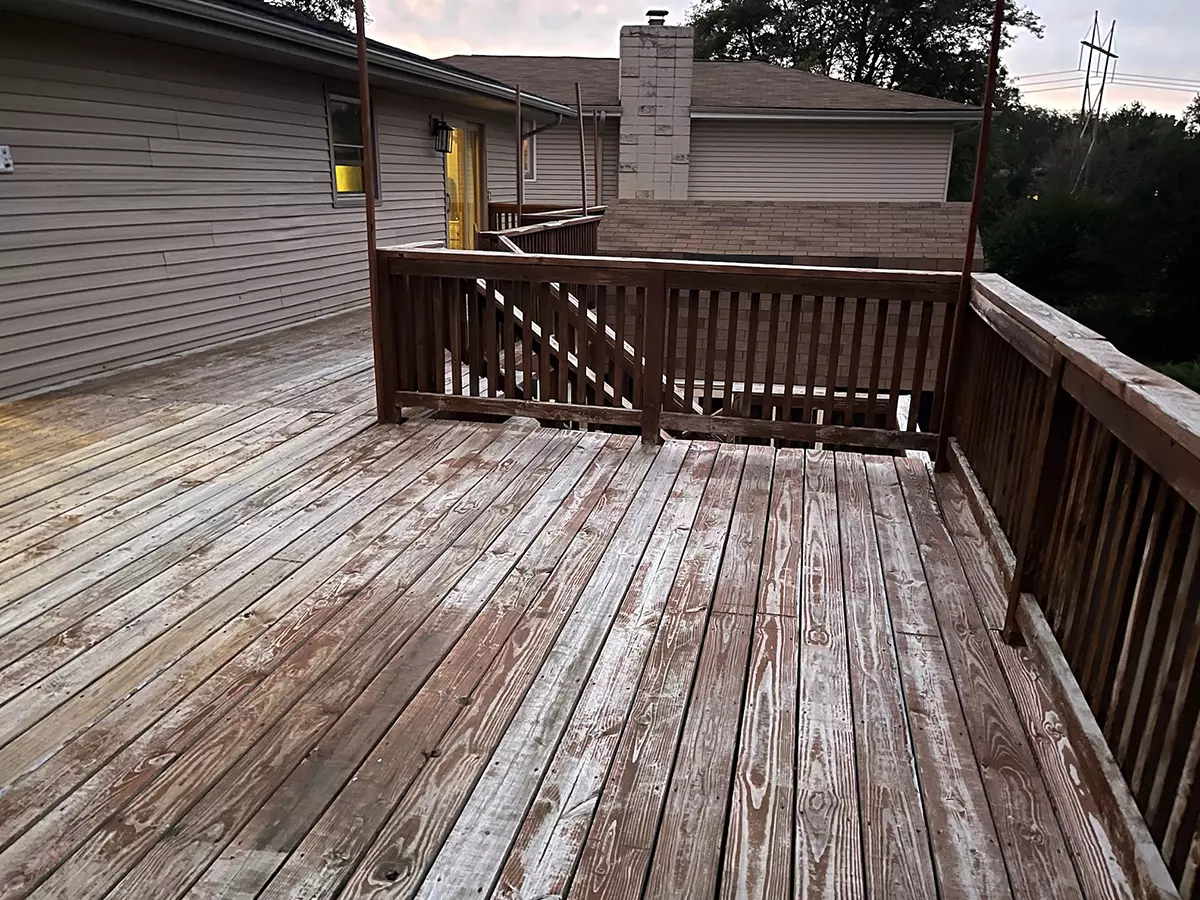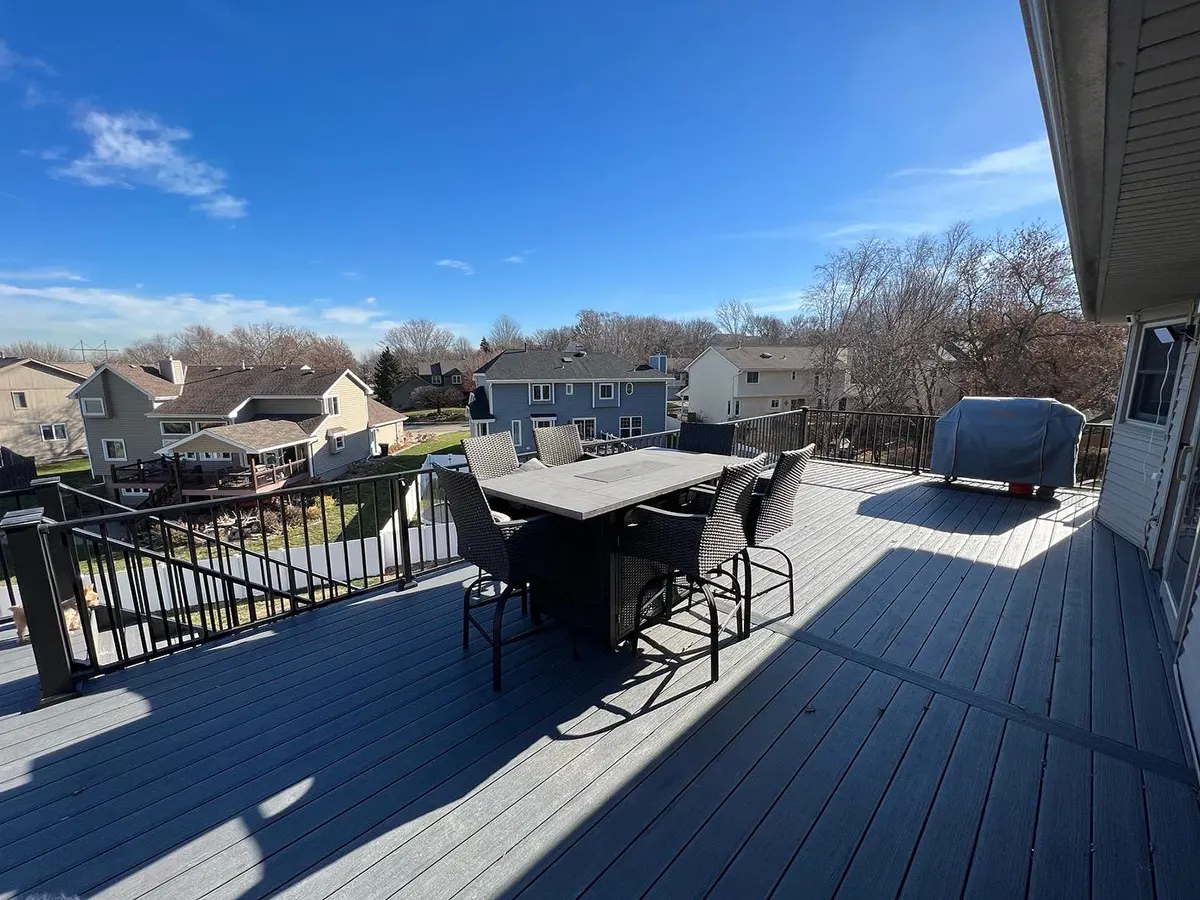 Complete Deck Renovation In Papillion
This 750 sq. ft. composite deck included:
This project was quoted at $72,500, where the most expensive item was the railing with built-in lights, priced at $22,500.
Deck Bros offers a free estimate, but a site inspection is required for a more accurate quote. During our visit, we'll discuss material options and costs to suggest the most cost-effective solution for your new deck installation.
Labor Costs For Deck Installation In Valley, NE
Labor will make up more than 50% of your deck installation cost. While we know this tempts many homeowners to try DIY, we advise against it, as decks are very sensible and need to be completely safe for you and your loved ones.
Our deck-building services start from between $35 to $45 per hour, depending on the size of your new deck and the material we are installing.
Compared to other pros in the area that charge well over $50 per hour, our service is just as reliable and even faster, as we're getting most of our decks finished in less than 3 days!
Labor Costs For Deck Installation In Bennington, NE
If your deck frame is intact, replacing the decking boards can update your outdoor area. No architects or designers are required; just hire installers to complete the job.
Deck builders are skilled experts who use specialized tools to construct and install decks. They carefully follow blueprints and instructions to ensure the successful completion of their work. Their craftsmanship and attention to detail create stunning outdoor spaces that enhance property aesthetics and functionality.
For top-notch deck builders in Bennington, anticipate hourly rates ranging from $30 to $35. On average, experienced deck builders charge around $25 per hour, while beginners typically charge $15.
Deck Bros Bennington provides exceptional deck installation services delivered by skilled and amiable carpenters. Our installation process is flawlessly executed, ensuring a seamless experience as you revel in the beauty of your new deck.
Deck Installation Materials Cost
Let's analyze the cost comparison between natural wood decking, which requires frequent maintenance, and low-maintenance composite or PVC decking that can last for over 50 years. These are the primary choices available for decking materials.
Low-Maintenance Materials
Let's start with the low-maintenance materials, which are the most popular decking materials nowadays.
Trex is a leading composite decking manufacturer with attractive, durable boards and an impressive warranty. This makes their products affordable for most customers. Many of our customers opt for Trex due to its remarkable blend of top-notch quality and affordability.
The pricing of Trex boards varies based on their type. Trex Select and Enhance are priced between $5 and $9 per square foot, while Trex Transcend is priced between $10 and $12 per square foot.
| TREX DECKING LINE | COST RANGE PER SQUARE FOOT |
| --- | --- |
| Enhance | $5 - $7 |
| Select Earth Tones and Enhance Natural | $7 - $9 |
| Transcend | $10 - $12 |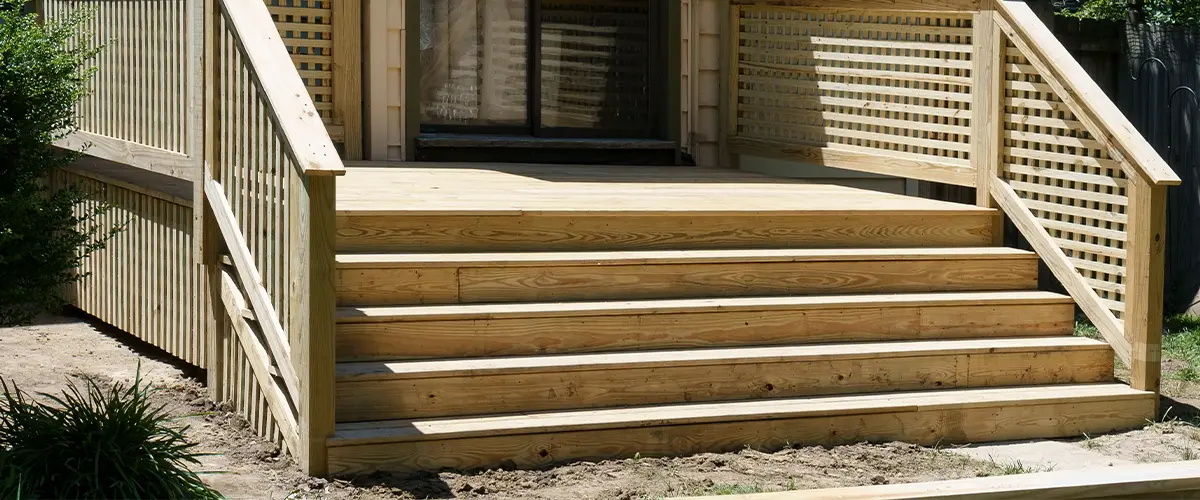 Check out this Trex deck calculator to see how much you'll have to budget for your upcoming Trex deck installation!
TimberTech Composite Decking
Choose TimberTech for composite decking. It's reliable with a polymer capping that offers superior water damage protection. Though slightly pricier than Trex, it's a worthwhile investment.
We chose TimberTech for its availability and reliable delivery, completing most deck projects within three business days. TimberTech's cost varies depending on board type.
| TimberTech Decking Prices | Cost/linear ft. | Cost/square ft. |
| --- | --- | --- |
| Edge Prime | $2.40 – $2.65 | $5.70 – $6.50 |
| Edge Premier | $3.10 – $3.25 | $6.85 – $7.50 |
| Pro Terrain | $3.35 – $4.05 | $8.75 – $9.35 |
| Pro Tropical | $4.90 – $5.35 | $11.15 – $12.00 |
| Pro Legacy | $5.80 – $6.35 | $12.35 – $13.50 |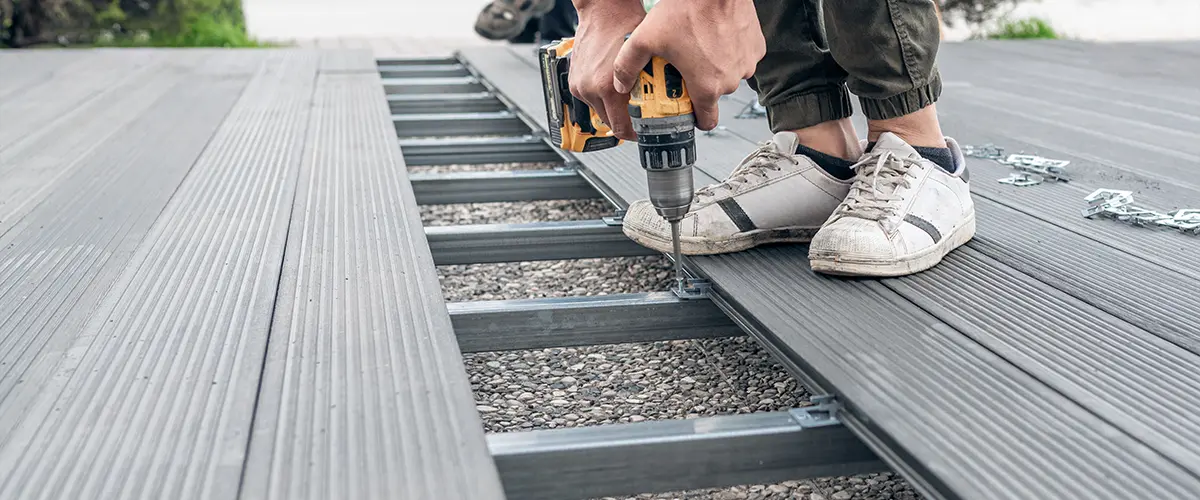 Since acquiring AZEK, TimberTech has emerged as the industry leader in the PVC decking market. Renowned for its impeccable quality, TimberTech's PVC decking sets the standard for excellence.
While PVC is known for its durability and resistance, composite decking excels in replicating the natural look of wood. It is worth noting that AZEK PVC decking is considered one of the higher-priced materials available in the market.
| PVC Deck | Cost/linear ft. | Cost/square ft. |
| --- | --- | --- |
| Azek Harvest | $4.75 – $5.25 | $9.45 – $12.70 |
| Azek Arbor | $5.80 – $6.35 | $12.00 – $14.00 |
| Azek Vintage | $6.50 – $7.00 | $11.90 – $14.50 |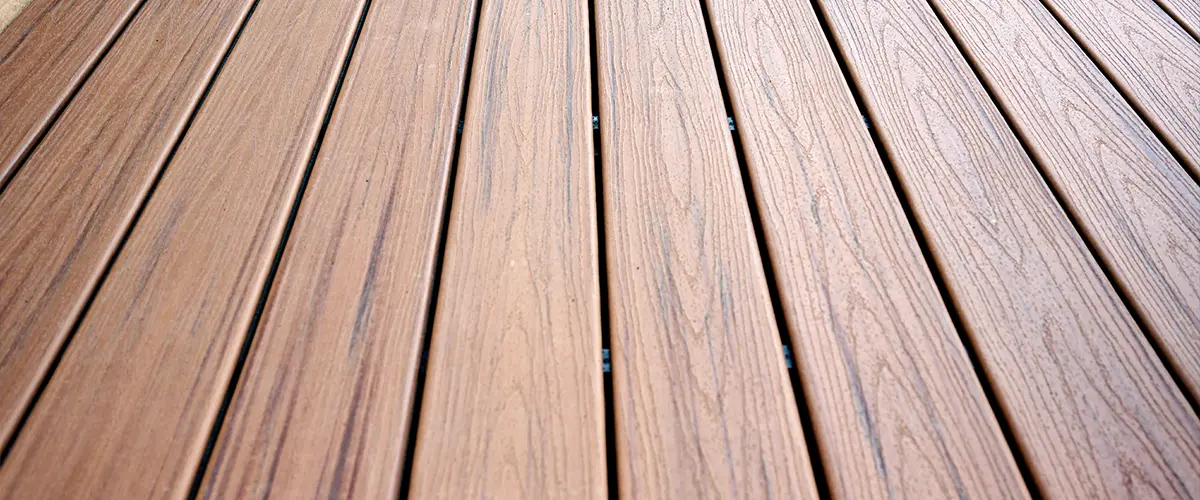 Despite the need for regular maintenance, many customers choose natural wood for deck installations due to its aesthetic appeal and ability to enhance outdoor spaces.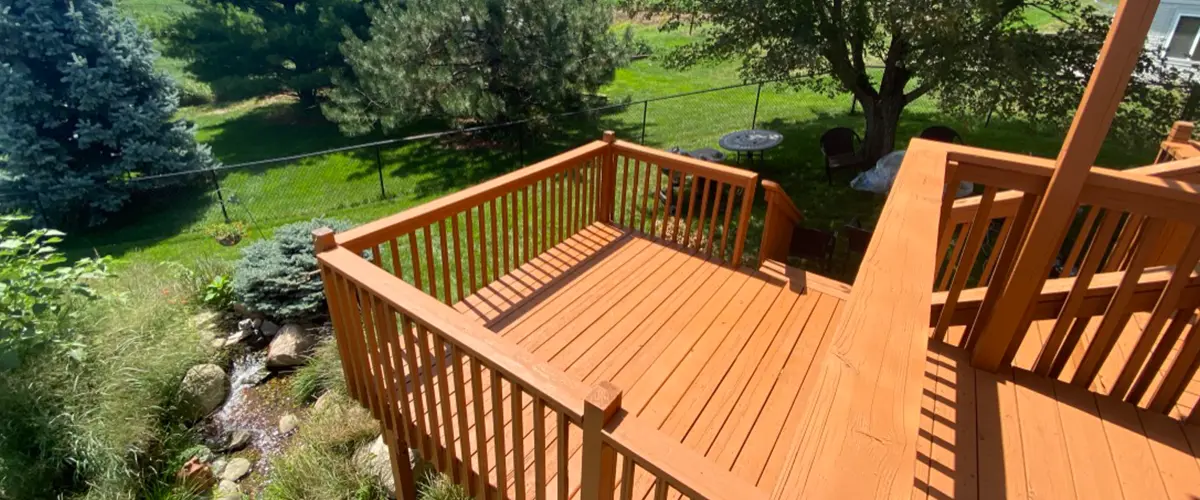 Pressure-Treated Wood Decks
Pressure-treated wood, which is also called yellow pine, is often used for decking because it is cost-effective.
The price range for pressure-treated pine decking varies from $15.00 to $25.00 per square foot for materials, with an additional $20.00 to $30.00 for installation.
When considering the use of pressure-treated wood, it is important to note that it falls under the category of softwood and is susceptible to damage from pests and rot. As a result, regular maintenance and care are necessary. This serves as a gentle reminder to keep your wood in good condition!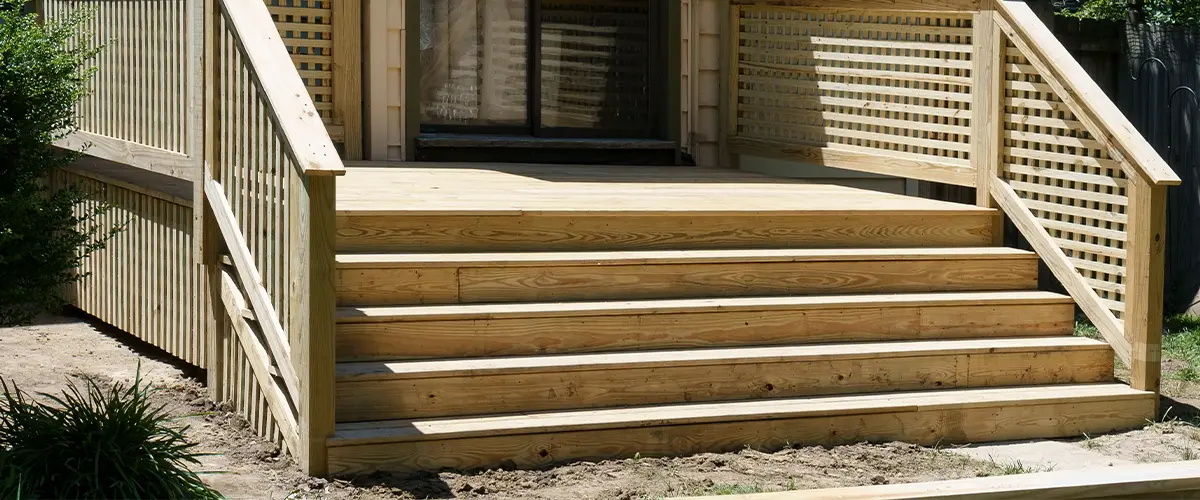 Cedar ranks as the second most favored option for decking material. Although it possesses inherent resistance to rot and pests, it does necessitate regular maintenance subsequent to installation on the deck.
Cedar, a prevalent choice for decking, comes with a price range of around $5 to $10 per linear foot. While it is often considered cost-effective, it generally carries a higher price tag compared to pressure-treated wood.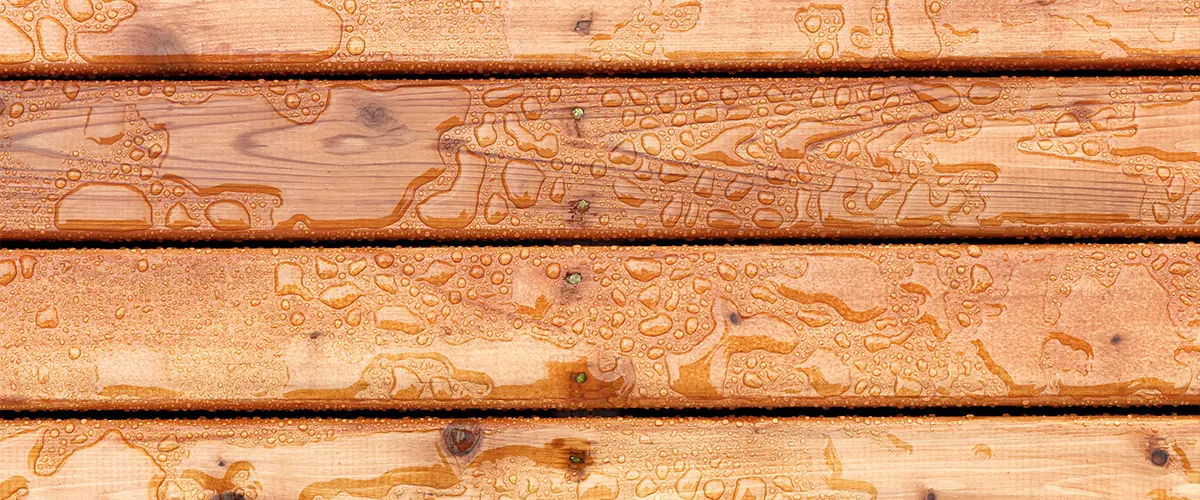 While redwood decking may come at a higher cost and is not as commonly chosen, its unique reddish tone has the ability to greatly enhance the overall aesthetic of the deck.
Redwood is pricier than cedar and pressure-treated wood, with a price range of $1.50 to $5.40 per square foot.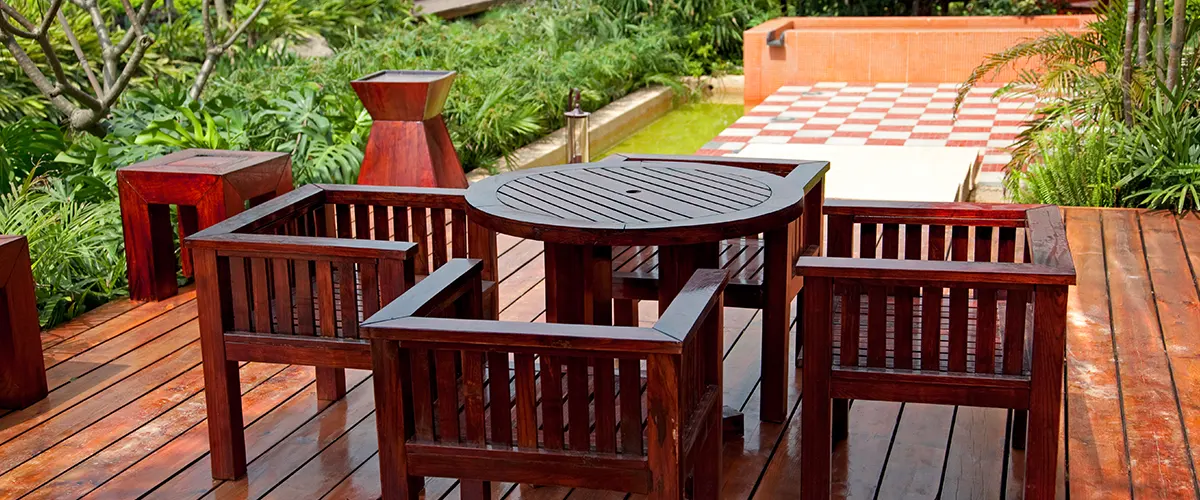 Opt for hardwoods like Ipe, Tigerwood, or Teak to give your deck a luxurious and unique appearance, but keep in mind that they can be quite expensive. Remember to apply sealant and stain to maintain their durability, even though they are inherently long-lasting.
Let's see some other types of wood and their cost of installation.
Bamboo deck: $19.00 to $22.00 per square foot installed.
Cumaru deck: $34.00 to $36.00 per square foot installed.
Massaranduba deck: $35.00 to $38.00 per square foot installed.
Garapa deck: $33.00 to $35.00 per square foot installed.
Tigerwood deck: $39.00 to $42.00 per square foot installed.
Ipe deck: $47.00 to $49.00 per square foot installed.
Teak deck: $49.00 to $51.00 per square foot installed.
3 Things To Consider When Choosing A New Decking Material
Older customers often prefer composite or PVC decking due to its low-maintenance properties. In contrast, younger homeowners often opt for pressure-treated wood to save money upfront. However, as time goes on, they come to realize that the costs of maintenance make it less affordable compared to composite decking.
If you anticipate heavy foot traffic on your deck, it is advisable to opt for composite decking materials. Softwood is not a viable choice as it may not have a long lifespan and can prove costly in the long term.
To save money on deck installation, it's important to consider the long-term expenses associated with wood decking. Over a span of two years, you may end up spending an additional $1k to $2k on maintenance and repairs. In contrast, although composite decking may have a higher initial cost, it proves to be more cost-effective in the long run. This is due to its low-maintenance nature, requiring less upkeep, like staining and sealing, and fewer repairs compared to traditional wood decks.
At Deck Bros, we distinguish between deck building and deck installation. Deck building involves constructing a deck from scratch with a foundation, footings, posts, picture frames, decking, and railing. On the other hand, deck installation refers to adding new decking to an existing structure.
We take immense pride in our ability to deliver speed and efficiency. Our deck-building projects are typically completed within a span of three days, demonstrating our commitment to promptness. As for deck installation jobs, they are executed even more swiftly, often finished within a single workday.
Luan, the owner of Deck Bros, will be on-site frequently, guiding you through our work and answering your questions. Alongside him are skilled, licensed carpenters who are equally committed to your project. You'll collaborate with builders and installers boasting over 30 years of experience, ensuring top-notch quality.
Ensure Your Money Is Well-Invested With Deck Bros
Deck Bros provides affordable decking installation services in Bennington, along with a reliable investment opportunity. Our primary goal is to deliver an exceptional building experience for homeowners' decks.
Get a detailed deck building cost to track your backyard project and better understand your expenses.
With us, you'll get:
Get The Best Decking Solutions In Bennington, NE, Right Now!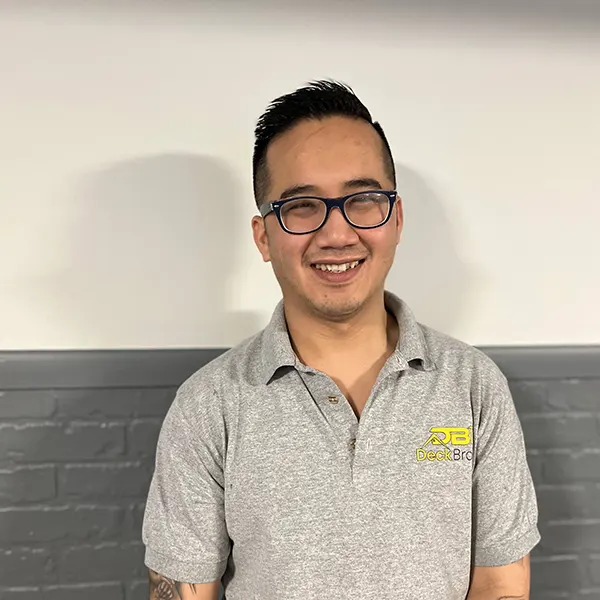 Request a free quote and let's discuss your deck installation cost in Bennington! Or talk directly with Luan, the owner of Deck Bros, at (402) 369-5724 and see if we're the right fit.