When you say composite decking, you mainly say Trex decking and TimberTech decking. These materials is resilient, strong, low-maintenance, and just as beautiful as natural wood. 
But what's the cost of Trex decking in 2023? While Trex is a little cheaper than TimberTech, the price is still above cedar or pressure-treated wood.
This guide covers everything there is to know about Trex decking costs, including labor costs, deck materials, railing materials and costs, installation costs per linear foot, as well as maintenance costs for Trex decking.
Check out the deck building cost calculator below, select composite as the decking material, and find out how much your new Trex deck will cost! Please keep in mind that we've included the installation cost in this deck building cost calculator.
Trex is a composite material that professional deck contractors use to build a deck.
The beauty of composite decking, like Trex, is that it's a blend of plastic film and wood fibers. These two materials work well together to create a solid and resilient material that's more stable than 100% plastic decking.
Plastic decking (also known as PVC decking) is 100% plastic. Plastic decking is often confused with composite decking, which contains plastic film, but it's a totally different material.
Note: So far, in 2023, Trex decking prices (and many other composite decking brands) have been increasingly rising, and it's expected to rise for another few more months.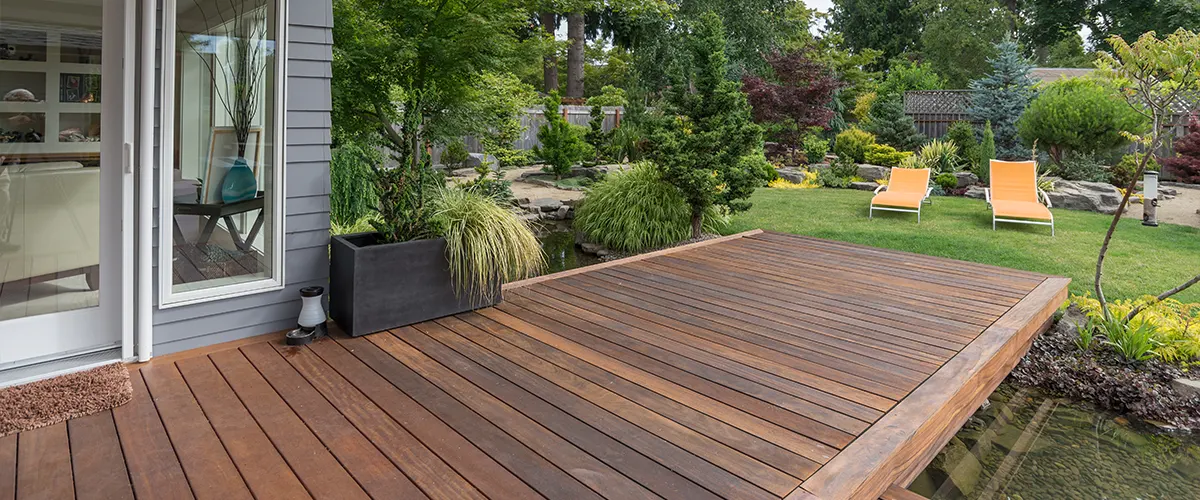 One of the biggest benefits of Trex decking is that it's incredibly resilient and strong. Unlike wood decks, this material can withstand extreme weather conditions, ensuring your deck will be safe and beautiful for years.
Trex is resistant to fading and stains, which eliminates regular paint jobs. It's mold and mildew resistant and immune to termites and other insects that can harm the wood. 
Trex decks won't warp, rot, stain, or be easily damaged.
A Trex composite decking requires low maintenance. Unlike wood decking, which needs to be stained and sealed every few years, Trex deck boards need little to no upkeep.
Cleaning a composite deck is done in seconds. A simple sweep and rinse are often all that's needed to keep your deck looking its best.
Its damage-resistant properties make painting and staining optional. Regular maintenance is not a must when you're using Trex. You'll spend more time enjoying your deck and not cleaning it.
Trex decking is available in 23 colors, which means you are more than likely to find the one that's perfect for your deck.
Keep in mind that you'll want your deck to match your home and look like it was meant to be part of it. You don't want it to look like it ended up there by mistake. The wrong color can make the deck look like an afterthought.
DeckBros installs the best Trex decking in Omaha, and you can see it all over your neighborhood!
The Average Lifespan Of Trex
Trex decks are made of a composite material that lasts for a lifetime. Trex makes sure that the materials used are recycled (95%) and are of the highest quality and performance.
Trex materials have an incremental warranty of 25 years against fade and stain. Wood decking doesn't compete with this, as wood will chip, stain, or splinter even if treated.
If you want a professional installation for your composite decking, contact our experts from DeckBros today. They will ensure your outdoor space looks at its best and is safe to host the most memorable gatherings!
Trex Decking Pricing Per Square Foot
The price of Trex decks can vary depending on the size and style of the deck and the materials used in construction.
Be sure to use the
Trex calculator
to get an estimated material cost directly from the manufacturer.
Trex Decking Prices For Installation
Building a 24′ x 12′ (288 sq ft) deck will take an average of 34.5 hours. The labor cost is around $2,165 to install a deck on an existing substructure.
However, if there is no wood substructure, the labor to install one, the deck itself, and the railings take an average of 50 hours. This brings you to an installation cost of $3,138.
Also keep in mind that you'll need a railing, especially if your deck is elevated. We use top quality Westbury Aluminum railing designed to last for as long as you want to keep your deck. In most cases, the railing is about 40% of the entire project, so budget accordingly.
Budget more for your deck project if:
Out of all options, the Trex Enhanced is the only one available at hardware stores like Home Depot or Lowes. The other options are only available directly from Trex website or big lumber providers and specialized stores or retailers.
*Trex decking prices will usually depend on the type of quality you're getting.
Trex Enhance boards are .94″ thick, with a width of 5.5 inches. They come in lengths of 12′, 16′, and 20′, making it easier to find the right dimensions for your particular project.
Enhanced Trex has a better scratch resistance than the Select boards, and you can find them in stock at Lowes and Home Depot. They have a deeper grain pattern, giving them a more natural appearance.
Trex Select boards are .82 inches thick and come in lengths of 12 feet only, with a width of 5.5 inches.
They have the lowest grade of the Trex scratch resistance, and their grain pattern is the shallowest of the three products. Only five colors are available for now, including Madeira (brown), Saddle (brown), Woodland Brown, Winchester Grey, and Pebble Grey.
Trex Transcend is the top-of-the-line board from Trex.
Similar to Enhanced boards Transcend boards are also .94 inches thick, with a width of 5.5 inches. They come in lengths of 12′, 16′, and 20′.
In addition to having the best scratch-resistance of the three, the Transcend line gives homeowners the most diverse style options that will ensure you match the rest of your home perfectly.
Trex Decking Prices Compared To Other Brands
Compared to other composite decking materials, Trex is the most affordable, saving you money so you can upgrade your home in more than just one way. 
You might also be interested in TimberTech decking prices in 2023!
However, comparing these four brands is a simple exercise until you realize that each offers tiered grades.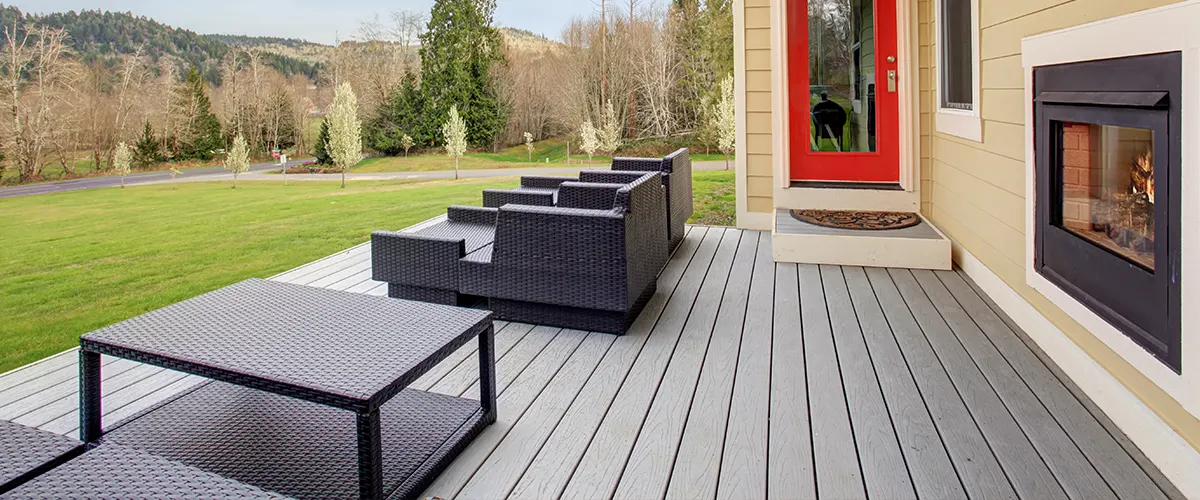 For example, Trex uses a good, better, best model for their three lines of boards, so the ratings shouldn't be indicative of quality (all boards will have similar long-lasting performance).
This rating is mainly based on looks/appearance (more colors per board, better streaking and grain patterns, and resemblance to natural wood).
What Impacts Trex Decking Prices
There are a few factors that will impact the price of Trex decking. The most important factor is the type of Trex decking you choose. The price difference between the three types of Trex decking (Enhanced, Select, and Transcend) is significant, so it's essential to choose the right type for your needs.
Another factor that impacts the price is the size and complexity of your deck. The more area your deck covers, the more materials you'll need, which means you'll pay a higher labor cost. A complicated design with lots of angles and curves takes longer to install, increasing the final cost of your project.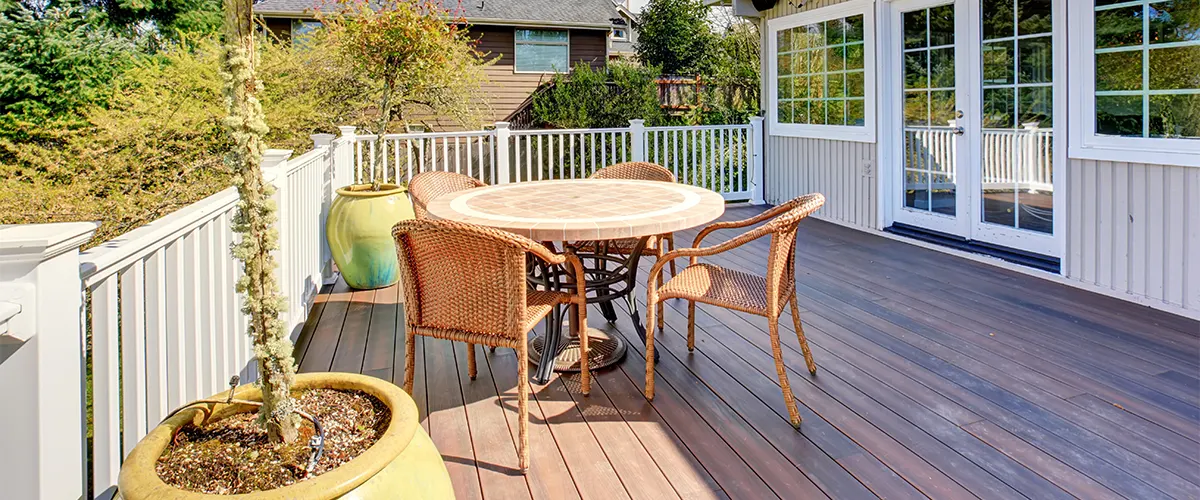 Additional Costs That Might Appear
Whether you are installing a brand new deck or replacing an existing one, you'll have to keep an eye out for additional costs. To avoid going over your budget, make sure you ask for an accurate quote from your contractor.
Here at DeckBros, we offer precise quotes after the on-site consultation. After we understand the scope of work and how you envision your project, you'll know exactly how much to budget for your deck.
No hidden fees and no extra costs!
The shipping of your decking material will depend on what type of Trex boards you ordered.
Enhanced Trex boards are usually available at your home improvement store, so the delivery cost shouldn't be too expensive.
However, if you pick the Select or Transcend products, you'll need to find a specialized store that delivers your product to where you live.
On the Trex website, you have the option to look for Trex retailers in your area, so you can order the materials from the closest store. This feature ensures you're not paying a hefty price to have your Trex boards shipped from too far.
How To Save On Trex Decking
There are a few ways to save money on Trex decking. The most important way is to choose the right type of Trex decking for your needs. If you don't need the best scratch resistance or the most diverse color options, you can save money by choosing Trex Select or Trex Enhanced.
Another way to save money is by choosing a simple design for your deck. If your deck has straight lines and a few angles, it will be easier and faster for the contractor to install, which reduces the cost.
In any case, Trex decking will save you money in the long run because of how resistant the deck boards are. You won't need to change any boards for a long time, ensuring your outdoor deck is in a perfect state.
Tip: If you own a deck that's seen better days but replacing it altogether doesn't fit your budget, repair is also a great option. At Deck Bros, we love to bring decks back to life with deck repairs done right, so get in touch with us if your deck needs some love.
Just like any other material, Trex boards have their pros and cons. Since we already discussed the benefits of this material, let's talk about what's not so great about Trex decking.
You'll have to be 100% sure about the color of your boards. You can not refinish Trex boards.
Significant damage to any board means replacement. You can't sand down this composite material, and if portions of your deck ever fade, you can't stain it like you stain wood decking.
In general, most composite solutions for decks are more expensive than wood.
However, they are more durable, which means you won't have to spend money on them after the installation. Wood decking may require maintenance work and board replacement more often.
FAQ About Trex Decking Prices
If you're looking for a deck that will last and adds value to your home, Trex decking is the perfect option.
It's important to remember that a professional installation is key for a structurally sound and secure deck. You don't want to try and tackle this project on your own and risk not getting the product you envisioned.
DeckBros have the experience and knowledge necessary to get the job done right. Our team will work with you to choose the boards that bring the most value to your particular situation, ensuring that you get the most out of your investment.
Get in touch with our experts from DeckBros and have your deck built specifically for you and your needs!